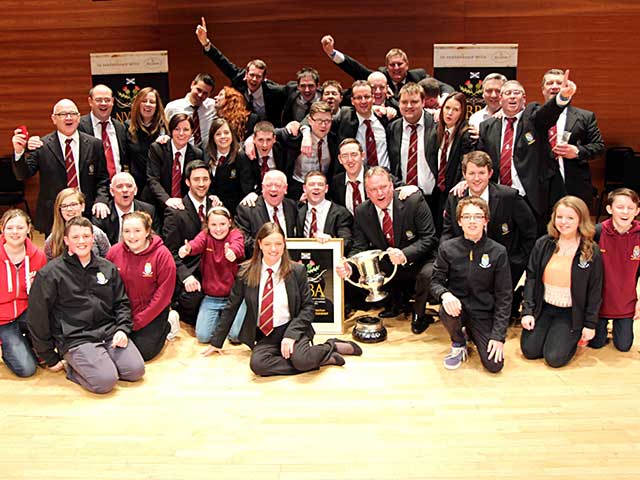 A wonderful weekend for Whitburn in Perth
Pictures courtesy of Linda Cairns:
http://www.personallyyoursphotography.co.uk/Home.html
The nation's sporting prowess may have taken a beating on the well manicured playing fields of Twickenham and Dunedin of late, but if the encouraging signs heard at the Scottish Championship were anything to go by, at least the drought endured by its bands in recent times at Cheltenham and London may be about to come to an end.
That was certainly the feeling you left Perth with this year.
Impressive outfits

Victories at the Centaur and Albert Hall may still be hard to come by, but at least the ten bands that will travel south in the Autumn with do so with more than mere misplaced Celtic pride coursing through their competitive veins: There will be some very impressive outfits sent into battle.
That was certainly the case in the Championship Section, where the keen edged rivalry of Whitburn and Co-operative Funeralcare once again brought the best out of the duo in their pursuit of the domestic and European bragging rights.
A brace of high class 'Torchbearer' performances that would have challenged for honours in the majority of other Areas this year, showed that at the top end of the competitive scale the nation has two bands capable of rubbing shoulders with the very best.
Saltaire triumph

Elsewhere, section champions Newtongrange, Jedforest Instrumental, Renfrew Burgh and Whitburn Heartlands, alongside their qualifying rivals, will carry the Saltaire with more than just a faint hope of planting it in triumph on the finishing line at the famous Gloucestershire racecourse.
The overall quality in each of the sections in Scotland may still be variable, but the unmistakable signs are now to be heard that the overall quality is on the up - most notably in the growing Fourth Section, which after a long period of careful nurturing, is starting to bear fruit.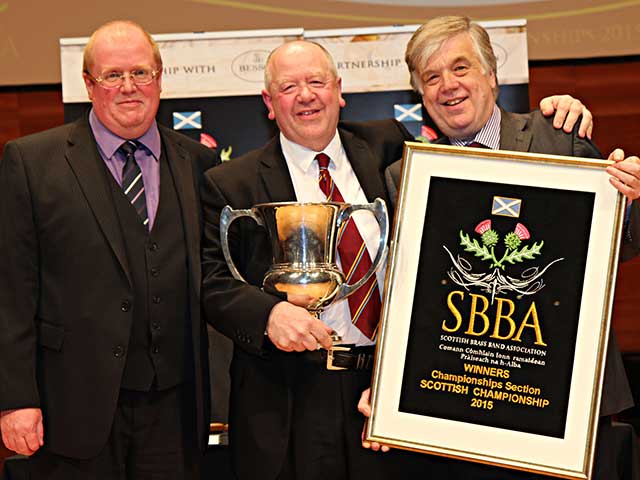 Can Whitburn also win on another Stephen Roberts work at Blackpool?

First opportunity

The first opportunity to test that bubbling optimism will come in Blackpool and Frieburg in May.
Newly crowned champion Whitburn will certainly travel to Lancashire's Golden Mile as one of the pre-contest favorites under Prof Nicholas Childs as they look to secure a jackpot place back at the British Open.

However, despite the impressive all-round excellence shown in securing a deserved 17th Scottish title, they will know better than most that the Grand Shield rarely plays to the form book: 'Arabian Nights' is a fantasy story that until now hasn't featured a victorious hero from West Lothian.
That could well change if they can deliver on a much more unforgiving stage there, as well as they did here: They sounded an inspired band on a rapid upward trajectory.
1974 World Cup

Meanwhile, Co-operative Funeralcare has the difficult task of triumphing against rivals on the infinitely more imposing stage of the European Championship in Germany.

They could return home a bit like the 1974 World Cup squad though - beaten on paper but unbowed on the playing field itself.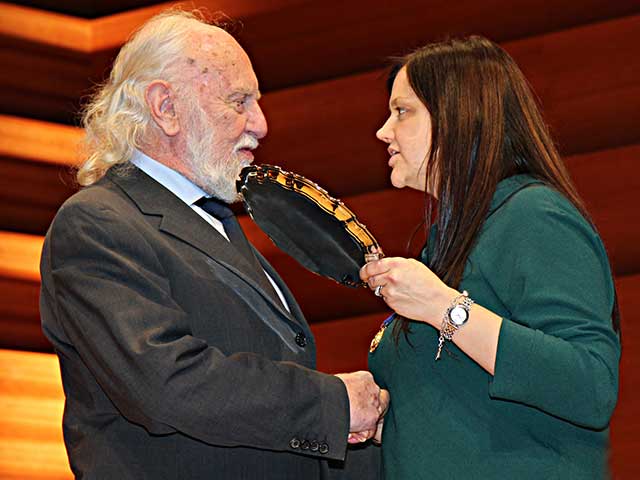 Richard Evans presented with a President's Award

Usurpers

As for potential future usurpers to what is fast becoming a rather predictable duopoly for domestic supremacy (you have to go back to 2007 for the last time another band won), things don't quite look as encouraging just yet.
The gap between Whitburn and Co-op and rivals such as a battling third placed Bon Accord sounded huge; to others, almost unbridgeable:

Scottish banding needs a third, fourth and even fifth top flight force to reappear again pretty pronto.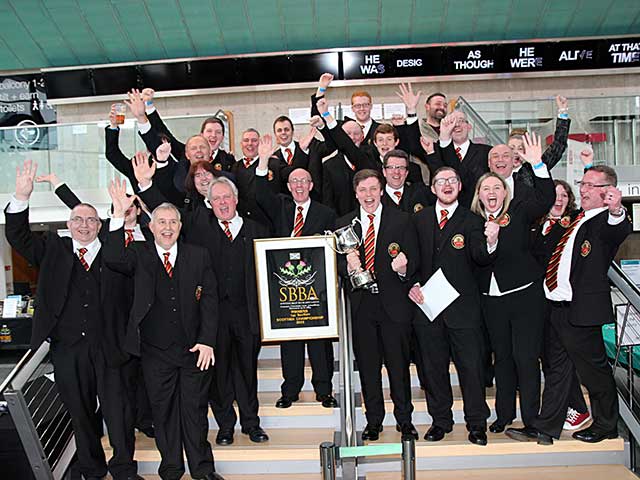 Usurper in waiting: First Section champion Newtongrange

Sparke test

A possible brace may well come from the First Section after Newtongrange and Unison Kinneil came through the tough test of 'A London Overture' a little frayed around the edges, but infinitely better bands for the experience (although it is questionable if all their rivals did).
They now look forward to a very different Sparke inspired test of their mettle at Blackpool on 'Tallis Variations' in the Senior Trophy against a mix of top flight and First Section contenders.

The outcome may well give a decent indication of just how good two well led bands currently are - and could possibly become.
Puzzling encounter

The same will certainly apply to Jedforest Instrumental and Croy Silver in the Second Section come Cheltenham, after a bruising and slightly puzzling encounter with the conquering hero of Kevin Norbury's 'Maccabeus Variations'.
Despite some brave efforts, it was a piece that perched itself on the technical limits of the majority of the eleven competitors - although it also saw one in Dunaskin Doon, deliver a very musical rendition that simply didn't find favour in the box.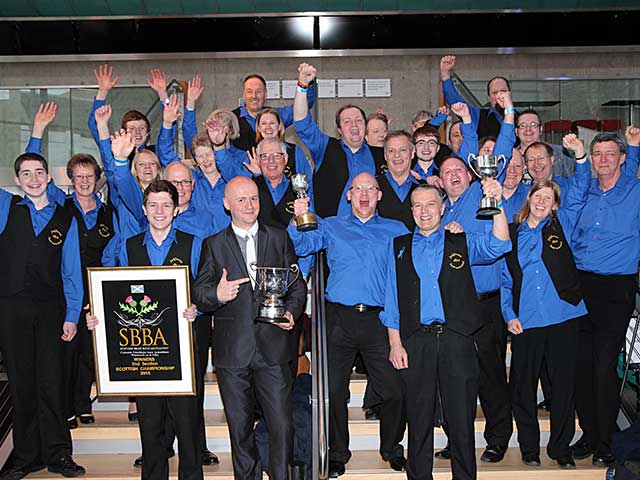 Black and Blue celebration for Jedforest Instrumental

High hopes

High hopes through for both Renfrew Burgh and Irvine & Dreghorn after a high class Third Section contest that brought the best out of all eight contenders.
As has been the case around the country, Philip Sparke's personal take on Wu Xing Chinese philosophy has been so successful that increased sales of chopsticks, Uncle Ben's rice and the collected readings of Confucius could help halve the UK national debt.
Watch out for these two bands in Cheltenham - they could well surprise more than a few rivals.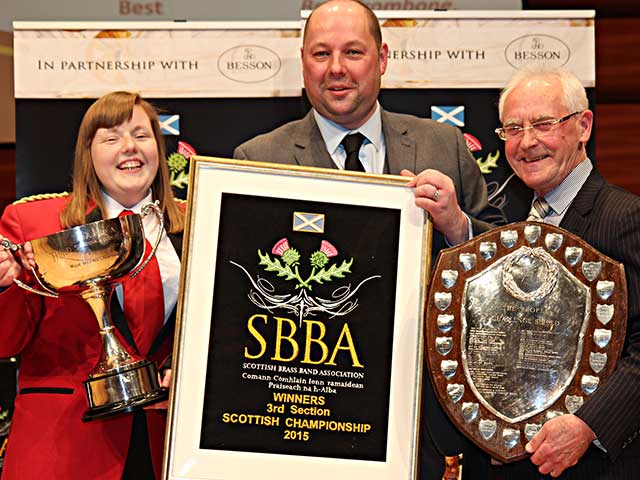 Smiles all round for Renfrew Burgh

Bigger surprise

A potential victory in the Fourth Section this year would perhaps something of a bigger surprise, but even the most financial astute Scotsman wouldn't mind placing a few Clydesdale Bank pounds that in the next few years, the likes of Whitburn Heartlands (and what a great weekend its was for the organisation), MacTaggart Scott Loanhead and a few others in what was a cracking 16 band field, will start to make their mark on a national stage.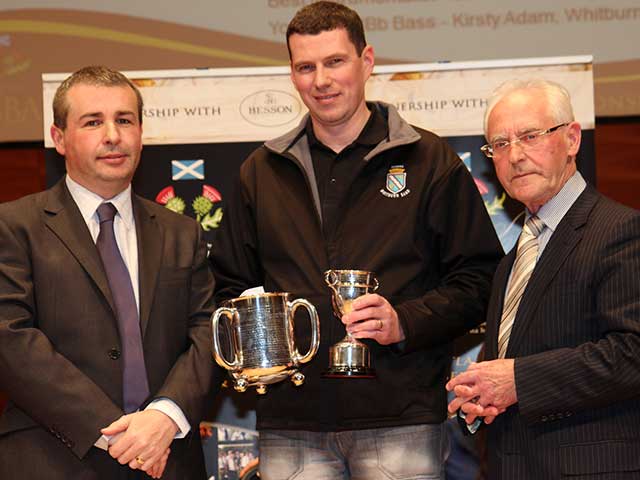 The new beating heart at Whitburn

Flourish

It has taken the Scots longer than possibly expected to finally nurture those seeds of grass roots growth - but the evidence on show at Perth was that they are now starting to flourish.
If that's the case, then alongside other well led representatives, Cheltenham could become something of a Scottish enclave of national success in the years to come.
That would be good news for the Scottish Brass Band Association, who once again ran an excellent event - led by SBBA President Carrie Boax and her indefatigable team of volunteers.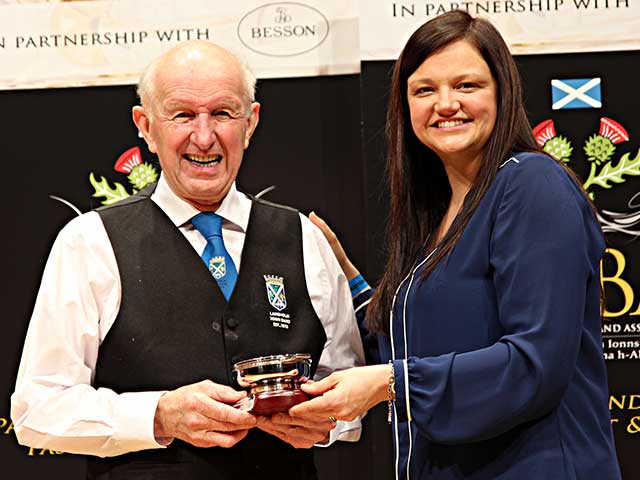 200 years and still going strong for Langholm Town Band

Taken for granted

The only disappointment was that the Scots themselves seem to take this administrative excellence for granted - with the forward looking help given with pre-draws, development section, well deserved presentations and a good selection of adjudicators eliciting a rather depressing response from supporters and performers alike.
At times there seemed to be more people playing on the stage as there were in the auditorium listening.
The good competition times deserve to come back to Scotland (even on the rugby and cricket fields) but unless everyone makes the effort, there may not be too many people around to experience it first hand when they do.
Paul Bennett