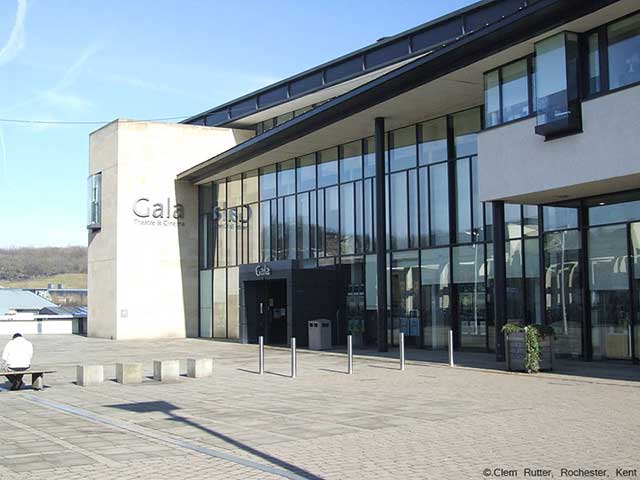 A new home for the next 30 years?

4BR looks ahead to new beginnings in Durham for the North of England Championships this weekend
After 30 years of 'Dolphin watching', a new era of contesting begins this weekend in the North of England, with the Regional Championship taking up residence at the Gala Theatre in Durham.
The £15 million purpose built venue is situated on the banks of the River Wear in the heart of the historic city and houses a state-of-the-art modern theatre, a spacious café-bar, two cinema screens and conference facilities.
Unfortunately there is no swimming pool - so the smell of chlorine wafting up the nostrils of players before they take to the stage is now also confined to the memory banks.
Rich promise

It holds the rich promise of exciting times ahead then for banding in the area, and a great start for Tony Griffiths to enjoy after taking over the Regional Secretary duties from Alan Hope.
With sponsorship links, additional prizes and a gala concert (featuring Brighouse & Rastrick, Reg Vardy and NASUWT Riverside) in tribute to the late and much missed Bryan Tait, no wonder the weekend has generated a great deal of expectation and interest.
Punching above weight

That is helped by the fact that although the North of England remains the smallest in terms of numbers (40 competitors this year), it has been punching above its weight of late at the Nationals - especially at Cheltenham.
Although there was no champion to celebrate, last year's representatives gained runner-up spots in both the Second and Fourth Sections to carry on the recent run of good form, whilst Reg Vardy impressed many gaining a second successive top ten finish at the Royal Albert Hall.
It may not be an overwhelming tsunami of unbeatable brilliance at the moment, but the current is getting stronger by the year.
Experienced judges

The experienced duo of Paul Cosh and Mike Kilroy will oversee the qualification process in all five sections, although perhaps it would have been even better if both of them could have been in the box rather than being on their own.
As always there is a great welcome and friendly atmosphere to enjoy - with some generous cross-border help on hand with North West Regional Secretary, Peter Bates as compère.
4BR will be there as always to enjoy the action and bring you our live converge, comments, opinions and those all important results.
---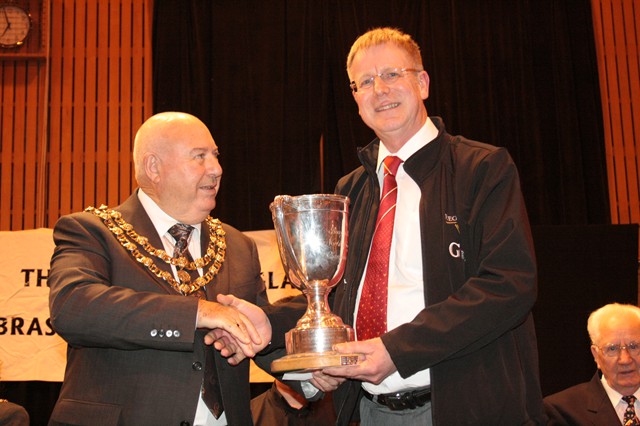 Can anyone stop Reg Vardy this year?

Championship Section:
Test Piece: 'The Torchbearer' - Peter Graham
Sunday 15th March
Draw 1.30pm
Commence 3pm approx at conclusion of Section Four
Adjudicator: Paul Cosh
There is a growing sense of increasing overall quality about the bands that will battle it out for the two qualification places on offer for the trip to the Albert Hall in October, despite none of the line up of nine contenders currently performing at the British Open.
And although you have to go back to 2009 for the last top six finish at Kensington (Reg Vardy on this test piece in fact), it also doesn't mean that things are not looking up.
Engaging

In fact it could well make for one of the most engaging Area contests of this year's series - as who may end victorious this weekend is no longer as clear cut as it once was.
Reg Vardy triumphed for the 34th time last year - but they were the third different winner in the last three years, so they won't be taking anything for granted for certain. NASUWT Riverside and Felling have also been crowned champion since 2012, whilst the rapidly improving EYMS is champing at the bit to regain the title they last won in 2009.
Best from rest

Peter Graham's 'The Torchbearer' has certainly sorted the best from the rest over the past two weekends - its lyrical intentions hiding the type of innocuous traps that the unwary, the nervous or the underprepared tend to fall into eyes wide open. It could well do the same again here.
Paul Cosh is a wonderful musician and very perceptive adjudicator - bold and forthright with his well informed opinions, so those taking a few too many liberties with the score better watch out.
---
Who will win?
The bookies will of course install Reg Vardy as favourites - and after the solid form they showed throughout last year, you wouldn't want to bet against them at least heading back to London - and most probably as champion.
EYMS should push them close, whilst NASUWT Riverside and Felling look best equipped to snatch a podium finish. Fishburn and Harrogate could well make up the top six, with the promoted York Railway Institute as the leading dark horse
4BR Prediction:
1. Reg Vardy
2. EYMS
3. NASUWT Riverside
4. Felling
5. Fishburn
6. Harrogate
Dark Horse: York Railway Institute
---

Can Kirbymoorside go one better this year?

First Section:
Test Piece: 'A London Overture' - Philip Sparke
Saturday 14th March
Draw 10.30am
Commence 12 noon
Adjudicator: Paul Cosh
There are just the six evenly matched bands for Paul Cosh to compare and contrast in the First Section on Saturday afternoon - although the test facing them all is a severe one on Philip Sparke's 'A London Overture'.
Two through

Despite the small field of runners, two bands will still go through to Cheltenham, but they may well do so fairly battered and bruised in the process.
Cadenza mayhem

The four early doors cadenzas have caused mayhem - the trombone lead off a curious puzzle to conquer with its odd series of intervals. Get just one note wrong and the rest seem to take on a mis-pitched life of their own.
Meanwhile, with horn players in the stratosphere and principal cornets down in the depths by the time it comes to the euphonium hopes of a trip to Cheltenham may already be hanging by a thread.
---
Who will win?
Kirbymoorside Town made the long trip south last year (ending up 12th) and will fancy their chances again this time round, as will GT Group Peterlee.
With such a small field anything could happen though, so a bit of well timed contest stage inspiration could well see Westoe or Ripon City force their way into the reckoning alongside any of the remaining dark horses of Ripon City, Cockerton Prize Silver and Ashington Colliery.
4BR Prediction:
1. Kirbymoorside Town
2. GT Group Peterlee
3. Westoe
Dark Horses: Ripon City, Cockerton Prize Silver, Ashington Colliery
---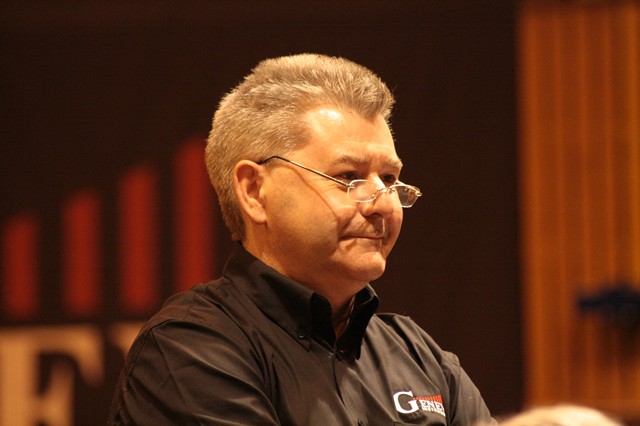 Looking for more glory: John Roberts takes the long view with Lockwood

Second Section:
Test Piece: 'Variations on Maccabeus' - Kevin Norbury
Sunday 15th March
Draw 8.30am
Commence: 10.00am
Adjudicator: Paul Cosh
Sunday's contesting commences with six hopefuls tackling the enjoyable stylistic challenges of Kevin Norbury's engaging 'Variations on Maccabeus'.
It's been a fine choice by the Kapitol Music Panel - one that combines the need for technical proficiency with stylistic intent - something that takes some doing at any level let alone in the Second Section to be crowned the 'conquering hero'.
Big old chord

Those questions are asked from the beginning in fact - straight after that big old chord reminiscent of 'Devil and the Deep Blue Sea'.
The theme may sound easy enough, but the dynamics on show over the first 20 odd bars will take some playing; its pianissimo 'edge of the seat' stuff before the first chance to blow some real air though at bar 22.
Style

After that it's more about style - from the twin elements of the 'Allegretto scherzando' of Variation 1, the transformation of the 'Larghetto quasi chorale' in Variation 2, to the whimsical waltz of Variation 3 (which sounds very genteel posh when played well) and the all embracing Baroque inspired Variation 4 and coda.
Tempos (especially in the final fugato section), tuning and dynamics (throughout) have been tripping up the bands so far, so plenty for the bands and MDs to think about - especially for Paul Cosh in the box.
---
Who will win?
A year ago Lockwood Brass took the title in commanding fashion (despite not having a full line up of players in the ranks) so if they have added a bit more strength in depth (and they also came runner-up at Cheltenham) they will be a difficult band to beat.
After that it could be a bit of battle for that all important second qualification place, with all five contenders in with a puncher's chance. East Riding of Yorkshire may just be best placed to pip NASUWT Concert ahead of Durham Miners and joint dark horses, Billingham Silver and Murton Colliery.

4BR Prediction:
1. Lockwood Brass
2. East Riding of Yorkshire
3. NASUWT Concert
4. Durham Miners
Dark Horses: Billingham Silver, Murton Colliery
---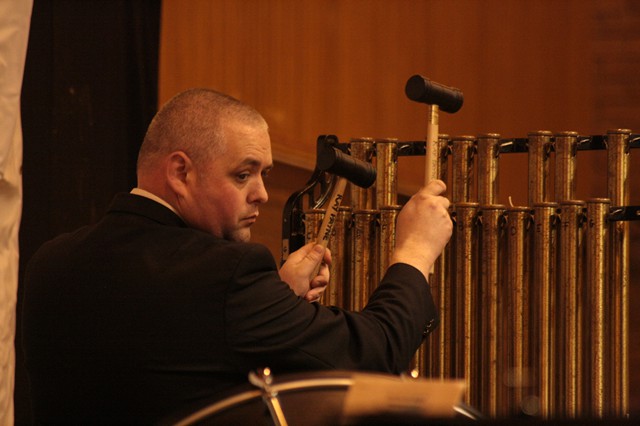 Ringing the bells of success for Houghton this year?

Third Section:
Test Piece: 'Evolution, Five States of Change' - Philip Sparke
Saturday 14th March
Draw 12.noon
Commence 2pm approx at conclusion of Section One
Adjudicator: Mike Kilroy
Saturday afternoon's Third Section sees another evenly matched field, with eight bands faced with Philip Sparke's musical take on a bit of old Chinese philosophy.
Telephone directory

He is such an expert craftsman that he could set the Beijing telephone directory to music and make it sound interesting, so there should be plenty for Mike Kilroy and the audience to enjoy here with the various Wu Xing elemental sections - from meditation and sorrow through fear and anger to final joy.
It is a tough test (although the dynamics and tempos are clearly marked and defined) so whoever gets the nod from Mike to get to Cheltenham will have deserved it.
---
Who will win?
Houghton Brass narrowly missed out on qualification a year ago and won't want the same thing to happen again, whilst newly promoted Fourth Section finalists North Skelton won't be put off by taking the step up.
Marske, Ferryhill, Dunston, Trimdon and a trio of dark horses shouldn't be discounted either!
4BR Prediction:
1. Houghton Brass
2. North Skelton
3. Marske Brass
4. Ferryhill
5. Dunston Silver
6. Trimdon Concert Brass
Dark Horses: Barton Community, Kingsway Printers Cleethorpes
---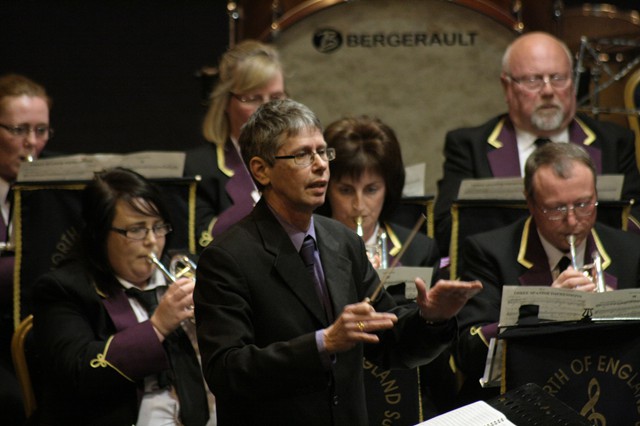 Can Robin Rutter lead Swinton to victory this year?

Fourth Section:
Test Piece: 'An English Pastorale'- Dean Jones
Sunday 15th March
Draw: 12 noon
Commence 1pm approx at conclusion of Section Two
Adjudicator: Mike Kilroy
It's good to see ten bands make it to the starting line up for the Fourth Section contest on Sunday lunchtime.
Mike Kilroy will know the piece in his sleep having sat through no less than seventeen performances in the Midlands last week, and he'll also be fully aware that 'An English Pastorle' has proven to be a fine choice to test bands at grass roots level.
Good basics

Each of its four well crafted variations (and opening theme) is built on good basic contesting structures - from the need to produce a sense of majesty and balance in the 'Heralding the Dawn', through the modal harmonies and compound rhythms of 'Autumn on the Plaines' and the austere mystery of 'Winter in the Dales'.
Final romp

The lilting 'Spring on the Lakes' asks for expression and calm serenity, whilst the final romp for home in the joyous 'Summer on the Quays' is bright, colourful and stamina sapping.
Get them all right and the winner's trophy awaits: Get most of its bang to rights and you could be on your way to Cheltenham come September.
---
Who will win?
With the excellent North Skelton promoted it could well be Swinton & District's opportunity to go one better and return to the Finals as North of England champion.
Joining them there could well be Bearpark & Esh, with Backworth Colliery leading the charge behind them. The rest of the closely packed top six could well go to Spennymoor Town, the debutants Beverley Town, Jayess Newbiggin and Lanchester. Our dark horse is Knaresborough Silver.
4BR Prediction:
1. Swinton & District
2. Bearpark & Esh
3. Spennymoor Town
4. Beverley Town
5. Jayess Newbiggin
6. Lanchester
Dark Horse: Knaresborough Silver