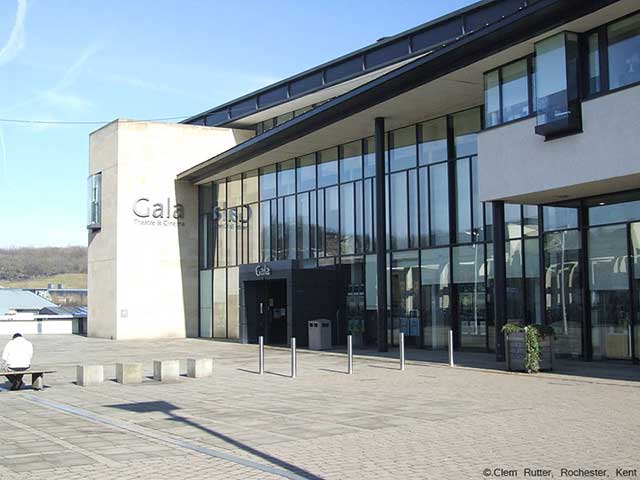 A must go visit venue now...
The Gala Theatre might not yet be on the 'must see' list of venues for any sightseers to the wonderful cathedral city of Durham, but it will certainly be on the list of 'must go' ones for brass band lovers if the North of England Regional Championship carries on producing highly enjoyable contest weekends like this for years to come.
Big enough in terms of its facilities not to be swamped by the mass of players and supporters that descended upon it, yet compact enough to produce an intimate atmosphere that the performing bands could feed off from the stage.
Memories of the Dolphin Centre in Darlington are already beginning to fade...
All that and the new contest even came up with a Championship trophy that looked suspiciously like the FA Cup: Newcastle and Sunderland fans must have thought they had died and gone to heaven...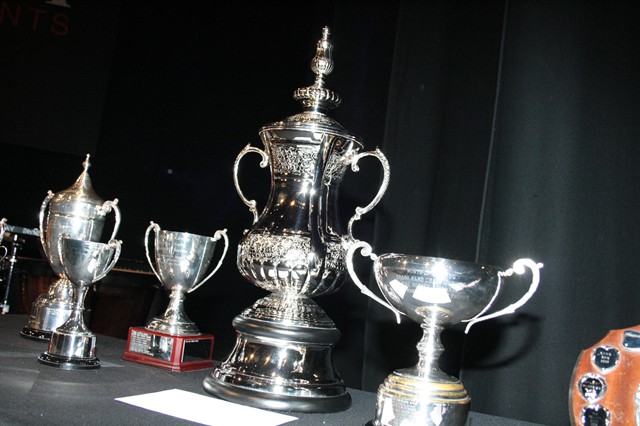 Not Arsenal's year then...

With Reg Vardy leading a 10 band line-up of London and Cheltenham qualifiers that contained some pretty impressive contenders, no wonder Regional Secretary Tony Griffiths wore a broad smile of satisfaction when the event came to rousing conclusion with a top section battle of the keenest intensity.
35th title

No one could really complain that the new era had also seen an old dominance start again, as Russell Gray led Reg Vardy to a record 35th title.

They remain the standard bearer of regional excellence - and one that on this form looks to be on an upward curve of musical prosperity.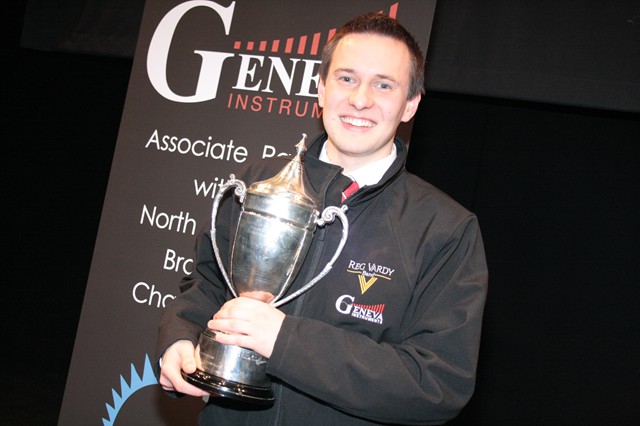 In his father's footsteps: Philip Tait of Reg Vardy

The band is also enjoying the first fruits of a new player era too, with the 'coming of age' as MD Russell Gray neatly put it, of principal cornet Philip Tait - son of the much missed Bryan, whose memory and talent was recalled in a well supported Geneva Instruments sponsored Gala Concert on the Saturday night.
Formidable

After a second successive top ten finish at London last year, they will be hoping to secure their place back at the British Open in a few weeks time at the Grand Shield. On this evidence they will be a formidable opponent for rivals to try and beat.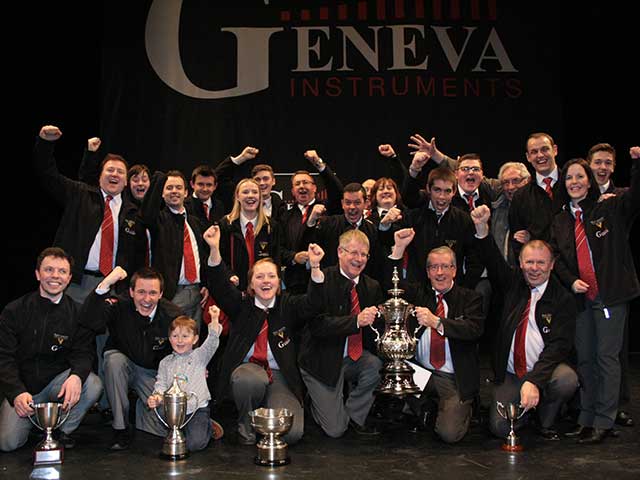 New era, old champions... Reg Vardy triumph again

Joining them in Kensington for the second time in three years will be another upwardly mobile band in NASUWT Riverside, after David Roberts brought all his experience and determination to bear in partially erasing his qualification disappointment at Bradford with Rothwell Temperance.
How they now do at the Senior Cup alongside Friary Guildford as the only Royal Albert Hall qualified bands will be an interesting litmus test of their top flight credentials.
Encouraging signs

Behind them, and not just in the top section, encouraging signs of an emerging strength in depth in an area that has all too often had to nourish its musical prosperity on occasional crumbs of national comfort.
For instance, the Championship result rounded off a fine weekend for the Roberts brothers - with John (who is also resident MD at Reg Vardy) leading a very solid Lockwood to a second successive Second Section title.

They will be joined at the Final, in a strange contesting coincidence, by NASUWT Concert Brass.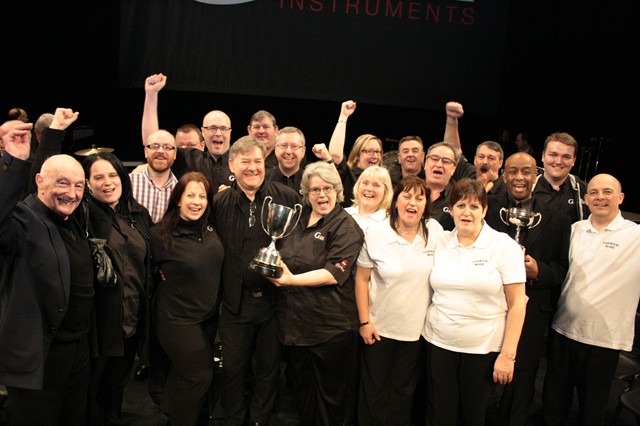 An impressive Lockwood celebrate more success

Vibrant foundation

Meanwhile, Houghton Brass and Dunston Silver should be confident of more than holding their own in the Third Section, whilst Knaresborough Silver and Bearpark & Esh could well surprise quite a few in the Fourth, after a cracking contest packed with ten bands who produced playing that put joy in the heart.
If this is the first sign of a vibrant foundation base starting to help fatten-up the new Durham contesting era then things are looking up for certain.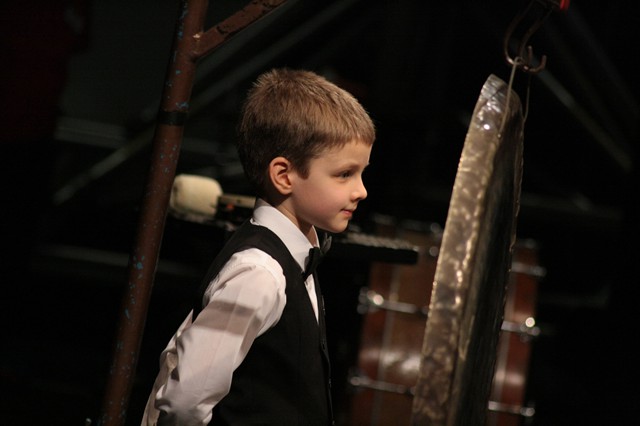 The next generation awaits...

However, those fragile grass roots still need to be nurtured with long term care in a region where unnecessary promotion in such a numerically small set-up can be a self-defeating process.
Key problem

The key problem (as it is in all other areas of the country) was clearly seen as well as heard in the Championship and First Sections, which are in desperate need of structural reform for the greater good of all.
The top section here simply doesn't contain nine top flight bands, the result of which sees a denuded First Section of six competitors which is also simply too weak in overall standard.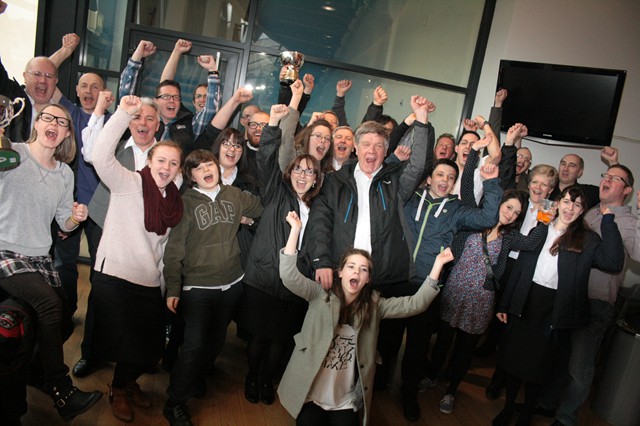 Kirbymoorside celebrate First Section success..

Kirbymoorside Town and Westoe will represent their region with pride in Cheltenham, but were they really true Championship Section contenders in waiting?
A few tweaks

A few tweaks here and there and we could see a more potent, better balanced Area contest at all levels.

We are not talking major surgery either - just a trimming of that top flight fat and a re-alignment of each section as a result.
It could also prove to be a way of helping get the likes of Catterick Brass, Skipton Brass, South Milford, Flookburgh and Burneside Brass, some of who have also been national finalists and even a National Champion, to make a welcome return to the contesting fold.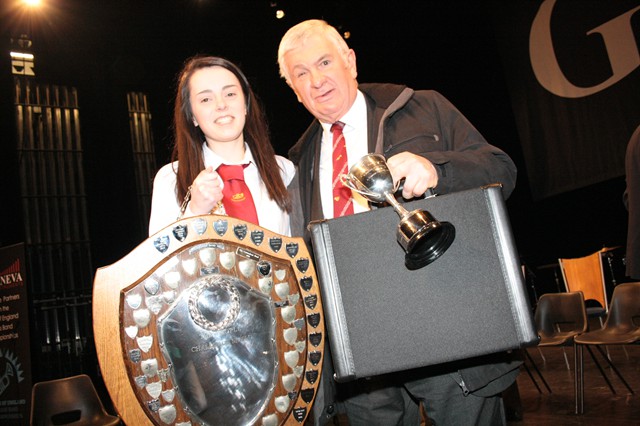 Houghton Brass claim the Shield, case and trophy!

Right earner

Many a band will argue (correctly under the current system) that they have earned the right to be in the section they are, but at times over the weekend, even they will have known that they really struggled to get to grips with well chosen, but not over-stringent set works.
Astute summaries

Perhaps getting the views of the two excellent adjudicators in Paul Cosh and Mike Kilroy would be a huge help in the process, especially as their thoughtful, measured appraisals balanced acutely observed hard facts sweetened with appropriate and deserved praise.
These were astute summaries from musicians who have well earned reputations for improving things musically (especially in the case of Paul Cosh) and administratively.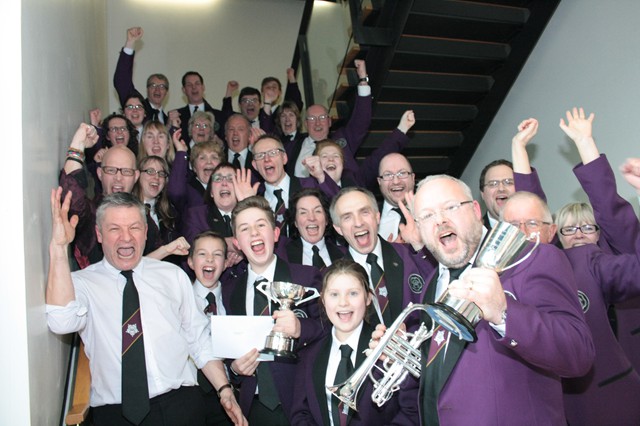 Taking the rright steps to success... Knaresborough Silver
Lesson to learn

Another key may well be to take a lesson from the newly crowned Fourth Section champion, Knaresborough, who finally claimed the Area title at the sixth attempt after returning to the contest in 2010.
Their MD Stephen Morland simply told 4BR that it was down to being able to make sensible, incremental progress, year in year out at a level of competition that they felt comfortable in and enjoyed.
As a result his band is a year older, musically more mature and experienced, and keen to keep improving together as a cohesive group of musicians and friends: Cheltenham is a welcome step along that path.
Rallying call

That in its way could well be the new rallying call in the North of England - one that was certainly on show all weekend in an excellently run, welcoming event.
New trophies, new sponsorship, new leadership and a new appetite for communal success: It seems the Gala Theatre is set to become one of Durham's leading attractions for many more years to come.
Malcolm Wood