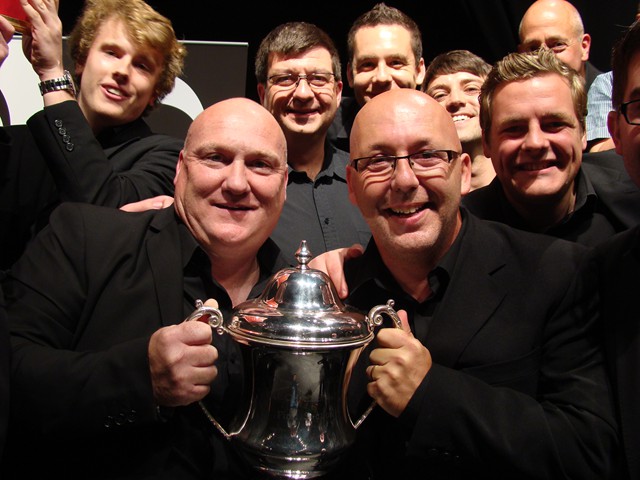 Punching above their weight: Filton claimed the 2014 National First Section title

With 80 bands set to descend on the Riviera Centre in Torquay this weekend, it's a timely reminder that the West of England Regional Championship remains one of the most diverse and exciting of all the Area qualifying events.
Both geographically and musically, no other region packs in more contenders for its entry fee; from the rugged tip of Land's End to the suburban sprawl of Bristol (with an easterly point this year that takes in newcomer Alder Valley), and with musical stop offs at emerging powerhouse Albert Hall contenders to historic community bands and fantastic youthful ensembles.
Weight limit

The bands also pack contesting punches well above their National weight limit: Flowers now emerging as a highly respected contender for major honours and with Cheltenham representatives once again returning home with championship winning silverware.
Not only did Filton Concert take the First Section title in 2014, but there were three other top six finishers and two in the top ten in the others sections too.
Wherever you look there is vibrant music making - with the likes of Camborne Junior Contesting and Chalford Academy (and many more) securing their futures with long term investment in youth: The average age of the competitors here must be the lowest in the entire country.
Co-operative working

The event itself is run with splendid efficiency and good humour by Sue Oldfield and her hard working team of volunteers from the four area associations that make up the Council of the West of England Associations.
It's a fine example of co-operative working; everyone pitching in for the greater good (although you do detect a wry smile of delight when one of their member bands claims a qualification spot!)
About turn

This year that sense of inclusion has meant that the Championship Section has been moved back 24 hours from its usual Sunday afternoon slot to Saturday, to allow players from the Fourth and Second Sections to enjoy what looks to be a intriguing battle for the two Albert Hall qualification places.
Plenty for listeners to enjoy then - and for a good mix of judge's in the box, with strong opinions and forthright views to the fore from the likes of Roger Webster, David Hirst, Michael Fowles and Graham O Jones.
No wonder it's always a highly enjoyable weekend to look forward to.
4BR will be there as always to bring you our live coverage, views, opinions and those all important results.
---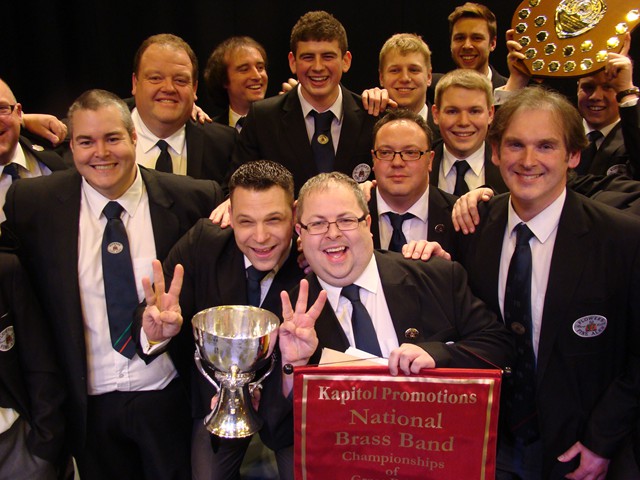 Can anyone stop Flowers making it four in a row?

Championship Section:
Test Piece: 'The Torchbearer' - Peter Graham
Saturday 14th March
The Forum
Draw: 1.00pm
Commence 3.00pm approx
Adjudicator: Roger Webster & David Hirst
We used to get tired of coming up with a new set of variations on the same old storyline for this contest; the one that had more newly crowned holders than the latest episode of Game of Thrones.
Now though Flowers is the undisputed King of the West - three years into a reign that hasn't really been tested to the full by potential usurpers since 2012.
And whereas the years of title toppling exploits may have given this contest an enjoyable unpredictability, it didn't hide the fact that since the days of Sun Life, London qualifiers invariably returned home from the Albert Hall with their tails between their legs.
Standard bearers

Not so now. Flowers may well be the imposing standard bearers of new found West of England competitiveness, but the likes of Woodfalls, Camborne, St Austell, Mount Charles and others have all been inspired to up their game.
Long term hegemony can have its benefits if rivals have the desire not to let it become a corrosive barrier to ambition. All they have to do is glance over the River Severn, where Cory's rise to pre-eminence provided the spark for a Welsh renaissance at all levels of banding.
Enjoy

If that's been the case in the top section here, then this should be a contest to enjoy on 'The Torchbearer' - which is certainly showing itself to have the ability to catch out the unwary, under confident or ill prepared.
Good to see Roger Webster in the box (joined by David Hirst): Two fine musicians as well as clear minded, well informed, opinion making judges. Bands will certainly know why they came where they did with these guys.
---
Who will win?
Flowers have yet to show signs that their desire to maintain their grip on the triple handled Regional Trophy is weakening.
If they can once again produce the type of impressive form that has characterised their major contest performances over the past year or more, then it will take something special to deny them a fourth consecutive victory.
However, well backed pre-contest favourites have not been having it all their own way (Dyke and Foden's failing in their attempts at victory), so Paul Holland's band won't be taking anything for granted.
The main challenge looks set to come from a in-form Woodfalls (especially with Dr Robert Childs at the helm), and Camborne, who have the ability to indulge in a little bit of shock and awe themselves.
Mount Charles, St Austell and last year's National First Section champion, Filton Concert should fancy their chances alongside our dark horses of Aldbourne.
4BR Prediction:
1. Flowers
2. Woodfalls
3. Camborne
4. Mount Charles
5. St Austell
6. Filton Concert
Dark Horse: Aldbourne
---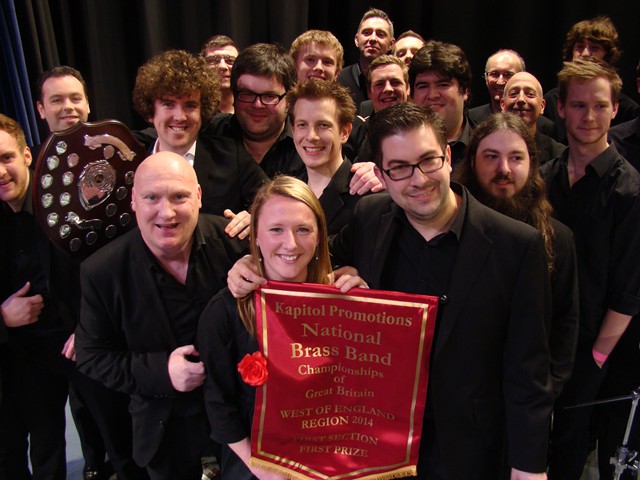 Who will follow Filton as First Section champion this year?

First Section:
Test Piece: 'A London Overture' - Philip Sparke
Sunday 15th March
The Forum
Draw: 1.00pm
Commence: 3.00pm approx
Adjudicator: Michael Fowles & David Hirst
There is something of a double whammy for the 15 First Section contenders on Sunday afternoon.
Not only are they faced with the difficulties of 'A London Overture' to overcome if they are to gain a qualification slot, but they must also do so by impressing two men in the box who know this work perhaps better than anyone around the country at the moment.
Self apparent

Those taxing problems are self apparent when looking at the score.
Philip Sparke's expert craftsmanship is wonderfully transparent - from the fearsome cadenzas for trombone (a bear trap of tricky intervals), horn (up in the stratosphere), cornet (down in the depths) and euph (a taxing mixture of them all), to the free flowing rhythmic interventions and lyrical interludes and a final coda that has the ability to snap the legs off any band that loses concentration even in the last few seconds of their performance.
Triage ward

It has already filled a contest triage ward with causalities; many with self inflicted wounds thanks to over ambitious tempo and illogical dynamic choices, whilst others have simply had a hard-nosed First Section reality check: If you can't play this piece, then Championship aspirations are far away on a future horizon.
Michael Fowles has already given a fine adjudicator's perspective of the work at Blackpool, whilst David led Unite the Union to victory at the Yorkshire area. Any conductor disappointed with their eventual placing on Sunday will have to come up with a pretty damn good argument to show that the two of them got it wrong in the box.
---
Who will win?
With Filton and St Austell promoted, two new representatives will carry the region's hopes to Cheltenham, where last year Filton carried away the title.
Much to live up to then for the well matched contenders, with any number with the ability to claim victory.
Of them, we think it could be a battle between the likes of Brunel Brass, Otterbourne Brass, Michelmersh Silver and Verwood Concert Brass for the title - all led by MDs with wily contest experience.
Yeovil Town and Helston Town may be ones to watch out for too under two MDs that also know their way around a bit of Sparke, whilst our dark horse, Roche Brass may well be ridden by a certain up and coming young conductor called Garry Cutt, who seems to have a bright future ahead of him.
4BR Prediction:
1. Brunel Brass
2. Michelmersh Silver
3. Otterbourne
4. Verwood Concert Brass
5. Yeovil Town
6. Helston Town
Dark Horse: Roche Brass
---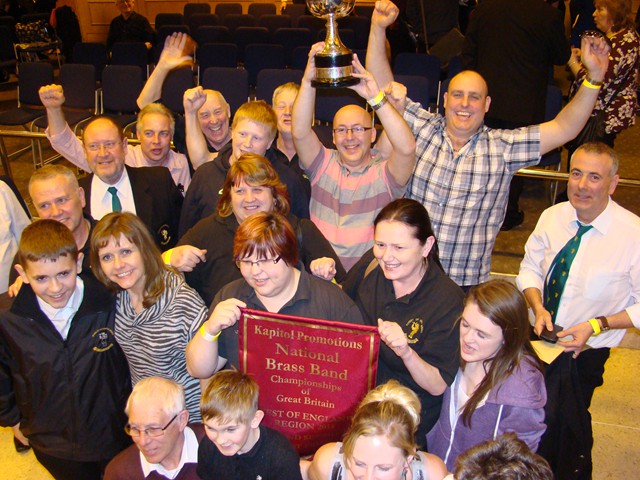 Who will follow Forest of Dean as Second Section champion?

Second Section:
Test Piece: 'Variations on Maccabeus' - Kevin Norbury
Saturday 14th March
The Forum
Draw: 8.45am
Commence: 10.00am
Adjudicator: Roger Webster & David Hirst
They know a thing or two about all action conquering heroes in these parts - from Poldark to the Cornish Pirates, so Kevin Norbury's enjoyable set of variations on Handel's bit of royal propaganda should go down a treat.
15 well matched bands will need to be on the top of their game if they are to get through to Cheltenham though, where last year's representatives ended a decent, but not quite all conquering, 5th and 16th respectively.

Fine choice

As we have said in our coverage for the other regions, 'Maccabeus' has proven itself to be a fine choice by the Kapitol Music Panel - one that combines technical proficiency with stylistic intent.
The questions of the bands and their MDs are asked from the very beginning - straight after that big Cornish inspired opening to 'The Devil and the Deep Blue Sea'.
The theme may sound easy enough, but the dynamics over the first 20 odd bars will take some playing; from pianissimo 'edge of the seat' stuff up to the first chance to blow at bar 22.

Style

After that it's about style: from the twin elements of the 'Allegretto scherzando' of Variation 1 and the transformation of the 'Larghetto quasi chorale' in Variation 2, to the whimsical waltz of Variation 3 (which sounds very genteel posh when played well) and the all embracing Baroque inspired Variation 4 and coda.
And as has been shown so far around the country - tempos (especially in the final fugato section), tuning and dynamics (throughout) have been tripping up the bands.
Becoming an all conquering hero isn't as easy as many people may think...
---
Who will win?
A hard one to call as there appears to be any number of well led bands more than capable of topping the results table.
AW Parker (Drybrook) has been in fine form of late and could be the band to beat, although the likes of Poole Borough and Ocean Brass could be in the mix too. Wotton under Edge and Bodmin could be due a return to prize winning fortunes, alongside Swindon Pegasus and our dark horse of City of Bristol
4BR Prediction:
1. AW Parker (Drybrook)
2. Poole Borough
3. Ocean Brass
4. Wotton under Edge
5. Bodmin Town
6. Swindon Pegasus
Dark Horse: City of Bristol
---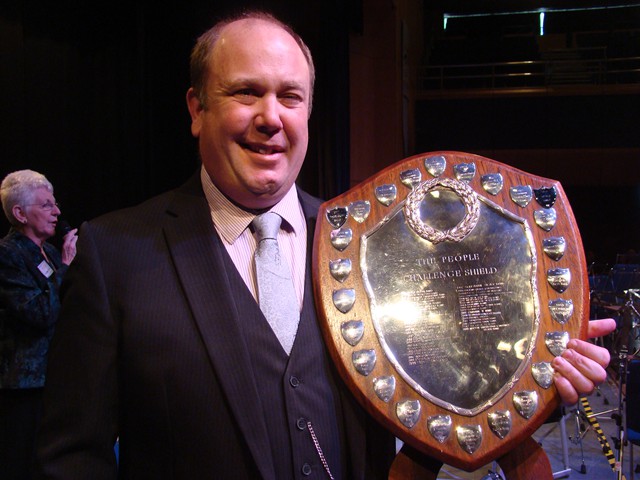 Can Bratton Silver make it two in a row?

Third Section:
Test Piece: 'Evolution, Five States of Change' - Philip Sparke
Sunday 15th March
Draw: 8.45am
Commence: 10.00am
Adjudicator: Roger Webster & Dr Graham O Jones
Another field of well matched bands to enjoy first thing on Sunday morning, especially as they will be tackling another cracking set work courtesy of Philip Sparke to try and get to Cheltenham.
'Evolution, Five States of Change' is as good as it gets at this level - a great balancing act of musicality and technicality hallmarked by all of the composer's finest compositional traits.
Not Freud

He may have taken the elemental building blocks from ancient Chinese Wu Xing philosophy, but none of the linked movements has any Confucius inspired hidden meaning: These are simply reflections on various states of mind set to music - not Freudian psycho-analysis.
Expertly written

As such, we hear some expertly written contesting music; from meditation and sorrow through fear and anger to final joy. It's all there on the page to decipher and understand for the MD and players - although thankfully not in Mandarin.
It is a tough test (although the dynamics and tempos are clearly marked and defined) so whoever gets the nod from Roger and Graham will have deserved it.
---
Who will win?
Although last year's qualifiers didn't quite flourish at Cheltenham, there are high hopes that whoever gets through this time could be in with a decent chance of success.
There are a host of well led bands so the title could end up just about anywhere.
Last year's champion Bratton Silver should fancy their chances of returning to Cheltenham, with the promoted duo of Corsham and Camborne Junior Contesting hot on their tails.
St Stythians, Cinderford and Gillingham Imperial Silver look as if they could mount a serious challenge once again, alongside our dark horse of Midsomer Norton & Radstock Silver.
4BR Prediction:
1. Bratton Silver
2. Corsham
3. Camborne Junior Contesting
4. St Stythians
5. Cinderford
6. Gillingham Imperial Silver
Dark Horse: Midsomer Norton & Radstock Silver
---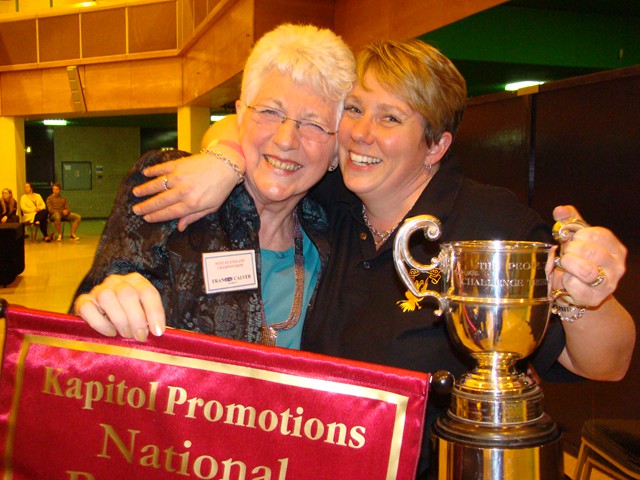 Who will be smiling like this in the Fourth Section this year?

Fourth Section:
Test Piece: 'An English Pastorale' - Dean Jones
Saturday 14th March
The Arena
Draw: 9.15am
Commence: 10.30am
Adjudicator: Michael Fowles & Dr Graham O Jones
As always there is a great atmosphere (and plenty of fine playing) to savour in the Fourth Section in Torquay.
The Arena, with its tent awning cover above the bands, provides a pretty good acoustic if you are sat fairly close to the action (and the judges are) so Mike and Graham should be able to enjoy the efforts of all 21 contenders.
Next generation

It always good to see the next generation of West of England playing talent on show here - with just about every band producing a full quota of talented youngsters who rub shoulders with older counterparts without a hint of stage nerves.
The playing is also a reflection of the personalities of many of the cracking MDs - the contest bringing smiles to the faces everyone involved.
Plenty to enjoy

Plenty to enjoy this year with the test piece too - with 'An English Pastorale' proving to be a fine choice to test bands at grass roots level.
Each of its four well crafted variations (and opening theme) is built on good basic contesting structures - from the need to produce a sense of majesty and balance in the 'Heralding the Dawn', through the modal harmonies and compound rhythms of 'Autumn on the Plaines' and the austere mystery of 'Winter in the Dales'.
The lilting 'Spring on the Lakes' asks for expression and calm serenity, whilst the final romp for home in the joyous 'Summer on the Quays' is bright, colourful and stamina sapping.
---
Who will win?
What a hard one to call. Last year's qualifiers ended up 5th, 6th and 7th at Cheltenham so you can see just how good the overall standard here is.
With that in mind we think Porthleven may well be favourites to return once more (Corsham and Camborne being promoted), joined by Lydney Town and Weymouth Concert Brass.
Tiverton, Tewksbury, Verwood Town and our appropriate dark horse of Cheltenham Silver may all be in the mix too.
4BR Prediction:
1. Porthleven Town
2. Lydney Town
3. Wymouth Concert
4. Tiverton Town
5. Tewkesbury
6. Verwood Town
Dark Horse: Cheltenham Silver