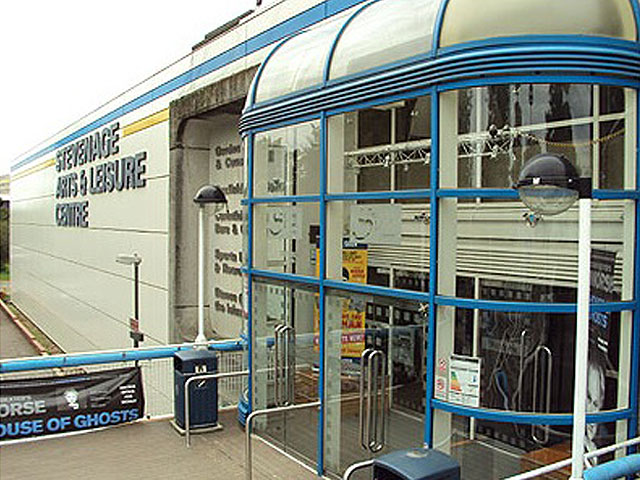 Doing the job rather well: Stevenage awaits 81 bands

The final series of qualification events take place in Swansea and Stevenage this weekend - contrasting contest environments for certain, but ones that will still display all the same competition day anxieties none the less.
Compared to the Brangwyn Hall, the utilitarian Stevenage Arts & Leisure Centre may not be the most beautiful of brass band venues, but it does its job very well - especially as it will be packed to the brim over two days, with 81 keen as mustard competing bands. The Welsh only have to deal with 42.
Pride

There is a keen sense of pride about the Area contest here - and with a hard working Regional Committee who do a remarkable job in keeping things on track, it is not without good cause either.
Over the last few years there has been an increasing flow of success on the 'national' stage, with victories at Cheltenham and solid shows at the Albert Hall.
Although there was no silverware to polish in 2014, there were still top six finishes in the First, Second and Third Sections (including two podium places) whilst Wantage claimed a top ten slot at Kensington. Put that up against the likes of the North East and Scotland.
Optimism

Much of that growing optimism stems for a number of talented young MDs starting to make their mark at every level, whilst it's good to see a debutant or two appear in the starting line-ups - such as City of Norwich Brass and Marsh Gibbon Silver in a Fourth Section that this year boasts 23 entrants.
Plenty to look forward to then - with the action shared in two auditoriums; the cavernous main hall playing host to the Second, Third and Fourth Sections and the Gordon Craig Theatre welcoming the First and Championship contenders, with the top flight contest rounding off what is invariably an enjoyable, if exhausting weekend.
Good mix

With a good mix of judges (John Ward and Nick Garman in the box alongside Alan Morrison, Stan Lippeatt, Michael Fowles, David Hirst and Jim Davies) the bands will also know exactly why they came where they did.
4BR will be on hand to bring you our live comments, views and opinions and those all important results.
---

Will Phil Bailey and Wantage remain as the undisputed leaders on Sunday?

Championship Section:
Sunday 22nd March
Gordon Craig Theatre
Draw: 1.30pm
Start: Following First Section results
Adjudicators: Alan Morrison & Stan Lippeatt
The days of predictability in these parts are long gone - we have had four different winners in the last four years - and it would take a brave man to try and guess which two bands will make it through to the Albert Hall on 'The Torchbearer'.
Given the problems Peter Graham's affectionate homage to Eric Ball has caused you would have thought it was music inspired by Joe Stalin rather than the man who brought us 'High Peak' and 'Journey into Freedom': It's not been that impressively handled even by the most illustrious of top flight bands.

Soviet Union

That said, we perhaps could do with a return to an undisputed autocratic leader here - as in the last few years it's been like the dismantling of the Soviet Union - lots of mini power struggles but none quite strong enough to take over the old Redbridge mantle.
What Alan Morrison and Stan Lippeatt will be faced with in the dead acoustic of the Gordon Craig Theatre should be interesting then.
Bear traps

Any band that can produce a confident opening (and there have been so few this year) may well be off to a flyer - although there are so many bear-traps hidden innocuously in the score that it will take more than hearing a sop, rep and triangle playing together to start thinking about a day out in Kensington too soon.
Poor tempo choices and harsh dynamics have wrecked many bands chances - so much for the MDs to consider, although the demanding solo lines for euphonium and cornet should hopefully bring the best out of players with warm tones in their instruments and cold blood running through their veins.
Comrades - you have nothing to lose…
---
Who will win?
If you are looking for a clear bookie's favourite then think again. You are not going to get one here.

The twelve contenders seem well matched - although some come to the contest in better form than others after testing early season appearances at Butlins.

Friary Guildford and Redbridge enjoyed encouraging performances at Skegness, although defending Area champion Wantage didn't.
Meanwhile, the peripatetic talents of Zone One Brass could well be in the mix if they have been able to put in the rehearsal graft, whilst Aveley & Newham, East London Brass and our dark horse of Staines could well make a mark with their Ball skills if they are on top form.
4BR Prediction:
1. Friary Guildford
2. Redbridge
3. Wantage
4. Zone One
5. Aveley & Newham
6. East London Brass

Dark Horse: Staines Brass
---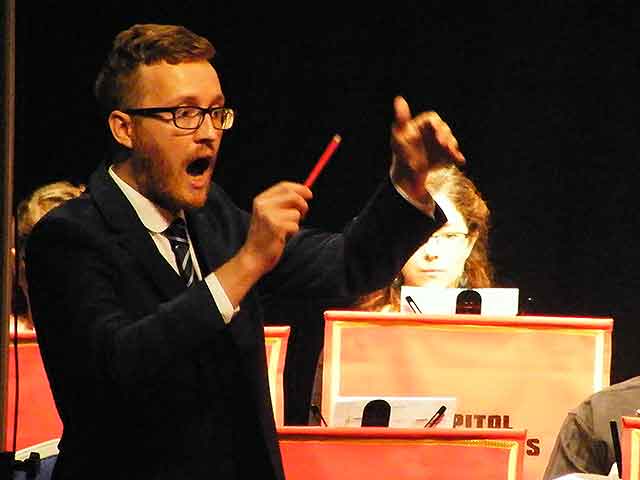 Can Fulham and John Ward return again to the Finals in a higher section?

First Section:
Sunday 22nd March
Gordon Craig Theatre

Draw: 9.00am
Start: 10.00am
Adjudicators: Michael Fowles & Jim Davies
A rather aptly named test for the 15 contenders to try and overcome if they are to successfully claim a place at Cheltenham.
If you thought 'Torchbearer' had been sorting out the wheat from the chaff in the top section, then 'A London Overture' has been threshing ambitions like a turbo charged East Anglian combine harvester.
Transparent

It is a stern test - no doubt about it: However, if bands at this level cannot produce coherent, secure renditions of a work that places such transparent challenges for MDs and player alike, what hope have they of making any sort of impression on the more esoteric tests that await in the Championship Section?
As ever, there is sure to be endeavour and bravery come Sunday morning by the bucket load, but that really won't be enough to win through to Cheltenham surely?
Obvious problems

The obvious problems to be faced with the fearsome quartet of cadenzas are well known (and trombones in particular have been finding their oddly pitched test a real challenge of technique), but even if these have been played with artistic aplomb, many MDs have still decided to totally ignore the composer's tempo and dynamic markings in the main ensemble work that follows.
Mantra

The mantra we have heard time and time again from rather frustrated judges around the country has been about the lack of adherence to Philip Sparke's clear musical instructions: It's all there on the pages of the score. Ignore them at your peril - especially as Michael Fowles has already given clear notice in his excellent contest speeches this year - and he's in the box.
---
Who will win?
With last year's top two promoted there looks to be a pretty evenly matched field of rivals ready to try and claim the two qualifications places - something that was shown in Skegness when rivals Becontree, Fulham, Ipswich & Norwich Co-operative and Haverhill all ended up together in the top 10.
That could well be the same again here with the likes of Hitchin, Northfleet and our dark horse of Egham not far behind.

4BR Prediction:
1. Becontree
2. Fulham
3. Haverhill
4. Ipswich & Norwich Co-operative
5. Hitchin
6. Northfleet
Dark Horse: Egham
---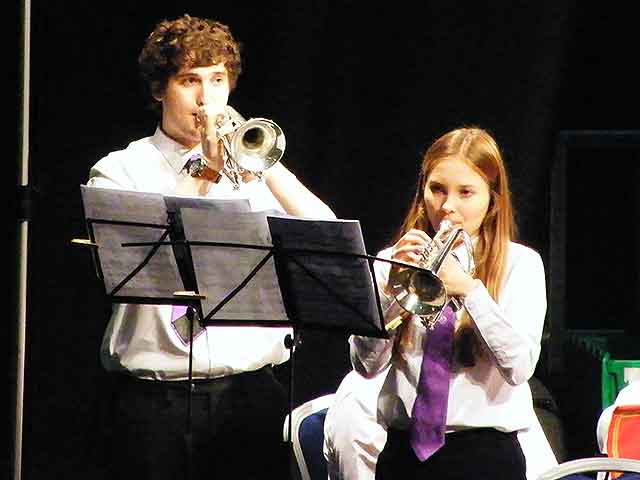 Can Wantage return to Cheltenham once again?

Second Section:
Saturday 21st March
Main Hall

Draw: 1.00pm
Start: Starts after Third Section
Adjudicators: Stan Lippeatt & Jim Davies
Some of the most engaging contesting of the entire Area series has come in the Second Section, where Kevin Norbury's 'Variations on Maccabeus' has brought the best out of both players and MDs alike.
Hopefully it will be the same on Saturday for the experienced duo of Stan Lippeatt and Jim Davies in the box - both of whom have been around long enough to have enjoyed a 'conquering hero' moment or two of contesting glory themselves.
Stylistic intent

As we have said, 'Maccabeus' has been a fine choice by the Kapitol Music Panel; one that combines technical proficiency with stylistic intent - right from the 'The Devil and the Deep Blue Sea' inspired opening chord, which dies away like an ebbing tide to reveal a testing opening passage (especially for any nervous sopranos).
The theme may sound easy enough, but the dynamics over the first 20 odd bars will take some playing up to the first chance to blow those nerves away at bar 22.
Tripping

After that it's about style: from the twin elements of the 'Allegretto scherzando' of Variation 1 and the transformation of the 'Larghetto quasi chorale' in Variation 2, to the whimsical waltz of Variation 3 (which sounds very genteel when played well) and the all embracing Baroque inspired Variation 4 and coda.
And as has been shown so far - tempos (especially in waltz and the final fugato section), tuning and dynamics (throughout) have been tripping up the bands.
Camouflage

The Main Hall at Stevenage may help camouflage a few things (it is a pretty lively acoustic) but Stan and Jim have been around far too long to be hoodwinked by bluff and flannel or even well intentioned camouflage work.
If you are going to become a 'conquering hero' and get to Cheltenham then you will have to get the basics right.
---
Who will win?
There are plenty of ambitious bands on show here with quite a few coming to the contest with high hopes of securing their place at Cheltenham.
Colchester certainly surprised people with a fine result at Skegness and alongside last year's qualifier Wantage B (who came 8th at the Final) they could be the bands to beat.
Close on their heels though could be former Third Section National champion LGB Brass, with Yiewsley & West Drayton, Chiltern Hills and Cawtson alongside our dark horse of promoted Grimsdyke Brass.
4BR Prediction:
1. Wantage Silver B
2. Colchester
3. LGB Brass
4. Yiewsley & West Drayton
5. Chiltern Hills
6. Cawston

Dark Horse: Grimsdyke Brass
---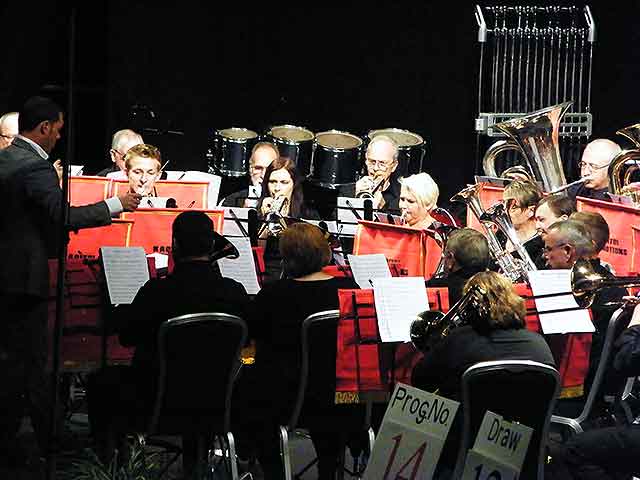 Can Norfolk Wherry go one better this year and claim the title?

Third Section:
Saturday 21st March
Main Hall

Draw: 9.00am
Start: 10.00am
Adjudicators: Michael Fowles & John Ward
Another closely matched field of ambitious, well led contenders will tackle Philip Sparke's 'Evolution - Five States of Change' to try and capture the prize giving ears of Michael Fowles and John Ward in the box.
And whereas the competitors in the top two sections have struggled to overcome both the technical and musical challenges of their set works, this expertly crafted piece of contesting musicality has so far brought the best out of bands the length and breadth of the country.
Nothing hidden

That has been down to the fact that the vast majority of MDs have used their noggins and not tried to find any sort of hidden philosophical Xu Wing meaning to each of the five thematically linked movements.
Instead they have been relying on good contesting basics of staying close to the stated tempos and dynamics (and they are as clear as copyright infringement marks on a Chinese rip off Gucci handbags) and allowing space and time for players to perform in their comfort zones.
Not Freud

As we have said: These are simply reflections on various states of mind set to music: Meditation, Sorrow, Fear, Anger and Joy - not Freudian psycho-analysis.
---
Who will win?
As hard to call a winner as getting a Xu Wing Beijing telephone number.
Last year's qualifier Norfolk Wherry Brass who came third at Cheltenham look to be the band to beat, but there are a host of rivals snapping at their heels - led we think by BAE Systems and Olney Brass.
Simon Langton Brass, Oxford Cherwell Brass and Jubilee Brass (Oxford) could be in the mix with our dark horse of Chinnor Silver.
4BR Prediction:
1. Norfolk Wherry Brass
2. BAE Systems
3. Olney Brass
4. Simon Langton Brass
5. Oxford Cherwell Brass
6. Jubilee Brass (Oxford)

Dark Horse: Chinnor Silver
---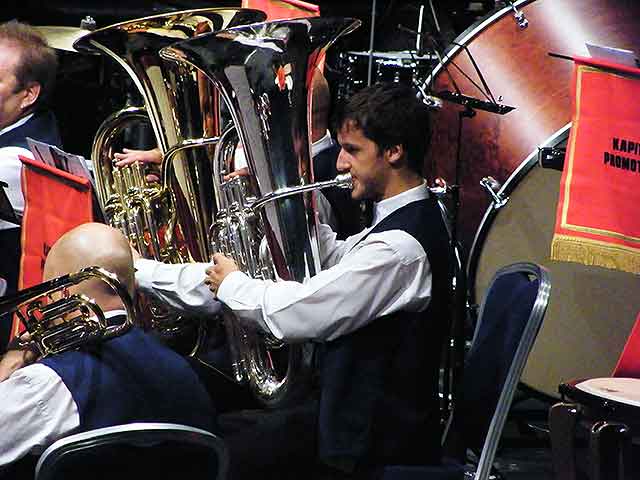 Can Brighton reclaim a place back at Cheltenham again this year?

Fourth Section:
Sunday 22nd March
Main Hall

Draw: 10.00am & 12.00 noon
Start: 11.00am
Adjudicators: Nick Garman & David Hirst
The largest field of competitors to be found in the country this year will battle to gain one of the three qualification places courtesy of Nick Garman and David Hirst in the box.
It may well be a long day of deliberation for the pair, but it should prove to be an enjoyable one if the bands and their MDs approach 'An English Pastorale' in the same way as the best have done in other regions.
4BR tips

As we have said, Dean Jones' set work has proven to be a fine choice, and those who tuned into the 4BR Fourth Section test piece workshop will have picked up a few valuable hints of what David in particular may well look for in each of the movements.
One thing to bear in mind though might be the rather lively acoustic of the Main Hall, with bands having to be careful not to overblow if eagerness starts to get the better of them.
Well crafted

Each of the four well crafted variations (and opening theme) is built on good basic contesting structures - from the need to produce a sense of majesty and balance in the 'Heralding the Dawn', through the modal harmonies and compound rhythms of 'Autumn on the Plaines' and the austere mystery of 'Winter in the Dales'.
The lilting 'Spring on the Lakes' asks for expression and calm serenity, whilst the final romp for home in the joyous 'Summer on the Quays' is bright, colourful and stamina sapping.
Get it right and the undulating green furlongs of Cheltenham racecourse awaits....
---
Who will win?
Such an open field that we may have better luck trying to pick the lottery numbers on Saturday night.
Lots of well led bands with ambition, enthusiasm and the eagerness to put down a marker that will send them to the Final - led we think (and forgive us for the kiss of death) by Brighton & Hove City Brass, who will be determined to return to Cheltenham once again.
We are going for Woodbridge Excelsior and East Coast Brass to join them, with Tadley Concert Brass, Bradwell Silver and Letchworth Garden City close behind. Watch out for City of Norwich Brass though as a well backed dark horse.
4BR Prediction:
1. Brighton & Hove Silver
2. Woodbridge Excelsior
3. East Coast Brass
4. Tadley Concert Brass
5. Bradwell Silver
6. Letchworth Garden City

Dark Horse: City of Norwich Brass