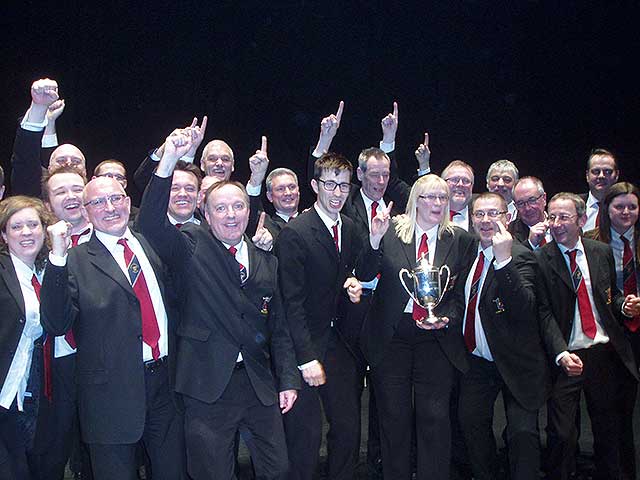 The first of many for Friary Guildford?

There were some unconfirmed rumours circulating in Stevenage of unsavoury competitive scenes between rival players this year - although none thankfully came at what was a thoroughly enjoyable London & Southern Counties Area Championship.
By all accounts, as some of the 80 bands were battling it out in homage to the likes of Eric Ball and even the Duke of Cumberland at the Arts & Leisure Centre complex, some gormless footballer decided to pay a personal tribute to Luis Suarez, and allegedly bit an opponent in the local derby match between Stevenage Borough and Dagenham & Redbridge.
Top Gear

And while some rival bands may have headed home a touch battered and bruised after their performances against troublesome opposition here, none had to make a trip to the nearest A&E department for a Hepatitis B shot.
In fact, the closest to anything like it came with a few well-bitten finger nails as the results were announced in each section - although the destination of the various Area titles were eventually sown up better than a Top Gear producer's bruised lip.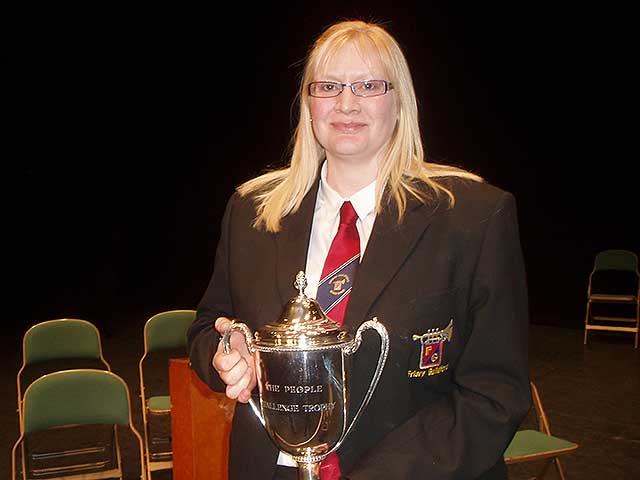 Now for Blackpool...

The Championship Section was a case in point: Friary Guildford claiming their first top flight Area victory and third successive Albert Hall appearance with a performance of 'Torchbearer' that brokered little argument, let alone handbags and sustained verbal jousting in the nearest post results bar.
Handful

They will certainly be a bit of a handful for rivals at the Senior Cup on 'Festival Music' though; a band packed with confident, stylish players led by an MD in Chris King who knows how to make the most of his resources. Mozart via Eric Ball could suit them very well indeed.
How Zone One would have got on in Blackpool would have been an interesting question to have heard answered - especially given their performance here. When they put in the work they do play with a very persuasive musical swagger under Richard Ward's intuitive direction.
Nostrils flared

Behind them, a few arguments to chunter about over eventual final placings; but little to get the nostrils flared up in anger: Redbridge, Staines, Medway and East London on the up, Aveley & Newham and defending champion Wantage seemingly heading in the opposite direction for now - although Blackpool will perhaps tell us more.
It could be that the period of top section flux of recent years may well be coming to an end.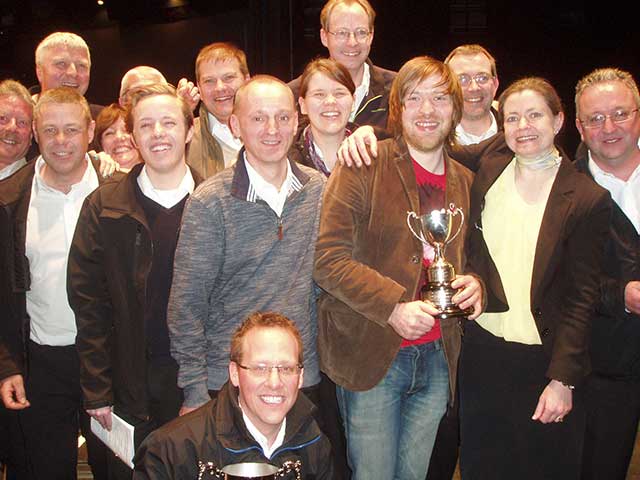 Haverhill taste success again in the First Section

Elsewhere, the First Section was not the bloodbath many critics had been expecting; although 'A London Overture' did wreak a fair bit of havoc on those ill equipped to meet its formidable demands.
Billingsgate eel

The best were well prepared, intelligently led and brave; notably the top three or four, all of who had it almost under control like a wriggling Billingsgate Market eel, from start to finish.
Others flattered to deceive (for 4BR if not the box) but both Haverhill Silver (who won here for a third time since 2006) led with purposeful brio by Mark Ager, and Fulham, directed with a touch more restraint by John Ward (who emulated his brother, Richard, in getting his band to the Finals) were worthy qualifiers.
How they get on against a pretty strong field of Cheltenham rivals may well tell us how they are really equipped for the rigours of possible Championship life though.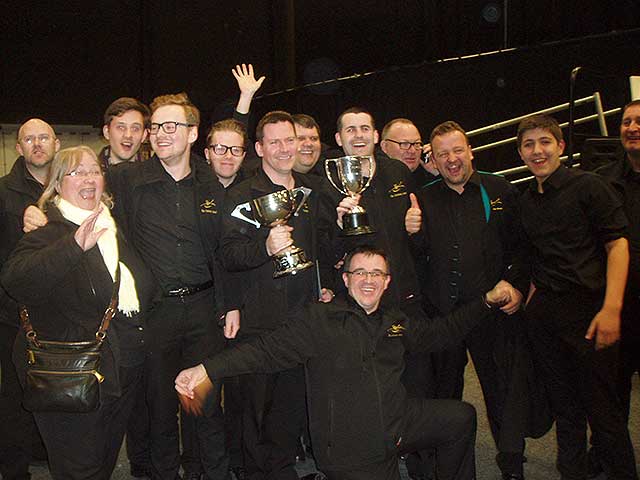 Back in black for Colchester

Meanwhile, Colchester and Yiewlsey & West Drayton won through from an interesting, but variable Second Section (with both making huge leaps up the results table from last year) - one which also saw Cawston come close to nipping into the qualification frame in what would have been a difficult decision for Jim Davies and Stan Lippeatt to make in the box.
Most of the 15 bands field gave 'Maccabeus' a good go - some more successfully than others it must be said, in a contest that was pockmarked by inconsistency.

Age old spirit

And whilst modern footballers snarled, stamped and bit their rivals in desperate attempts to gain an upper hand over rivals, the age old spirit of banding was seen in the Third Section, where Melvin White showed his class in a manner proper stars such Bobby Charlton or Stanley Matthews would have recognised and admired.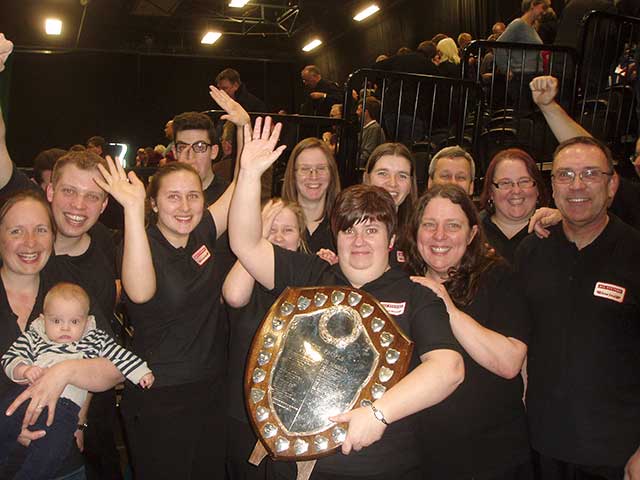 Have baby, win contest (not the one the picture though) for BAE Systems...

Boy done great

With BAE Systems MD, Jonathan Crowhurst awaiting the imminent arrival of a new born son, Melvin stepped in on one and half rehearsals to lead them to victory; using all his experience (and a fair amount of well planned hard graft in advance just in case he was needed) along the way.
Bearing in mind he also led Medway to a fine fifth place in the top section and Northfleet to eighth in the First, it was an effort of true musical sportsmanship. To borrow a footballer's well known post match interview phrase - 'The boy done great'.
BAE will be reunited with their MD in time for Cheltenham, whilst a thoroughly delighted Cold Ash Brass who will join them there (after coming 15th last year), could also spring a surprise or two as the overall standard on show, although not breathtaking, stood up very well against other Areas.
Impressive renditions

The same could also be said of the Fourth Section, which although varying greatly in specific quality in its 22 band field, did contain more than its fair share of impressive renditions of 'An English Pastorale'.
The unfortunate pre-results conclusion of not being able to hear what the judge's had to say, was caused by concern over the health of the contest controller, who had worked his socks off with his team throughout a long and hard day.
Understandable

The oversight was therefore understandable, although the adjudicators (David Hirst & Nick Garman) ensured that each band received a comprehensive and speedy response with their clearly defined thoughts by e-mail.
What the results did reveal however was that the three eventual qualifiers were made up of a debutant, a returnee and a band that was making just its second Area appearance.
And what great celebrations all of them must have enjoyed on Sunday evening, as the excellent debut champion, City of Norwich (as the last band of the contest), Castelton Brass (back after a decade or more away) and East Coast Brass (on just their second attempt) claimed their places at Cheltenham.
Superb team

It rounded off a fine weekend of new eras at Stevenage - with Regional Secretary, Kevin Williams leading a superb team of volunteers in running his first mammoth event with good humour, hard graft and more than a touch of kindness and consideration for others.
The future of this Area championship looks bright then - as there is no sign of a Luis Suarez Silver Band wishing to take part next year...
Malcolm Wood