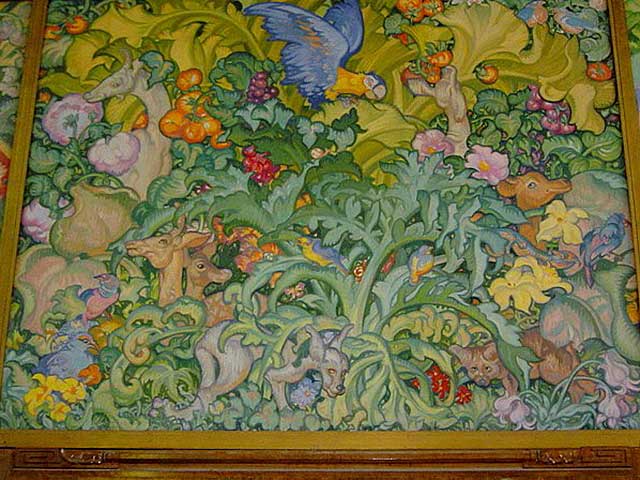 Spruced up and ready to go: The Brangwyn Hall murals...
Despite its well known predilections for tribalism there are occasions when the Welsh do come together for the greater good of all.
For instance, with echoes of John F Kennedy's moon landing speech, there are realistic hopes of attracting the European Championships to Cardiff before the end of the decade: Not because Wales can, but because with all its various successes at all levels of national contesting over the past few years, it's about bloody time.
Overhaul

It's the same with the Regional Championship contest, which after a disappointing sojourn to Llandudno (despite the hard work of the hosting North Wales Association) returns to a revamped Brangwyn Hall, which although it hasn't had the same amount of taxpayer's money splashed on it as a Saturn V rocket, has been given a well overdue overhaul.
For the greater good of all prevails then…
Closer harmony

That said, Welsh banding still desperately needs to work in closer harmony if it is to maintain its remarkable record of achievement, with the three main regional associations still prone to view each other through a darkened brow of mutual distrust.
For the moment though the whole nation is enjoying the fruits of success - from the brilliant youth ensembles in North Wales, to the growing maturity found in the bands in the West and the major contest powerhouses of the South East heavyweights.
Fantastic win

Cory and Tredegar once again pre-qualified for the Albert Hall, ensuring an extra two bands from a field of just eight will join them in October, whilst Cheltenham yet again saw title winning success.
Ebbw Valley claimed their second successive national crown in the Third Section and Northop Brass secured a fantastic win in the Fourth. Welsh qualifiers have come away from the National Finals with at least one title in seven of the last eight years.
JFK

With all that in mind then, there promises to be some tasty playing on show on each of the sections, although with just 42 bands this year (down 2) the quality is in danger of getting rather condensed.
Still as JFK once said: It's not what your country can do for you, but what you can do for your country.
He must have come from Abertawe…
---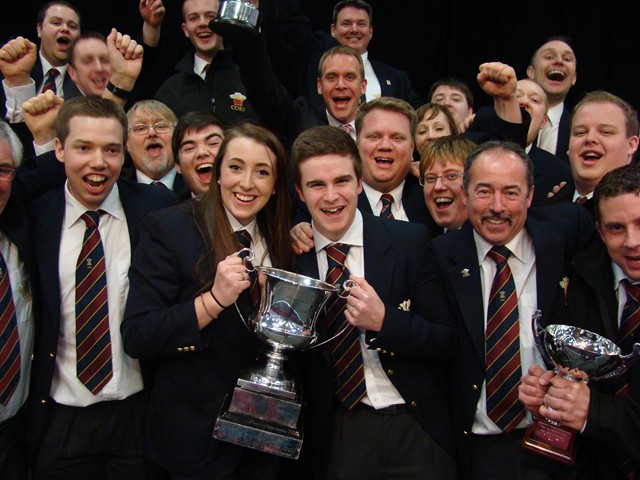 Can Cory retain their title and head to Lille?

Championship Section:
Sunday 23rd March
Draw: 11.30am
Start: After Fourth Section results
Adjudicator: Steve Sykes
Two contests for the price of one?
Nine bands take to the stage on Sunday afternoon with high stakes to be played for on 'The Torchbearer'.
With Cory and Tredegar already pre-qualified, their contest desires will be geared to winning not just the title, but also securing the bonus prize of becoming the Welsh representative at the 2016 European Championship in Lille.
Seismic

And although a shock result is not out of the question (Tongwynlais certainly did that in 2013 under Steve Sykes - who happens to be a welcome visitor in the box) even the French would feel the seismic shock under their feet if that particular accolade wasn't won by either Philip Harper or Ian Porthouse's band.
Meanwhile, the remaining contenders will surely be happy if they are able to leave the Brangwyn Hall with a list of decently priced hotels to contact in Kensington first thing on Monday morning.
Far shore

That may sound a little harsh, but the reality remains in the top section that the Cory and Tredegar leviathans swim in waters far from the shores of their domestic rivals - although occasionally they do get beached belly up.
The push for the two additional qualification places may see a few well led bands play well above themselves: London as well as Lille beckons.
Erics

However, Peter Graham's affectionate set work may wear the outward appearance of a warm hearted Salvationist pensioner, but it still has the ability to kick the unsuspecting, hubristic or nervous, a sharp kick in the 'Erics' if they don't treat it with due respect.
Ball skills will be at a premium then…
---
Who will win?
Hard to really see anyone really pushing the top two close as they battle it out for the title and that Eurostar ticket to Lille in 2016.
Cory still has the edge - and they haven't yet shown any sign of losing their desire to remain the number one band in the world let alone Wales. That may just give them the edge over their great rivals once again.

Behind them, it could prove to be an equally fascinating fight, with Northop and Burry Port perhaps just having their own edge over a rebuilding Tongwynlais and a confident Llwydcoed.
With just eight bands in the mix our joint dark horses are BTM and Tylorstown.
4BR Prediction:
1. Cory
2. Tredegar
3. Northop
4. Burry Port
5. Tongwynlais Temperance
6. Llwydcoed
Dark Horses: BTM & Tylorstown
---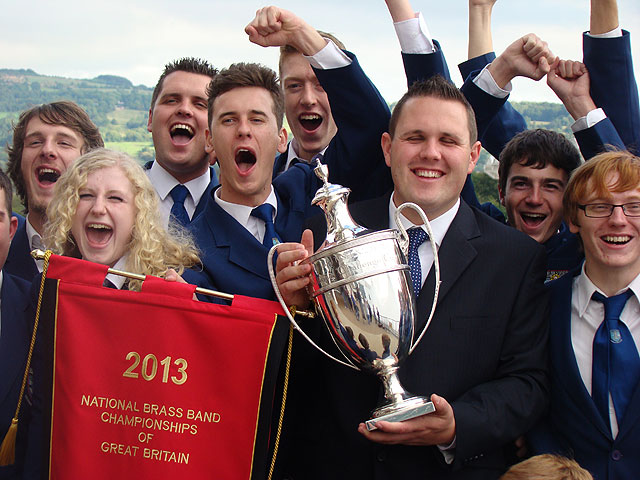 Can Goodwick return to Cheltenham again?

First Section:
Saturday 21st March

Draw: 3.00pm
Start: After Second Section results
Adjudicator: Glyn Williams
If the battle for title silverware seems fairly clear cut in the Championship Section, then it's as murky as the water out in Swansea Bay in the First, where nine solid looking rivals battle for two qualification spots.
Three times since 2008 representatives have gone onto claim the National title (the last, Tylorstown in 2013) so there is a proud history to maintain for those that get through, even though last year's qualifiers ended up like Cardiff City (stuck in mid table).
Severn Bridge

Much of course will depend on how they cope with the rigors of 'A London Overture', which has so far played havoc across the Severn Bridge.

Each of these contenders has talent in the ranks, but like the butter on the sandwiches at Brangwyn Hall cafeteria, it can be rather thinly spread.
Bums on seats

Those who can muster a quartet of top notch cadenzas (with euph players keen to catch the ear of Foden's star Glyn Williams in the box) allied to sensible tempo and dynamic choices to follow (the Brangwyn Hall can be a lively acoustic when there are not too many bums on seats) then Cheltenham may well beckon.
If not, it's down to the Bay View Hotel on the corner to drown your sorrows…
---
Who will win?
Well now - like the Welsh railway station with the longest name in the world, this one is a hard one to call.
City of Cardiff (Melingriffith) and Goodwick have a proven track record of success and should have enough all round quality about themselves to edge out the improving Abergavenny and Lewis Merthyr.
Pontardulais, Llanrug and our dark horse of Markham & District are not to be discounted though.
4BR Prediction:
1. City of Cardiff (Melingriffith)
2. Goodwick
3. Abergavenny Borough
4. Lewis Merthyr
5. Pontardulais
6. Llanrug
Dark Horse: Markham & District
---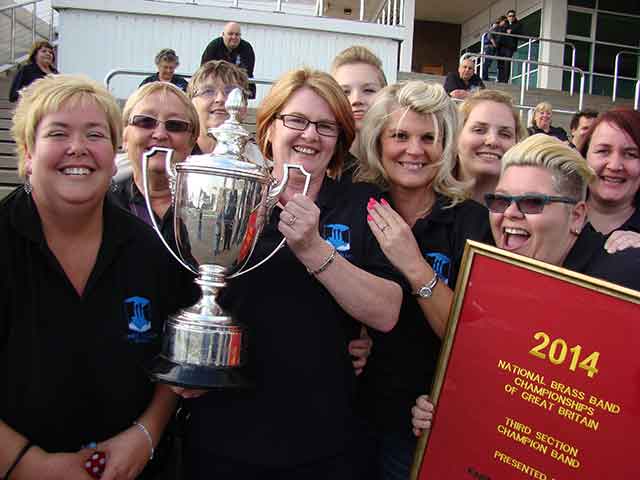 Ebbw Valley heading for a National triple crown?

Second Section:
Saturday 21st March
Draw: 12.15pm

Start: After completion of Third Section results
Adjudicator: Steve Sykes
There may be some ancillary diversions plaguing concentration levels of listeners (but hopefully not players) come Saturday lunchtime, as the Welsh rugby team take to the field in Rome to see if they can secure the Six Nations Championship title.
Sergio Parisse

It's a regular occurrence at this event (Grand Slams being as hailed with just as much fervor as any band victory), so Steve Sykes may wonder what is going on at times if he hears muffled cries of anxiety permeating the air as contrasting sets of players overcome a testing defence - one by Sergio Parisse the other by Kevin Norbury.
Both though should eventually succumb to well thought out tactics, star players and the ability to play with style - from the probing opening (with sop players under the high ball from the word go) right through the four contrasting variations which ask testing questions of pace, dynamic and musical character.
Cropper

As many English and Scottish bands have found out already - try to beat 'Maccabeus' with brute strength, over ambitious tempos and blunt edge style and you will come a cropper.
Get it right and the winning MD can walk around like Sam Warburton with the Six Nations trophy to his name - but get it wrong and they may well feel like a beleaguered Italian captain.
---
Who will win?

Ebbw Valley looks like the band to beat. Over the last couple of years they have managed to build in confidence and with increasing strength in depth, so if that trend has continued they should look forward to trying to claim a National 'Triple Crown' of their own at Cheltenham.
Who will join them though is a trickier question, with last year's winner Blaenavon perhaps having the edge over Royal Buckley and Deiniolen, with Cwrbin, Rogerstone and our dark horses of Newtown and Ogmore Valley not far behind.
4BR Prediction:
1. Ebbw Valley
2. Blaenavon
3. Royal Buckley
4. Deiniolen
5. Cwrbin
6. Rogerstone
Dark Horses: Newtown Silver & Ogmore Valley
---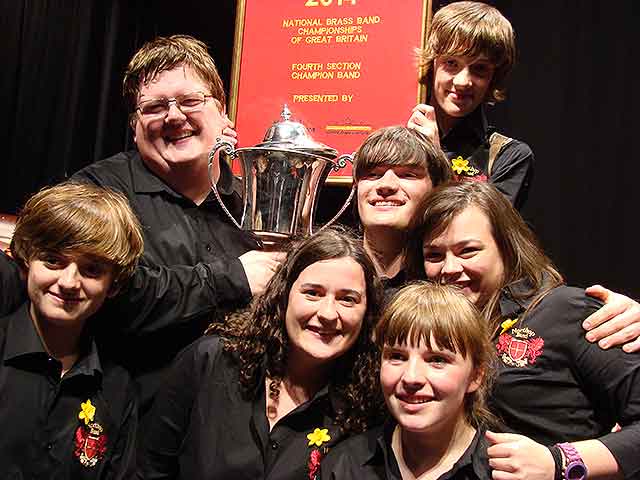 Can the fantastic Northop Brass get back to Cheltenham?

Third Section:
Saturday 15th March

Draw: 10.00am
Start: 11.00am
Adjudicator: Glyn Williams
There should be a cracking contest for Glyn Williams and the audience to enjoy in the Third Section, where eight competitive rivals battle for the qualification places on 'Evolution - Five States of Change'.
Wales is used to being in a constant state of flux: In fact, Philip Sparke's piece could well be renamed 'Devolution - five changes of mind' given the number of times we have a form of well meaning political re-organisation bandied about in the country.
Anger, fear and sorrow

The contenders shouldn't have any problem with anger, fear and sorrow then - although joy and meditation may be a bit harder to come by.
It's also been a piece that has brought the best out of bands around the Areas, with MDs taking the score at face value, and not trying to find any hidden meaning in its subtext Wu Xing philosophical inspiration.
Egg fried rice

If any conductor may think that's the way to success then they might as well get the chap down the local Chinese takeway to explain the lessons of Confucius through the menu numbering system for an order of a spring roll and egg fried rice. This is all about getting good brass band contesting basics right.
After years of near misses and hard luck stories, Ebbw Valley became the first Welsh band to take home the Third Section title since 1992, so now that particular drought has been broken there will be high hopes of a repeat from the qualifiers.
---
Who will win?
A hard one to call - but the impressive Northop Brass, who won the National Fourth Section title in such style last year will surely be the band to beat. They are a cracking band.
Thomas Coaches Mid Rhondda could well have to book their own sponsors to take them to Cheltenham if they play to form, whilst the battle for a podium finish may see Ammanford Town, Briton Ferry, RAF St Athan and Crosskeys close on their heels.
Our dark horses are Gwaun Cae Gurwen and Rhyl Silver
4BR Prediction:
1. Northop Brass
2. Thomas Coaches Mid Rhondda
3. Ammanford Town
4. Briton Ferry
5. RAF St Athan
6. Crosskeys Silver
Dark Horses: Gwaun Cae Gurwen & Rhyl Silver
---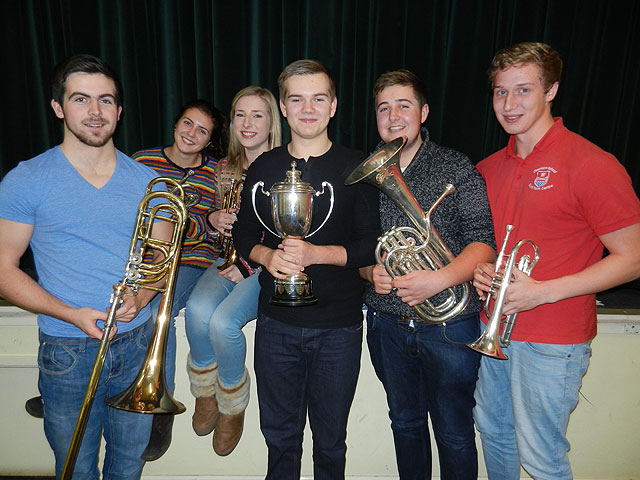 Will Usk add more silverware to their CV?

Fourth Section:
Sunday 22nd March

Draw: 9.00am
Start: 10.00am
Adjudicator: Glyn Williams
The title of the Fourth Section set work may well be said through gritted teeth in some parts of Plaid Cymru voting Wales, but there is little doubt that 'An English Pastorale' will have gained quite few fans over recent weeks - even with ardent viewers of Pobol y Cwm.
That's because the clever writing evokes images that are familiar to just about anyone outside the urban sprawl of the M25: Each of its four well crafted variations (and opening theme) being built on good basic contesting structures.
Control

There is the need to produce a sense of majesty and balance, control modal harmonies and compound rhythms, bring austere tonality, find expressiveness in solo lines and round it all off with a sense of joyful fun.
That may well be an 'English Pastorale' according to the composer, but it can equally be applied to many parts of Wales too - north, south, east and west - so there should be little excuse for the bands and their MDs not being able to bring something of their own out of the score.
Hard act to follow

Who ever gets though to the green and pleasant undulating furlongs of Cheltenham has a hard act to follow though - with Northop Brass a superb winner in bringing the National Trophy home again for the third time in four years.
And that was on a piece inspired by a talking Lion who lives in a wardrobe...
---
Who will win?
A difficult one to call with nine bands all with obvious strengths and weaknesses, but we are going to plumb for Abertillery Youth & District, with Usk joining them at Cheltenham.
Close on their heels for us could well be Ynyshir, Newport Borough, Oakdale and Upper Rhondda with our rather mysterious dark horse of debutants Phoenix.
4BR Prediction:
1. Abertillery Youth & District
2. Usk
3. Ynyshir
4. Newport Borough
5. Oakdale
6. Upper Rhondda
Dark Horses: Phoenix