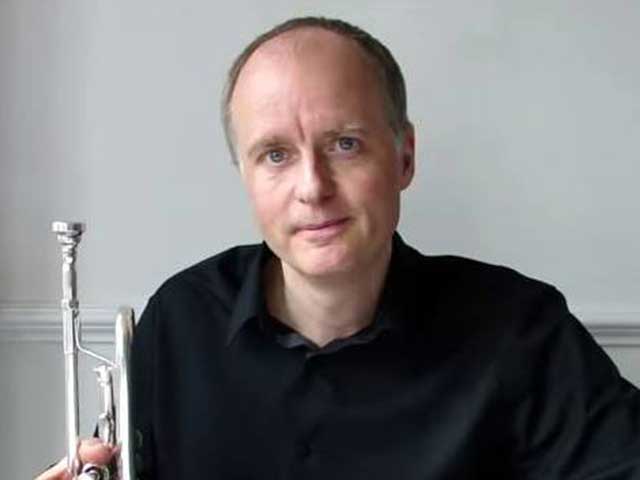 Fit, active and back to normal...

Trumpet player Antony Kearns woke up one Friday morning in January this year to find that he had been affected by Bell's Palsy, a condition which causes temporary paralysis of one side of the face and affects about 1 in 4,000 people in the UK each year.
It occurs when the nerve that controls the muscles in your face becomes compressed due to inflammation. It could be due to a virus, but the cause isn't generally understood.
Critically, the particular nerve in question (cranial nerve 7) is the exact same motor nerve brass players use to form an embouchure and to play our instruments.
This is his story of how he is battling back against its effects.
---
In January this year, I woke up one normal Friday morning and noticed that the right-hand side of my face had dropped and was becoming increasingly numb and paralysed.

I promptly made my way to the local hospital and the Doctors very quickly confirmed that I hadn't had a stroke, but had indeed suffered a case of Bell's Palsy.
So what do you do when you encounter something like this?
'Google' it of course!
Causes

I read as much as I could about the causes, treatment and prognosis. There is a massive amount of valuable information and support available on-line (and obviously a lot of nonsense out there too!).
One thing I found particularly helpful were the 'Bell's Palsy recovery diaries' on YouTube. Seeing people encountering the same symptoms and difficulties and observing at what stage they improved, was really beneficial and encouraging.
I discovered that most people do make a full recovery, but it can take months or even years.

Many described long-lasting residual after effects, which I imagined ordinarily you could learn to live with on a day to day basis, but could potentially prevent you from being able to meet the physical demands of trumpet 'chops'.
You Tube diaries

I found videos of a trombonist and a euphonium player who were recovering well from the condition, but also read about a trumpeter who could no longer play at all and a soprano cornet player, who in the end had to switch to an instrument with a larger mouthpiece.
This obviously increased my concern that the focused compression and control necessary to play a small mouth¬piece instrument might be no longer possible. Thankfully, as an ex-professional, I wasn't relying on playing the trumpet to pay the mortgage!
As I hadn't found any YouTube diaries by trumpeters, I decided to see if I could compile the kind of video I would have found so useful.

I didn't publicly upload them as I went along, but I did find it really valuable recording my own daily clips on my tablet, just to track my progress and document the very gradual improvements as they happened.

The start of the journey back...

It was four weeks to the day that I was able to get a first (cracked) note and which I captured on camera.
Very slowly, over the next three or four weeks, I was gradually able to regain the strength in my facial muscles which had previously been built up over years of playing. By week seven, I finally felt confident that I was indeed going to be able to play the trumpet again.
Vocalise

On the cold January morning that my adventure with Bell's Palsy began, I'd been planning on practising a trumpet arrangement of Rachmaninov's 'Vocalise Op 34', but instead found myself rushing off to my local A&E.
The music became something of a theme tune for my recovery - I often listened to the sublime Yo Yo Ma classic cello recording and I fancifully thought I would consider myself 'fully recovered' once I could finally play the piece.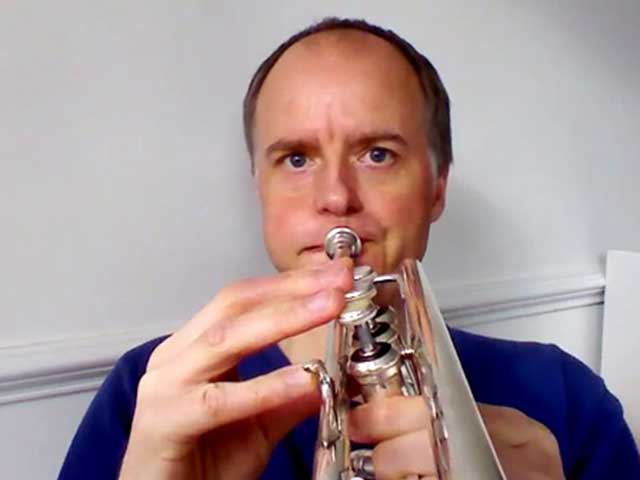 Back in 'training'

On 24th March, 67 days after the Bell's Palsy onset, I was able to record 'Vocalise' as background music for the recovery video I was putting together.
I believe that brass and woodwind players might actually have a better chance of making a speedy recovery from Bell's Palsy than would otherwise be the case.
Training

The damaged neural pathways perhaps ought to re-trace and repair themselves more easily if helped by the 'trained' muscular memory in the face. As a brass musician, your face knows better than most what it needs to be able to do.
They say 'what doesn't kill you makes you stronger' and it's perhaps a bit of a cliché, but I can certainly relate to it. You learn a lot about yourself when this sort of thing happens.
One thing I was reminded of was that I am essentially a pretty positive person.
It had happened; it wasn't life threatening; it was (hopefully) temporary.

Take control

By embracing it and by filming the progress for possible future publishing (should it all come good), I was able to take control and to create something positive out of it.
Publishing the video has been tremendously cathartic - I feel I've been able to package the experience up into a helpful resource for others and move on to whatever the next thing life throws up.
Top tips

So, my top tips for dealing with Bell's Palsy would be:
● seek medical advice and take the steroids and antiviral medication, which may help
● remain positive and believe that you are going to get better
● rest when you need to, but also keep yourself fit and eat as healthily as possible (e.g. look up which foods are especially anti¬-inflammatory)
● Google 'vitamin B12 methylcobalamin' and learn about the benefits for nerve damage repair
● take it very slowly with the chops and don't rush the process and over exercise them. There is strong evidence to suggest exercising too soon can cause mis-wiring of the nerves (synkineses)
Antony Kearns
---
Antony Kearns
Antony was born in Oldham, Lancashire (playing for Delph Youth Band), but has lived in Finchley, North London for most of his adult life.
He is married, has two sons, is fit, active (he plays squash and rides a bike to work) and is also a Director of the music publishing company Stainer & Bell.

The video can be viewed at: http://antonykearns.com/bells-palsy/