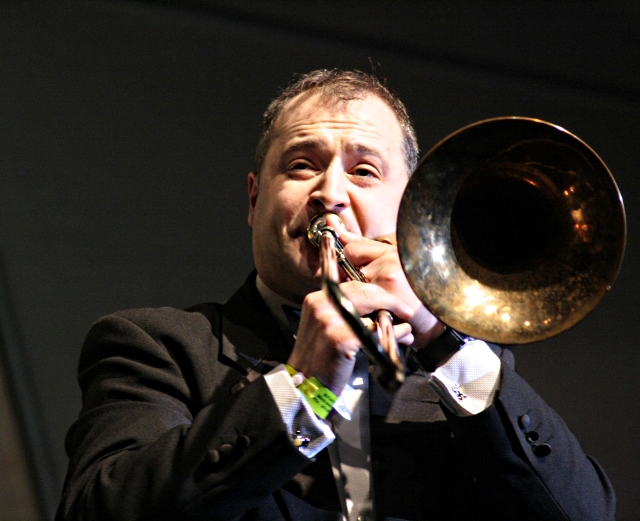 In action on the contest stage: Jonathan Pippen

I know that the experience I enjoyed (and I did!) in my formative years standing in front of a band as an eager soloist was a huge part of my development as a musician.
The confidence that can be gained by a player taking to the solo stand is vital, and should be encouraged wherever possible - especially with ever more demands placed on succeeding in exams, auditions or competitions.
Luckily for the tenor trombone there is plenty of great repertoire to play and work on, with literally hundreds of pieces designed for every specific stage of your emerging development.
The exam board syllabuses are full of them, but the trombone also creates its own specific issues.
No harm

The nature of the instrument is such that a young player's natural skill set can be less rapid in terms of technique to that of his or her valve playing colleagues.
Indeed, some of our very finest trombone players never feel the need to develop a 'Blue Bells' technique at all - and it hasn't done them any harm!
I thought I'd therefore list some of the slow melody and ballad style solos I've used and continue to use in my repertoire, from beginner to now to see if they may help others along the way.
---
Beginner - Grade 3/4:
This is always a challenge as some of the most popular solos can stretch a young player perhaps a bit too far too soon: Get it wrong and you can do more damage than good.
My first solo played with a brass band was 'Watching the Wheat' which is usually a euphonium solo.
It's lyrical, and doesn't challenge the range significantly, but can be made to sound elegant, graceful and emotive. It may look simple, but don't be deceived!
With a top G is the top end of the range, I'd estimate a Grade 3/4 player could make a cracking go of it. The band parts are easily playable by youth players, but it does need care and attention.
Get it right and the straightforward accompaniment allows the soloist to show off their lyrical playing with easily graded dynamics and articulation. There are no awkward intervals, but intonation will have to be good.
It may be simple - but it is a very effective starter solo.
---
Grade 5 and beyond:
John Iveson's arrangement of 'Londonderry Air' is also a simple sounding solo, but in the right hands it is a wonderful vehicle to showcase lyrical qualities.
It allows the player space to make the most of the melody - both in terms of dynamic and showing a true legato style, and the range is up to a brass band top B, which was about the ceiling for me at this level.
The benefits of studying this piece are huge, helping to really develop a sense of artistic musicality.
The arrangement also works well with a brass band accompaniment: Iveson manages to give a sense of purpose to the music, allowing the soloist to float above a wonderful foundation.
It may sound like a bit of a lollipop when announced to the audience, but don't be put off. It has become a central plank of the very best trombonist's repertoire for good reason.
Master this piece and it will remain with you forever.
---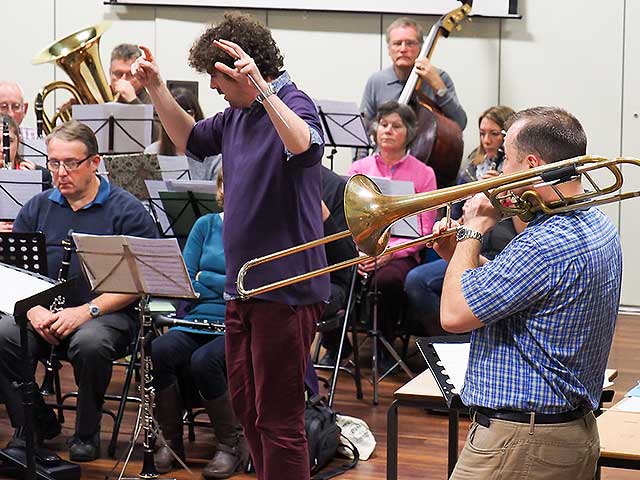 In solo action with Tom Davoren

Grade 8 and above:
Once you have got those basics mastered (and you can't develop your full potential until you do), the door opens to an exciting world of brilliant works.
Now's the chance to really show off - so why not develop your mastery of control, sound and lyricism by trying to copy the style of the late great Tommy Dorsey.
His signature tune, 'Getting Sentimental Over You' comes in an excellent brass band arrangement by the trombone guru Bill Geldard.
It sits a semi-tone lower than the original, making the highest note a top D - but there are many of them that a good performance will take considerable work and dedication.
This is a sound world of liquidity and lightness - a fantastic opportunity to really tighten up you technique in the high register without losing your sense of musicality.
Make sure you hear the original played by the 'Master' though for inspiration - it simply blows your socks off.
---
Advanced:
If there is one solo you really need to have in your repertoire - fully mastered and controlled - is Bill Geldard's arrangement of 'Autumn Leaves'.
And if you don't believe me, find an old Ian Bousfield CD called 'Versatile Virtuoso'. If it's good enough for him then it should be good enough for everyone else.
It's a wonderful, classy ballad with a stunning accompaniment which allows the focus to be maintained throughout on what is essentially a very simple lead line.
In the second part of the solo Geldard has penned a written version of what should really be an improvised line, and although just about everyone tend to follow his instructions (and it does work wonderfully well), if you are really confident, then why not try a little 'impro' yourself.
The highest notation is a top, top G (and we are talking the stratosphere here), and you need to have really developed your register to pull it off in comfort. If you can, then I assure you, you'll feel a million bucks - and your solo fees may go upwards in the future too!!