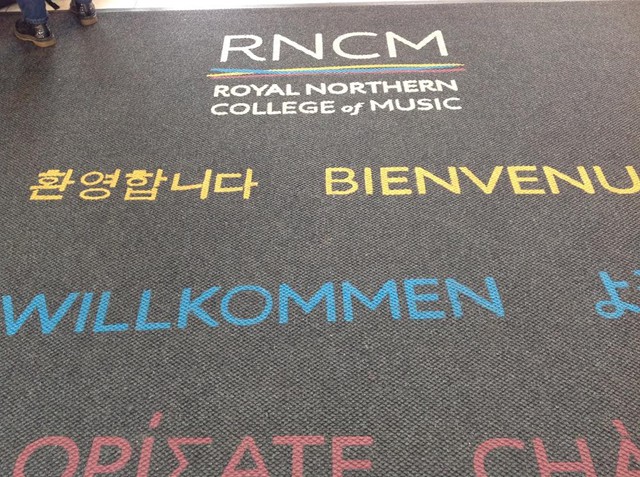 A warm welcome from Manchester to the world...

If Brass Bands England is to succeed in becoming one of the main driving forces for progressive change in the UK banding movement, then there is little doubt the success of the National Youth Championships can supply much of the core fuel to help meet its ambition.
Despite the BBE's well publicised challenges (and Chairman Mike Kilroy has an in-tray packed high with pressing matters), the event continues to be a beacon of vibrant musical excellence; although he will surely know that his organisation cannot afford to bask for a minute too long in the afterglow of yet another well run, highly enjoyable contest day.
Learns lessons

How BBE learns the lessons from what it does so well here (including excellent set works, judges and pre-results entertainment from Paul Duffy) to try and end what it hasn't done so well elsewhere (and that has been a troubling list), will most probably be top of Mike's extended 'to-do' list over the coming months.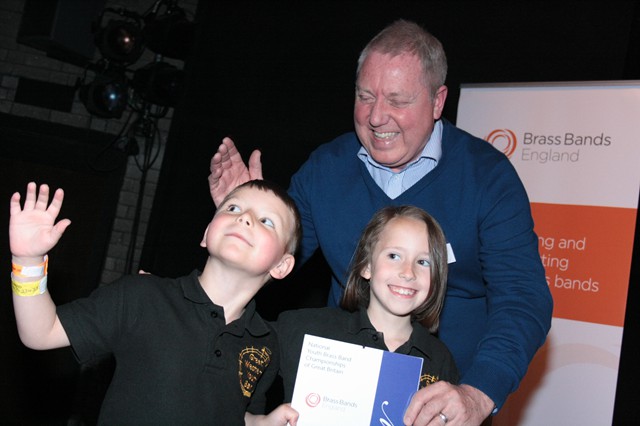 A great way to have your hands full for Chariman Mike Kilroy
Chief amongst them will be PR - or the complete lack of it.
BBE was dug out of a deep hole of its own making this year by the 37 bands that worked their socks off to compete in Manchester.

They did them and themselves proud; from the nippers full of wide eyed excitement in the Beginners Section to the frighteningly mature teenagers in the Championship event.
Negligible impact

However, with the general media not even informed of what was going on at the RNCM (and the banding press wasn't exactly given much more information to work off), any wide scale impact the event could (and should) have generated to the general public was negligible: In that respect, BBE certainly failed to live up to its motto of 'promoting and supporting' English brass banding on the weekend.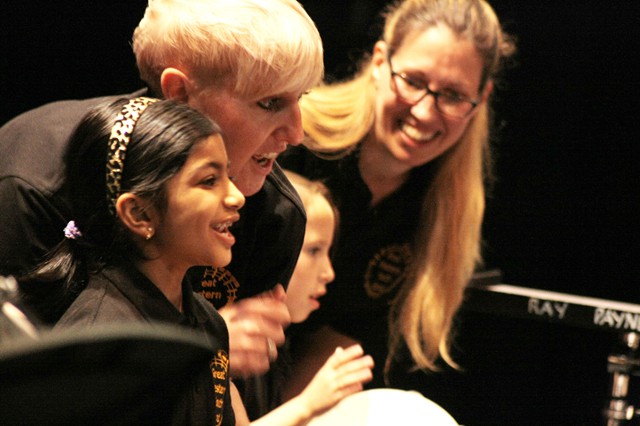 Brilliant smiles of delight and encouragement

As Mike Kilroy honestly admitted to 4BR, it was a missed opportunity. If BBE could just tap in to the extraordinary display of musical enthusiasm that was on show in the Beginner Section, his furrowed brow would soon become as smooth as a billiard ball.
Absolute treat

Those lucky enough to be in the RNCM Theatre (including the judges Derek Southcott and Simone Rebello) were served an absolute treat, as the seven bands, expertly led by their MDs, dazzled and delighted in turn.

The eventual winner, Wardle Junior Blast under Lee Rigg certainly lived up to their name - but only in terms of their wonderfully raucous celebrations.
First class

Made up of players from primary schools in their area, the desire, commitment and enthusiasm allied to playing that was as bright as their red tee-shirts, was first class.

Wardle was pretty impressive in winning the Butlins title in January, but here they managed to take their performance level up a notch or two.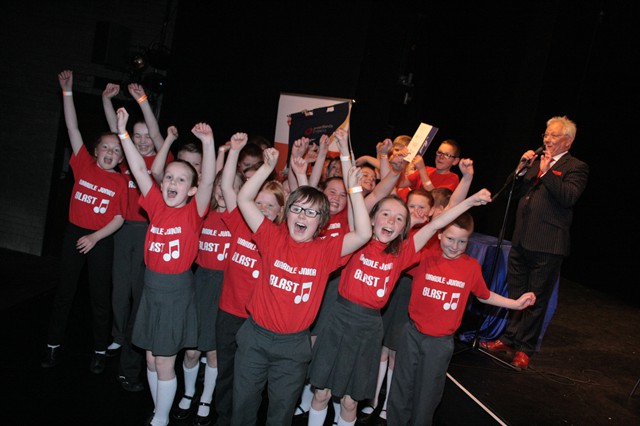 What a blast! Wardle Junior Blast take the title!

Behind them, Lions Youth Beginner deservedly gained the 'Band with Most Potential' award for second year in a row, whilst the hat-trick seeking tots from Ysgol Bontnewydd Primary couldn't have done anything more as they claimed a thoroughly deserved 'Highly Commended' prize.
A delight

Overall though each of the bands was a delight - with a special mention to the conductors (and some great adult helpers) who encouraged and cajoled, smiled and smirked with pride as their players gave of their all.
If BBE can now engage in a PR process to persuade more bands to take part (and the section is open to small ensembles), then this section could become the perfect starting point from which this championship as a whole could continue to grow and prosper.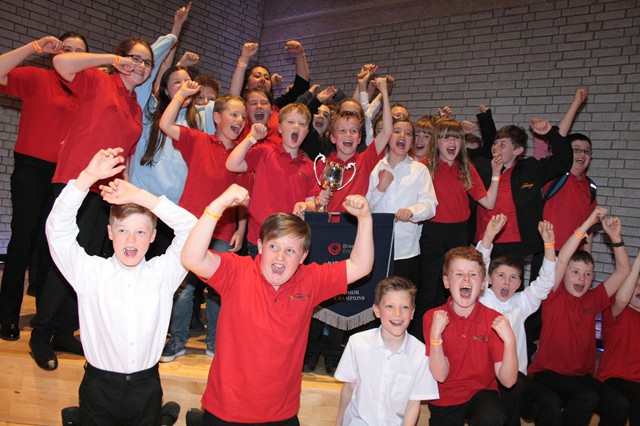 Something in the water in North Wales

On the evidence on show in the RNCM Concert Hall, the Junior Championship already does that and more.
Although the standard was variable (some bands made up of much younger players than others due to the 16 years of age cut off point), the sensible musical challenge of a 15 minute programme to include at least one original brass band work and two verses of a hymn tune out of the famous 'Red Book' worked a treat.
Cracking victor

Once more we heard a cracking victor in Beaumaris Juniors Band, although the other Gold Award winners of Stockport Schools Intermediate and Fred Longworth were not far behind.
Whatever is in the musical water on Anglesey should be bottled and shipped all over the banding world though, as Bethan Lowri Evans and her young charges seem to have been guzzling pints of the stuff (although a cross border consignment must surely have made its way to the remarkable 12 year old conductor Max Lawrence and the bubbly players of Hope Bank Junior Band).
Admiration

What was even more pleasing to hear though was the well picked, eclectic choices of music performed by all the bands - from foot tapping pop songs (although oddly all of a pre-1980's vintage) and fearless soloists, to test piece excerpts and substantial concert works.
No wonder the judges Mark Harrison and Sheona White expressed their delight and admiration at what they had heard: Each band did themselves proud.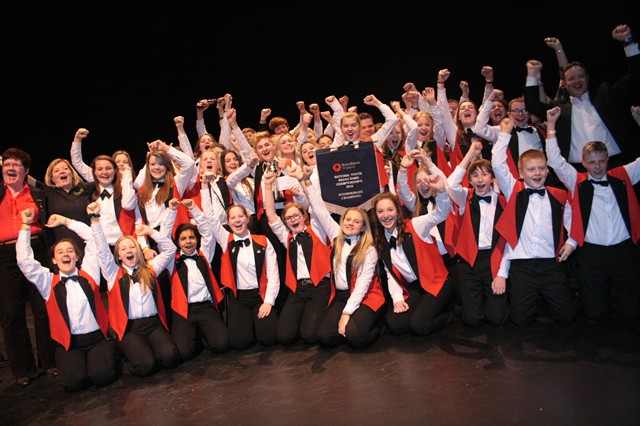 Wardle wonders for the Intermediate winners

In what proved to be a highly successful day for the Wardle organisation and MD Lee Rigg in particular, the Black Dyke player led the Academy Youth Band to success in the Intermediate Section with a stunning 20 minute display.
It was a winning performance that bore the hallmarks of high class band training delivered with verve and passion. The sparkling rendition of the set work, 'Plus Ultra' by Andrew Stevenson was outstanding.
Excellent performances

It also said a great deal about their overall quality that very good sets from fellow Gold Award winners Elland Silver Youth (with Bethan Plant producing a super 'Best Instrumentalist' rendition of 'The Paragon' cornet solo), Gwynedd & Mon and Rochdale Borough Youth were left somewhat in their wake.
These were excellent performances by any standard, also led by thoughtful, understanding MDs - but on this occasion they came up against a truly inspired band, whilst the other spirited contenders all delivered their sets with considerable merit.
You also suspect that adjudicator John Doyle could well be filing for bankruptcy in the years to come if all the splendid soloists on show take up his offer of his £20 bet to play without music.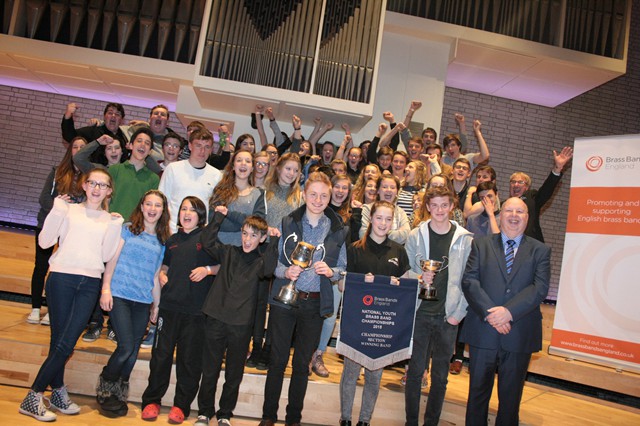 Blue Riband champions: Youth Brass 2000

The Blue Riband Championship Section proved to be a thoroughly engaging contest, with six high class bands providing ample evidence of their growing musical maturity.
Dramatic

Much that that was down to the decision to utilise Jacob Vilhelm Larsen's dramatic set work, 'The Saga of Tyrfing' as the centre piece to each 20 minute programme - allowing bands the opportunity to offer contrast with their other well chosen works - from PLC to Vaughan Williams.
The Danish composer's music is certainly of the here and now - packed to the gunnels with the darkly hued energy found in the scores to filmatic medieval fantasy genres such as 'Game of Thrones'. The players revelled in it like the marauding hordes besieging King's Landing.
Iron Throne

Each band gave a cracking performance, with Youth Brass 2000 underling their credentials to claim a title every bit as keenly contested as the Iron Throne in just a few weeks time in Germany.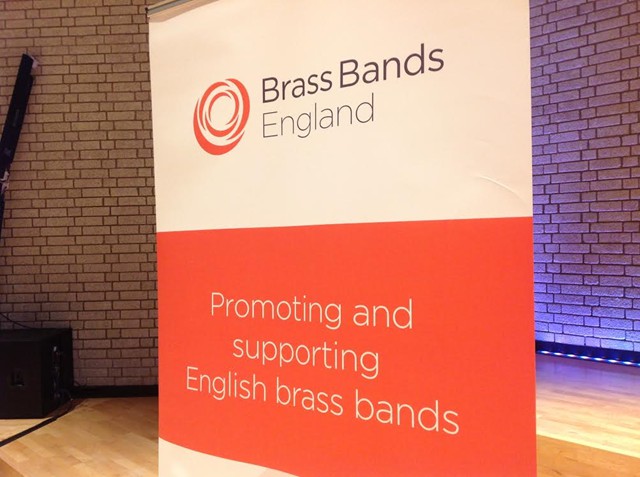 Living up to the motto

Their Gold Award winning performance set of imposing musical substance and virtuosity under Chris Jeans was also helped along the way by a sublime bit of 'Best Instrumentalist' solo playing by Thomas Fountain. They will be one heck of a band to fear come Freiburg.
Growing potential

Elsewhere, the impressive Silver Award winners of Lions Youth, Greater Gwent and the emerging Northampton Youth were just a short neck behind according to the judges Simone Rebello and Derek Southcott, whilst Stockport Schools and Oldham Music Centre also showcased their growing potential in some style.
Help with costs

The second successive victory for Youth Brass 2000 also brought with it an urgent 'to-do' yellow sticker for Mike Kilroy at Brass Bands England - along with the need to take a closer look at the way the rather generously written rules of the championship as a whole are currently open to a 'liberal' sense of interpretation.
Promote and support

Hopefully, BBE can work to gain both Youth Brass 2000 and Wardle Academy Youth some sort of funding to help meet the costs of their participation at the 2016 European Youth Championships in Lille - much like the financial help made available to Black Dyke as England's senior representative at the event.
And with a tightening of the rules to ensure that potential cynical non-essential player 'participation' abuse is stamped out before it can even start, BBE will hopefully have more than lived up to that 'promoting and supporting' motto of theirs.
As shown last weekend in Manchester, the opportunity to try and meet its ambition cannot be missed again.
Iwan Fox