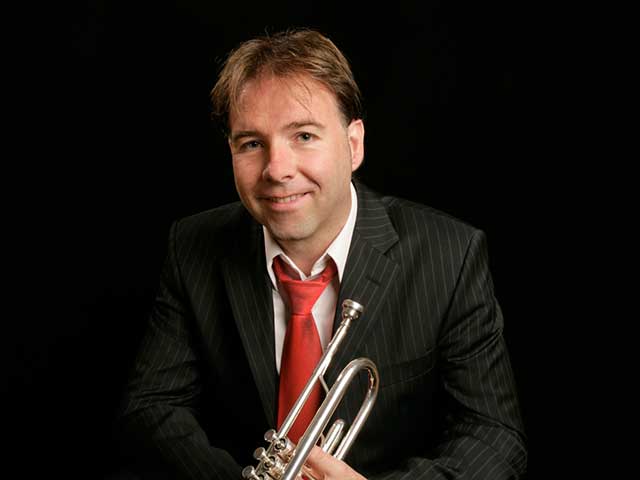 17 years as the top man

Philippe Schartz has just celebrated something of a personal milestone in his musical career.
Now in his seventeenth year as principal trumpet of the BBC National Orchestra of Wales, he recently returned home following their recent Spring tour, which saw him featured as the concerto soloist on four core works of the repertoire.
"I'm giving my lip a bit of a rest at the moment," he quietly confessed to 4BR.
"Having to play the Hayden, Hummel and Arutiunian, as well as Copland's 'Quiet City' in the space of four days was demanding to say the least - but it has been one of the highlights of my career with the orchestra."
Critical acclaim

Critical acclaim for his performances over the past seventeen years, let alone the last month, have certainly reinforced his reputation as one of the finest professional orchestral trumpet players in Europe.
Conductor Ben Gernon, who directed the BBC NOW on their recent tour called him, 'a superb musician and such an artistic player', whilst following a performance at the Concertgebouw in Amsterdam, one leading European critic referred to him as, '… a real musician with a golden sound and remarkable musicality.'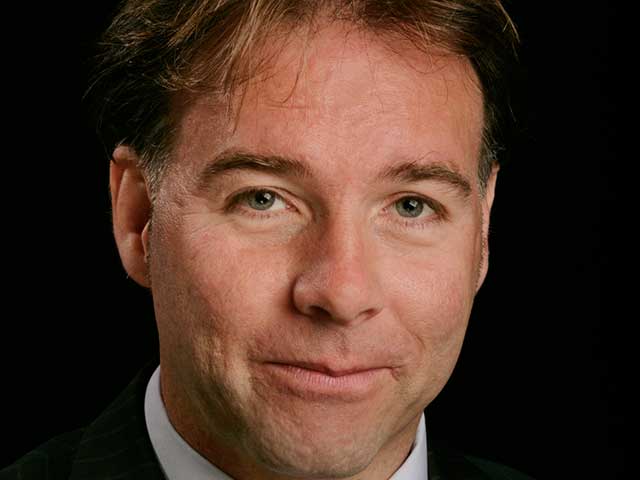 A wry smile of personal satisfaction

That career started in 1998, when, as one of the most in demand young trumpet players in Europe (he had just returned from studying at the prestigious Eastman School of Music in New York and had been a founder member and principal trumpet of the Mahler Chamber Orchestra working under Claudio Abbado) he first took on the role that he has since made his own over the last three decades.
Last century

Philippe laughs when he recalls that his debut with the BBC orchestra came in the last century - but he says the decision to come to Wales from his homeland of Luxembourg has also proven to be one of the great highlights of his personal life.
"I consider myself to be half and half now, as they say in Cardiff takeaways," he says light heartedly, referring to the valleys tradition of asking for chips and rice together with a potent curry sauce.
"I'm a proud Luxembourgian, but I love Wales, the people, the commitment to all forms of music making and the arts. I live in a lovely part of the country, and my family and especially my children are so much a part of the local community.

All that and I get to play in one of the great orchestras too. No wonder I'm a happy man!"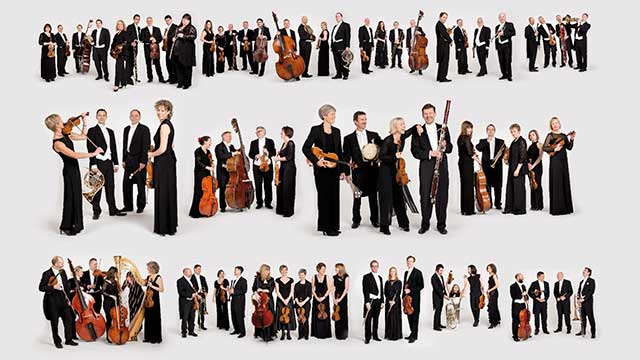 The NoW Orchestra

Great joys

It is also the eclectic nature of the repertoire he has to play in his day job that has kept him musically contented.
"The BBC NOW has such a varied output - from the music to 'Doctor Who' and 'Atlantis' one day to contemporary Welsh repertoire the next; the big symphonies, film music - you name it, we get to play it."
He adds, "That's a huge part of enjoying the job - being asked new questions, being taken in new and exciting musical directions. It's one of the great joys of being in the orchestra here in Cardiff - variety and excellence."
Brass bands

Those are two elements that have also played a major part in his musical career - right from his earliest days of playing in his local brass band in Luxembourg.
"I was taught by my father who played in a local wind band and then by Fred Harles when I started as a player with the Conservatoire d'Esch Brass Band.
We used to listen in awe to players like Philip McCann and admire conductors like James Watson and Roy Newsome. We saved up each year to come to listen at the National Finals in London - sitting through every performance.
I just missed out on playing at the European Championships in 1995 in Luxembourg as I was studying away from home by then, but I would have loved to have been able to play against the likes of Black Dyke, Cory and Eikanger."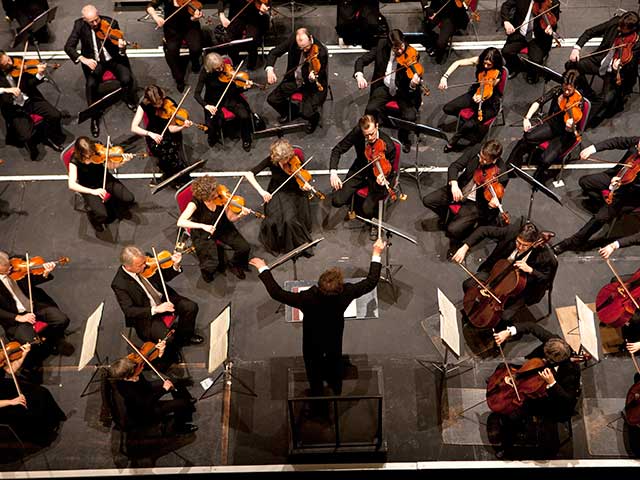 A slightly different band line up

The brass band world's loss (although he did play in a few contests with the Parc & Dare Band) was certainly the orchestral world's gain.
Hard grind

Philippe's desire to broaden his musical experience saw him become one of the first Luxembourg musicians to gain a Baccalaureate to study at the Royal College of Music in London in 1990, before enjoying a year at the prestigious Eastman School in the USA in 1994.
Then came the hard grind of making a mark in the professional ranks with auditions, job applications and short stints playing with the Royal Philharmonic, Covent Garden and as Principal Trumpet of the Gustav Mahler Youth Orchestra, and later as founder Principal Trumpet of the 'Mahler Chamber Orchestra' amongst others.
Fully aware

It is something that he reminds students of in his teaching and workshop commitments, which nowadays includes being involved in innovative music workshop scheme at 'The Brass Academy' held at Purcell School and Yehudi Menhuin schools.
"It's one of the things I try to make sure they are fully aware of," he says. "Jobs in professional orchestras are hard to come by - and even great players can struggle to make a living.
Be prepared to balance things out in your life - teaching, working part-time, trying out new musical avenues. Not everyone can be a lucky as I have been to be able to get such a great job so quickly."
He continues: "'The Brass Academy' initiative is a case in point: It's something that makes a huge difference to the 80- 90 children that come along: Music in the morning and sport all afternoon!"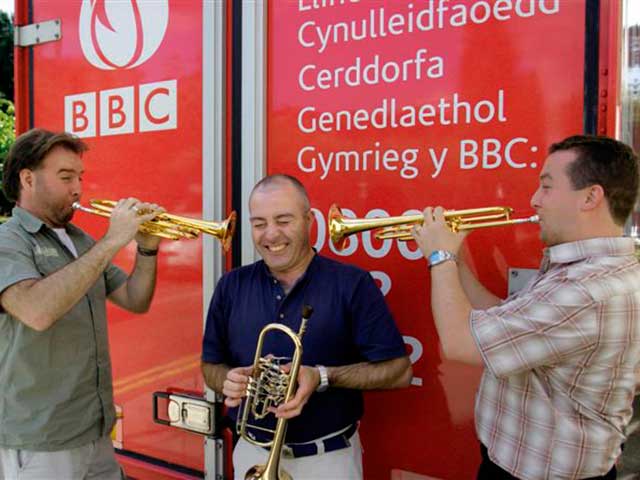 Section playing at its best...

Rejection

Philippe also has a very pertinent point to make about rejection - something that every professional player has to experience at some point in their life.
"It's rare that the very best player gets the best job," he says. "But it's invariably the best person. You have to fit in with the rest of the team - appreciate and respect their talents, known their strengths and weaknesses - be able to work together.
The best brass sections are ones that are full of friends pushing each other on, not trying to push each other out."
Discipline

He adds: "I'm fortunate to have a flexible working life with the orchestra, so I can balance playing, teaching at the Royal Welsh College of Music and Drama in Cardiff, with family and other interests, such as working with Yamaha as a clinician and on instrument design etc.
However, you must be disciplined and have the desire to improve - every day. I spend one hour a day (at least) with personal practice in addition to the nine to five working day with the orchestra.
I'm able to use the local church every morning if I wish - away from distractions, where I work on what I know needs to be improved. You must treat your work in a businesslike manner and what you do in your own practice must have purpose."
Gold dust

Philippe adds, "I've got a fantastic relationship with the rest of the brass section at the BBC NOW - and Bobby Samuels is the best sup-principal you can imagine. I think he's 'gold dust' - although don't tell him!
We both love brass bands too, so we always want to find out through 4BR who has won the major contests and what the gossip is!"
Bug bear

With that experience of the brass band world, Philippe is also very conscious that young players must also try to develop all their inherent musical talents - not just technique.
"It's something of a bugbear for me with brass playing in general," he says.
"Technique for technique's sake is simply boring - and as much as it may sound impressive, playing so many notes, playing so fast, so high, so loud etc, all the pyrotechnics must still have a musical purpose.
Players and bands have to connect to the listener - say something of meaning. The execution should be as technically perfect as possible, but it must always be musically engaging. I think many young players in the brass world have forgotten that."
Renew links

So would he like to renew his links to the banding world?
"Yes indeed. I would love to be able to work with more brass bands if I can - to help explore new repertoire and solo links. I'm really interested in adjudication too.
After 17 years it's always nice to try something new and exciting - as well enjoy a great form of music making once more."
Iwan Fox