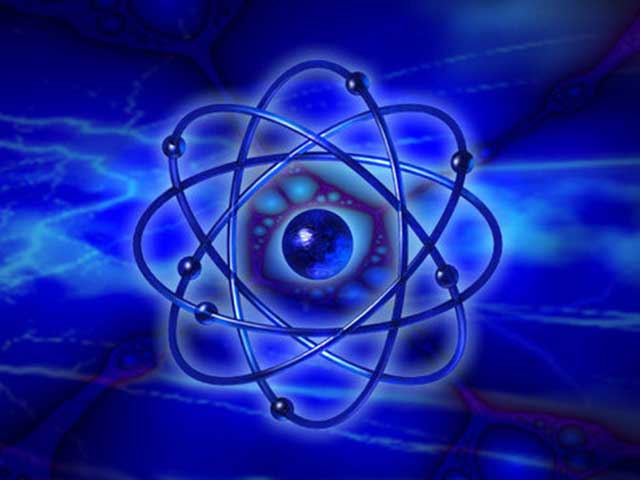 Getting the particles right for success...

Rolf Rudin's exciting new commission for the 2015 European Brass Band Championship is an immense work for the brass band medium in just about every conceivable musical aspect: 'The God Particle' evokes the gargantuan and the minuscule, the spiritual and the scientific.
However, without delving too deeply into the esoteric complexities of trying to understand the mindset of particle physics to appreciate this superb music, what is it that essentially underpins this wonderful composition?

Particle physics

Let's start with the context.
'The God Particle' was the title of a popular book from 1993 by Nobel Prize-winning physicist Leon Lederman and science writer Dick Teresi. It offered a history of particle physics; from the ancient Greeks right up to the quantum mechanics of the 20th century, finishing with a discussion of what Lederman wanted to nickname 'the goddamned particle' (in reference to its elusive nature).
He was, of course, referring to the Higgs boson; the existence of which was postulated by British physicist Peter Higgs. It is believed to be the final, miniscule element predicted by the standard model of particle physics, and thought to be the force carrier that gives all other particles their mass.
Cheryl Cole

After decades of searching by teams of internationally renowned scientists, it was finally discovered by the boffins at CERN's Large Hadron Collider deep below the pleasant politically neutral landscape of Switzerland in 2012.
So - for the moment at least, as the wonderfully fragrant particle song bird Cheryl Cole herself would say: That's the science bit done.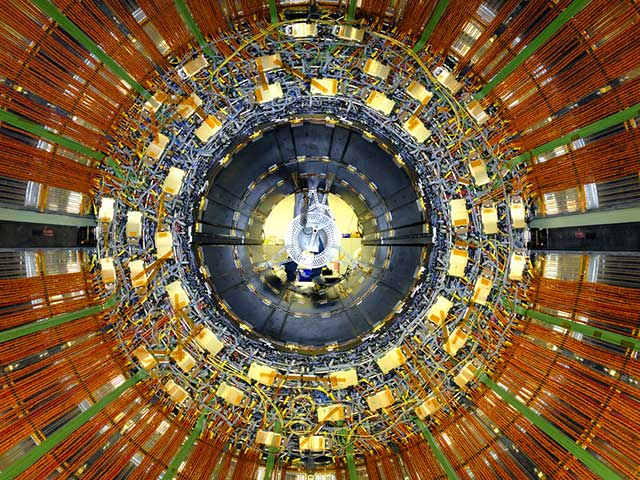 Heading for a collision...

So what about the music?

The discovery of the Higgs boson wasn't the result of chance - nobody merely stumbled across it.
For many years CERN's scientists had experimented by accelerating particles at incredible speeds and smashing them together in the huge doughnut shaped tunnels.
Collision therefore is an important feature of the music.
Shock chords

The opening 30 or so bars capture this vividly; with rising semiquaver motifs throughout the band, culminating in shock chords (the collisions). Not long after we get to hear successive solos for flugel, cornet, horn, soprano and baritone, which mimic acceleration through increasingly shorter note lengths.
Also used are the colliding forces of twin timpani (deliberately positioned at each side of the band), calling and answering each other - the mere requirement of which will have no doubt have been a challenge for most bands.

Getting up to seven percussionists together at one time in a rehearsal room is worthy of a Nobel Prize in itself.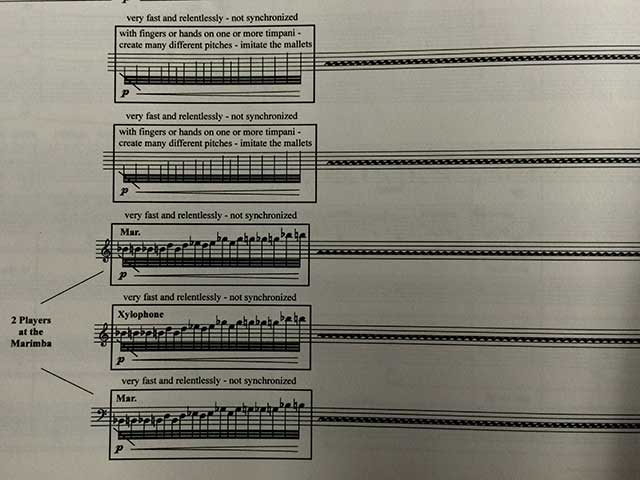 Seventh heaven on percussion....

Recurring faster scherzo sections are used to remind the listener of the speeds of particles in the collider - just a demi-semi quaver or two below the speed of light!

Harmonic basis

Rudin is known for his economic use of musical material (His 'Dream of Oenghus' for wind band is a good example), and that austerity is evident in his persistent use of B and Bb as a harmonic basis for many of the chords in the piece.
These come from the initials of the Higgs boson - HB (H in German is B natural, and B is Bb).
The B natural takes special prominence when it is hummed (or sung if the MD wishes) across the band in accompaniment of a horn ostinato (I'll come back to this).

Players will also note that many passages are reliant on a very small selection of pitches, with figures that grow organically, almost from nothing, extending upwards with every utterance.

CERN

Rudin also tries to tell us something about CERN itself in the music; with ethereal, shady brass (often trills marked pianissimo) accompanied by sparkling tuned percussion - a light in the great underground darkness of the Hadron Collider.
It is also noted in the circular setup of the band - surrounded by that plethora of percussion: The band (bookended by the timpani on both sides) almost becomes his conduit for collision.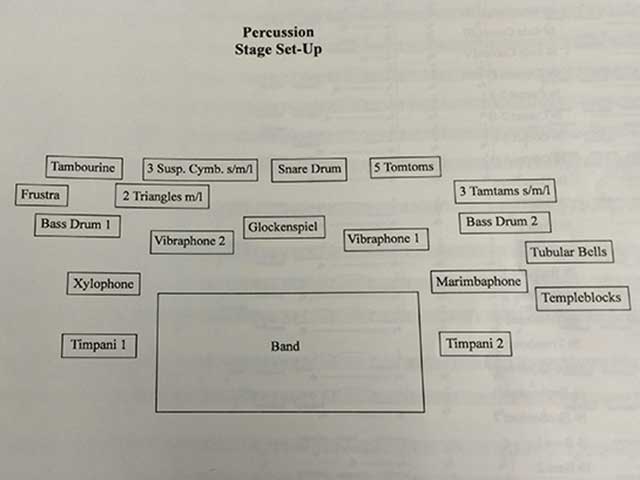 Bookended by the timpani with the percussion set up

Quiet majesty

Though much of the piece has a relentless intensity, there are moments of quiet majesty. There is something of Bela Bartok's short opera 'Bluebeard's Castle' that triggers the memory here, where Judith, Duke Bluebeard's new wife, opens one of his mysterious doors to reveal his expansive domains.
Accompanied by huge moving triads, it is a moment of pure majesty: Judith is humbled; 'great and mighty is your kingdom', she whimpers.
Device

Rudin uses a similar device; although he uses both loud and quiet dynamics at different points - the louder moving triads force the listener to bow to the enormous majesty of the universe in humility, while the quieter treatments evoke something altogether more spiritual.
This is immensely powerful writing - moments for reflection on the biggest questions of all.

Light ostinato

However, the finale changes tack somewhat.
Tuned percussion and soprano kick it off, before the horns join with what Rudin describes as a 'light ostinato' (light as the opposite of dark) – something heard in a much less developed form earlier in the work from muted horns (accompanied by vocals). The ostinato itself is chordal; with alternating bars in 5/8 and 6/8.

Dark chord

As we enter the final 40 bars or so, Rudin then introduces a 'dark chord'; which bubbles up through the ensemble as relentless quaver passages, eventually devouring the light ostinato, its satiety marked by its triumphant final 'stabs' that close the piece.
Rudin's inspiration for this dark finale seems to have been drawn from some not-so-scientific concerns that CERN's experiments might cause a black hole in our own universe.

Thankfully, that well known chappie Professor Stephen Hawking says is unlikely (although he is keeping his own fingers crossed you suspect by not being on the guest list for the set work playing on the Friday)
Indeed, CERN's new goal is investigating dark matter, which scientists suppose makes up a large proportion of our universe.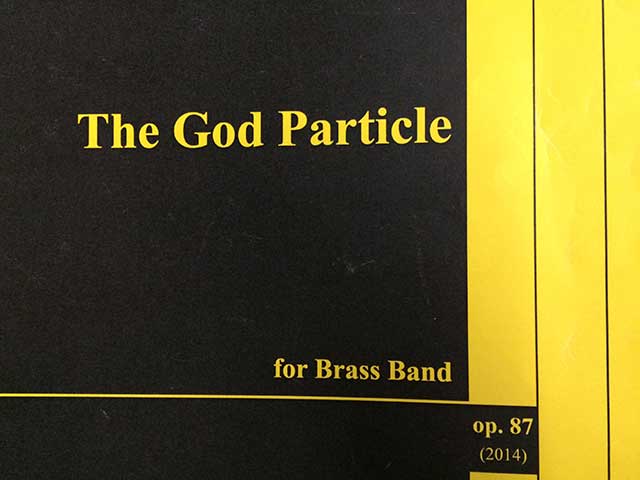 May your God go with you...

Ensemble work

'The God Particle' is a real ensemble work. Aside from a beautifully poignant duet between the solo horn and euphonium, the lack of virtuosic, individual solos is striking.
That said, there are no places to hide. Every instrument has its own unique part - second and third cornets are separated into parts I & II, as are the tubas, and melodic figures are highly fragmented: Rudin's use of the band texture is such that every element crucial.
Aside from this fragmentation, the other major challenge that has faced bands has been the gigantic percussion section that is required (seven players plus), though Rudin uses it so effectively - with a kaleidoscopic textures, effects and sounds - many in multiple combinations.
The shimmering glockenspiel that overlays the final 'light ostinato', is stunning - bringing the music to life.

Huge benefit

Rudin has brought us a very fine work of huge benefit to the brass band movement - one that even after ten performances (at 18 minutes approximately in duration, but more likely to come in around 20 - 21 minutes in length) you will still find something new in to excite and thrill - as long as we are not all sucked into a black hole of our own making...
Chris Davies
---
The author:
Chris Davies graduated from Oxford University in 2009 with a 'First' in music, is an Associate of Trinity College London, and a Licentiate of the Royal Schools of Music. He currently lives and works in Scotland.
Keenly interested in the science of music, he has been involved in research aimed at furthering understanding of the physiology of brass playing, and is keenly interested in the cognitive neuroscience of music. He also under took post graduate study at the RWCMD in Cardiff.
He is also the 2010 winner of the National Eisteddfod of Wales Blue Ribbon soloist competition and is currently principal horn of the Co-operative Funeralcare Band.
---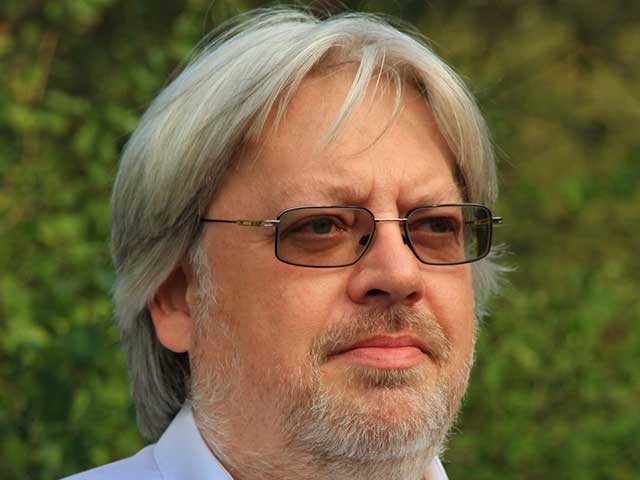 The composer:
Rolf Rudin was born in Frankfurt, Germany in 1961.
There, as well as in Würzburg, he studied music-education, composition, conducting and theory of music and after graduating he lectured on the theory of music at the Frankfurter Musikhochschule until 2001. He has been working as a freelance composer since 2002.
Rudin also held a scholarship of the 'Studienstiftung des deutschen Volkes' and in 1990/91 was awarded a scholarship at the Cité Internationale des Arts in Paris from the Bavarian Ministry for Cultural Affairs.
In 2010 he received the Cultural Award of the Main-Kinzig-Region near Frankfurt for outstanding cultural and artistic performance, and many of his compositions for chamber music, choir and orchestra have won prizes at German as well as international competitions as well as being found on concert programmes around the world.

From 1999 to 2005 he was a Member of the International WASBE-Board and since 2003 he has worked as the Vice-President of the Hessian section of the German Composer's Society.

His worked have recorded on numerous occasions with productions and live-recordings at many broadcasting companies in Germany, Austria, Switzerland, Netherlands, Italy, Australia, Ireland and the USA.