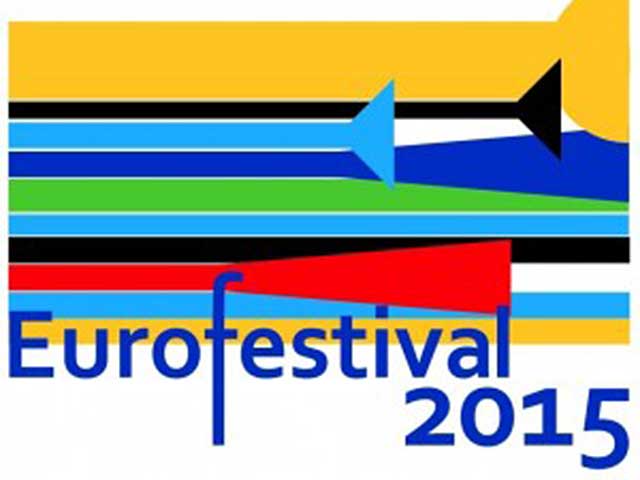 All the colours of the rainbow...

It will take more than the intervention of an omnipotent presence to help any one of the dozen contenders in Freiburg claim the title of 2015 Champion Band of Europe.
It's the more scientifically proven method of many hours of long, hard rehearsal time rather than a few well intentioned prayers that invariably help beat rivals on the contest stage - although the effective use of some God given musical gifts does help.
Last minute homily

However, you suspect that won't stop the odd MD offering a last minute homily towards the rafters of the Konzerthause Hall before their band's performances of Rolf Rudin's set work on Friday evening: 'The God Particle' is one heck of a test of esoteric musical faith, let alone imposing technical substance.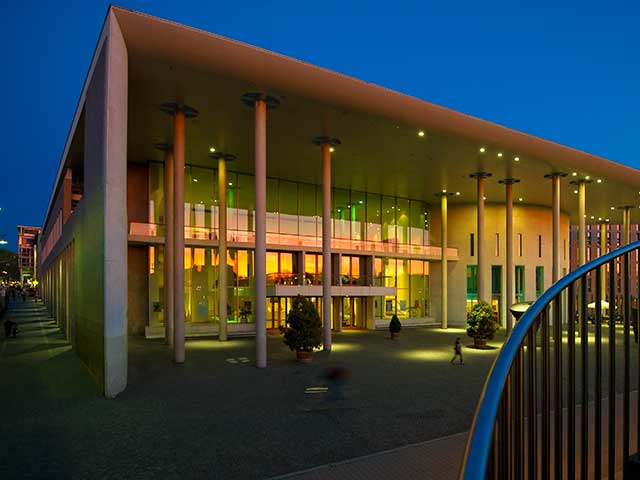 Konzerthaus cathedral of high hopes and God given aspirations in Freiburg...

Promised land

All that, and whoever is able to overcome its immense challenges will still only be halfway to the promised land of European heaven.
Their ultimate destiny still remains in the hands of the judges who will pick the bones out of their own choice selection sermons, which this year include two performances of 'Trance' by Thomas Doss, a trio of Oliver Waespi's 'Audivi, Media Nocte', 'From Ancient Times' (Jan Van Der Roost), 'Journey of the Lone Wolf' (Simon Dobson), 'Metropolis 1927 for Brass Band' (Peter Graham), 'Partita for Band' (Wilfred Heaton), 'Symphony in Two Movements' (Edward Gregson) and 'Vita Aeterna Variations' (Alexander Comitas).
This is contest that really is in the lap of the contesting gods.
Brethren case

Such is the strength of the field that there is a decent case for potential victory to be made by the supporting brethren of every band - from the defending champion Brass Band Burgermusik Luzern to top section debutants Bayerischen Brass Band Akademie (3BA) - and all points on the national representative compass in between.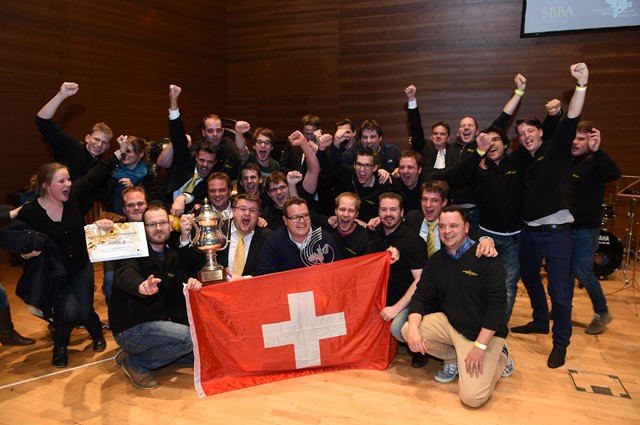 Can Luzern make it two in a row?

Michael Bach's band hasn't quite swept all before it since taking this title in such thrilling fashion in Perth, but Luzern remains one heck of an impressive ensemble - packed with talent and led by an MD who continues to ooze charismatic musicality. They will not want to give up their crown without one heck of a fight.

Band in form

They will be joined by another formidable Swiss presence in Treize Etoile, who returns to the contest for the first time since 2011. They are certainly a band in form - reclaiming the Swiss Open and National titles in 2014 with performances of immense stature under James Gourlay.
Where Swiss bands were once renowned merely for their compact technical clarity, both Luzern and especially Treize Etoiles showed at the National Championships in Montreux last year that they can also produce the power output of the Large Hadron Collider. That now makes them a formidable force to be reckoned with.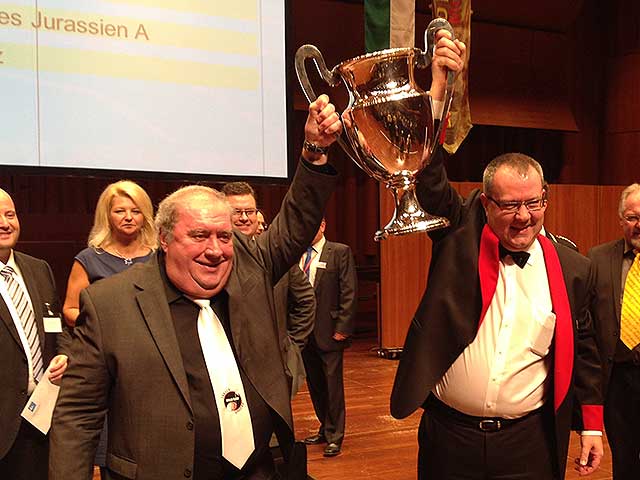 The new Swiss powerhouse - Treize Etoiles

The British contingent of Cory, Black Dyke and Co-operative Funeralcare can all boast plenty of power-torque themselves, but their MDs will also know that it will also take a fair amount of finesse to wrest the famous Christopher Milton Stevens designed trophy from Swiss hands.
Ton Pentre Rev

And although they may not like to admit it, someone in the Cory camp will surely have asked the local Ton Pentre chapel reverend to offer a few well chosen words to the Almighty come draw time this year after the devil played havoc with their chances in Perth with two number 1 draws.
If they can come up with something more palatable this time around they will surely fancy their chances of claiming a second title in three years under the baton of Philip Harper.
Silverware

Black Dyke will also be one of the short priced favourites - and stung by their disappointments at Bradford (both on and off the stage) all efforts will be focused on their attempt to add the European title to their domestic 'Double' silverware.
What Professor Childs has picked as an own choice accompaniment to the Rudin set work this year will be of great interest though. Not even a quite spectacular blockbuster performance last year was enough to overcome their test piece deficit - and they are up against some pretty serious works of substance this time around.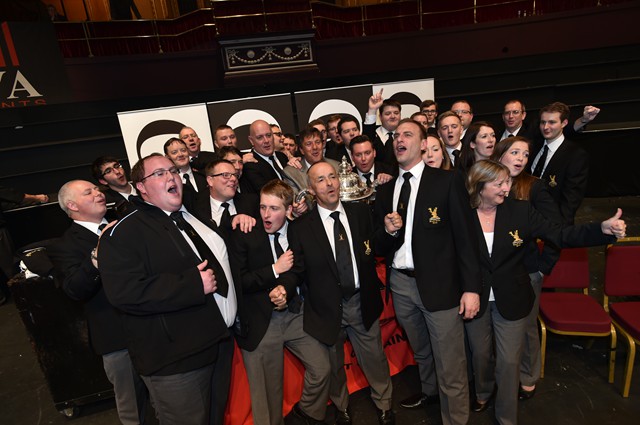 Can Black Dyke add more silverware to the Queensbury vaults

As for Co-operative Funeralcare, their troubled preparation may not seem to bode well on paper, but never underestimate the Scots who on their day can mix it with the very best around.
If they have been able to gets things together in time they could well surprise more than a few rivals under Allan Ramsay, but a possible top-six finish may be the best they can hope for on this occasion.
Higgs boson

It may also be a question of finding something just as elusive as the Higgs boson particle for Eikanger Bjorsvik and Prof David King if they are to finally lift the European title for the first time since 1989.

Runner-up on three of their last four appearances, they seem destined to perpetually miss out on the ultimate prize - and the pressure is certainly on them this year after losing their grip on the Norwegian National title in February.
They are due just a little bit of contesting luck though (the contesting gods certainly didn't smile on them in Bergen) and there is no better place for it to happen than this weekend.
Impressive Paris

As for the rest - there are more dark horses here than can be found at the Cheltenham Festival, so canny punters may want to put an each-way bet on the likes of a resurgent Brass Band Willebroek, the deeply impressive Paris Brass Band and the imposing Brass Band Oberosterreich.
The Belgians are back to their very best after an extensive period of long term rebuilding, and with one of the finest brass band MDs at the helm in Frans Violet they could be about to make their mark on the European stage once more.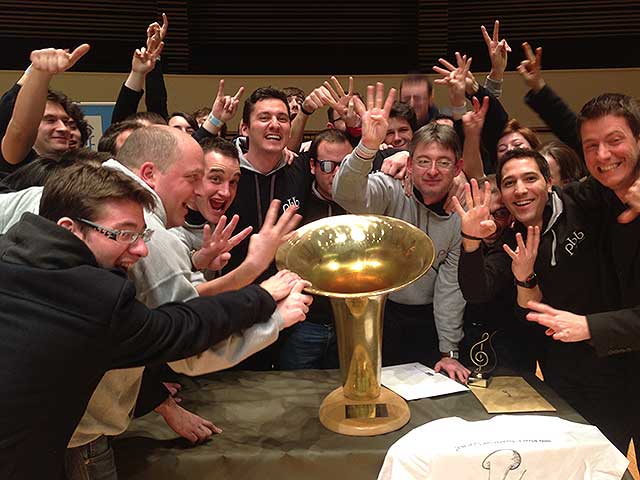 The French fancy - Paris Brass Band

Stunning

Paris meanwhile was desperately unlucky not to have featured amongst the podium finishers last year in Perth, and produced some stunning playing in winning the French National Championship in Lille.
Their time is fast approaching, whilst Oberosterreich may be about ready to once again startle their opponents following their period of relative obscurity.
Both Florent Didier and Ian Porthouse have ensembles of immense musical and technical ability under their command - and ones more than capable of leaving Freiburg clutching podium silverware.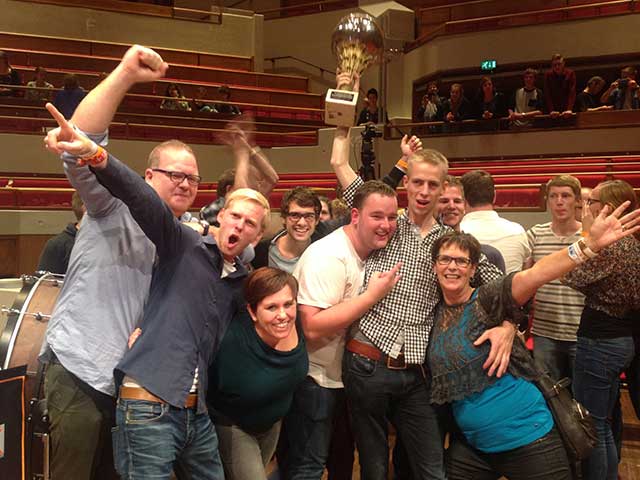 Dutch delight for De Bazuin at their Nationals

In a field of such overall strength in depth, it may sound a touch cruel to suggest that it would be a major surprise if the likes of Lyngby-Taarbaek, De Bazuin Oenkerk and 3BA feature in the top six, but you never know.

The Danes are consistent performers, but added an extra dimension to their playing in regaining the National title last November, so shouldn't be under estimated, whilst De Bazuin Oenkerk returns to the contest for the first time since 2002 after claiming the 2014 Dutch crown in remarkable fashion in Utrecht.
Finally, there is sure to be a wonderful reception in store for Bayerischen Brass Band Akademie (3BA) under Thomas Ludescher, who will no doubt be keen to make their mark on what is a historic debut for the band.

Iwan Fox
---
As for a winner?
What a line up of contenders - with any one of them a good each way bet at the very least for a podium finish.
Someone will have to win this title the hard way though, so much like last year it could go to a band that ends up not winning either the set work of own choice discipline.
If someone can grab the contest by the scruff of the neck it could well be Treize Etoiles.
They are riding a huge crest of confidence under James Gourlay at the moment, and if they can just squeeze a bit more out of themselves without losing control they could finally claim the title after filling every other position in the top six since their debuts back in 1979.
Close on their heels could be Eikanger once again, with Cory, defending champion Luzern and Black Dyke in the mix alongside Paris. Our twin dark horses are Oberosterreich and Brass Band Willebroek.
4BR Prediction:
1. Treize Etoiles
2. Eikanger Bjorsvik
3. Cory
4. Brass Band Burgerusik Luzern
5. Black Dyke
6. Paris Brass Band
Dark Horses: Brass Band Oberosterreich & Brass Band Willebroek