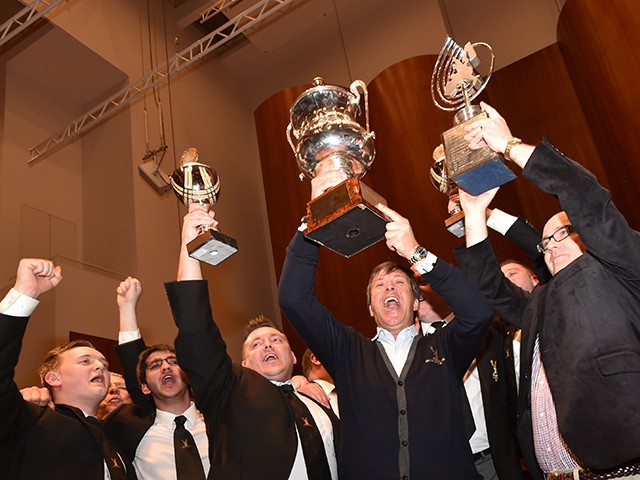 On a high: Black Dyke triumph

Now that the after-shock dust has finally settled on the outcome of the 2015 European Championship, it's given the chance to blow off the rather tenuous residue coating the assertion that Black Dyke's victory was the fourth 'Grand Slam' of their 160 year history.
No: The clear fact stemming from their Freiburg win was that it once again installs them (despite the small gap in ranking points behind Cory) as the undisputed number 1 band in the world.
Almanac

Following that 13th title success, few can now argue that on this type of supremely confident form, that they won't be anything other than odds-on favourite to claim a third, single year 'Grand Slam' (after 1985 and 1995) by successfully defending their British Open and National Championship titles in the autumn.
And if that comes off, there will surely be no need for a nebulous realignment of calendar dates to write their name in the almanac pages of banding history.
Never in question

The authenticity of this European success was never in question - the result of a weekend of pulsating drama and visceral excitement; at times reaching quite astonishing levels of contesting excellence.
At its apex was Prof Nicholas Childs - inspiring Black Dyke to produce a brace of superbly consistent renditions of 'The God Particle' and 'Metropolis 1927' that mixed startling technique with stunning presentational theatre.
It also showed that with his third personal success with the band, the Welshman has finally worked out the peculiar quantum theory algorithm it takes to win this particular title.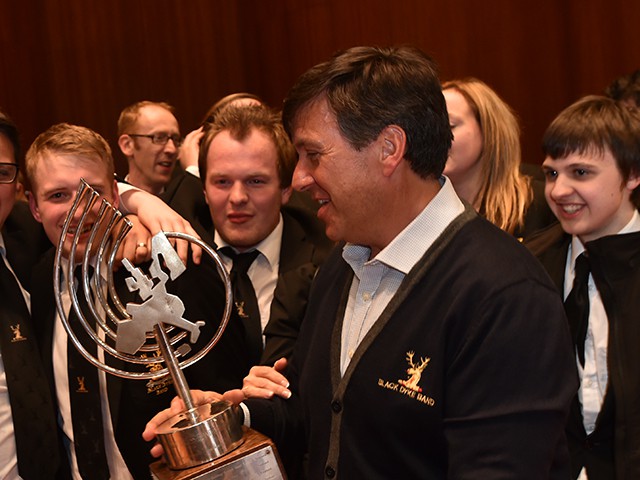 Worked out to perfection...

Simple really; but in truth this was a victory based on the type of mind boggling calculations of infinite contest possibilities that wouldn't have gone a miss at the sharp end of the CERN Large Hadron Collider which inspired Rolf Rudin's engrossing set work: In this case - (2nd [97] + 2nd [97]) = 1st [194]
Fission

Rather like the YBS hegemony under David King, Prof Childs knew that such was the quality of the band under his command, that as long as they performed to his exacting standards, rivals would't be able to ignite the same nuclear fission mix more than once to beat them.
He was right. None could - and none did.
They may well have been pipped by a single point in both disciplines, but the sheer effort it elicited from Brass Band Burgermusik Luzern and Eikanger Bjorsvik, left them, like a pair of smashed up protons, completely enervated - and ultimately beaten.
Omnipotent

Much of that was down to 'The God Particle' (both in length and complexity) - which certainly tested stamina, technique and musicality to the full.
Nobody quite found the ultimate answer to fully master its omnipotent challenges (much like the scientists and boffins not far away), but some came mighty close.
The subtle differences in interpretation were fascinating: Eikanger almost two minutes quicker than anyone else; Treize Etoiles and Cory blasting their musical protons together with the thumping ferocity.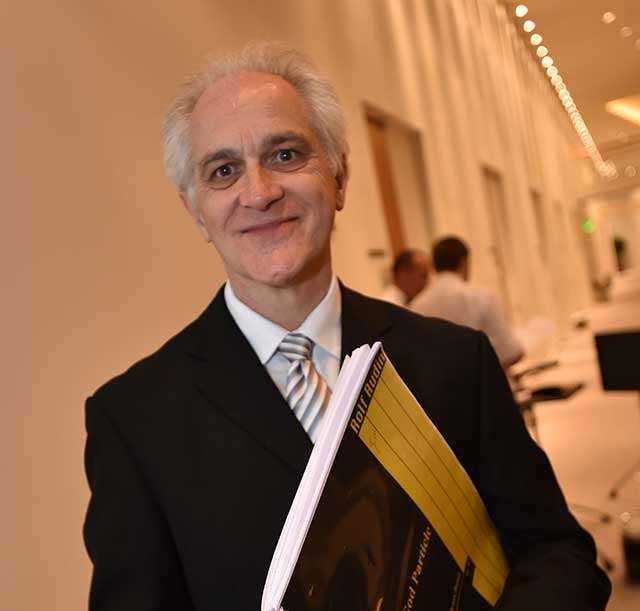 The musical protons of James Gourlay

Meanwhile, Paris and Willebroek fired elegant charges of energy into the auditorium; the top two - Luzern and Black Dyke, delaying their collision course until they were able to target the exact moment of maximum impact.
The rest pinged moments of brilliance interspersed with elements of dangerous over ambition.
Great pity

Such was the quality of playing on show you almost forgot that the contest ran way over time and into the next day. Every band delivered something of engaging substance.
The great pity is that we may never hear the work played in such a manner again - its gargantuan set up making it an unfeasible major contesting choice in the UK (although elsewhere in Europe may be a different matter). It is a composition that deserves to be heard many more times.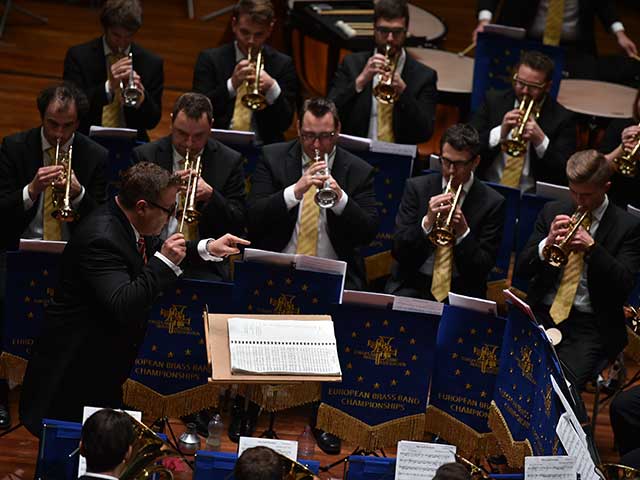 Just the one world class performance from Luzern

No such problems though with the own choice repertoire that followed a few hours later - with an eclectic series of blockbusters that certainly lived up to expectation and the almost infinite outcome possibilities of subjective adjudication.
Cabaret underbelly

Black Dyke's 'Metropolis 1927' - a theatrically brilliant performance of Peter Graham's take on Fritz Lang's sci-fi classic film, was certainly no Marxist/Leninist musical critique of the corrosive underbelly of the inter-war German Weimer Republic.
It did though have the same catchy melodic qualities, slightly acidic, dark tonality and clever snapshot imagery of the Christopher Isherwood inspired 'Cabaret' film, which in its way was more easily recognisable - from air-raid sirens to Dixie jazz combo.
Balanced outcome

Gary Curtin is no Sally Bowles, but he did give a 'Best Soloist' performance Liza Minnelli would have been proud of, whilst the rest of the featured leads and ensemble cast were not far behind.
Second place was enough to give Black Dyke the title - especially as the contest winning equations produced by Luzern (who led on the set work, but came sixth on the own-choice) and Eikanger (who won the own-choice but came sixth on the set work) could not beat the balanced outcome of their Yorkshire rivals.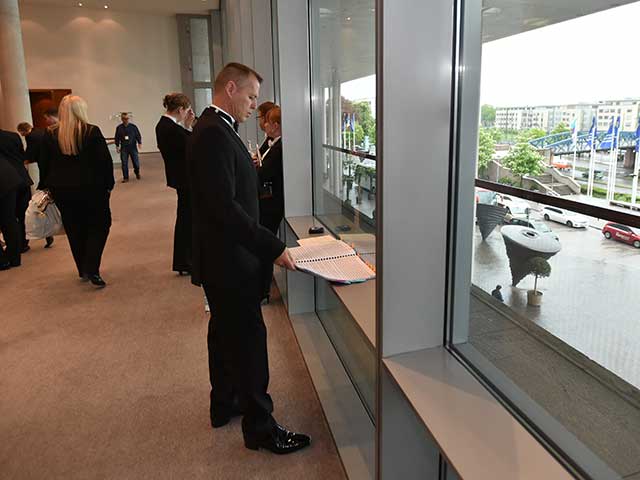 One last look for Prof David King

Both the Swiss and Norwegians were left to reflect on performances that you suspect left them puzzled by their ultimate outcomes. After talking to Michael Bach and David King you sensed they certainly thought they had given better performances on the days they didn't find favour with the judges.

Puzzled
It certainly wasn't as if they misfired on the other occasion (although they gave very different interpretations of 'Trance' by Thomas Doss as their own-choice selections) - but as hard as they tried, one truly world class performance (according to the men in the box) each was all they could produce.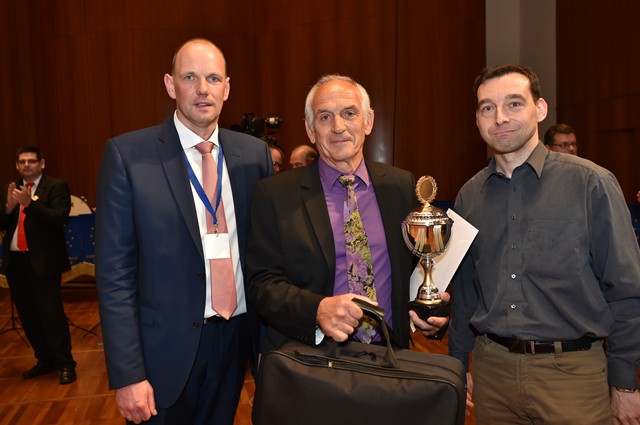 Resurgent Willebroek

As a result, only a resurgent Willebroek (3rd + 3rd), led by an MD who also knows what it takes to win a European title or three, came close to denying Black Dyke.
However, the Belgians still had to settle for a high-class runner-up finish, despite producing playing of superb darkly toned sonority and musicality - especially on their own choice of 'Journey of the Lone Wolf'.
Muscular

Also left a little puzzled was Cory - although their overtly muscular approach to the set work and high impact interpretation of the brave own-choice option of Heaton's 'Partita' perhaps explained why their performances didn't quite resonate with the judges as Philip Harper may have hoped.
So too Treize Etoiles - especially after an eye-popping rendition of the set work that very nearly created a particle explosion in the Konzerthaus auditorium, followed the next day by a red-hot take on 'Audivi, Media, Nocte' that blew the socks off the listeners, but only warmed the toes of the men in the box.
Geiger counters

This was as a contest where the judges were not won over by the radioactive level thrills from the Welsh and Swiss: Thomas Doss, Marc Lys, Stephen Roberts, Garry Cutt, Christophe Jeanbourquin and Stig Nordhagen preferring renditions that didn't quite send their Geiger counters into meltdown.

Not looking for radioactivity: Nordhagen, Cutt and Jeanbourguin

Instead, a fine show of granite Scottish character, the consistency of construction of an Aberdeen town house, saw Co-operative Funeralcare end seventh under Allan Ramsay's selfless direction.
Behind them, Paris Brass Band couldn't quite maintain the remarkable levels of secure sonority they achieved on the set work on their own choice of 'Vita Aeterna Variations' to end eighth, whilst Brass Band Oberosterreich produced a brace of 'nearly' performances in ninth.
Ambition and potential

Meanwhile, the youthful exuberance of Brass Band 3BA provided a tantalising glimpse into the ambition and potential of the rapidly emerging German brass band culture, whilst the equally youthful De Bazuin Oenkerk could well be band we hear more of in future years too.
Hopefully that will also apply to Lyngby-Taarbaek - as the Danes showed that their long term rebuilding plans are in good hands. In this high class company, their performances were by no means outclassed.
Fascinate

None could question the deserved outcome of the 2015 European Championship either: Black Dyke producing the winning formula on this occasion to a contesting equation that continues to fascinate, thrill and ultimately produce brass band music making that not even the cleverest scientists in the world can dare hope to recreate in a laboratory.
Iwan Fox