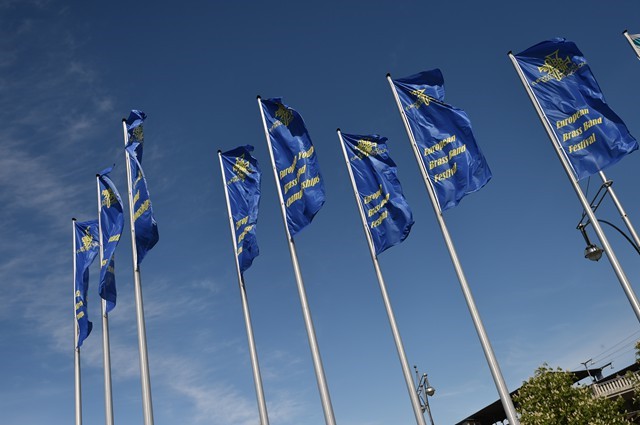 Which direction will the Euro wind blow in future?

As ever, the question of which type of long term Eurovision ideal will continue to be developed following the completion of the 2015 Championship in Freiburg will be open to debate.
For those longing for ever the closer integration of pan-European banding, the 'festival' will have been deemed a success. However, for opponents who still harbour deep seated reservations about the directional ethos of the event, the outlook is a little less persuasive.
More than happy

The European Brass Band Association (EBBA) will have left Germany more than happy with how things went over the course of a highly enjoyable, but somewhat hectic week.
Financially it is expected that Freiburg will 'wipe its face' - just about breaking even when all the receipts are totted up. The risk EBBA took in putting its money where its mouth was in running the 2015 Championship paid off - just.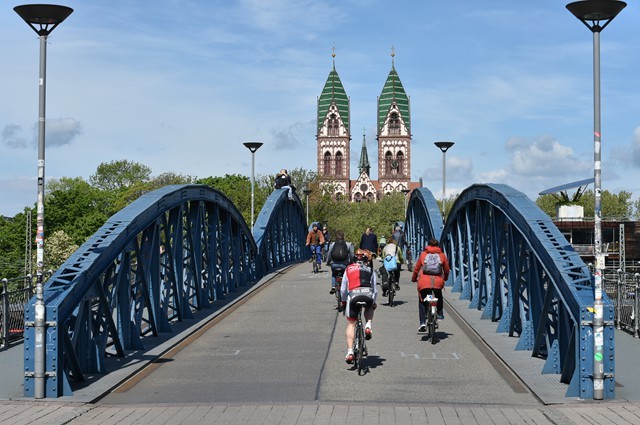 Closer connections across Europe?

For the foreseeable future though, it is unlikely that they will wish to do it any time soon.
Confirmation that the latest application for EU based cultural funding had narrowly failed again, may have sounded like a hard luck story - until it was revealed at the press conference that the essential reason was the core competitive element of EBBA's annual activities.
Yet EBBA has added more not less competitions to its rota; Composer, Conductor, Soloist, Challenge, Championship - and now Youth.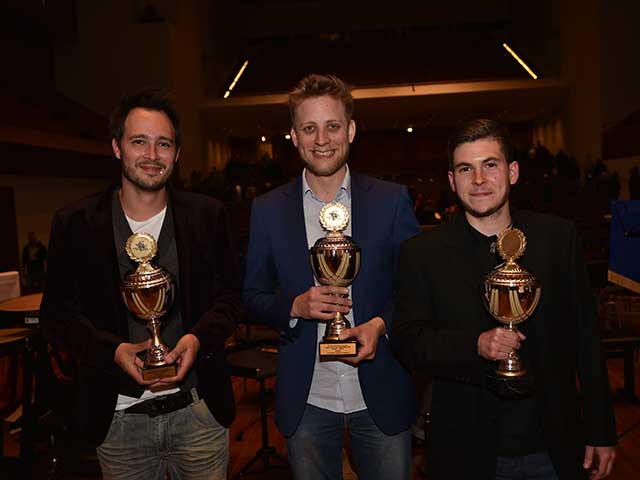 A compositional anomaly?

Little purpose

It's not rocket science. If EBBA is to get its hands on the money that other European representative bodies claim by the bucketful, then it surely has to get rid of the non-essential individual competitions, and try again. They now serve very little purpose and have little lasting benefit.
That will surely make up the stated two point margin of application failure and allow EBBA to gain funding for supporting, developing and enhancing that essential ideal of becoming a governing body of Europe-wide authority and stature.

Only then will the days of diversity in instrumentation, player numbers and non-existent registration rules also be consigned to history: 20 years after its formation, EBBA has to become more than just a contest organiser.
Anomaly

It will also help to get rid of the awful anomaly that sees the three finalists in the Composer Competition share out €7,000 in cash, whilst the 2015 Champion Band of Europe takes home €1,000 and a brand new euphonium.
It was like seeing Barcelona win the Champions League (and the top bands did produce simply outstanding performances that would have graced any final) and be presented with a cheque to cover the cost of the bus to get to the stadium and a new pair of football boots for Lionel Messi. Expensive hotels don't accept instruments as a form of credit.
Getting youth to pay

And how can EBBA expect youth bands to raise tens of thousands of Euros each year to go to a competition that at present fails to capture the imagination of the listening public (the audience on the Sunday was at times pitiful) when it insists on children having to pay €30 each to get a ticket to listen to other competitors?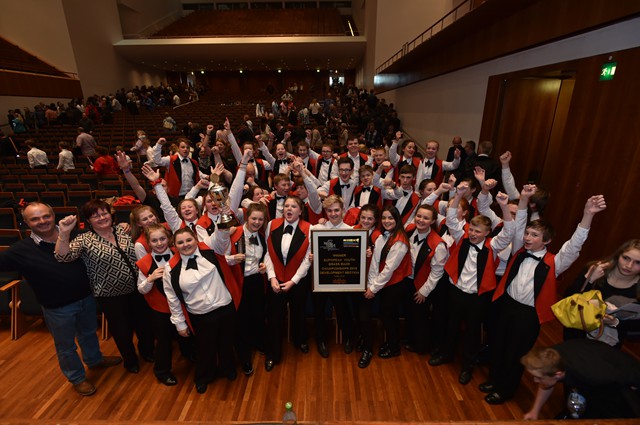 Freedom of movement - and of cost - to the young players of the future

On the plus side - and it was a huge plus - the victory for the overjoyed Italian Brass Band in the Challenge Section (where the presentation of a brand new euph, a weekend's sponsored workshop training by a leading brass band conductor plus €1,000, does make sense) and the exciting emergence of the Lithuanian and German competitors was hugely encouraging.
Wasn't this proof positive of what the 21st century European brass banding ideal should be all about?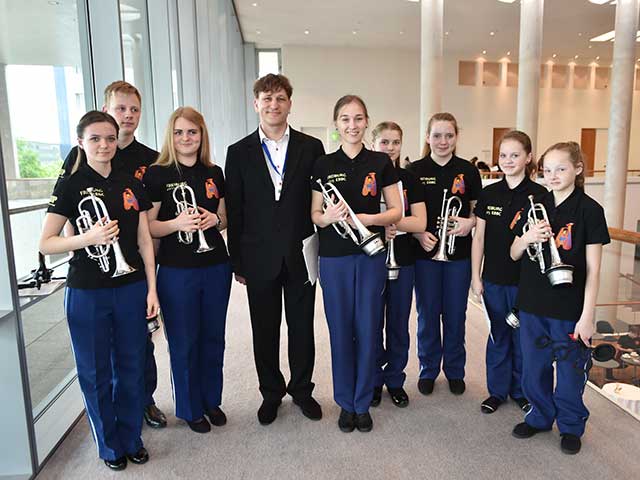 Exciting talent: The stars of future Lithuanian banding - Brass Band Aukstyn

If EBBA can now invest its time, energy and money in working with their fledgling national organisations then the future for brass banding in those countries, and beyond, looks bright: The raw playing talent on show in the German and Lithuanian bands was quite startling (especially the young cornet soloist Indre Jonaityte with Brass Band Aukstyn in the Development Section on the Sunday).
Plus side

Also on the plus side, the announcements that Lithuania and Wales are proposing to host innovative Championships in 2019 and 2020, means that any dents in EBBA finances (which remain robustly in the black) appear only to be concerned with future 'sponsorship' of what is starting to become a rather tired sounding European Youth Band - the cost of which this year was met by EBBA itself.
As much as we can admire young players enjoying the experience of representing their nation in such a collective musical manner - this year's band wasn't the greatest advert for excellence we have heard.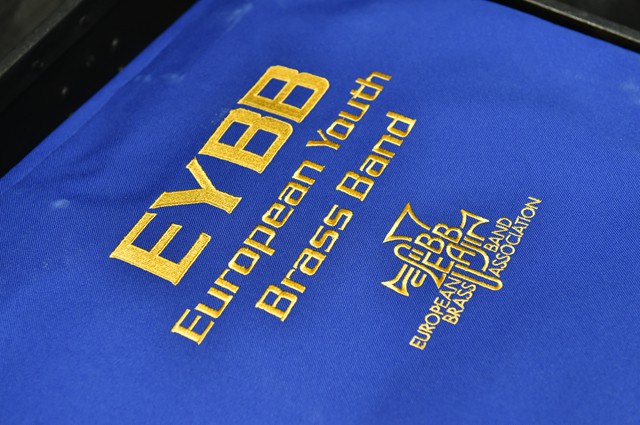 Time to spice things up a bit?

Government help

During their interesting presentations at the EBBA Annual Meeting, it appeared that funding for Palanga and Cardiff will come from generous national government sources (yes - even in Wales), but it also begged the question, that without help, for how much longer can individual bands keep stumping up ever increasing amounts of money to compete for honour and prestige (and we don't just mean the odd euphonium) alone?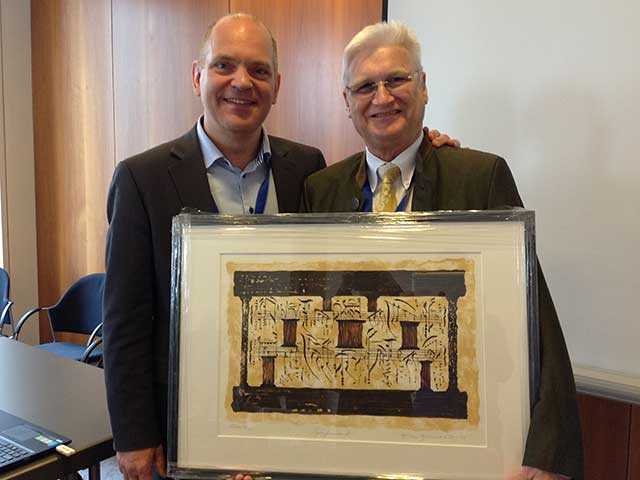 Kurt Bohlhalter receives the thanks of EBBA President Ulf Rosenberg

Set back overcome

One major set-back EBBA did well to overcome though was the loss through ill health of the invaluable services of the admirable Swiss Vice-President Kurt Bohlhalter (who sadly retired from EBBA after the event) for the crucial run-up to Freiburg.
EBBA had to invest a great amount of extra time and money in putting the finishing touches to his excellently constructed blueprint (his professionlism, wise counsel and expertise will be missed). It certainly showed that it could meet that particular challenge.

Remarkable raw talent from the new competitors

The efforts of EBBA President Ulf Rosenburg, the Executive Committee and former EBBA General Secretary, Berit Handegard in working alongside Arianne Brun and the local organisers were such that by its conclusion, Freiburg proved to be an overwhelmingly positive experience for all those who enjoyed such a wonderful city and superb Konzerthaus hall facilities.
Future

So what does the future hold?
More of the same it would appear in Lille in 2016 (although the French will surely host things with an intoxicating mix of Gallic joie-de-vivre and shoulder shrugging nonchalance), whilst Ostend and Utrecht in 2017 & 2018 also offer the infrastructure and good local organisational skills for the event, and EBBA's bank balance, to prosper.
By 2020 though EBBA cannot afford to have missed another opportunity to make the European Championship the event it now deserves to be.
And EBBA itself cannot afford not to be the fully funded organisation that shapes the ideal of European banding for many more years to come after that too.

Iwan Fox