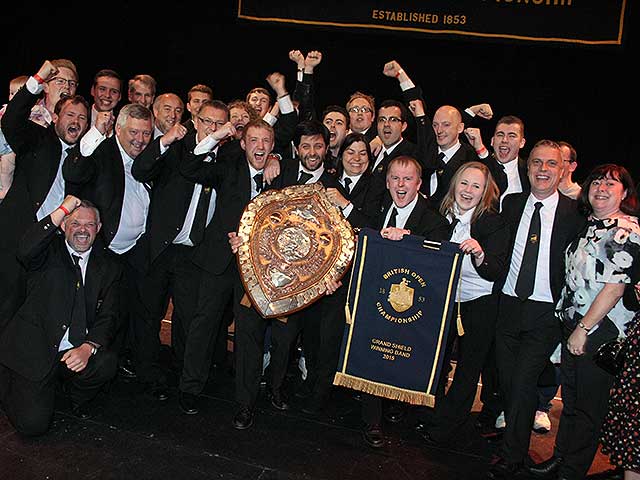 Ready to strike for gold in Birmingham: Grand Shield winners Rothwell

The lure of winning the most famous golden prize in world banding continues to exert a very specific, but somewhat peculiar hold over competitors who travel in hope as well as aspiration to the Spring Festival.
That was certainly seen again this year; although unlike the majority of Blackpool's usual weekend fun loving prospectors, the odds of claiming qualification places to eventually battle it out for the famous British Open Shield were slightly more favourable than those offered by the endless rows of fruit machines that line this particular Golden Mile of broken dreams.
Only slightly though.
Strike it lucky

Like testosterone fuelled stag night lads, Spring Festival contenders also head for the bright lights with varying degrees of 'strike it lucky' hopefulness coursing through their veins: Expectations vary - from brazen confidence to forlorn 100-1 outsiders.
However, the palpable sense of desperation that drives bands to escape this contesting torture to get to Birmingham seeps through the air like the alluring smell of the distilled sweat of a hen party host: You can sniff it in the air.
It made the Grand Shield contest in particular, a fascinating one to savour on 'Arabian Nights'.
Splendid Rothwell

No more sweaty palmed pre-results expectations to be dashed for Rothwell Temperance though (at least for the foreseeable future).
Splendidly prepared, highly motivated and brimming with confidence, they took on the 'Scheherazade' challenge knowing exactly what cruel contesting disappointment has felt like: Another unlucky near miss (especially after the Yorkshire Area) would have been a crushing blow.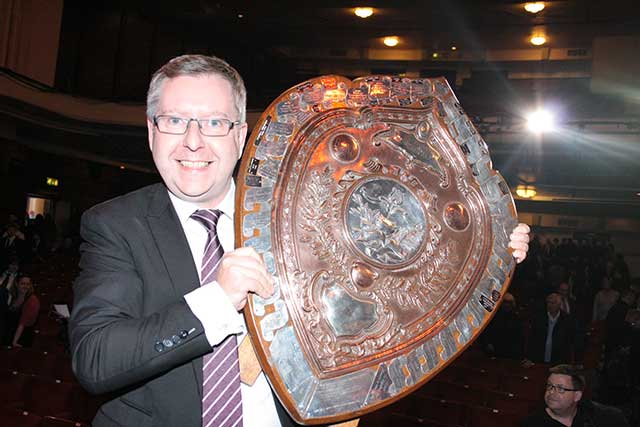 The next shield could well be bigger and even more shiny for Dave Roberts

Golden seam

Thankfully, not even an early draw could dampen their desire or blunt their sharp edged ability to successfully pan for the priceless golden seam that runs for just two prospectors from the Opera House stage of the Winter Gardens to the auditorium of Symphony Hall each year.
As a result, a high class band gained just reward for their hard working efforts under the baton of David Roberts.
Emerald eyes

Woodfalls on the other hand went about finding success in a very different way to that of their Yorkshire counterparts. It led a few well beaten rivals to blink emerald coloured eyes after Bob Childs led the eclectic personnel of the Wiltshire band back to the Open for the first time in over 40 years.
Their acidic gripes may well have been ethically justified given the laissez-faire approach the British Open organisers have taken with registration rules - but none could add substance to their envious post result bar room complaints - especially as not a single one had come up with any formal letter of protest about them before a note had been blown in contesting anger.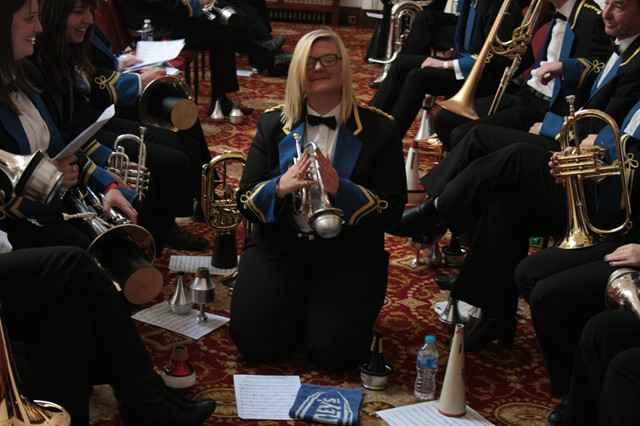 Not even the power of prayer can help in Blackpool... except for Rainford
The rules that govern the Spring Festival are generous - but also crystal clear.
And despite the moans, there appears to be no real appetite from the vast majority of competitors for change - especially when they can all use them to enhance their own chances of qualification success.
Specific lure

That's what the very specific and somewhat peculiar lure of Symphony Hall gold does for the conscience: It is only really pricked when bands believes their self proclaimed 24 carat chances of success have been unfairly snatched from under their noses: The rest know when they are beaten.
In 2016 two more bands will produce qualification nuggets in Blackpool while 18 will leave with broken dreams for another year at least: It's the unique attraction of the Grand Shield as a contest.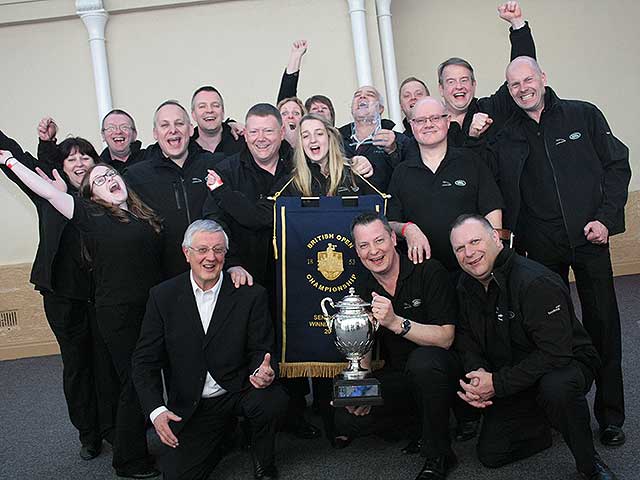 On step closer for Jaguar Land Rover

To the same extent it is also what drives the competitors in both the Senior Cup and Senior Trophy.
Faberge Jaguar

Jaguar Land Rover has performed in the rarefied atmosphere of the British Open in the past - as has Ashton under Lyne, who joined the winners in gaining promotion from the Senior Cup alongside Friary Guildford and Co-operative Funeralcare North West.
They also deserved it - especially as they had to tackle a set work in 'Festival Music' that stills retains the lustre of Faberge quality craftsmanship some 60 years after it was written.
All four are now tantalisingly close to Symphony Hall, knowing that the step up in class in 2016 will be marked, but not impossible to overcome.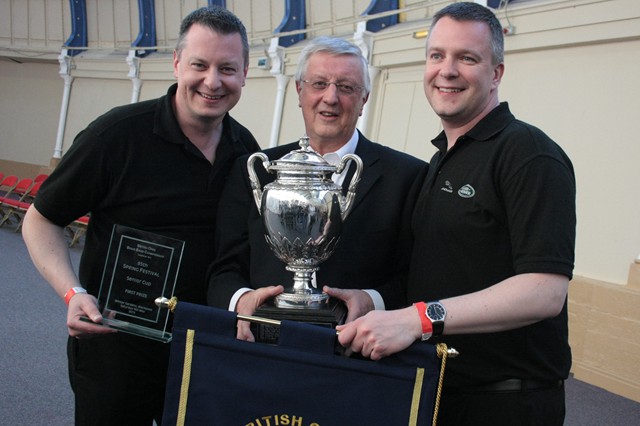 Well done Dad: The Lea family celebrate their Senior Cup victory

Kanye West

And whilst the best bands (and especially their MDs) knew a bit of antique Mozartian pastiche gold when it was presented to them - far too many conductors still treated it as if it was made to be worn around the neck of American rap star - like a cumbersome lump of bling. It was at times Eric Ball being performed Kanye West.
Prosperity

The bottom third of the Grand Shield and top third of the Senior Cup are full of interchangeable bands - separated by a bit of contesting luck on the day.

Survival and prosperity is certainly achievable if this year's promoted quartet continue to make the same level of progress over the next 12 months under their experienced, musically informed MDs.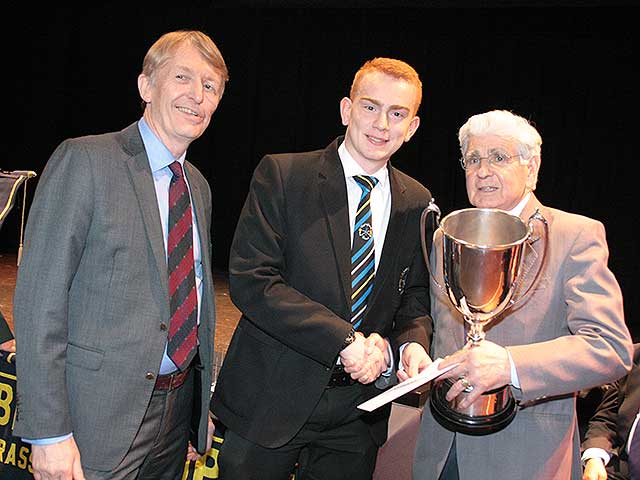 Rainford on the march and heading in the right direction....

Much the same applies to the bands that came up from the Senior Trophy - led by the impressive Gareth Brindle and Rainford.
Llywdcoed, VBS Poynton and Newtongrange joined them - two bands also led by up and coming conducting tyros in Chris Turner and Neil Samuel, and one by a welcome return to the UK of a conductor of proven 24 carat class in Keith Wilkinson.
Contesting riches

Each showed just why the Spring Festival holds out the promise of contesting riches dreams are made of.

These hard grafting bands - very well led and packed with local talent (and the odd properly intentioned bit of paid for help) are now just two years away from an appearance at the British Open itself.
And even though the next steps up in class will test them much more severely than 'Tallis Variations' (although it did show in quite stark musical light, the true 'Championship Section' credentials of all the bands) - the dreams of one day getting their hands on the British Open Shield remain undimmed.
That's what the lure of gold is all about.

Iwan Fox