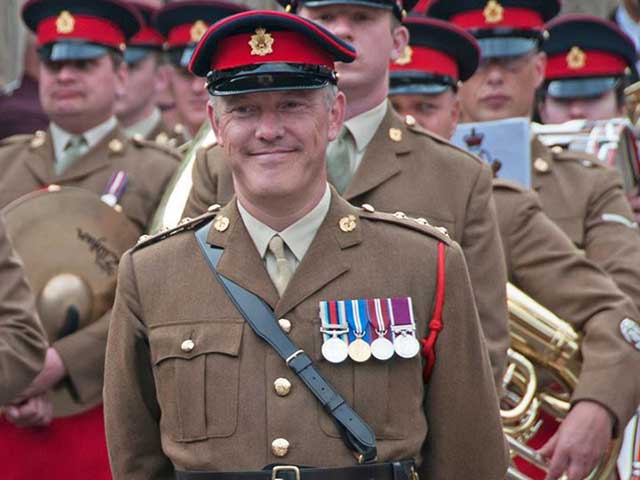 Leading from the brass band front: Captain Justin Matthews

Captain Justin Matthews is just about to move to a new post in the British Army - leaving his role as Director of Music of The Band of The King's Division near Preston become a musical advisor to the Jordanian Armed Forces.
It means an end to his day to day involvement in what has become a historic link between military and civilian brass bands.
So before he packed his bags, 4BR Editor Iwan Fox took the opportunity to speak to him about those momentous decisions and the benefits it has brought to both professional and amateur banding life.
Concept to reality

The background is well known - but worth repeating.
Alongside Major Dave Barringer, Capt. Matthews formed the British Army Brass Band around eight years ago. It quickly became a very popular musical outlet for military musicians, many of who were former brass banders before they took to wearing a different kind of uniform.
With regular appearances at major brass band events, it soon proved to the Army that it was also a viable and credible concept - one that with significant development could eventually be considered as a full time military career for those wishing to 'sign up'.
Set up

Over a remarkably short space of time (and we are talking about military time here) two very determined officers and had put detailed planning and preparation into action, and with support coming from the military top brass who were overseeing radical changes to the Corps of Army Music, the first full time professional regular Army Brass Bands were formed in April 2014.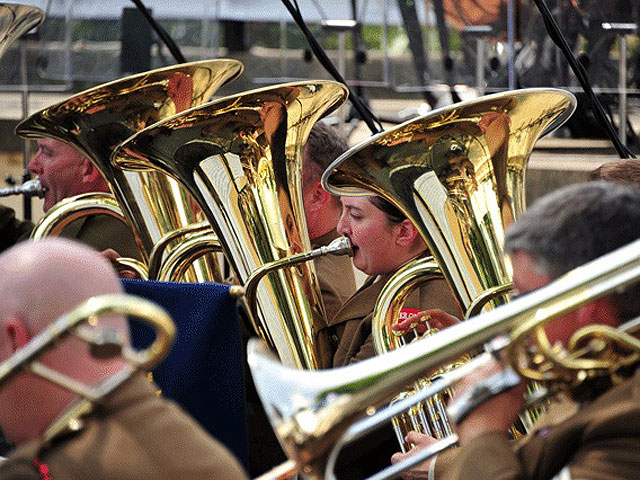 Attracting players to the ranks

Impact

It is a decision that has made a huge personal and professional impact, as Capt. Matthews reflected.
"Being involved from the very first idea of putting pen to paper enabled me to not only focus on what we wanted to achieve but also have a very detailed plan on how to achieve it.
Whilst I had overriding responsibility for all three of the new brass bands, my daily focus was clearly with the King's Band.
I have to say that the band developed far quicker than I had anticipated and what we have achieved in the last year has been incredible."
From sceptics to support

And although there was some scepticism from both sides of the musical battle lines when the details first became public knowledge, it soon developed into invaluable support.
"Of course this couldn't have been done without the vision and leadership of the Corps of Army Music," he said, "especially the willingness of the musicians themselves and all the support we have enjoyed from the brass band movement.
It was understandable that there would be some initial trepidation of this new and unknown entity coming into the brass band movement.
However, I think it's safe to say that we have now been well and truly adopted: Even some of our own die hard Military (Wind) Band buffs have been convinced by the change - no small achievement I can tell you!"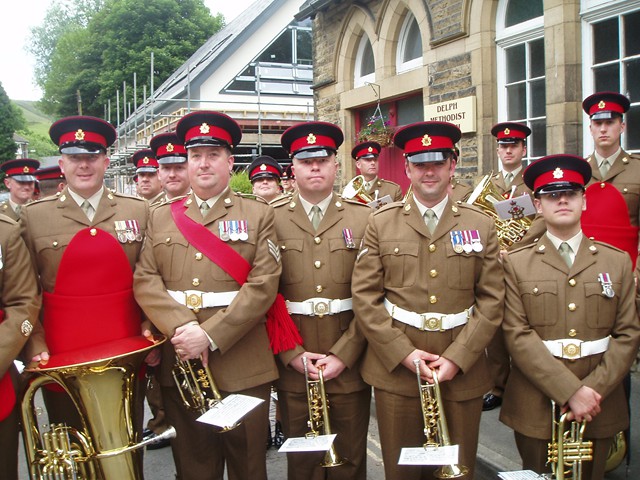 Pride in performance: At this year's Whit Friday

Clear communication

Capt Matthews believes that the understanding that came with clear communication about what the aims and objectives were has helped enormously to create good working relationships between the Army and community based bands.
He continued: "It helped that our goal was set out and explained clearly. Good media relations with the likes of 4BR meant that people knew that we wanted to work alongside and support community brass banding, and in the long term, send musicians with a broader musical experience back to local bands to assist in their development.
We also made it clear that the Army bands would never compete in the major competitions, as it is simply not what we are paid to do - although marching down the road on Whit Friday has been an experience none of us will forget in a hurry!"

On the march...

Key to success

He believes that the key to the success - not just for the King's Division but also The Band of the Royal Corps of Signals and The Band of The Prince of Wales's Division, has been that sense of friendly engagement and support.
"Our musical output is much more functional, as opposed to absolute, and is very much dependant on the location and occasion.
From Remembrance at the Menin Gate, Ceremonial Occasions with Her Majesty or entertaining the crowds at Butlins, we have to switch musical genres regularly but also credibly. We are very aware of our responsibilities and what and who we represent."
Great credit

He added: "As a result, we have already recruited some very fine players from many of the top bands in the UK as well as those in other sections. I remain amazed, but also very proud of the standard of players that come from directly from community brass bands. They are a great credit to their bands and their teachers.
We still have a few vacancies in our Midlands and South Wales based bands, but in such a short space of time the achievements have been nothing short of remarkable.
I think the future of military brass banding is looking very promising indeed."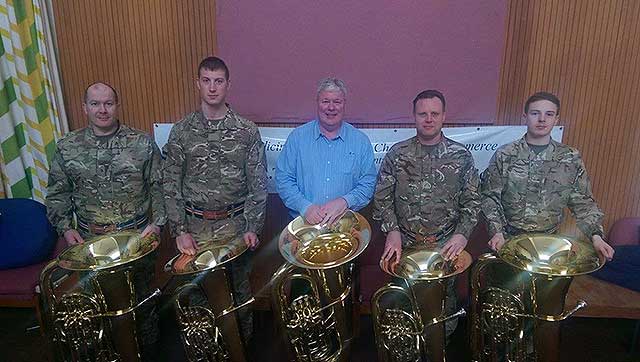 Crossing battle lines: Civilian expertise has been sought and welcomed

Support and thanks

Capt Matthews also acknowledges the support given by many people outside the Corps of Army Music, who he believes also helped in making the decision to create the trio of professional Army Bands such a success.
"I would like to take this opportunity to thank all those that have supported me from day one which certainly made the job easier," he said.
"The list is quite extensive, but it would be remiss if I didn't mention Gordon Higginbottom, Garry Cutt, Paul Hindmarsh, Philip Biggs, Frank Renton and of course all the team at 4Barsrest."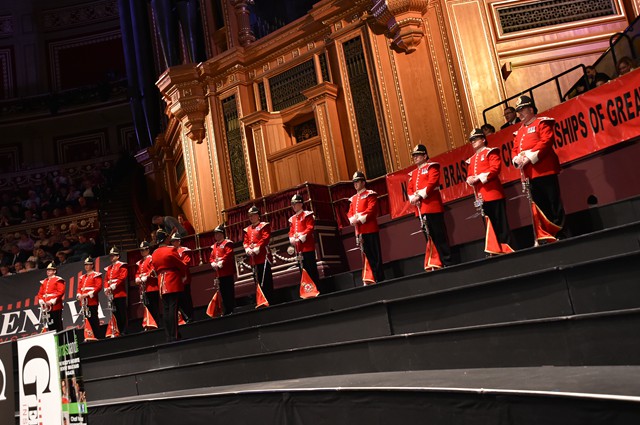 Personal highlights: King's Division fanfare team at the 2014 National Final

Highlights

And as for personal highlights?
"There have been so many - from the RNCM Festival of Brass and the European Championships in Perth to returning back 'home' to Salford University and performing with the Fairey Band.
My favourite moment though was conducting a fine rendition of Bourgeois' 'Blitz' at the Bridgewater Hall on the 70th Anniversary of D-Day - performed by a military brass band!

Who would ever have thought that just a few years ago?"
New pastures

So it is now new musical pastures for the popular and charismatic conductor.
"Indeed. One of the great benefits of an Army career is that you do get to enjoy more broad and varied experience across as we move around.
My new job, which I chose, is essentially acting as an advisor to the Jordanian Armed Forces in all matters musical and ceremonial, based at their school of music in Amman.
I am looking forward to it immensely but also hope I can persuade them to become fans of brass bands too!"
Iwan Fox