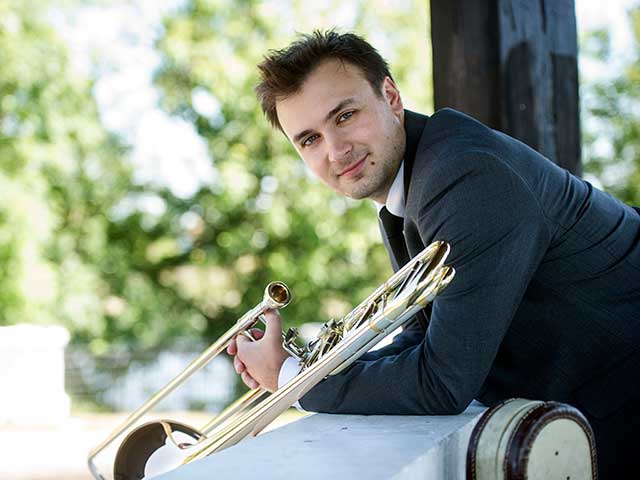 No time to rest...

Although Matt Gee says he's enjoying a few hours rest following a high profile concert with the Royal Philharmonic Orchestra, he still reveals that the post-performance adrenaline is stopping him from completely putting his feet up.
"It's always a bit like this," the 32 year old Principal Trombonist explains.
"You get such a buzz from playing in a great concert that it takes a while to get it out of the system. It's one of the reasons why I love doing what I do though."
Used to it

Matt must be getting used to the feeling by now - especially after five and half years of playing with one of the world's leading orchestras.
"Not really," he says with a laugh. "Just when you think it's always like this we get to play something, somewhere that just thrills you further."
One of those 'something, somewhere' times he says will come later this year when the American trumpet star Allen Vizzutti performs with the brass and percussion ensemble of the orchestra.
"Having played with him before you just know it's going to be special. We perform with so many truly world class soloists - but even our jaws drop when you get to play with a guy this good."
http://www.cadoganhall.com/event/royal-philharmonic-orchestra-150922

Reason

And he must be good to do that, given that the current RPO brass edition includes the likes of James Fountain, Roger Argente, Laurence Davies and Niall Keatley its ranks.
"It's another reason why that adrenaline stays on tap," he adds.
"You can never tire when these opportunities come along, and it's such an exciting time playing with the orchestra at the moment.
I don't think we've had such a tight knit section of players since I've been here. They are an amazing bunch," before adding generously, "I keep thinking just how lucky I am - we are certainly turning heads, both conductors and string players alike!"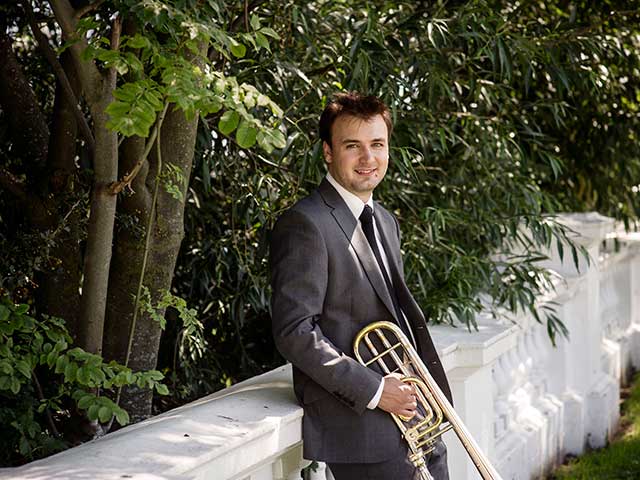 Highs and bouquets...

Price

Before anyone starts to think that life as a freelance musician is all rest day highs and bouquets from admiring fans, Matt is keen to point out that it comes at a price; an investment in lots of hard work and hours of detailed, dedicated practice.
"That's the key," he said before adding with sober realism. "It's such a competitive profession - packed with brilliant players. Get it wrong and there is always another taxi in the rank so to speak.
You have to put in the hours; lonely, personal ones as well as the collective performance ones in recording studios, concerts halls and rehearsal rooms. The bit you hear on stage is just the tip of the iceberg as a professional musician."
Flexibility

Flexibility is also important he says, especially as the RPO is renowned for its eclectic range of repertoire.
"It's essential. One day we are performing major works in world-renowned festivals such as the BBC Proms, the next night a film music concert.
In the last month or so we've done everything from Beethoven through to the latest contemporary works, with a couple of film and advert sessions thrown in - so your own preparation must reflect that."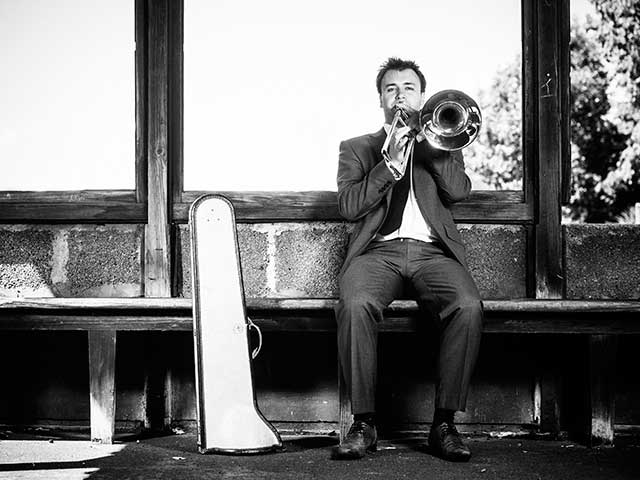 Always a work in progress...

Good planning

So what does that entail on a daily basis, and what should young players seek to work on?
"Good planning - and not just with your practice. Know the job requirements and your diary.
One week you may need to have a broad, rich sound for a big orchestral work, and then the next week you may need much more flexibility, delicacy and precision for some solo work or a challenging contemporary piece in the orchestra.
Just doing four hours of blowing a day won't achieve anything."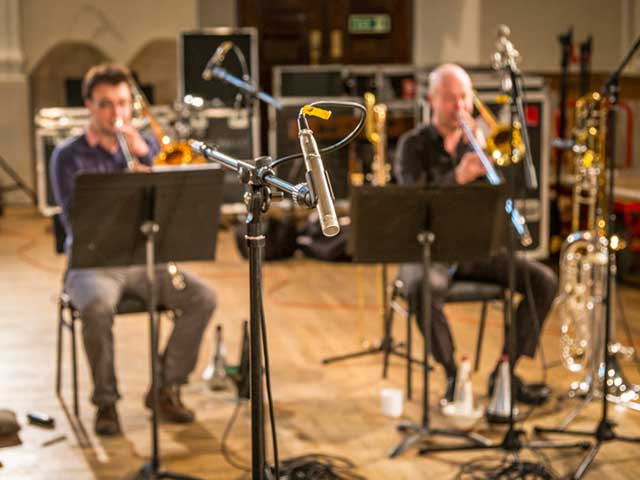 Under the pressure of the microphone...

Hugely important

He added: "Sight reading and stylistic knowledge are also hugely important nowadays. You can't afford to be caught out.
A lack of time and money means that you rarely get more than a 20 minute run-through, particularly in commercial recording sessions.
You always need to be on top of your game so you must be prepared and work on as many different styles of playing you can. You never know what you may be asked to do when you arrive for a job."
Immersing yourself

He continues: "You can help by immersing yourself in the repertoire. All students will be aware of the usual excerpts like 'Brahms 1', but you must know exactly what is going on around you the rest of the time."
He then poses an interesting question before going on to explain himself further.
"You must ask yourself: Who is on the same line as me? Is it important? Where am I in the chord?
Some composers write instruments on the same part because they want the blended sound of, for example, trombone, horn and clarinet such as the Saint-Saens 'Organ Symphony', so you have to try and get inside those other sounds.
You just have to hope that the other players realise this and don't try and play it as a solo!"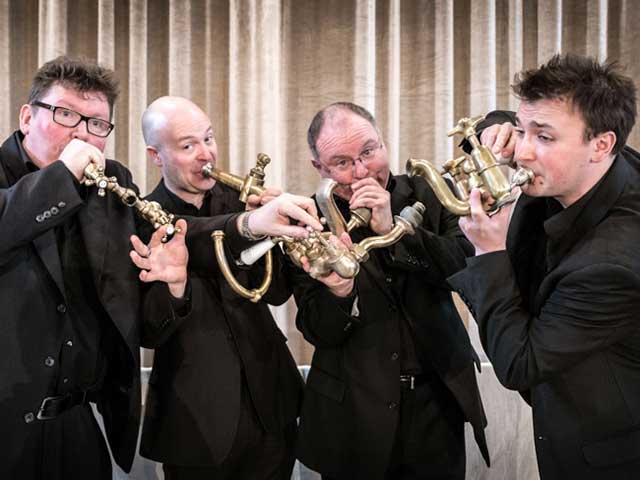 Different genres...

Exploring

For Matt, making sure that you keep exploring musical genres is important.
"It's that little bit of extra prep work that can be of huge benefit, so always try to broaden your musical hinterland," he says.
"In the next month we've got a John Williams concert, Shostakovich 15 and Quadrophenia to look forward too. Not only does it do you good as a player, it also keeps you mentally fresh."
Brass band background

Matt also revealed that his brass band background continues to play an important role in his playing enjoyment - and recently included a trip to play at the Whit Friday March contests.
"I'm very proud of my brass band roots - and immensely grateful to have been taught and inspired by the late Bud Fisher, and to have played under the likes of John Berryman at Kibworth Band.
As you know, the brass section at the RPO has strong brass banding links, and I had a great day alongside James playing with Chav Brass on Whit Friday.
It was plenty of fun: James looked very much at home in his shell suit and baseball cap!"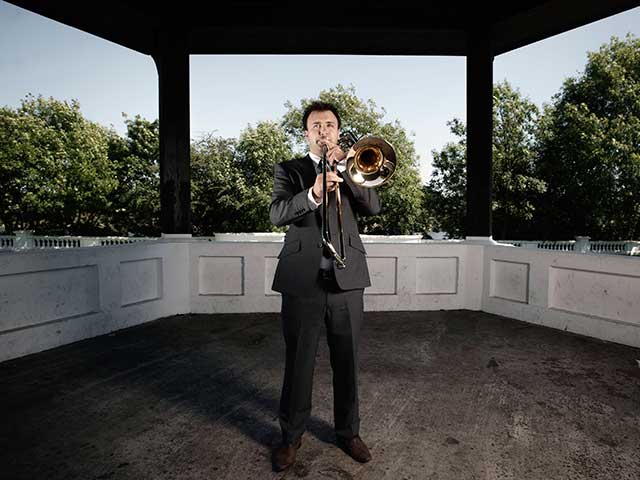 Departures...

Paradiso

More serious departures from the norm have seen Matt release his debut solo CD, entitled 'Paradiso e Inferno' and increase his solo work profile.
"I really enjoyed making the CD; 20th century showpieces segue into 19th century songs - a chance to show off the long-lost Jekyll and Hyde character of the instrument.

I wanted to address the stereotype and misunderstanding which surrounds the instrument and embrace the extremes of the expressive spectrum - juxtapose lyricism with violent non-lyricism, utilise sonorous tone colours, dynamic contrast and tonal manipulation.
It was great fun - heavenly and hellish all at the same time!"
Opportunities

He goes on; "I'm also enjoying the opportunity to do more solo and ensemble work, masterclasses and teaching. In a musical world which is tightening its belt, it's important to try and increase the variety and scope of your playing portfolio.
I'm going out to Chile later this summer for some solo work and further concerts and recordings are planned with the brass septet Septura, with the likes of Phil Cobb, Alan Thomas and Pete Smith also involved.
The teaching at the Royal Academy in London is very important to me, as it means I can continue to help the next generation of players and help them on their way to even bigger things."
More brass banding?

So will that ever increasing portfolio include more brass banding?
"I really hope so. I've such admiration for the players - although I worry that some brass band composers just want them to be pure technicians instead of musicians who can use their facility to really portray deep human emotion.
Sure, I would love to play more solos with brass bands - although I don't think I would be as relaxed in the Albert Hall with a brass band behind me as with the RPO.
Mind you - that would be some experience."
Iwan Fox

All images courtesy of Matt Gee. Copyright Bethany Clarke and Pip Eastop

To find out more about Matt Gee and his new CD release go to: http://matthewgee.info/