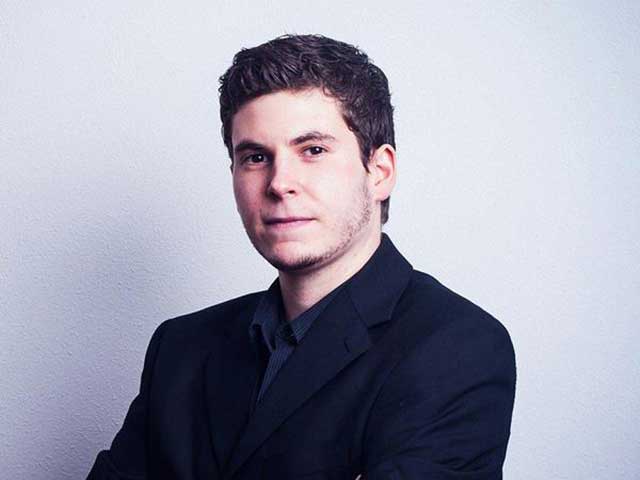 Overhead projection: An Englishman abroad...

Christian Overhead hails from Northamptonshire and learned his playing craft with Rushden Windmill and Raunds Temperance Bands. In his early teens he began to take a serious interest in composition and started studying scores - from Sparke, Graham and Wilby to Stravinsky, Ravel and Mahler.
His first work 'Iguazu', was inspired by a visit to the famous South America waterfalls and subsequently reached the final of the Ohio Brass Arts Festival composition competition.
Others soon followed; each making a mark with its inventive scoring techniques and sense of adventure, such as 'Echo & Narcissus' as part of his John Golland Award, to 'Amid a Kaleidoscopic Mist' - selected from over 130 worldwide entries for the final of an international competition in Holland - winning the jury prize in the process.
Breakthrough

The 25 year old has lived, worked and studied in The Netherlands for a number of years now, combining his studies with playing horn with Brass Band Schoonhoven.
His latest breakthrough came in Freiburg in May when his engineering inspired 'Symmetricoil' took second place the 6th European Composers Competition.
4BR's Geert Jan Kroon recently caught up with Christian to find out more about the composer and his work since that success.
---
Geert Jan Kroon: How's life been since Freiburg?
Christian Overhead: It's been pretty good.
Being involved in the competition alongside Stan (Nieuwenhuis) and Ludovic (Neurohr) was a great experience - a huge confidence boost, not just as a composer but also personally.
It's a good feeling when something you work on is rewarded, and the feedback I received from the judges, Thomas Doss, Rolf Rudin and Paul Hindmarsh was extremely helpful in my compositional development.
I've also taken their advice and made some amendments to the piece (which was initially around 6 minutes long) which will soon be published as 'Symmetricoil: Reworked'.
---
Geert Jan Kroon: The piece certainly made an impression - so remind 4BR readers what it was all about?
Christian Overhead: It's a strange subject matter, even for me!
It goes back to the time I spent working as an engineer, where during particularly monotonous jobs I used to daydream quite a lot.
I thought that the contrast between the noise and chaos of a factory and the calmness and tranquillity of that dream-like state would be an idea for a piece.
The title was inspired by the swarf that littered the floor around me (small spiral shaped shavings produced drilling through metal).
The piece is dedicated to my co-workers who somehow managed to make the job seem bearable, and helped me through a rough stage in my life".
---
Geert Jan Kroon: Did you write it specifically for the competition or did it have another purpose?
Christian Overhead: I had the initial idea when I was still working at the factory, but it wasn't until later that I decided to start writing it.
I don't normally write for a specific purpose - it's just something I feel like doing.

However, I was about halfway through the piece when I heard about the competition so I thought 'why not?'
Looking back, that was one of the best thoughts I've ever had!
---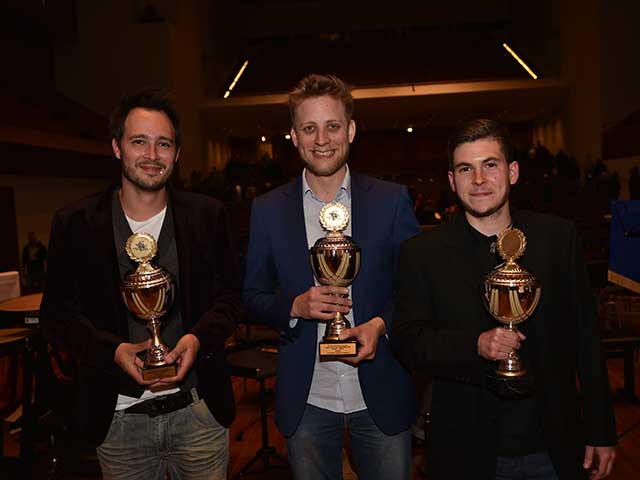 Euro ​composers: Ludovic, Stan and Christian...

Geert Jan Kroon: So is it a little bit of musical autobiography?
Christian Overhead: In part: My music usually tends to have an autobiographical touch, and the years I worked as an engineer are a big part of my life.

I would be the first to admit that I wasn't the best engineer in the world (my fellow workers would second that!) but I enjoyed some good times and made some great friends.
I think it's incredibly important to remember these things: They remind you who you are and where you come from.
---
Geert Jan Kroon: The Dutch audience also now knows you as a horn player with Schoonhoven, so what did you do before you came to The Netherlands?
Christian Overhead: I've always been active in the brass band world. I started playing the cornet at age 7, following in the footsteps of my parents and family members.
I played in a couple of local bands until I settled at the top section Raunds Temperance, and as they rose through the sections so did I.
In 2007, I was on assistant principal and three years later I became principal cornet, a position I held until moving to Holland.
I also played for several local orchestras as a trumpet player - the highlight a performance of 'Le Sacre du Printemps' in Cambridge.
---
Geert Jan Kroon: So how did you start composing?
Christian Overhead: I started in my mid-teens out of sheer curiosity - and it spiralled from there.
Once I began to get into it I decided to send a few scores to Elgar Howarth. Amazingly, a few days later I received a call from him (I'll never forget my Dad shouting - "Christian, there's a Mr. Howarth asking for you on the phone!")
He told me my music showed potential and creativity, and gave me some very good advice; so I took the plunge.
Shortly after I begun to enter competitions - reaching the Ohio Brass Arts Festival final with 'Iguazu' and the John Golland Award with 'Echo & Narcissus'.
---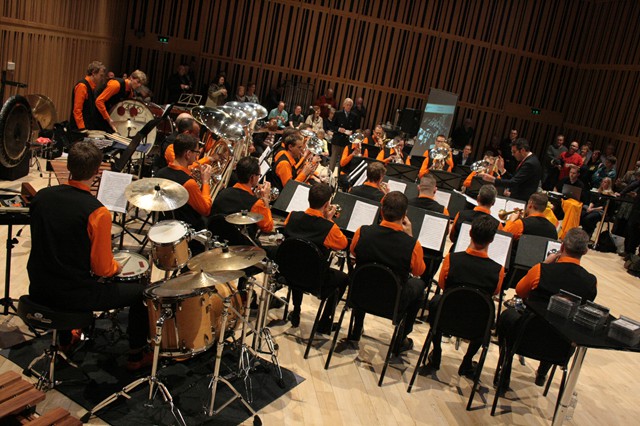 Playing the part with Brass Band Schoonhoven

Geert Jan Kroon: Why come to The Netherlands?
Christian Overhead: In 2011, 'Amid a Kaleidoscopic Mist' won the jury prize at the Slide Factory competition in Rotterdam, where one of the judges was Martijn Padding, Head of Composition at Den Haag Conservatorium.
When I was looking for a place to study, I decided to apply there. I was accepted and moved to Den Haag in September 2013, studying under Martijn and Cornelis de Bondt.
However, earlier this year I decided not to continue my studies, but I will always be grateful to Martijn and Cornelis for their help and guidance as they taught me so many valuable lessons.
By that time my life was very settled in The Netherlands so I chose to stay, and I'm now receiving private tuition from Rob Goorhuis.
---
Geert Jan Kroon: Your short composition 'Fanfare in Orange' has been performed by the Cory Band in your adopted country.

Was this another breakthrough?
Christian Overhead: I think anytime you have a piece performed in concert by a band such as Cory, it is always going to be a breakthrough.
'Fanfare in Orange' was actually the first brass band piece I started and finished in The Netherlands - hence the title. It was a great experience to hear it for the first time in Eindhoven.
I guess since then more people in the Dutch banding movement have heard my name mentioned - so I would class that as a breakthrough, yes.
---
Geert Jan Kroon: How would you describe your style of writing? What makes you tick so to speak?
Christian Overhead: This is a tough one - but some people have described my style as unique! Until recently I hadn't received any form of tuition, which left me free to develop in my own way.
I learnt mainly from studying scores - in a way learning from Stravinsky, Prokofiev, Mahler and Bartok, as well as the great brass band composers such as Ball, Wilby, Vinter and Gregson to Thomas Doss, Simon Dobson and Aagaard-Nilsen.
I'm a bit of an eclectic when it comes to my taste in music: I'm as much at home listening to a Shostakovich symphony as I am listening to Rage Against the Machine, Enya, or 2Pac!
All of this helps shape my music, although it may not be evident.
---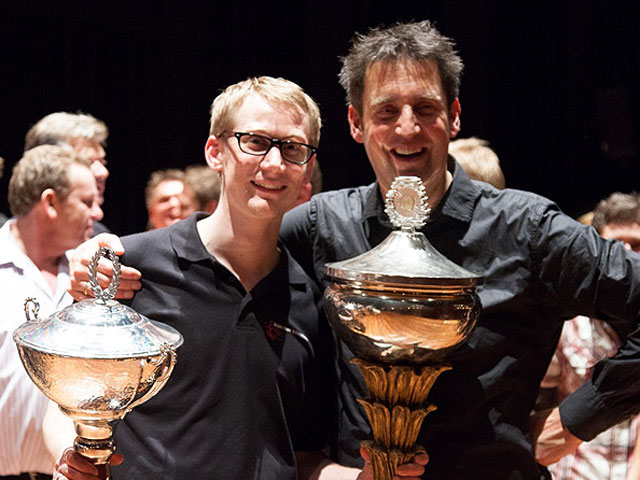 Testing Mr Voss (left) with a new euphonium concerto

Geert Jan Kroon: Are there others works we haven't heard yet?
Christian Overhead: There are several pieces which have been published but, as far as I know, not performed.

Whether they will ever be performed I don't know, although there may be a good reason why they haven't!
---
Geert Jan Kroon: So any new projects on the go?
Christian Overhead: I always like to work on a handful at a time, but the main piece at the moment is a 'Euphonium Concerto' for Robbert Vos.
I'm privileged to play with Robbert at Schoonhoven. I think most people would agree that he is one of the top euphonium players in the world, so to write a piece for him is fantastic.
It's always good to hear his feedback when I send him a sample: He uses the word 'impossible' a lot though… I think he just needs to practice more!
Apart from that, there are a few more pieces in the pipeline.

You will just have to wait and see..."