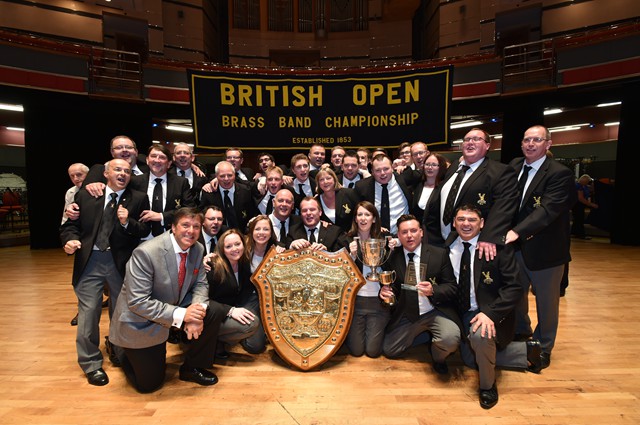 The defending champion: Black Dyke

Despite its age and refined reputation, the British Open still manages to occasionally add an extra pinch of spice into its competitive mix.
It's a bit like Mary Berry mischievously dropping a jalapeño chilli or two into one of her lemon-drizzle sponge cakes.
Rumbling

On the surface this year's 163rd contest remains as regally unperturbed as an elegant arabesque, but ever since the 18 contenders received their parts of 'Reflections on Swan Lake' the murky rehearsal room waters below the old bird's feet have been churning with bowel rumbling discontent.
By all accounts, Stephen Roberts' take on Tchaikovsky's famous ballet music has got quite a few people flapping like bakers with soggy bottoms.
There's nothing new in that.
All before

The British Open has seen it all before - from the impassioned furore over 'Spectrum' and 'Fireworks' to the malcontent murmurings of 'The Maunsell Forts' and 'Electra': And that's just in the last 40 odd years.
However, it must also be remembered that straight after the kaleidoscopic delights of 'Spectrum' came 'Pageantry', whilst the dry wit of 'Fireworks' was followed by 'Epic Symphony'.

Even the esoteric demands of McCabe and Ellerby were balanced twelve months later by the populist lollipops of Holst and Rimsky-Korsakov.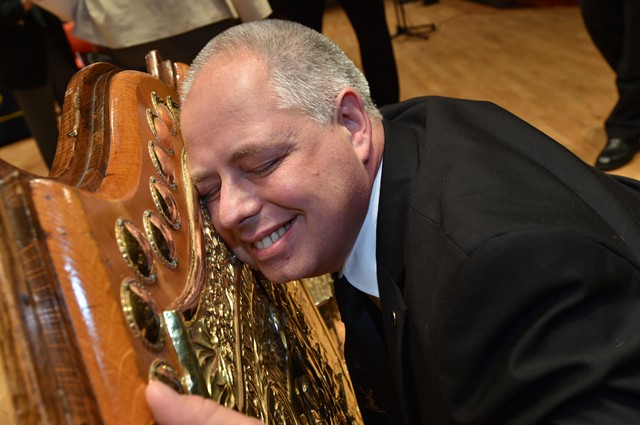 That's what winning the Open feels like ...

Great strengths

It is all part of the contest's great strength in having to keep traditionalists, radicals and even accountants happy.
On this occasion those who yearn for lyricism and warmth, familiarity and brevity will be delighted, whilst others with more contemporary musical tastes will perhaps be left a little dismayed.
Meanwhile, the bean counters, who never worry about the nature of notes as long as there are enough of them to pay the bills, will be smiling into their profit and loss accounts: Tickets for the 2015 contest are just about sold out.
Despite this, the musical argument for contemporary modernism at the banding world's oldest and most prestigious contest remains relevant and pressing; although this must be balanced with the credit due to the organisers, and Karyn and Martin Mortimer in particular.
Their careful, generous stewardship has given the event (and its sibling Spring Festival) a welcome sense of long-term security and progressive 'openness' - which this year sees the first ever European band taking to the stage. Who would have thought that just a few years ago?
Future radicalism

That approach may now allow the opportunity to experiment with future musical radicalism, but for the time being, and just like the urban myth surrounding the damage a swan's wing can inflict when provoked, a touch of 'traditional' controversy hasn't done the old contest any harm at all.
The winners won't be complaining either - whoever they may be in a field of contenders, each you suspect, rather secretly fancying their chances on a work well within their technical capabilities.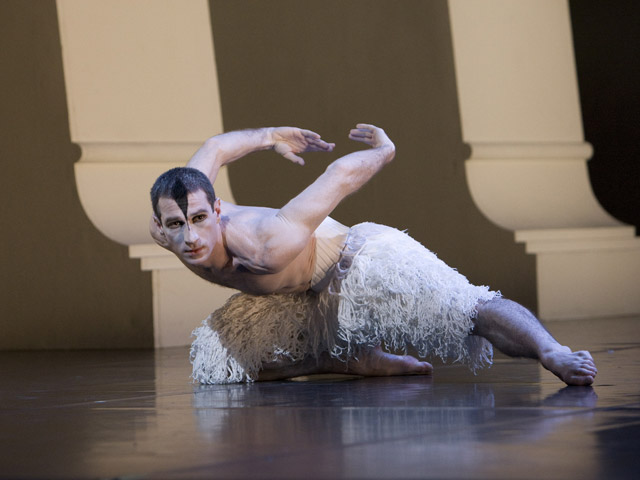 Not quite ready for something that different ...

Dark elegance

Whether it will be within their musical ones remains to be seen, as Stephen Roberts has once again (as with 'Arabian Nights') given the MDs just enough rope to hang their contest winning credentials on high - or hoist themselves by their swan-necks on misplaced ego-driven petards.
There is a dark elegance to the romanticism of Tchaikovsky's ballet music - a sense of self-repression that only fulfils its beauty when carefully considered.
Matthew Bourne

Those who try and smoother a cleverly constructed score in sickly sweet passion will surely deserve to come a cropper - as will those who think they can take the Matthew Bourne approach (he of the all male corps de ballet above) and turn the whole thing into something completely different.
Let the music speak for itself and its dry wit and elegant drama will be revealed - from first note to last.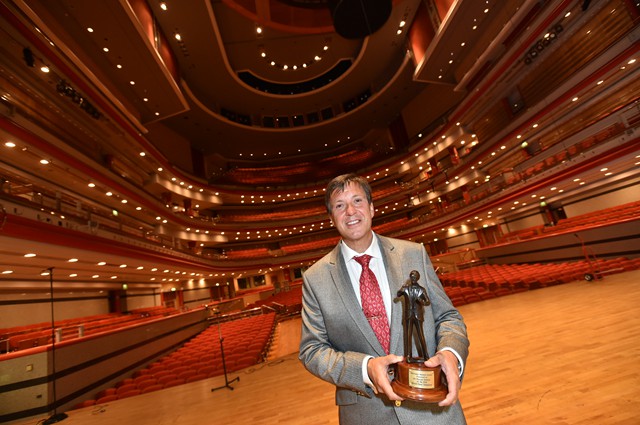 Is another Mortimer Trophy set to be in the grasp for the Black Dyke MD?

Who will win?

Who that winner will be should make for an enthralling contest - starting on the stroke of 10.30am.
The reigning champion Black Dyke will be a firm favourite to defend the title won in such commanding fashion last year. That victory was the catalyst for the triumphs that followed, and despite the occasional hiccup since, they have performed with an air of self-confidence that few can match.
Juggernaut

Prof Nicholas Childs has one heck of a settled ensemble under his command - a juggernaut of power, precision and virtuosity.

If they are beaten at Symphony Hall it may only be by the band that ultimately lifts the iconic Golden Shield in victory.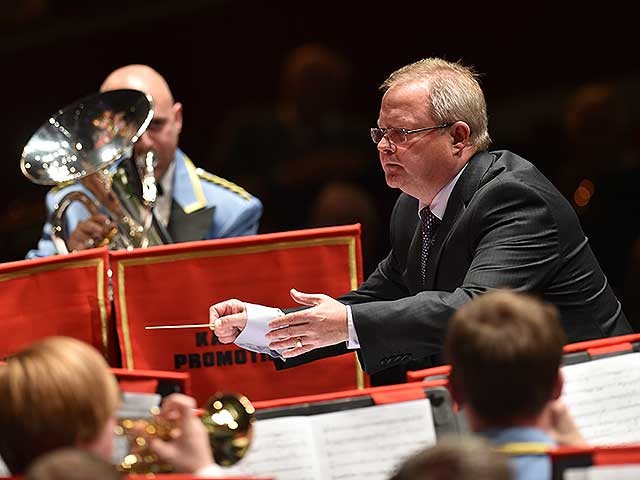 Can the Marple Maestro make it five wins?

Fluctuating

Who that could be is a tricky question - especially as the majority of rivals have been fluctuating in form, confidence and personnel since the Areas.
Brighouse & Rastrick is certainly a case in point - signing up high-class overseas talent for the contest on principal cornet and euphonium as they look to claim a first Open since 1978, whilst Grimethorpe, fresh from their tour to Australia, hasn't had much time either to re-unite their usual contesting regulars with new top man Roger Webster.
New faces

There are new principal faces at Cory, Foden's and Flowers (not to mention just about every other band - and from every part of the banding globe) - so how will they all settle in as they take to the most demanding and unforgiving of contest stages?
Black Dyke appears to be holding a flush hand then - but even they know the merest slip could cost dear.
Greatest threat?

Grimethorpe could well pose the greatest threat. Dr Robert Childs has quietly reinvigorated the Yorkshire giants and that addition of Roger Webster may well be the final piece in the jigsaw as they look to claim a first Open victory since 1991.
That may well mean Brighouse having to wait another year, but you can never discount Prof King inspiring something magical out of his charges - whatever their nationality.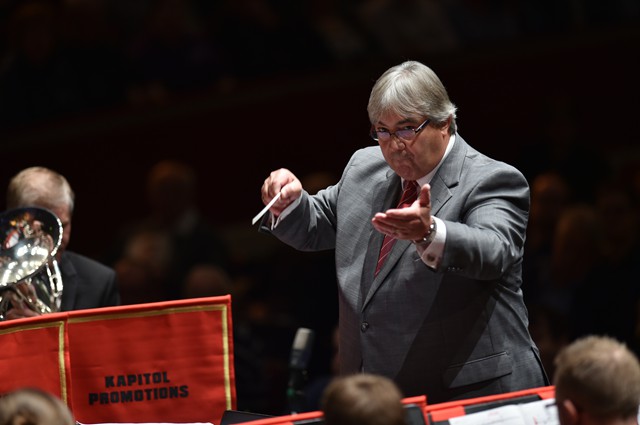 Could this be Grimethorpe's year?

New name

If there is to be a new name on the trophy it could well be that of Flowers - a band that can certainly match even Dyke in terms of self-confidence. Their cohesive ensemble strength and 'star' performers in key positions could just make that extra difference after last year's superb podium finish.
Foreign winner

There hasn't been a foreign winner of the British Open since 1953, although Brass Band Bűrgermusik Luzern is perhaps the best to try since the victorious National Band of New Zealand.
The 2014 European Champion (the winning of which gained the invitation) is one of the most exciting bands around - especially when they are in full flow under their inspirational MD Michael Bach. They should not be missed.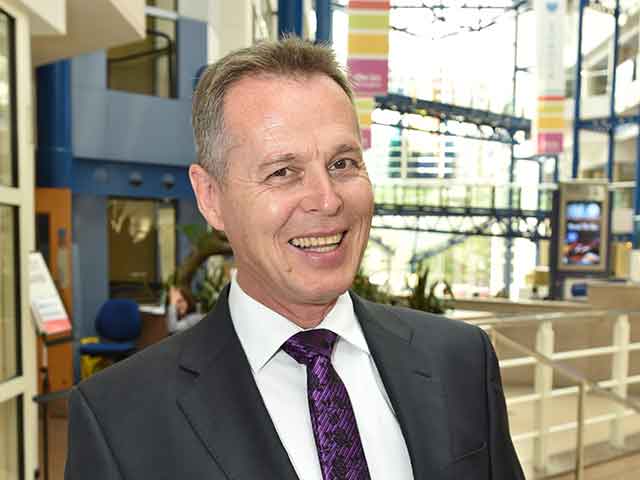 Could Prof King be smiling come the results?

Rebuilding

It may sound a touch bizarre, but Foden's and Cory may not be amongst people's short priced favourites to lift the title this year as both have been going through a little bit of rebuilding and haven't quite been at their sparkling best.
Their major contesting winning credentials remain though - and if they really hit top form either of them could be celebrating yet another win come Saturday night.
Keen trio

A trio of bands that could also feature highly or perhaps even win will be Fairey, Tredegar and Carlton Main Frickley - all keen to repeat the type of form they showed the last time a Stephen Roberts work was used.
Garry Cutt, Ian Porthouse and Philip McCann seem ideally suited to this type of repertoire, so if their players can just rid themselves of the niggling errors that occasionally tarnish well thought out interpretations, then look out.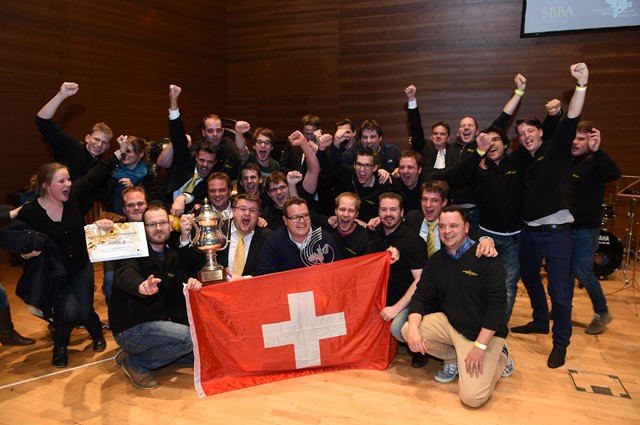 What price a Swiss win?

Consistency

Elsewhere, the likes of Desford and Leyland could once again feature if they can capture consistency to go with the character their MDs are sure to bring to the music, whilst Hammonds Saltaire will be looking to show that last year's sixth place finish wasn't a surprise 'one-off'.
Grand Shield

As ever, the thought of relegation looms large at Symphony Hall, with the Scottish pairing of Kirkintilloch and Co-operative Funeralcare in need of taking a few scalps, with Milnrow (although with a little more breathing space) just ahead of them.
And if ever there're was an incentive to ensure that there isn't a trip to Blackpool on the horizon, just ask Grand Shield winners Rothwell Temperance, who make a welcome return to the Open after two hard years of battle, alongside Woodfalls, who make their first appearance since 1986.

Iwan Fox
---
4BR Prediction:
It could all come down to a question of artistic interpretation with this one - as there are a host of bands confident they have the key personnel to overcome 'Swan Lake's' reflective technical challenges.
Black Dyke is surely the band to beat though - especially if they once again display the type of cold blooded contesting confidence that saw them triumph a year ago.
Who will push then them?
Grimethorpe should be well in the mix for us alongside Fairey, Cory, Flowers and Brass Band Burgermusik Luzern.
There are plenty of dark horses to choose from, but Foden's could well lead home the top ten finishers of Tredegar, Brighouse & Rastrick and Carlton Main Frickley.
1. Black Dyke
2. Grimethorpe
3. Fairey
4. Cory
5. Flowers
6. Brass Band Bűrgermusik Luzern
Dark Horses: Foden's, Tredegar, Brighouse & Rastrick, Carlton Main Frickley