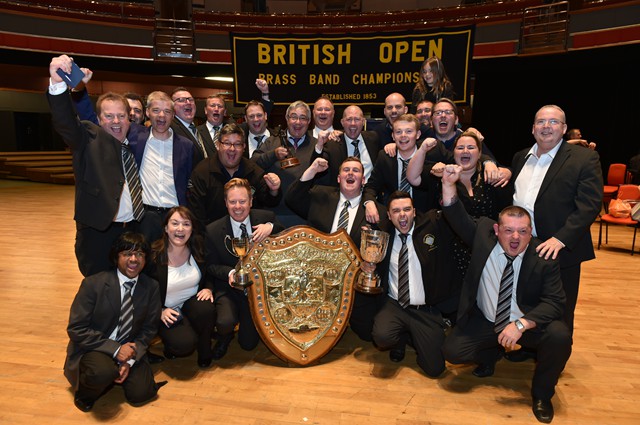 The long wait is over...

24 years is a long time to wait.
Their last British Open victory had come in September 1991 - just two years after the invention of the World Wide Web and only a few days before the Russian city of Leningrad, where the ballet 'Swan Lake' had been revived in 1895, reverted back to its original name of St Petersburg.
Neat twist

Now, seconds after compere Dave Hayward had announced the identity of the 163rd champion, fans across the globe could start celebrating the news of a fifth Open triumph even before Dr Robert Childs had the opportunity to grasp hold of the famous Gold Shield himself.
A neat twist of historical coincidence at Symphony Hall may well have signalled the start of a new era of major worldwide title contesting successes for Grimethorpe Colliery Band.
It also brought to an end two and half decades of occasional near misses (they were runner-up in 2008) and the fact that the band had become serial British Open underachievers since that last Frank Renton inspired success.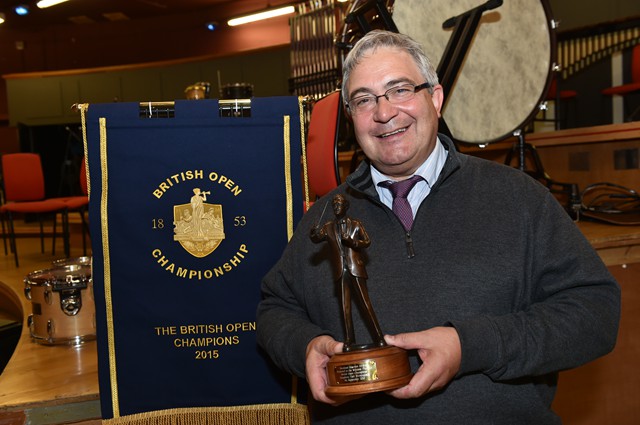 A wide smile of a six time champion...

Now though, with Dr Robert Childs firmly at the helm and the Brass in Concert title already in the trophy cabinet, you suspect rivals will have to prise their grasp from major trophies with an acetylene torch and crowbar.
Reawakening

Despite the enjoyable entertainment provided on their recent tour to Australia, the appointment of the Welshman has also ensured that their worldwide fan base has been given a timely reminder of the reawakening of their inherent competitive heritage: The odds on them making it a 'Double' at the Royal Albert Hall in a few weeks time have tumbled.
The seriousness of that intent was both seen and heard from the very first note of their performance of Stephen Roberts' 'Reflections on Swan Lake'.
They came from Roger Webster.
Complete line-up

He was brought in through a decision of unsentimental, even ruthless purposefulness, to complete the line-up of world class principals the MD wanted for his band. It was fully justified: A stunning display of mature musicality gave the cornet star his first Stanley Wainwright 'Best Soloist' award.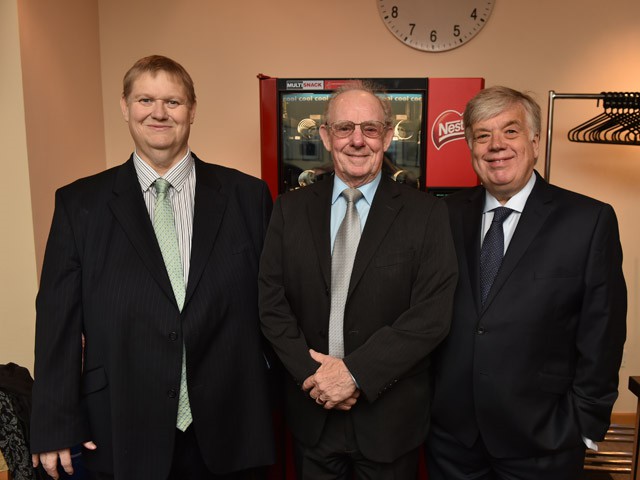 The three men that Grimethorpe impressed most: The trio of judges

It heralded a trademark Bob Childs contest reading of a score; one that allowed for a malleable interpretation underpinned by the forensic illumination of ensemble and solo detail. It has been an approach that has served the MD well - with five Open wins to his name with Cory since the start of the Millennium.
Confidence rose

As the performance progressed, so confidence rose; the soloists on prime form (none more so than 'Best Soprano' award winner Kevin Crockford) and the ensemble displaying precision and control.
Those witnessing the reflective excellence unfold from the stalls behind the band could soon see the first vestiges of an ever widening smile start to appear across the MDs countenance: First a little nod of appreciation to his cornet soloist, then a grin as his sop plucked out a top D with nonchalant grace, and finally a determined exclamation of joy as the final chord rang around the hall.
Not wrong

The ultimate decision was still in the lap of the contesting gods, although it was interesting to speak to some notable former judges before the results, such as David Read MBE, who felt it was a performance they would have certainly picked as a winner.

They weren't wrong.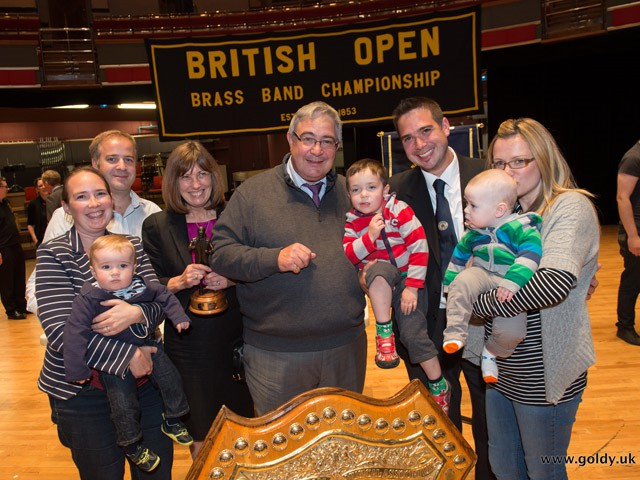 Family connections

This triumph (with perhaps the exception of the first at what was the very beginning of his Cory tenure) could not have tasted sweeter for Bob Childs:

Smile
That smile, when pictured with his sixth Mortimer Trophy was only broadened further when joined by the rest of his family for a shot in front of the British Open Trophy itself.
It was perhaps also recognition of the culmination of what he now hopes to build on after 18 months of musical as well organisational control with Grimethorpe; one with a greater degree of focussed professionalism about the band than perhaps at any time in the last 10 years.
They have reasserted their claim to be the world's premiere entertainment as well as test piece masters.

Different story
It perhaps could have been a different story if there had been more of an inspired, rather than a merely high-class concerted challenge from rivals on the day.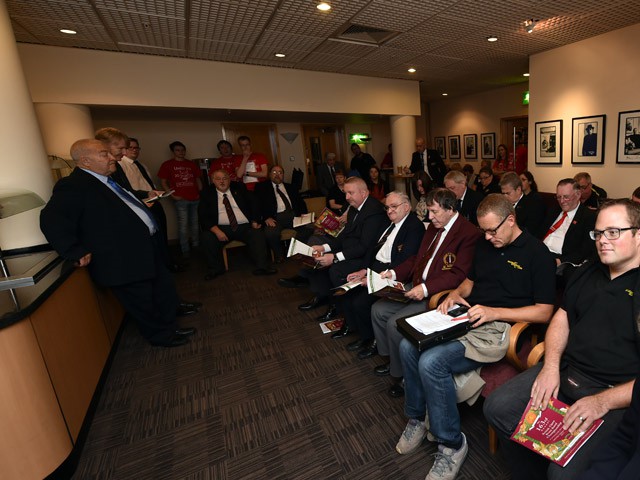 Eyes down: The all important draw...

The draw may have had something to do with that - despite the first half of the contest packed with serious contenders.
Early trio

However, Fairey seemed slightly deflated in giving the world premiere, Flowers never quite settled until it was too late, and Carlton Main was uncharacteristically nervous right from the start (having to wait for the usually impeccable Kirsty Abbotts to have mutes retrieved from behind stage).
The trio ended up 11th, 10th and 17th respectively - the unfortunate Carlton Main falling through the relegation trap door to the Grand Shield for the first time since 2005. The Open is the most unforgiving of contests.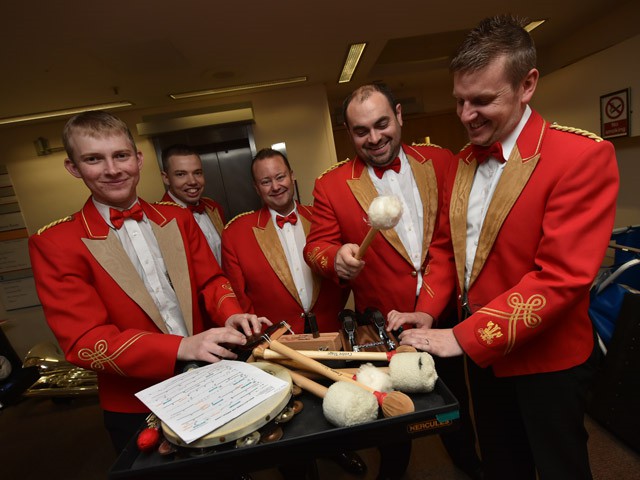 Ready to make their mark: Cory's perc team get ready

Cory substance

It was left to Cory to provide the judges with the substantive marker from which to gauge subsequent efforts.
Philip Harper's interpretation was delightfully idiosyncratic at times, but always kept the listener fully engaged throughout; Glyn Williams providing a fulcrum of excellence to deservedly take the 'Best Euphonium' prize.
It was beatable - although it wasn't until the fag end of what proved to be a long day that Grimethorpe and Brighouse pipped it.
Edges

Others came and went.
There were notable performances from Tredegar and defending champion Black Dyke - musically cut from the same Swan Lake cloth, but with too many little ragged edges to push higher than 7th and 6th respectively come the results, whilst Rothwell's solidly portrayed account of sensibility ended twelfth.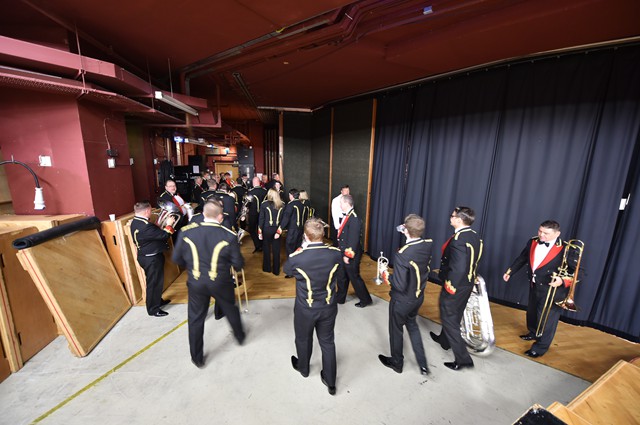 The defending champion takes to the stage

Kirkintilloch's brave effort came from a band still in the process of a major rebuild, as they returned to the Grand Shield for the third time in five years, although any thoughts they would be joined by their Scottish counterparts Co-operative Funeralcare were dispelled by a persuasively shaped reading to finish ninth.
Half time opinions

The mid-contest break that followed gave a chance to gauge opinion about 'Reflections on Swan Lake' - and it was soon apparent that if Tchaikovsky's music could have been dipped in brass band contesting Marmite, then Stephen Roberts had done just that.
Familiarity in style as well as substance proved its undoing with critics; the feeling that it was a pale imitation of the format the composer had so vibrantly engineered with 'Arabian Nights'. A second helping so soon after was too much for many.
Twin contrasts

Even those who did enjoy the music felt it needed a more challenging technical core to test the mettle of the very best bands - although this was offset somewhat by the twin contrasts of pleasure and puzzlement the varied interpretations elicited in an audience that showed remarkable stamina and patience amid the delays.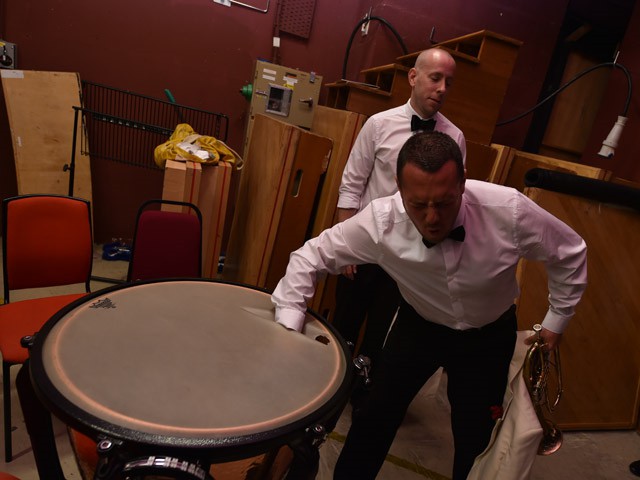 Lucky dip: John Doyle grimaces before but not after Leyland's performance...

Flock of banding humanity

The usual faffing about with percussion set-ups, an unfortunate ripped timp skin, and the laborious post-performance Nelly Melba curtain calls didn't help. And was the test really around 16 and a half minutes long?
A number of renditions were close on 20 minutes a pop - almost half an hour a band.
No wonder the hard pressed back stage crew were left playing catch-up. It resulted in a distinctly middle aged flock of banding humanity looking pretty knackered as it eventually made its way into the bright lights of Brum on Saturday night.
Leyland interest

Only Leyland sparked any great third quarter interest with a performance of notable security and artistic integrity that tickled the fancy of judges Stephen Roberts, Derek Broadbent and Adrian Morris, to end a fine fourth (their best return since 2009). There couldn't have been many happier supporters to be found in Birmingham bar all night.
Shoulder length

Meanwhile, Woodfalls, Hammonds Saltaire, Desford and Milnrow all had their moments in somewhat variable accounts to finish 16th, 15th, 14th and 13th - the latter three securing their 2016 Open status in some comfort.
Next year could be a real dog-fight though with any one of six or seven looking over their shoulder at a bleak trip to Blackpool in May 2017.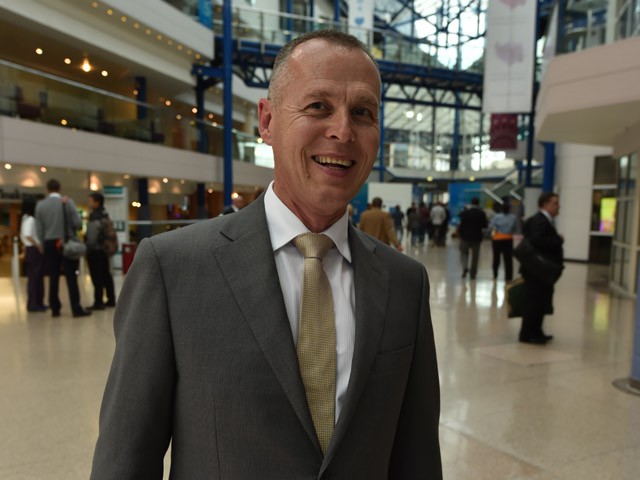 Prof David King inspired Brighouse to their best Open result since 1983

That left a final quartet flourish of big guns.
After Grimethorpe's thumping delivery came a salvo from Brighouse fired at a speed of a Gatling Gun.
Personal reflection

This was a distinctly personal 'reflection' of the MD David King; a fantastically engaging, almost surreally inspired account that was balletic in its fleet-footed nature to be almost like a Russian version of 'Riverdance'. Even the Australian looked like he was doing a brisѐ or two at one point.
The audience loved it - but it just fell tantalisingly short in the judge's opinion: That final inverted cygnet dance (later picked up on by composer) perhaps errant enough to see them lose the chance, by a short beak's length, of breaking their own 37 year title wait.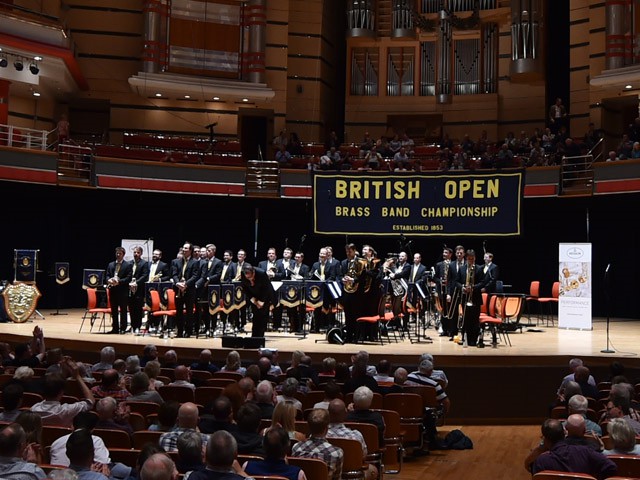 A welcome visitor to these shores: Luzern take their bow

Final act

It left the last act of what was an engaging, but curiously not a memorable day, to be played out by Foden's and Burgermusik Luzern; both of who almost, but not quite, caught hold of Grimethorpe's wing tips with high quality performances notable for the lyrical musical intent of their conductors.
Won't be last

They ended with par finishes in 5th and 8th places respectively - the latter more than proving the worth of the decision by the organisers to invite a top European band to compete at the event for the first time. Hopefully it won't be the last.
As for Grimethorpe?
It surely won't be another 24 years before their name will be etched onto the name plate of the British Open Shield either.
Iwan Fox
Thanks to Chris Thomas and Malcolm Wood