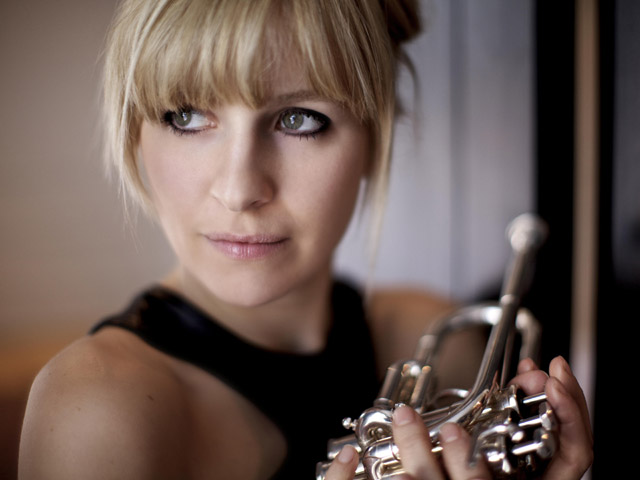 I manage to speak to Alison Balsom as she is considering her approach to lust, envy, jealousy, rants and raves.
It is something she is looking forward to - especially as the result of her findings will be revealed during her Proms appearance with the BBC Concert Orchestra at the Royal Albert Hall this coming Sunday (September 6th)
The world premiere of Guy Barker's 'Lanterne of Light' Trumpet Concerto is eagerly anticipated; especially by critics who have been increasingly impressed by her recent segues into esoteric musical subject matter far removed from her well known mastery of the Baroque.
Her specially commissioned collaborations with Bramwell Tovey on his intriguingly inspired 'Songs of the Paradise Saloon', James Macmillan with the evocative 'Seraph' and Qigang Chen on his exotic 'Joie Eternelle', have already gained widespread acclaim.
High profile

Little wonder then she is looking forward to her next high profile contemporary exploration.

"I've been very fortunate to be able to work with some wonderful composers in my career," she admits in between another bout of intensive personal practice on what she calls 'a dark and other-worldly' concerto by the renowned jazz trumpeter.
"I met Guy on a trip we undertook together for the 'Brass for Africa' charity to Uganda. I've been a huge admirer of his for many years, and the more we talked on what was a very moving, and at times harrowing trip, we found that we had a great deal of common musical ground that we were both keen to explore further."
Lollard tract

The resultant concerto is inspired by an early 15th century Lollard tract from around 1409, entitled, 'The Lanterne of Light'.
"It is a powerful, emotive composition, although I think people will be surprised by its style," Alison says before we talk about it in more, engrossing, kaleidoscopic detail.
The tract ascribed the Seven Deadly Sins to specific demons - from Pride (Lucifer) and Envy (Belzebub) to Greed (Mammon), Gluttony (Belphegor), Wrath (Sathanus), Sloth (Abbadon) and Lust (Asmodeus) - five of which Barker tempts the soloist with in his exploration not just of the demons themselves, but of the character they manifest in human beings that fall from God's will.
Hugely demanding

Not surprisingly then Balsom describes the five movement work as 'hugely demanding' and of 'immense musicality'.
It is also one that she finds 'so rewarding to perform' - right from the initial 'Before the Fall' and the summoning of the Angels - chief amongst them the charismatic Lucifer - 'a radiant creature with a seal of perfection, full of wisdom and perfect in beauty'.
Its use of the 'Devil's interval' of a flatted fifth and unsettled 7/4 time signature signals the prelude to the fall into 'The Abyss'; a bottomless pit - with a grim, desolate timbre of despair echoed by the soloist.
Sinuous

The entry of Belzebub heralds the 'Green Eyed Monster' of envy - and its sinuous, flirtatious temptations of jealous melody, whilst lust and gluttony follow in 'A Very Basic Instinct'; silky smooth and treacherous in its 12-tone canon and use of sumptuous, echoing harmon mute sounds.
It is all rounded off with 'Rant & Rave' - and a final, apocalyptic descent into the darkest reaches of Hell itself – the soloist and orchestra trading spitting ripostes and acrimonious wrath as Lucifer returns to deliver the soul into eternal torment.
Breathless

After all that Alison is keen add a small coda herself - "I think everyone will be left breathless.

Guy's jazz background is so well known, but this is very much a cross-over work; dark and other-worldy. It explores destructive themes in such a nuanced musical way - with colour and timbre as well as more strident virtuosity.

It's hugely demanding, but extraordinarily satisfying to perform."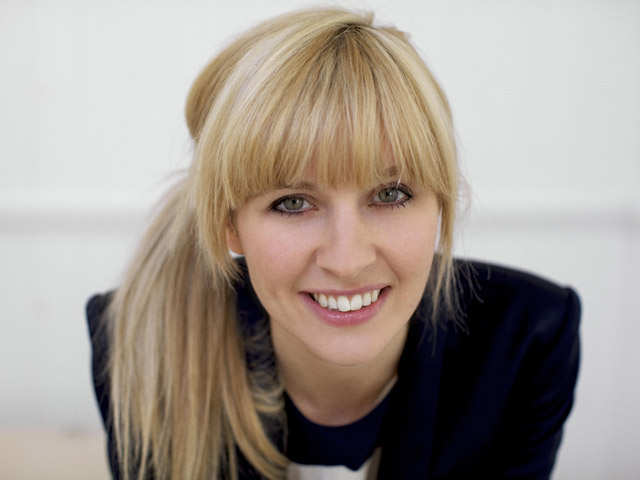 Satisfaction

Satisfaction is certainly something the critics have been experiencing with Balsom's performances in recent years.
Her 2014 CD release 'Paris' (also with Barker - who said she was 'playing amazingly' in a recent BBC Proms Extra programme) led to her being described as 'one of classical world's top performers and original thinkers', whilst the Los Angeles Times admired her 'carefully dazzling performance' of 'Songs of the Paradise Saloon' with Bram Tovey and the LA Phil at their imposing Disney Hall home.
Modest

Balsom is admirably modest about her past achievements though, wishing instead to highlight her future aims and objectives.
"It is very nice to gain critical success, but the important thing for me as a performer is to be able to communicate with an audience - on the concert stage or in the recording studio.

I'm driven to make small, positive steps with my performances - to make a lasting musical impression that will last the test of time.
That's why having works written for you by the likes of Guy Barker, Bram Tovey, James Macmillan and Qigang Chen is an honour I don't take for granted."
Love affair

That will certainly not mean an end to her love affair with the Baroque though.
"Certainly not," she says with a polite, but clear emphasis. "I'm so happy performing that beautiful music that I'll never tire of playing it. I do want to explore other avenues though as my career develops over the coming years."
One of those is expanding the scope and benefits of musical education - something that is already an impressively defined theme that she has been able to spotlight through her high profile role in the arts.
Advocate

Balsom is a passionate advocate: "It's vital - completely essential for people of all ages and of all backgrounds," she says.
"The benefits are so obvious and I'm conscious that I'm very fortunate to be in the position of hopefully being able to aid its impact through my work.
What I saw in Uganda with Guy made a deep personal impression - but the great work that is now being undertaken gives me such hope. I believe I have a duty to do as much as I can, as I've been so fortunate with what music has brought me in my life."
Hurdles

That passion intensifies, despite an apology that you know isn't needed: "I don't want this to sound big headed in any way, but I want to be able to inspire and reach out to people.
I also want my career to reflect that - from the fun of getting young players to enjoy their first go of a plastic trumpet in Uganda to the hugely knowledgeable Proms audience at the Royal Albert Hall in a couple of weeks time."
So has she had to overcome imposing hurdles to make her way to the top?
"Not in that same sense, although there are always challenges," she says thoughtfully.

"Music making is all to do with meritocracy. There are problems at times with forms of discrimination, but it is within the scope of the player to excel - musically, technically and through self expression. Hard work is essential though."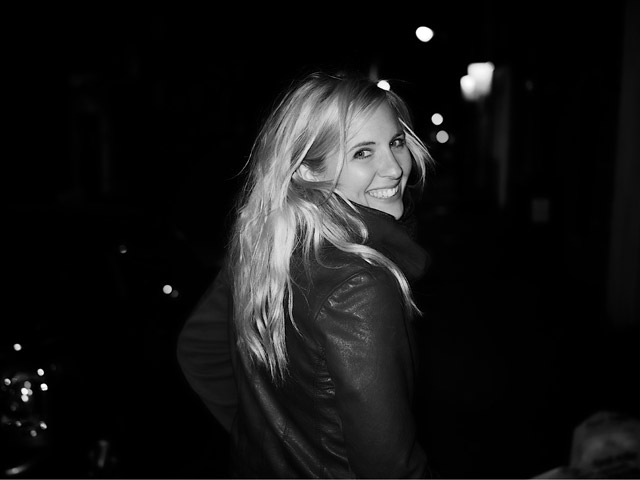 Forward thinking
With her forward thinking focus, does she still look back fondly to her early years in brass banding, and will there be a time when she can link back to the medium?
Although she doesn't say no, you sense that her admiration for what she calls 'incredible bands and players' comes from a performer that has new horizons to seek rather than one who yearns for those now past.
"I still love brass bands and I have heard some really mind-blowing performances from incredible bands and players over the last few years. The technical advances that have been made have also been immense, but sometimes I think the musicality has been lost."
Not sport

Tellingly she adds: "The standard is incredibly high, but music making is an art not a sport for me."
She laughs though when she recalls a fellow brass band export she first heard when he was just 12 years of age at the BBC Young Musician competition in 2008.
"Peter Moore (Principal Trombone at the London Symphony Orchestra) is simply fabulous - especially when I recall how young he was and still is. It's amazing. He's now inspiring players like me who are older than him!"
So much to do

It is her own playing future though - starting with that performance of the new Guy Barker concerto that fills her immediate thoughts.
"I have so much that I want to do and so much I want to achieve, that exploring new musical avenues seems the way forward for me. It's a joyful and very fortunate position to be in, but it's also one I think that at different levels applies to anyone who performs.
I never forget why I loved playing the trumpet in the first place. And I don't ever see that leaving me."
Iwan Fox
All images used with exclusive permission of Alison Balsom
---
Alison Balsom will be the featured soloist of the Promenade Concert on Sunday 6th September:

http://www.bbc.co.uk/events/efnrzc

Alison Balsom will be the featured soloist of Promenade Concert in the Park on Saturday 12th September:

http://www.bbc.co.uk/events/ew48gw