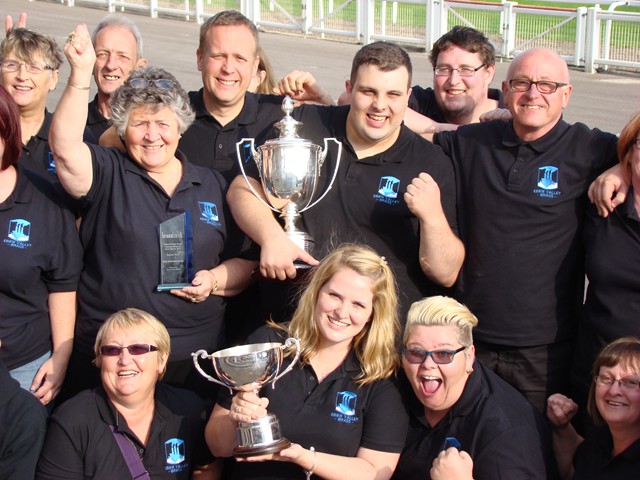 2014 Champions: Ebbw Valley

One of the musical highlights of last year's Cheltenham weekend was Oliver Waespi's thoroughly engaging, 'Traversada', which was used as the set-work for the Second Section:

Full of invention and purpose, it brilliantly tested the bands both musically and technically.
Jeremy Corbyn

However, on the other hand, the Third Section contenders had to endure the turgid dourness of Victor Ewald's 'Symphony for Brass' - which was so morosely downbeat that even Jeremy Corbyn would have been hard pressed to have been enthused by its Russian inspired bleakness.
Thankfully, this time around it's the Third Section that is a Waespi beneficiary, with the elegant instinctual delights of his 'Graces of Love'.
Inspired

Much like his recently acclaimed top section work 'As if a voice were in them' is inspired by a literary source - this time from a book in treatise form published in 1602 by Cesare Negri, a Renaissance dance master to the Milanese court.
It outlined the steps (literally) as well as metaphorically, of how to make a musical as well as social impression on the court life of Renaissance Milan - from simple footwork to complex choreography, occasional niceties to refined etiquette.
Fred Astaire

Negri knew how to rub shoulders with the great, good and powerful - but also how to put on a show too; from Italian naval victories to birthday celebrations.

He appears to have been a Renaissance cross between Andrew Lloyd Webber and Fred Astaire, with a pinch of Machiavelli thrown in for good measure.
That he survived until he was nearly 70 at a time when other courtiers had a life span of a plate of day old pasta tells you a great deal. His influence on dance teaching remains to this day.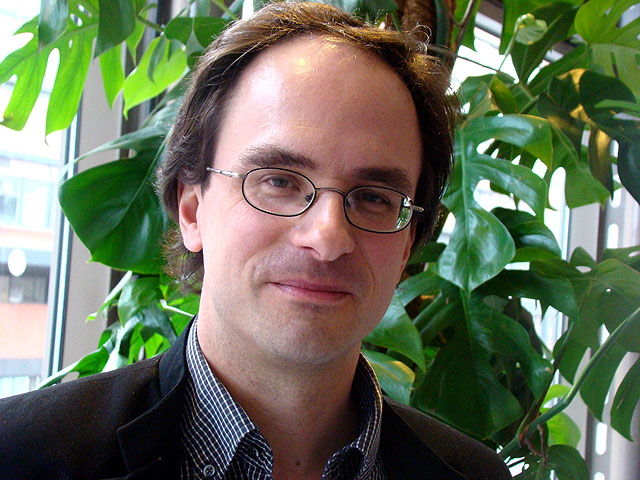 A composer with a touch of elegance: Oliver Waespi

Rich foundation

Waespi therefore has a rich foundation on which to explore.
'Graces of Love' was used at the Dutch National Championships in 2013 and makes a welcome appearance here, and although Negri's referenced over 40 dances, the composer concentrates on three - although the way in which he presents the stylistic content would have made the old master proud.
Waespi's elegant skill set is obvious; cultured, erudite, polished.
Insight

Each of the three movements is laced with insight - from the opening 'IL Bianco Fior' (The White Flower) with its light, purposeful pulse, through the contemplative simplicity of 'Vaghe Bellezze' (Veiled Beauty) based on a subtle counterpoint of two main solo lines, to the noble virtuosity and gaiety of the 'Saltarello' - rhythmically hypnotic and touched with sexual tension.
Although the technical aspects of the score should be within the grasp of the best bands, it will take a conductor with a fertile mind-set to bring the stylistic nuances to the fore without hampering the musical flow or sense of refinement.
Delicacy

Nuance, delicacy and astute discernment are demanded from start to finish: It's a delight - and a test piece that makes us all (players and audience alike) better, more informed musicians.
Plenty for the 18 contenders to enjoy then as they show off their musical moves to the experienced judges, John Maines and Kevin Wadsworth.
Wales
Last year's champion came from Wales - a land that knows a thing about a decent side-step or two, with Ebbw Valley claiming their second successive National title.
This year it will be up to Area champion Rhyl Silver and Thomas Coaches Mid Rhondda to see if they can return the trophy back across the River Severn.
Rhyl is in good form - not out of the podium finishes on their last four outings, whilst Mid Rhondda has continued its good run by adding the Merthyr Tydfil Welsh League title to its recent CV.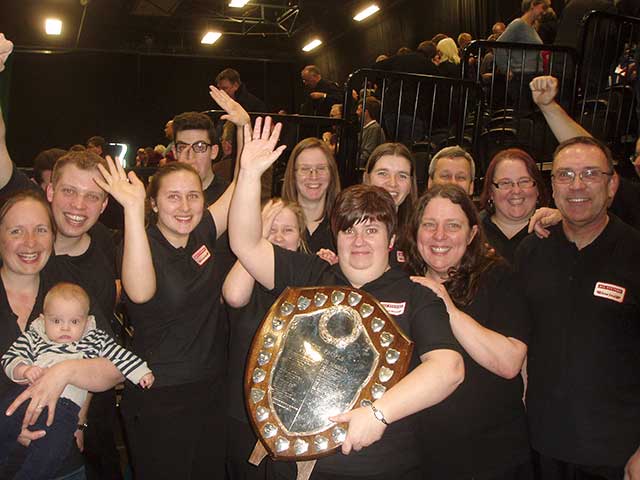 All systems go for BAE at Cheltenham?

London & Southern Counties
London & SC sends two strong looking contenders hoping to emulate 2013 winners LGB Brass in Area champion BAE Systems and Cold Ash Brass.
BAE Systems claimed the honours in Stevenage under Melvin While whilst MD Jonathan Crowhurst was on gas and air duties supporting his wife as she was having their baby on the day of the contest.
They are also well prepared for any eventually this time too, after a run out of the test piece at the scaba Autumn contest, whilst Cold Ash also gave 'Graces' a fleet footed go at the same event in the Second Section.
Yorkshire
Yorkshire pride will be focussed on the confident pairing of impressive Area winner Slaithwaite, who could well be one of the bookies favourites under Rob Westacott, and Horbury Victoria with the hard working Duncan Beckley.
That experience could be the key to their chances of success - with Horbury coming runner-up here in 2011 and Slaithwaite claiming a podium finish at the recent Ripon Cathedral contest.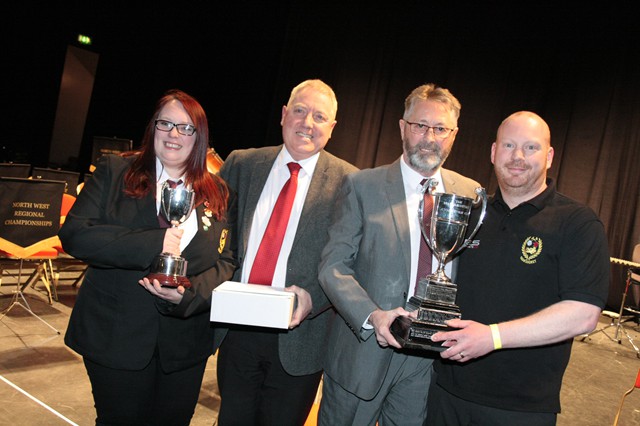 Boarshurst on a roll after the Areas?

North West
The North West has enjoyed considerable success here over the years, and the solid looking trio of Area winners Boarshurst Silver, Old Hall Brass and Littleborough Public should pose a considerable threat to rivals.
A first North West victory since 2010 could be on the cards if Boarshurst can build on that Area success following their top six finish at Butlins.
Look out

Meanwhile, if Old Hall Brass can carry on their good form, which has seen two podium finishes since their Blackpool qualification then look out, whilst Littleborough (who replaced Blackpool Brass who could not attend the Finals) should be confident of building on the encouraging form shown at the Brass at the Guild Hall and Kirkby Lonsdale events.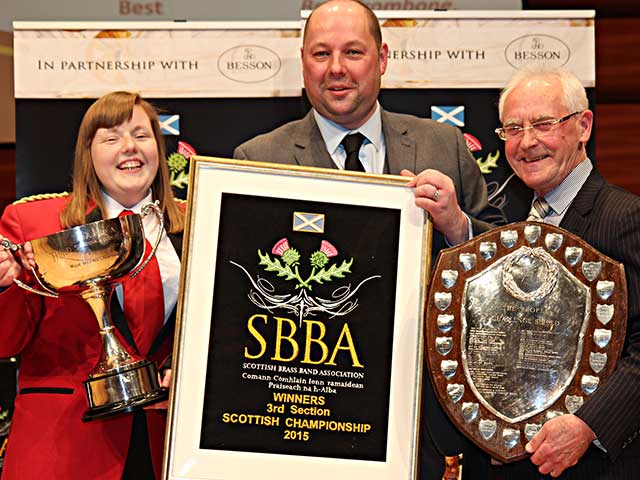 One step closer for Renfrew this year?

Scotland
Scotland very nearly claimed a first National title since 2000, after Dunaskin Doon finished runner-up last year, so hopes will be high that champion Renfrew Burgh or Irvine & Dreghorn can go one better.
Renfrew is a form band after winning the Scottish Challenge Cup late last year and following it up with that Perth success, whilst Irvine & Dreghorn is on the upward curve after producing another solid performance at the Land O' Burns contest.
West of England
The West of England will also be looking to return to winning ways (their last triumph was in 2009), as they send two bands very much on the up in Area champion Soundhouse Brass and the multi-talented youngsters of Camborne Junior Contesting.
Soundhouse has been quiet on the contesting front after their excellent win at Torquay, whilst Camborne makes its third consecutive Finals appearance boosted by their win at Bugle.
North of England
Not a great return for the qualifiers from the North of England last year, but better expectations you suspect for Area champion Houghton, who come to Cheltenham on the back of a trio of victories under MD Tom Gibson.
High hopes too for Dunston Silver making their first appearance since 2012, especially as they bounced back after a disappointing Butlins to claim a podium slot at the Durham 'Picnic in the Park' contest.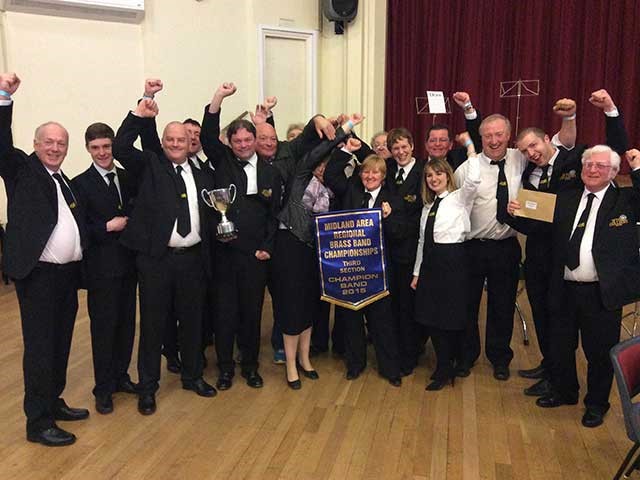 The band to beat? Ifton could be celebrating again on Saturday

Midlands
That just leaves the purposeful trio of Midland contenders - and a strong looking threesome they are too.
Area champion Ifton Colliery could well be one of the favourites for the title under Wayne Ruston's baton, with Foss Dyke looking to make another good impression after last year's seventh place finish.
Don't discount Hucknall & Linby MC Brass either - with a podium finish at Butlins and a victory at Weston already on their 2015 CV.
---
4BR Prediction:

This is such a close matched field that you may get better odds putting an early tenner on the identity of next year's Gold Cup winner.
There are so many solid, well led bands that have enjoyed success at various contests over the past year that you could make a good case for any one of ten celebrating come Saturday afternoon.
However, we have a sneaky feeling that the Midlanders of Ifton Colliery could be the band to beat - closely followed by Yorkshire rivals Slaithwaite and Renfrew Burgh from Scotland.
Those brilliant youngsters at Camborne should also enjoy themselves and the strong looking Foss Dyke and Boarshurst Silver won't be that far away either. Our dark horse is Horbury Victoria.
1. Ifton Colliery
2. Slaithwaite
3. Renfrew Burgh
4. Camborne Junior Contesting
5. Foss Dyke
6. Boarshurst Silver
Dark Horse: Horbury Victoria