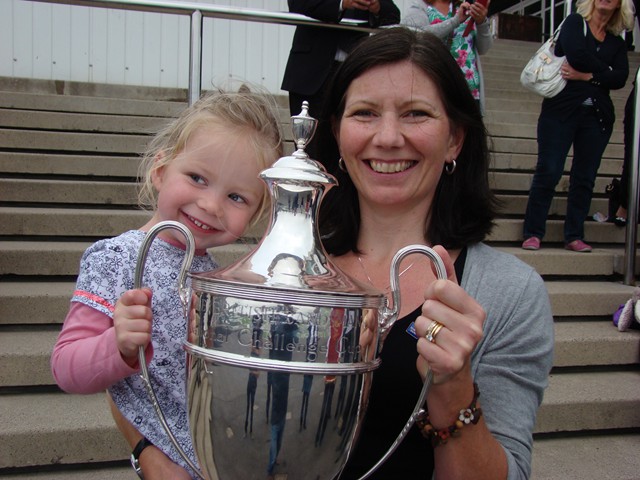 Sunshine smiles for last year's winner Marple

The opening salvos of the Cheltenham weekend come from a familiar source.
Never mind Tchaikovsky or Rimsky-Korsakov - this time we get to hear an original composition from the pen of Stephen Roberts: And it's a cracker.
Premonition

'The Snaring of the Sun' was written for the National Youth Band of New Zealand and first performed in January 2015. Perhaps Stephen had a premonition that it was to be used later in the year on these shores, as it is helpfully subtitled - 'For British Brass Band & 3 Percussion'.
That's where the wit ends though, as this is a thoroughly serious piece of brass band writing; descriptive and filmatic in a neatly realised musical narrative, which tells the mythical story of the demi-god Maui who snares the Polynesian sun as its sleeps within a crater of a huge volcano.
Azimuth

His reasoning is that the sun has been travelling too quickly across the sky for local farmers and fishermen to go about their daytime business.
After a bit of posturing, feisty battle and a little persuasive arbitration, the sun agrees to slow down on its azimuth orbit and everyone gets a few more of hours of glorious sunlight to go about their work.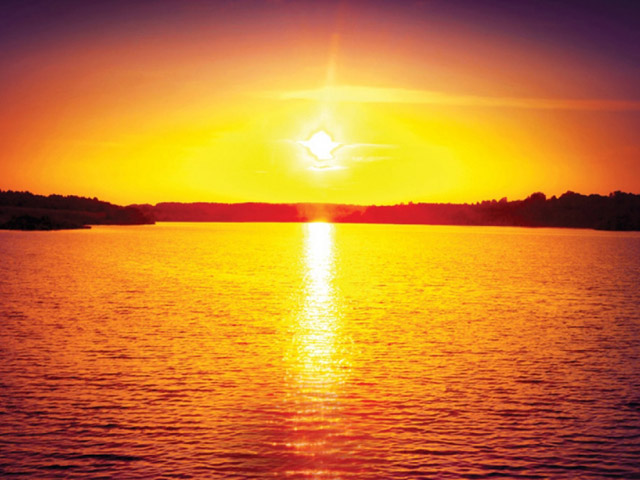 Don't let the sun go down on high hopes...

Richard Dawkins

It's a colourful tale, every bit as bonkers as 'Arabian Nights' and 'Swan Lake'; so for those with more atheist tendencies amongst the 16 competitors, it's more likely to resonate if you treat it as the story of the creation of British Summer Time as told by Richard Dawkins.
Never let science get in the way of a good yarn though, as the piece comes thrillingly to life thanks to the composer's knack of keeping the unfolding story in the mind's eye - literally so in the case of the conductors, with helpful descriptive book markers on the score.
Rope

As always, Stephen Roberts has just allowed enough rope (in the form of Maui's magical lassoes) for the MDs to get in a bit of a tangle if they think they can wander a little too far off the clearly defined track.
Those who try too hard, too soon will come a cropper - right from the misterioso 'Sunrise' start, whilst there are also plenty of obvious and less obvious pitfalls along the way - both technically and stylistically.
Instil

The main solo lines are tricky - with the euphonium and principal cornet certainly put under the oculus lens, whilst the rhythmic pulse of the writing (with some great percussion writing) is achieved without recourse to over-prescribed notional furniture markings: It's up to the MDs to instil the sense of excitement, fear, intrigue and eventual triumph.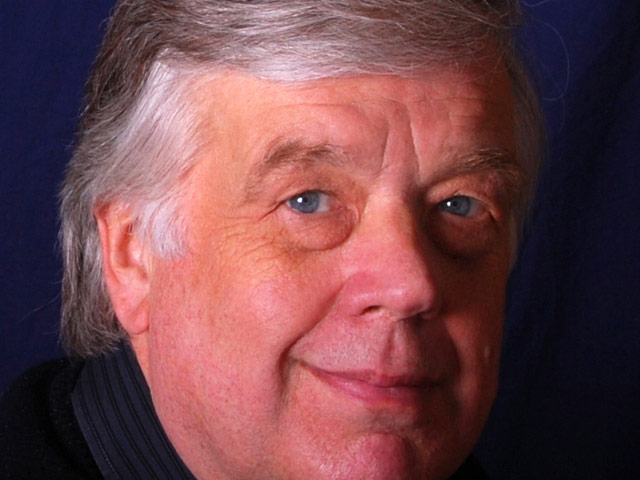 Fleet-footed: Composer Stephen Roberts

Thoughtful musicality

For instance, Maui is a bravura, fleet-footed scrambler up the slopes of the volcano - not a crampon clad ice-pick wielding Chris Bonnington: His even-paced climbing skills are marked 'brillante' whilst his fighting haka is full of stingingly precise muted jabs and uppercuts (the metric accents should not be over-emphasised), not blundering doughboys.
He is also able to talk to a forlorn mother and eventually to the sun itself with tenderness and reasoning.
Wazzing

It is thoughtful musicality that makes the point, not blubbering tear-jerking emotion; a triumph of interwoven dialogue with just a hint of George Harrison's 'Here Comes the Sun' before we reach the thunderous close (with another favourite Roberts finale of a wazzing top C sop).
It's a stern test - but one the bands, the judges Anne Crookston and David Hirst and the audience should enjoying setting their watches to.
Decent case
This year's qualification process has brought 17 well matched bands to Cheltenham - all able to put forward a decent case for ending Saturday afternoon with a top six finish or better to their name.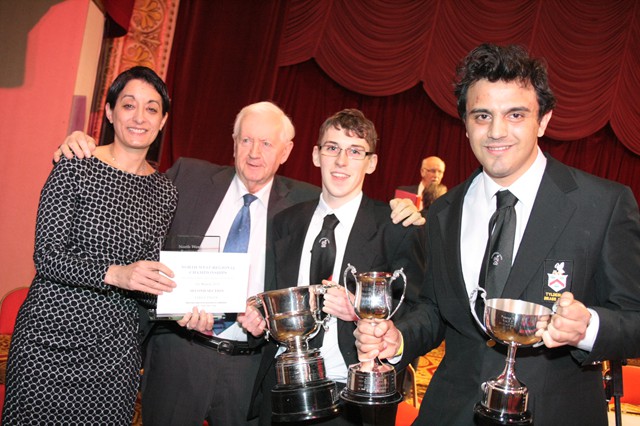 Can Tyldesley return the trophy to the North West?

North West
Last year's winner came from the North West and a resurgent Marple - so much then for Area champion Tyldesley and Eccles Borough to match if they are to return up the M6 with the Second Section trophy in their grasp.
Tyldesley last appeared here in 1997 but have been making solid progress of late under their experienced MD Rob Taylor, with a solid podium finish at Brass at the Guild Hall also on their 2015 CV.
Butlins champion Eccles has also enjoyed cracking form under Mareika Gray and could well be one of the short priced bookies favourites.
Wales
There were solid returns for the Welsh last year with qualifiers coming fourth and seventh, but expectations may well be higher this time around.
Area champion Ebbw Valley is looking to create a bit of history by becoming the first Welsh band to claim a hat-trick of lower section National titles, whilst a resurgent Deiniolen returns to the finals for the first time since 2010 after making excellent progress under their talented MD, Lois Eifion.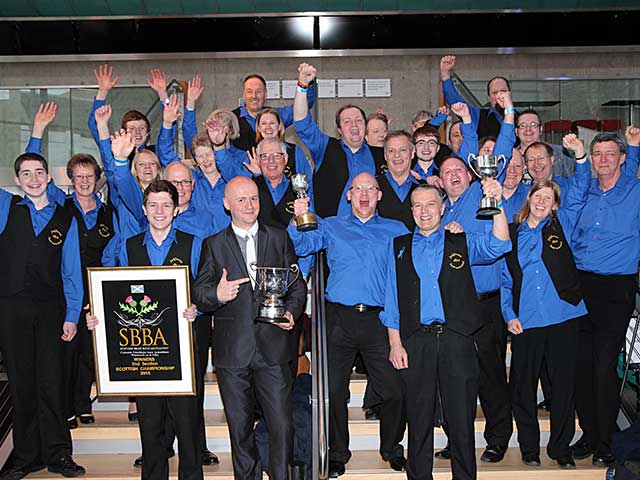 Happy hunting ground for Jedforest?

Scotland
The Second Section hasn't been a happy hunting ground for a while for the Scots, and last year's returns were not great.
Expectations should be higher though with the solid looking pairing of champion Jedforest and Croy Silver, although neither has exactly been prolific on the contesting front since their qualification in Perth.
North
There could well be a second title in four years heading to the North of England if Lockwood can go one better than last year under John Roberts. Since then they have retained their Area title and made an impression at the French Open, so watch out here if they hit peak form again.
Joining them is NASUWT Concert - another band making solid long term progress since their formation.

A podium finish at the Durham 'Picnic in the Park' event will have boosted confidence for a talented young ensemble that is maturing with each outing.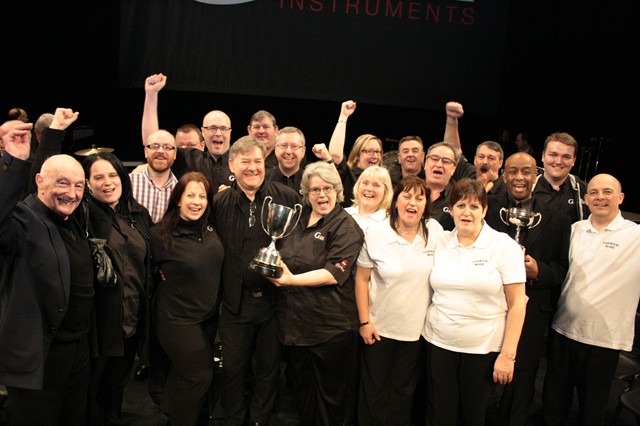 Can Lockwood go one better than 2014?

Yorkshire
You have to go back to 2003 for the last time the White Rose was flown in triumph, so success is long overdue. This time Area champions Chapeltown alongside Old Silkstone make the journey south with notable confidence running through the veins.
Chapletown hasn't been outside the top six since 2013 under MD Andrew Dennis, whilst Sam Fisher got off to a pretty good start as MD with Old Silkstone at Bradford - securing qualification for the first time 2003 on his debut.
Midlands
A brace of rapidly improving qualifiers represent the Midlands in Carlton Brass and Rushden Town, with Carlton making their first appearance since 2003 boosted by their victories at the NEMBBA contest and the Area.
Meanwhile, Rushden makes a quick Cheltenham return after gaining a top six finish in the Third Section last year. Adele Hudson's band has since gone onto make a solid mark at Butlins before securing a fine qualification spot at Bedworth. These are two contenders very much on the up.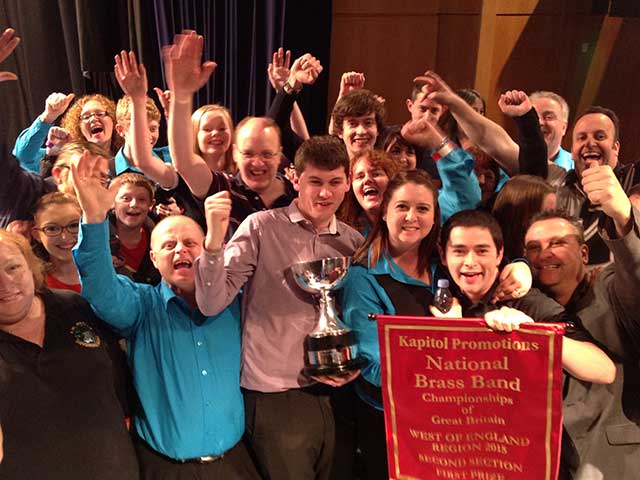 More youthful smiles at Drybrook

West of England
The West of England also has a proud record at this level (with three winners since 2005), and in the ambitious Area champion AW Parker (Drybrook) and the solid Wotton under Edge & District, they could well be in with a shout again.
Drybrook certainly built on their Area form at Weston and at the Welsh Open under their young MD Josh Ruck, whilst the more experienced Ian Dickinson continues to make a mark with Wotton.
London & Southern Counties
High hopes that the London representatives can produce the same type of form shown by podium finishers Fulham last year, and in Area champion Colchester and Yiewsley & West Drayton they may well just do that and more.
Colchester has already enjoyed a fine year after coming third at Butlins, as they look to make a mark on their first appearance since 1996, whilst a rejuvenated Yiewsley & West Drayton also enjoyed success at the Oxford contest before they secured their place for the first time since 2009 under experienced MD Chris Cole.
---
4BR Prediction:
Anne Crookston and David Hirst could have their work cut out in the box on this one - with a host of well matched bands all more than capable of lifting the title in some style.
Lockwood Brass, Ebbw Valley and Eccles Borough look an imposing trio, and could be the bands to beat if they play to form, whilst Colchester, Wotton and AW Parker (Drybrook) could also feature alongside our dark horse of Tyldesley.
1. Lockwood Brass
2. Ebbw Valley
3. Eccles Borough
4. Colchester
5. Wotton under Edge
6. AW Parker (Drybrook)
Dark Horse: Tyldesley