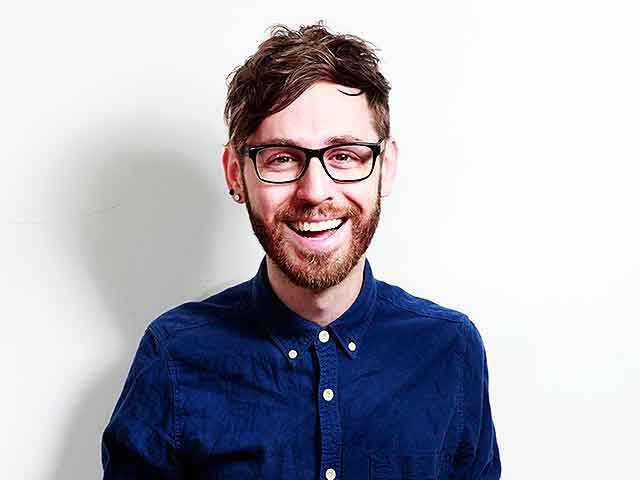 Chris Thomas: Did 'Dark Arteries' align with your initial ideas as it came to life or had the project evolved in any way as you worked on it?
Gavin Higgins: These projects always evolve.
I had very clear ideas from the outset, particularly about the tone of the music and that didn't change much throughout.
The content of the drama and structure moved on somewhat from where we started. We began with our 'time-line' of the whole work which originally it had lots of sections, too many really.
As it moved on we consolidated all this material into three movements, each with their own character and colour.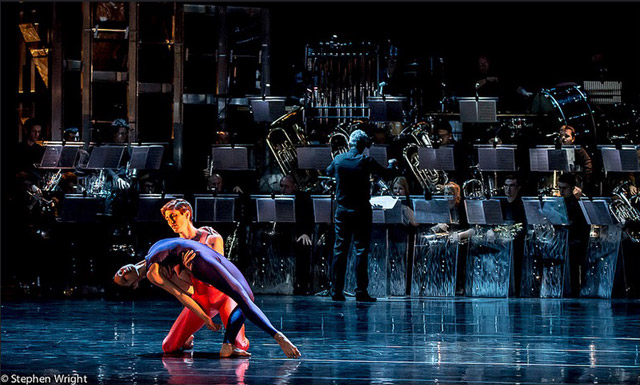 Once Michael Howells (designer) became involved in the process, his input steered the work in another direction.

His thoughts on the set and lighting really brought the piece together.
I suppose his genius was in the detail; the use of riot shields for the music stands for example. These little things really helped to focus the whole piece once it was finally put on stage.
---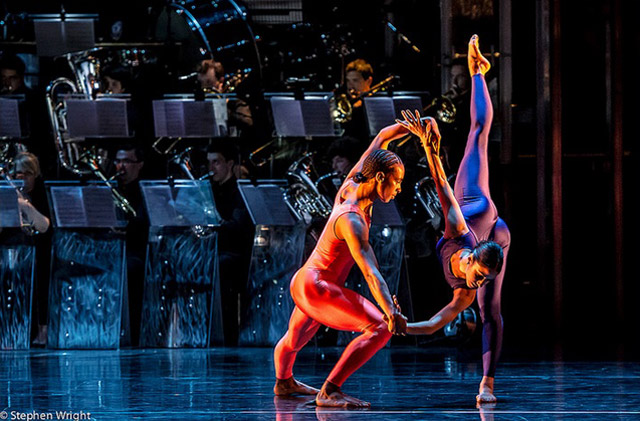 Chris Thomas: One of the reviews of the first performance asserts that the music 'would certainly stand on its own as a concert work'.
Was that important to you when writing the music?
Gavin Higgins: I took those classic Russian ballet scores as my models when working on pieces such as this: 'The Firebird', 'Petrushka', 'Romeo and Juliet', 'Cinderella', the 'Rite of Spring'.
This is music that is regularly performed on the concert stage and that's important to me.

If the music can't stand alone, if the musical content doesn't contain an inherit sense of drama and theatre, what chance is there when it's combined with dance.
So as with every other dance work I've written it's important for the music to support and drive the drama.
---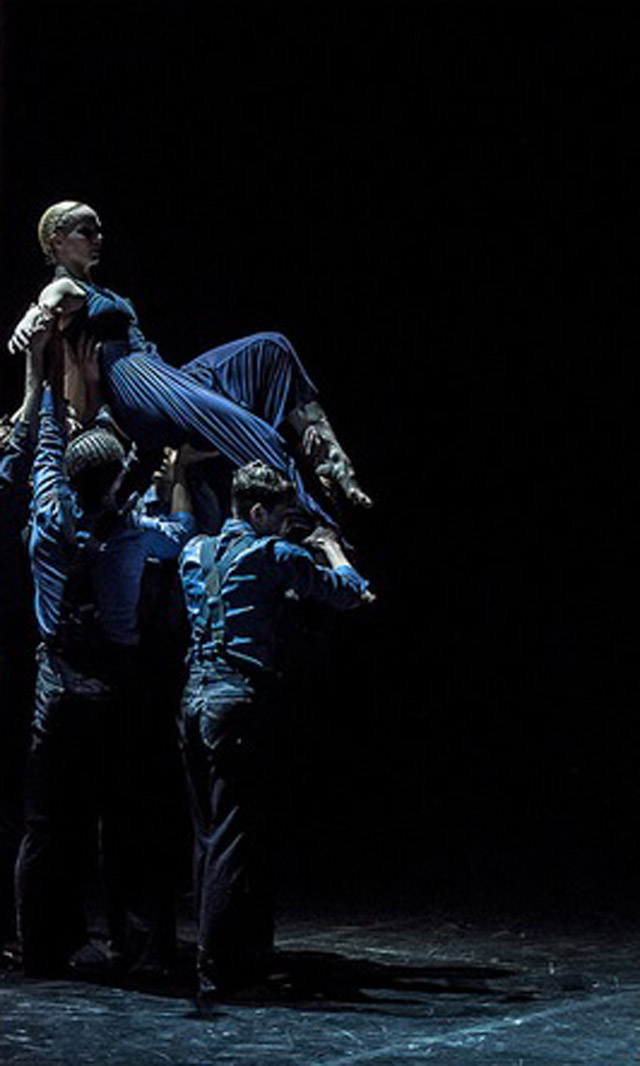 Chris Thomas: There certainly seems to be a strong audible structure to the music?
Gavin Higgins: It's so important with a piece of theatre for the structure to be strong and I wanted this be clear in the score.
For me it's vital to have a dramatic arc even when dealing with abstract concepts, so this was something we thought deeply about before I wrote even a note of music.
The works sections exist in very different worlds - and time periods - so the structure was important to differentiate the material.
Initially we had lots of ideas and, as tends to happen, wanted to put them all in.
Of course as we worked on the piece many of these ideas were taken out and we finally decided the piece would fall into three large sections, separated by silence.
I'd been reading 'GB84' by David Peace at the time and used some quotes from his book as subtitles to the movements, which helped both Mark and the lighting designer set the tone for the different sections.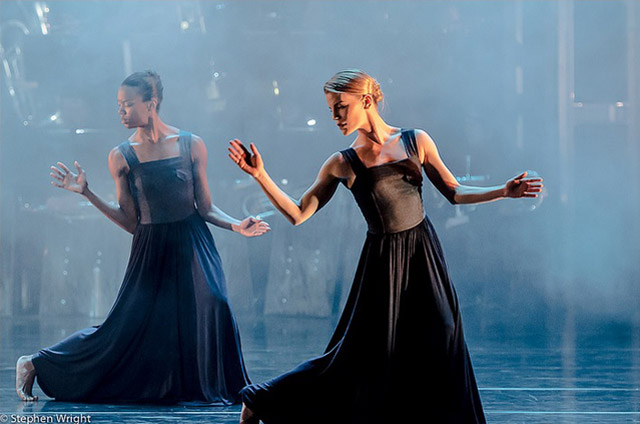 Part 1: Under the ground we scream
In this movement we explore ideas around the mining landscape and 'industry'.
The movement starts with extremely low pedal tones in the tubas with interjections from bass drum and gongs.
This melodic cell gradually rises up, from the darkness, through the band and opens up in a moment of light, introducing another theme that is used in the piece: a chorale-like melody played on trombones.
I suppose the Welsh landscape surrounding Big Pit - a mine we visited during our research - was an image that I thought about when writing this music.
The undulating melodic lines perhaps suggest the mist covered rolling hills of the Welsh valleys, occasionally broken with shards of steel and concrete shooting up from the ground from the pit itself.
This long introduction eventually moves into what we referred to as the 'industrial section'.

The music here is faster, rhythmic and mechanical. I made use of metal percussion such as tin cans, metal dustbins and anvils.
Dramatically, choreographically and musically we are in a different place, underground in the pit perhaps. 'Part 1' ends with an extended flugel cadenza - an integral musical signpost in the piece; underpinned by the distant sounds of 'industry' in percussion.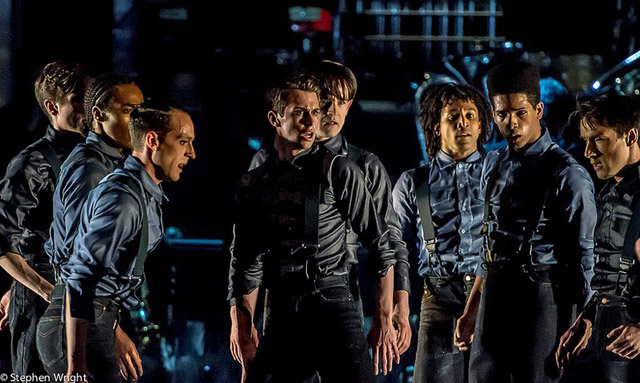 Part 2: Salt. Dirt. Blood.
The middle movement is the shortest, coming in at around 6 minutes, but perhaps the most intense of the entire work.
This movement is about the strike itself and, more specifically, 'The Battle of Orgreve'.
We had looked at the work of Jeremy Deller and were moved by news reports and archive footage of this incident, at the height of the tensions in 1985.
After an extended introduction of drumming and brassy fanfares the music charges aggressively on to a brutal climax. This unforgiving onslaught completely changes the direction of the entire work.
As Mark puts it "...we experience this event that literally changes everything, after which nothing is the same".


Part 3: These scars across your heart.
This final section looks at the themes of community and 'legacy'. It's the heart of the piece and where some of the most beautiful choreography unfolds.
Slow, tender duets dominate while material from 'Part 1' returns, but changed.
Cup mutes are replaced by straight mutes; the flugel solo now becomes a euphonium duet; the climactic build is cut short as challenging soprano solo changes the direction of the music once more.
The work ends with a kind of extended procession, a march that builds to an optimistic climax.
However, this trails off at the end to something a little more ambiguous and unsettling: It's not really a 'happy' ending, but there is a sense of stoicism, a feeling that we've come through adversity together and we are still able to stand tall.
I suppose that's an underlying theme in the piece; and for me it's what brass bands represent: community, heritage and pride.
---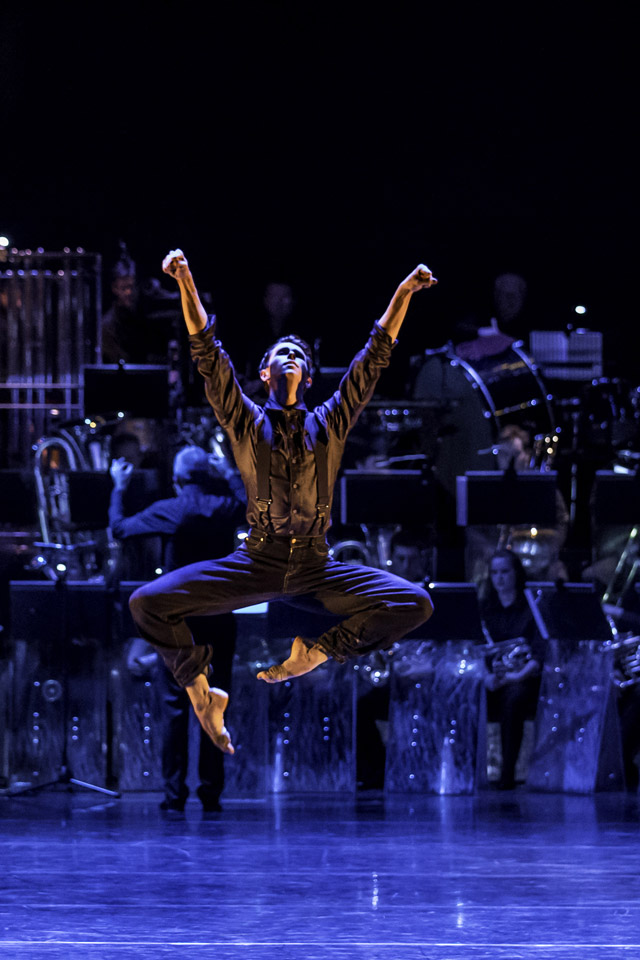 Chris Thomas: With 'Dark Arteries already on tour and performed in Salford, with Bradford and Edinburgh to come, you will have worked with three new bands in Fairey, Carlton Main Frickley Colliery and Whitburn.
Is it important that the music is allowed to take its own interpretative course in performance with different performers?

Gavin Higgins: Yes, of course, and I've been really excited to hear what each band makes of the music.
It's a very difficult score, so the bands are going to have to work hard to bring it off. It's also 40 minutes in length so essentially it's like three large test pieces in one.
I hope no one underestimates it.
Rambert are now used to a very high standard of playing, a precedent set by Tredegar (and followed already by Fairey), and they will expect the same from each band that joins them on tour.
But it's going to be a wonderful experience, and these bands will be performing to sold-out theatres to a really open minded audience.
I really hope they make the most of the experience and just enjoy working with this incredible company of dancers.
---
Chris Thomas: Will there be any changes made to accommodate the different venues over the coming month's performances?
Gavin Higgins: Not really, but the set will be altered depending on the theatre.

The band is on stage with the dancers, and the full company is used, so space is a big issue.
Unfortunately we just can't take the work to some theatres, as it's so big, but some alterations to the set will allow us to take it to other venues.
As far as the music and choreography goes everything will stay the same.
---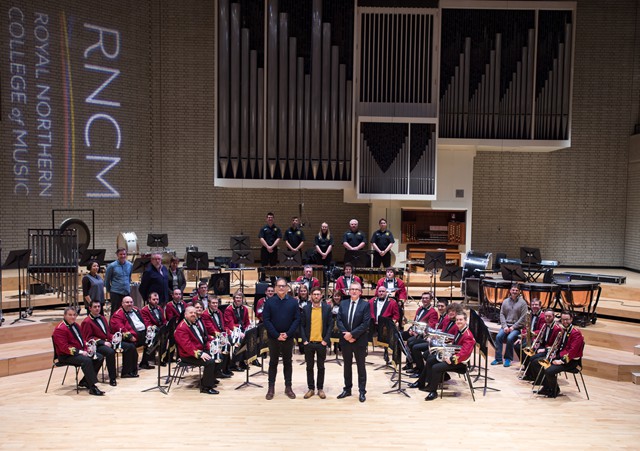 Chris Thomas: Your relationship with Tredegar will take a further new turn shortly with the release of a much anticipated CD that forms something of an anthology of your brass band music to date.
This will include both Dark Arteries and Destroy, Trample as Swiftly as She, the work Tredegar performed to huge acclaim in the European Championships three years ago.
Have you been closely involved in the recording process?
Gavin Higgins: I'm very excited by the CD.
It's a rather eclectic set of scores, but I think it gives a good introduction to the range of my music.
Of course we have 'Dark Arteries' and 'Destroy, Trample…' but we've also included 'Fanfares and Love Songs', which has proven to be one of my most popular pieces, and an outrageous trombone solo called 'Freaks!'
It's a world away from the kind of sounds I explore in 'Dark Arteries' but I think it adds some colour and humour to the album.
I've spent time with Ian and the band in preparation for the recording and have just returned from a weekend editing the music with Paul Hindmarsh and Richard Scott.
I think it's going to sound wonderful - although a bit different to your average brass band CD perhaps - but I think there is something for everyone on it.
If you buy it - and please do - just turn the volume right up!
---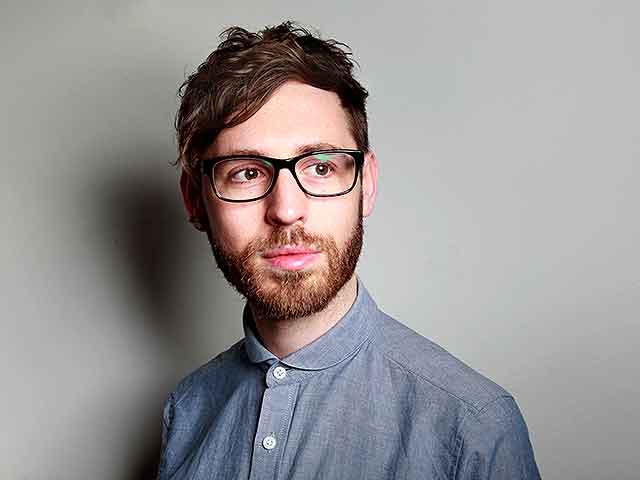 Chris Thomas: On top of this you are also completing a new orchestral work for the London Philharmonic Orchestra?
Gavin Higgins: I completed it last week. It's called 'Tanze' and takes its inspiration from baroque dance suites.
It's in four movements; Allemande, Courante, Sarabande and Gigue and it should be a lot of fun to play.
London Music Masters, who run a scheme for student violinists called the Bridge Project, commissioned the piece and it gets its premiere on the 23rd October.
The LPO will be joined on stage by about 50 extra violinists so it's going to be quite a noise!
---
Chris Thomas: Your work in the field of music theatre is also due to take yet another new turn shortly with a new opera work.
What can you tell us about the project?
Gavin Higgins: I am just about to start work on a new opera with libretto by Francesca Simon - the author of the 'Horrid Henry' series.
It's based on her latest book that comes out later this year and it's brilliant.
I can't tell you much more than that at this stage I'm afraid as it's somewhat under wraps.

But watch this space.
---
All images given with exclusive permission and copyright by Rambert Ballet and Associates

Gavin Higgins Interview:
Part 1: http://www.4barsrest.com/articles/2015/1530.asp#.ViUn3X6rS_4