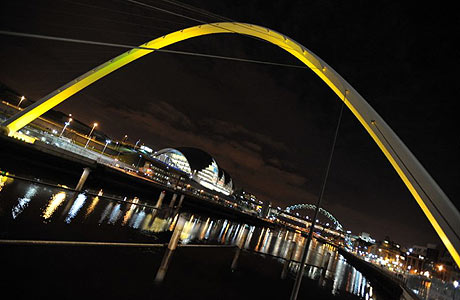 Sights and sounds to enjoy at The Sage...

The unseasonably warm weather should ensure plenty of fog on the Tyne to welcome supporters to the 39th Brass in Concert Championship at Sage Gateshead this weekend.
It's unlikely however to obfuscate the sights or sounds of what promises to be another high-class weekend of music making at a venue that will once again be a spectacular host as it pokes its shiny anthropomorphic features through the north-east pea soup.
Robust

Since its inception in 1977 the Championship has undergone a remarkable transformation, and has shown a robust propensity to overcome even meteorological challenges - from a move away from its tobacco sponsored roots and a bout of food poisoning to a complete overhaul of its marking system.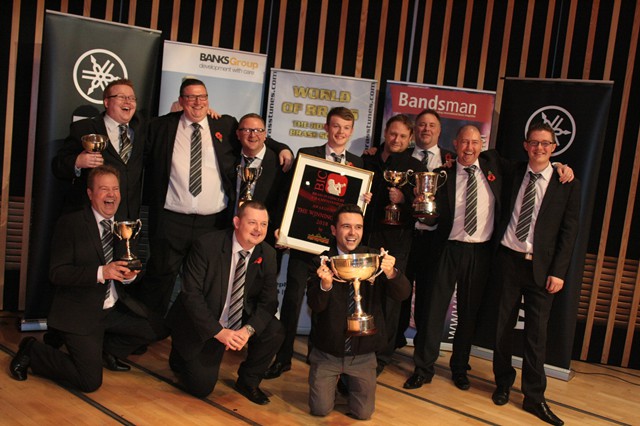 The defending champion: Grimethorpe Colliery Band

Difficult

2015 presented another - with an admittedly difficult logistical banding conundrum dealt with in an uncharacteristically clumsy manner: The lack of clear communication over the award of predetermined late draws and additional expenses paid to Cory and Grimethorpe leading to the withdrawal of Carlton Main Frickley, Fairey and Tredegar (although Flowers did withdraw its intention not to compete and will take to the stage).
The matter is now closed and we move on; the organisers hopeful of being able to welcome back even more of the very best bands in the world to Gateshead in the years to come.
Working together

Working together (and invites have already been given to the entertainment champions of the USA and Norway), the 40th festival weekend in 2016 could well herald the brightest of futures for an event that has worked hard to become one of best run and friendliest in the banding calendar.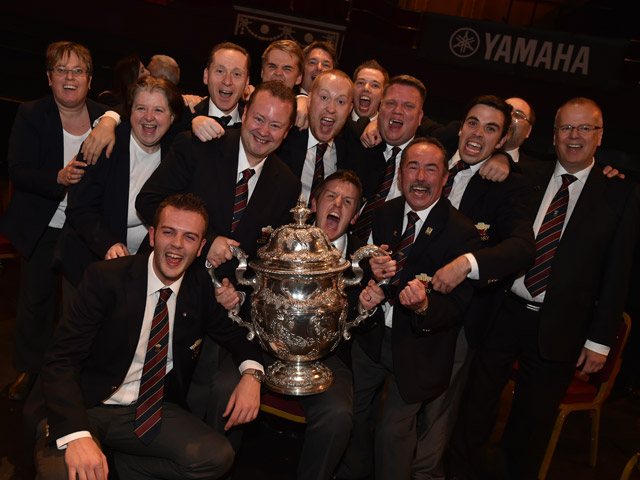 Red hot streakers: Cory out to win again

Champions

For the time being then, a rather unfamiliar field of contenders all hoping to get their hands on the Yamaha Newsome Brass in Concert Championship Trophy and the £4,000 first prize - although with both the 2015 British Open and National Champion, plus the Butlins, Bolsover, Doctor Martin, All England Masters and at least five Area winners in the mix, it is still a field many other contests would be envious of.
Opportunity

It has also given the opportunity for some less well known bands to showcase their specific brands of entertainment, and having had a sneak preview of the programmes, they should not disappoint an audience that has become increasingly open-minded over the last few years.
That said, they may not quite be ready for something along the lines of Stavanger's recent Siddis winning 'Life of Marlene Dietrich' - but thankfully the days of slapstick humour and 'pick & mix' sets are fast becoming rarities. Bands are investing substantially more time, resources and levels of professionalism into their programmes. The audience here certainly appreciates the efforts on show.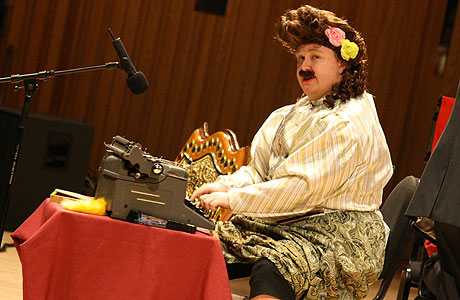 Not a sight we may see too often this year...

Workshops and tasters

Saturday sees a wonderful day packed with exciting opportunities - with the now familiar Yamaha supported workshop and taster sessions getting underway at 8.15am for youngsters. They will have a great chance to work alongside Russell Gray and members of the Yamaha Neo Brass Ensemble leading to a concert on the Sage Concourse at 1.30pm.
The afternoon concert in Hall 2 will be provided by the 2015 Action Medical Research champion, Elland Silver Youth under their inspirational MD Samantha Harrison, before the Yamaha Neo Brass Ensemble provide their unique brand of showmanship in the Northern Rock Foundation Hall at 4.30pm.
Saturday rounded off

The day is rounded off by the traditional World of Brass in Concert Gala Concert - this year provided by Black Dyke with special guest, the superb Philip Cobb, principal trumpet of the London Symphony Orchestra, in what promises to be an audience friendly programme.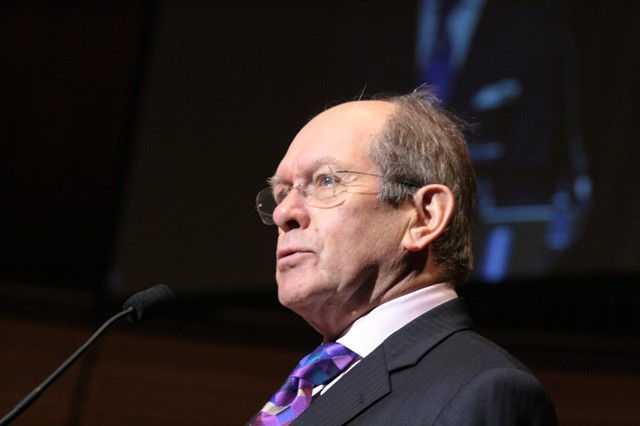 The Master of Ceremonies: Frank Renton
Renton welcome

The following day the contest gets underway with a musical welcome provided by the Yamaha Neo Brass Ensemble for early risers at 9.15am, before Frank Renton goes through the preliminaries of introducing the judges and reminding the audience to turn off their mobile phones (there was a time when there was not even a call to stub out cigarettes), before welcoming the first of the 11 bands to the stage.
Contenders

These will be led by 2011 champion Leyland Band, conducted by Thomas Wyss, followed by Virtuosi GUS (Adam Cooke); East Yorkshire Motor Services (Alan Morrison); Wingates (Paul Andrews); Cory (Philip Harper); Flowers (Paul Holland); Grimethorpe Colliery (Dr Robert Childs); Friary Guildford (Chris King); Hammonds Saltaire (Morgan Griffiths) and Reg Vardy (Russell Gray).
The judges to impress are Frode Rydland and David Thornton (Quality of Performance), Les Neish (Programme Content), Steve Walker and Captain Andy Gregory (Entertainment and Presentation), and Philip Cobb (Soloists).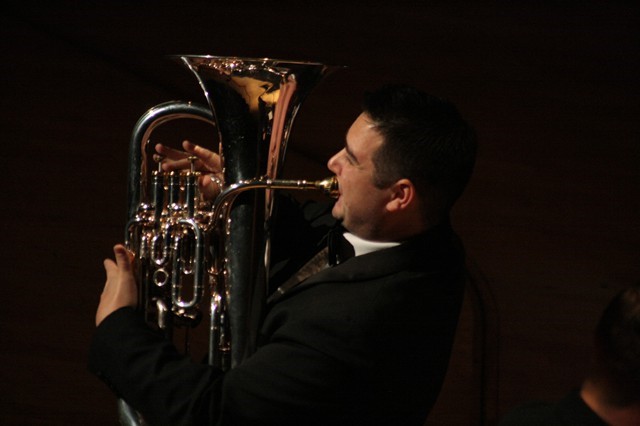 Can Flowers and David Childs impress again...

Super-heavyweights

On paper it looks like a straight super-heavyweight battle between the defending champion and British Open winner Grimethorpe Colliery and recently crowned National Champion and 2012 and 2013 winner, Cory.
These are two bands that provide sparkling, if contrasting, entertainment fayre, and with their prescribed second half draws allowing a bit more time to get over the weariness of travelling up from London following their concert appearances the night before, they should be in prime form to slug it out for glory.
New name

Any sign of fatigue though could well signal a new name being engraved on the winner's trophy with an uber-confident Flowers snapping at their heels, whilst local favourites Reg Vardy under Russell Gray could force their way into the reckoning alongside the experienced entertainers of Leyland and Virtuosi GUS.
Don't miss out on the rest though with plenty to enjoy with Wingates, Woodfalls, Hammonds Saltaire, EYMS and Friary Guildford, as there promises to be some very interesting stuff on show - with a widespread smorgasbord of genres and styles, themes and variations.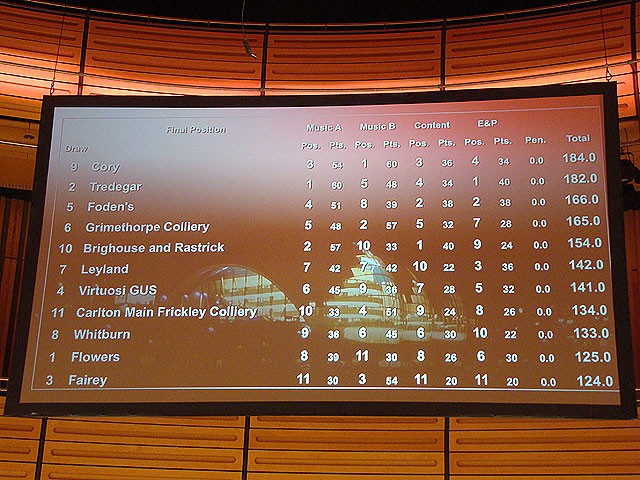 The complex scores on the doors...

Fill your pockets

The complex marking system still takes a bit of getting used to, but with a plethora of individual and ensemble prizes, any of these bands can fill their pockets with silverware and generous cash payouts.
Plenty to look forward to as 4BR once again brings you our live comments on each performance and the results as soon as we can.
As for a winner?
Cory seem to be on one of their familiar runs hot streaks of form that could well leave their rivals in their turbo charged wake, although Grimethorpe have more than enough horse power to keep up with them even at the fiercest gallop.
Flowers is a highly impressive contesting package nowadays and should be there or thereabouts, whilst the battle for the top six slots could well see the likes of Reg Vardy, Leyland and Virtuosi GUS getting a mention of the stage - although a dark horse may be Wingates.

Iwan Fox
---
4BR Prediction:
1. Cory
2. Grimethorpe Colliery
3. Flowers
4. Reg Vardy
5. Leyland
6. Virtuosi GUS
Dark Horse: Wingates