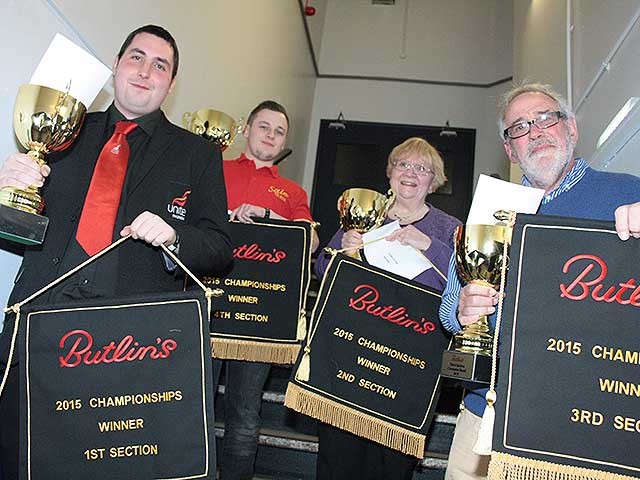 Prizes galore at Butlins this weekend

The 2016 contest season kicks off in Skegness on the weekend - just 48 days after the last major event of the year took place in the UK.
It heralds the start of a frantic contesting calendar: 42 days after the winning band lifts the imposing Warwick Vase Trophy in celebration, the first Area contest of the year takes place in Blackpool. It's a merry-go-round that is placing ever increasing time and financial demands on competing bands.
Plaudits

Butlins therefore deserves the plaudits for attracting 85 bands to their Skyline Resort - especially following a winter break (if bands really had any) of horrendous weather in many parts of the country.
Brian Eggleshaw and his organising team do a fantastic job each year, whilst Stan Lippeatt has also ensured that the competitors will have to be in pretty good form if they are to pocket a share of the early season bank balance-boosting prize pots.
Relaxation

It may be hectic and a touch hedonistic at times, but people will be able to relax with plenty of non-competitive entertainment on show with concert performances from Flowers and the Grimethorpe Re-union Band, plus great jazz and soul combos, the Trombone Quorum, Wallace Collection and the irrepressible Jager Maestros.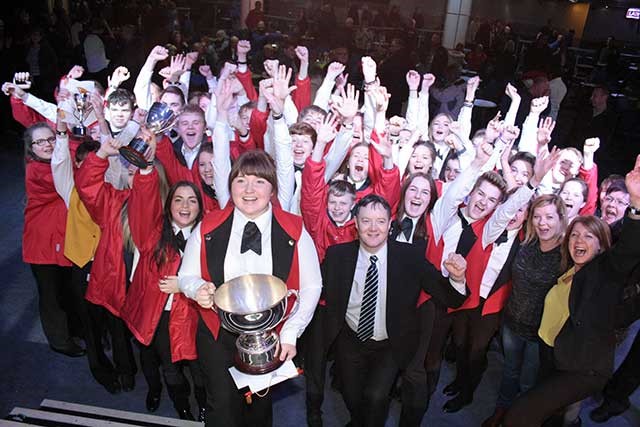 Brilliant youth...

And if you have the time, please go and support the Youth Section and Junior Section on the Sunday at the Reds Venue - its great stuff.
There are three cracking bands in the Ensemble Section with Wardle Academy Juniors, Shirland Training and Wigston Enterprise sure to bring plenty of smiles to proud faces of parents, family and supporters.
Fantastic fayre

The four contenders for the £1,000 top prize in the Youth Section will do the same - although there will be a slightly keener edge to the competition with defending champion Wardle Academy Youth, Youth Brass 2000, Enderby Youth and Gresley Colliery Youth sure to provide fantastic entertainment fayre.
Hopefully, the weather won't be as testicle- tingling cold as it has been in recent years, as the forecast is for yet more rain, so take care on your travels to and from what promises to be a great weekend of musical fun and competition.
4BR will be there to cover the action live in the top section and through Twitter, so why not come along and say hello and give us your tips about who you think may win?
---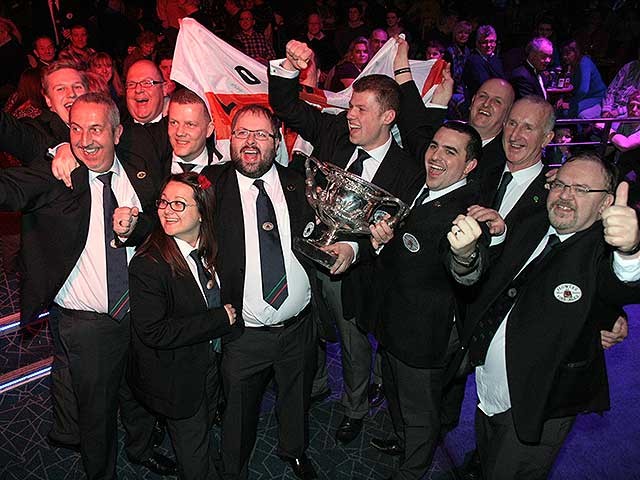 2015 Champion: Flowers

Championship Section
Venue: Centre Stage
Draw: 12 Noon
Commence: at conclusion of Fourth Section
Test Piece: Breath of Souls (Paul Lovatt-Cooper)
Adjudicators:
John Berryman and Michael Fowles (Set-Work)
Michael Fowles and Brian Rostron (Entertainment)
Desford Colliery (LITWF) (Tom Davoren)
Flowers (Paul Holland)
Friary Guildford (Chris King)
Redbridge Brass (Alan Duguid
Reg Vardy (Russell Gray)
Virtuosi GUS (Adam Cooke)
Woodfalls (Dr Robert Childs)
It must be a disappointment to the organisers that with close on £20,000 of prize money to be won, the top section event has only attracted seven competitors - although there may be mitigating factors.
Some elite performers will be preparing for their appearance at the RNCM Festival of Brass, whilst the set-work, 'Breath of Souls' will certainly have sent a cold chill up a few spines of others.

Flowers are also back to defend a title that in recent years has been held onto with a display of dictatorial ruthlessness Kim Jon-un would be proud of.
Too much of an ask?

An argument of sorts then to suggest that so soon after the Christmas break, having to prepare a hugely demanding technical test-piece alongside an entertainment programme is too much of a big ask even for some well known top flight bands?
However, a 10 grand first prize pays a lot of bills - as does £5,000 for coming runner-up. You suspect a few potential rivals could well be running more scared of an early season beating.

The main music man this year - Paul Lovatt-Cooper
Hats off then to Desford Colliery, Friary Guildford, Redbridge Brass, Reg Vardy, Virtuosi GUS and Woodfalls - all more than capable of pushing Flowers hard to the finishing line come Sunday night.
It may also have helped that five of them played at Brass in Concert in late November (so watch out for reprises), whilst Desford always have a unique contesting approach and Redbridge is back on the up.
The much easier to understand adjudication process helps too (there is just the one 'Most Entertaining Band' prize). There are less boxes to tick than a Texas shotgun licence form.
Soul tackle

Still, much will depend on just how well they tackle 'Breath of Souls' - a piece not to be taken lightly, as bands at the National Final found out in 2011.
It is catchy, repetitive and technically very hard; written in keys that can cause cramp in the fingers, and with multiple-choice cadenzas that can cause the involuntary tightening of well-puckered buttocks.
The top end of the tempo markings (158 to start with a closing section at 168) is also close to the rev-counter limit of the very best bands around - with the Centre Stage auditorium offering no Albert Hall reverb camouflage obfuscation to aid the flannel.
Cadenza choices

At the 2011 National the vast majority of cadenza soloists (euph, flugel, soprano, trombone, Eb tuba, horn) went for option 1 (just 2 trombones out of 20 went for against the grain, although the tubas were nearly evenly split).
Those with the bravura confidence of youth or the mature ego to go out on a limb may go for option 2 - so listen out. The choices will also tell you a great deal about the MD's contesting risk assessment strategy as it does of the steely nerve of the player.
Much then for John Berryman and Michael Fowles to forensically digest in the box before the entertainment fayre kicks off the following day, when Mike will be joined by the experienced Brian Rostron for what promises to be an interesting septet of programmes.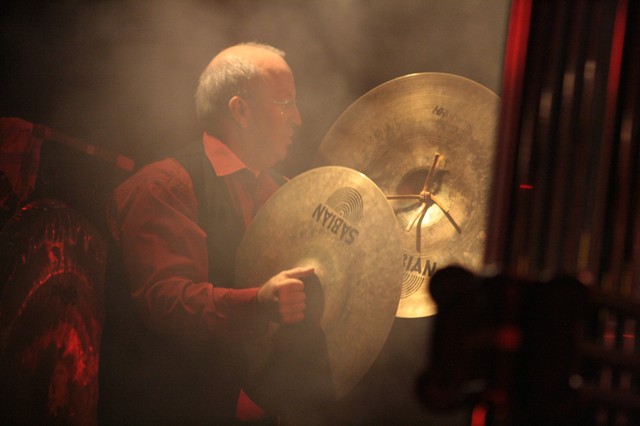 Out of the mist...
Flowers tweak?

Will Flowers rely on their historical 'info-tainment' approach that was used at Gateshead, or will they give things a little bit of a tweak to appeal here, or will Reg Vardy keep to the Nordic musical output of Jacob Vilhelm Larsen to capture the imagination or makes things a little more UK-centric?
Can Virtuosi GUS's New York inspired Sage approach transfer to Skegness, or will Woodfalls rely as heavily on the works of Paul Lovatt-Cooper as they did at The Sage now that they will be led by Grimethorpe's Dr Robert Childs?
Sharp eye

Both Friary Guildford (who delivered an imaginative programme at Brass in Concert) and Redbridge (who are back to contest winning form under Alan Duguid) can be guaranteed to try something a little different in their bid to win the title, whilst Desford's Tom Davoren has a sharp eye and fertile mind when it comes to putting on a show.
---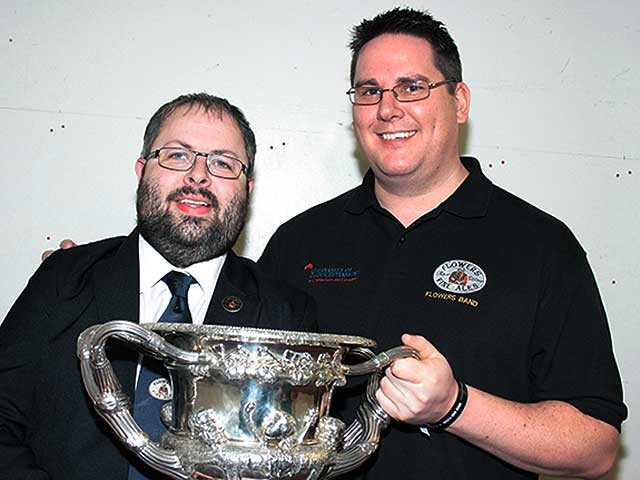 Can anyone stop Flowers grasping the silverware?
Who will win?
So who will start 2016 with a big bucks bang then?
Hard to see past Flowers once again lifting the trophy (it would be the fifth time in six years) - and on the form they showed during the past season they are deserved odds-on favourites.
Virtuosi GUS and Reg Vardy were closely matched at Brass in Concert and should have enough about them to push Flowers close in claiming the podium slots, whilst Woodfalls and Desford won't be far behind alongside Friary Guildford and Redbridge.
4BR Prediction:
1. Flowers
2. Virtuosi GUS
3. Reg Vardy
4. Woodfalls
5. Desford
6. Friary Guildford
Dark Horse: Redbridge