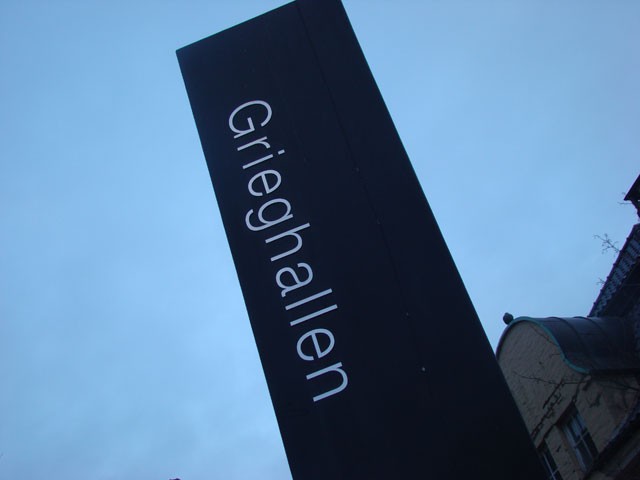 Part of the union...

These are interesting times for Europe.
Renegotiation and re-evaluation seem to be the order of the day, as the political posturing from certain quarters of the 'Union' becomes increasingly sceptical and pronounced. In contrast, tickets for the 2016 European Championship in Lille have been snapped up from all corners of the continent and beyond as soon as they went on sale - as audience support for the event reaches new heights of popularity.
France in Ostend

France has already decided on its 2017 representative to Ostend, whilst this weekend it's the turn of Norway - a country that has been one of the most enthusiastic supporters of closer European integration ever since its first National Championship back in 1979.
Perhaps the various Prime Ministers, Chancellors and Presidents could take note of the success of the brass band movement's interpretation of the troublesome 'Schengen' agreement.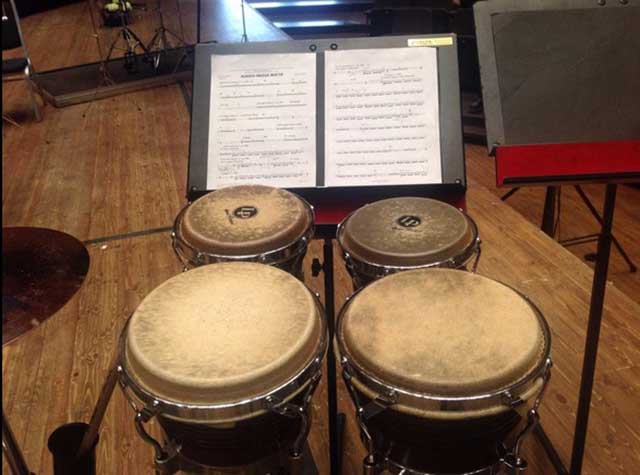 Different strokes or the beat of just one drum
The Norwegian Music Federation continues to promote its banding culture in a way that other nations can only envy. 76 bands will compete at the Grieghallen in Bergen supported by an organisation that resolutely looks after both the domestic and European wide interests of its members.

You suspect there aren't too many votes to be won for the 'Out' banding campaign in these parts.
Top the polls

In the meantime, who will top the Elite Division polls to book their place in Belgium lies in the hands of an expert electorate (Torgny Hanson, Jan Van der Roost, Arthur Vanderhoeft, Aline Nistad, Manuel Hofstatter and Lars-Erik Terjung) who are given every opportunity to both see and hear the prospective candidates in action.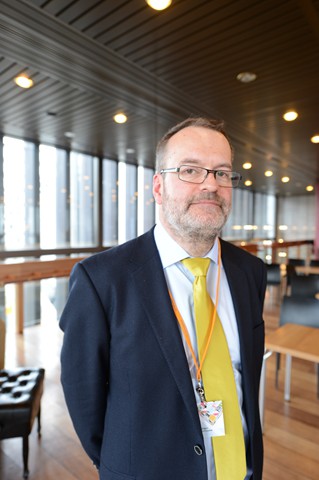 Searching for Light - composer Stig Nordhagen

Their voting intentions will governed by an intriguing set-work based on conflicting dichotomies ('Searching for Light') by Stig Nordhagen, and the usual plethora of manifesto goodies that include musical pledges on issues surrounding everything from interplanetary exploration, poetic geomorphic rock formations, literary heroism, religion, jazz blues, mental health issues and even abortion.
Difficult terrain

Nordhagen's set-work is a complex piece of modernistic musical language - and a severe test of ensemble technique and stamina. It is also pitched in difficult terrain - exhaustively so; even clarinet players, such as the composer, would raise an eyebrow at some of the writing, which at the prescribed speeds (144 to open, 160 + towards its close) will make clarity and precision almost impossible to achieve in a cavernous auditorium.
Congeal

The composition explores in variation form (although not marked) thematic contradictions of light and dark: Light governed by metallic hope and optimism; dark by inversion, aggression and deep timbred melancholy. Eventually, the two congeal in reconciliation - and joy (and perhaps relief to the lips of the players).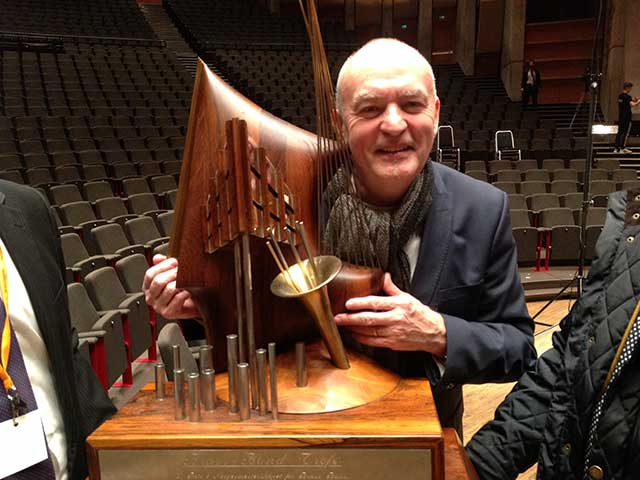 Defending champion: Can Allan Withington hold the trophy again?

Power seeking

The main power-seeking parties of defending champion Stavanger, Eikanger (both opting for 'Trance' under Allan Withington and Nicholas Childs respectively) and Manger ('Old Licks Bluesed Up' with Philip Harper) will once again feature high on the exit-poll figures of listeners over the two days, although they will come under strong attacks from other candidates - including Bjorsvik Brass ('Rococo Variations'), who have a certain Howard Snell as their campaign manager.
There hasn't been a real 'surprise' result here since 1998 when Sandefjord claimed the first of their two National titles; and whilst they now battle to return to the Elite Division, other ambitious ensembles are starting to snap at the 'anger' band's heels.
---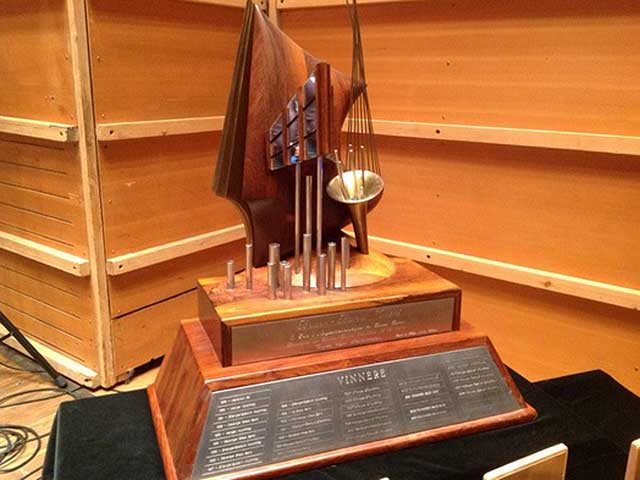 All up for grabs...

As for a winner?
As always it's a hard one to call, especially as the three main contenders have all displayed impressive credentials in the past year when we have heard them in action.
With Stavanger enjoying domestic dominance at present they will be keen to retain their grip on the title for the first time since 2007, although Eikanger will be equally determined to banish any lingering bad memories from last year as they team up for the first time since 2010 with Black Dyke's Director of Music.
Little bit of luck

Manger may feel they are due a little bit of good fortune after just leaving themselves too much to do last year, whilst be assured that Bjorsvik Brass will want to do Howard Snell proud. Memories of their own past triumphs with him at the helm will surely fire up their ambitions.
Two impressive outfits in Oslo ('Titan's Progress') and Krohnengen ('Audivi, Media, Nocte') should make up the top six, although a dark horse could be promoted Oslofjord ('Music of the Spheres'), although Molde ('As if a voice were in them…'), Jaren ('Titan's Progress') and Ila ('REM-scapes') are no slouches out of the traps either.
4BR Prediction:
1. Manger Musikklag
2. Eikanger Bjorsvik
3. Stavanger
4. Bjorsvik Brass
5. Oslo Brass Band
6. Krohnengen
Dark Horse: Oslofjord Brass
---
Other sections

Although the main Griegsalen will undoubtedly be packed for the Elite battle for the famous National Trophy and 66,000 Krone first prize (about £5,200), there will also be a great deal of support on show for the other five divisional contests that make up the weekend.
As always there is the usual eclectic mix of repertoire on show - with some as always, equally as mind-bogglingly ambitious.
Look forward

Where else can you look forward to hearing 'REM-scapes', 'Sketches from Nowhere', 'Cloudcatcher Fells' and 'As if a voice were in them…' in the First Division; '…Dove Descending' and 'Energy' in the Second; 'Paganini Variations' and 'Variations on a Ninth' in the Third; 'A London Overture' and 'Fire in the Blood' in the Fourth and 'Labour & Love' in the Fifth?
Not all comes off - but you can't help but admire the sheer hutzpah of the bands and their MDs to give it a bash. The judges Arsene Duc, Michael Bach, Bjorn Sagstad and Katrina Marzella will have a great time of it.
That said, the overall standard remains very good indeed; nearly all the First Section bands could compete at Grand Shield level without too much of a problem, whilst the best of the Fifth Division is invariably as good if not better than just about anything we get to hear in the Third Section in the UK.
Where's the Ball?

However, what is noticeable is that there is not one work by Eric Ball being performed - a compositional voice, who even after 37 of trying to be integrated, remains an alien musical tongue in an increasingly contemporary monoglot land.
Perhaps though, that's a position that needs to be re-evaluated by the Norwegians too.
Results

The results will be announced at the end of the Gala Concert, which this year will see Stavanger give a reprise of their Siddis winning 'Just a German' programme, inspired by the life of the enigmatic icon, Marlene Dietrich.
4BR Editor Iwan Fox is travelling out to Bergen to bring you our live coverage of the event as the action and excitement unfolds over the two days - helped by Besson artist Stephen Mead - so keep an eye on our views and opinions, whilst TV 2 Sumo will also be broadcasting the First and Elite Division contests through their excellent internet coverage.
Iwan Fox
---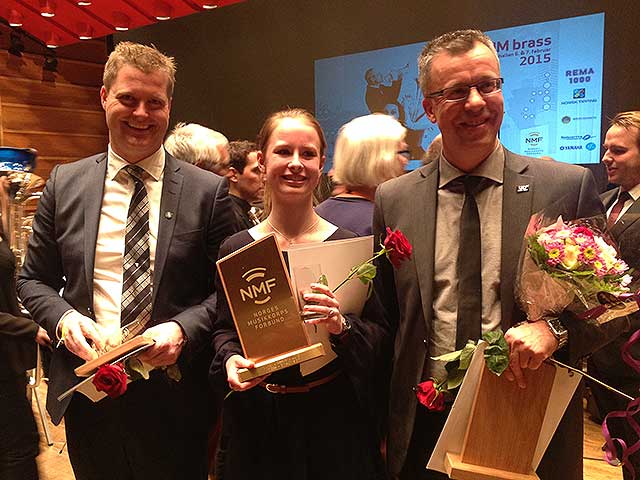 2015 podium finishers

Competing Bands & Draws:
Elite Division: Set Work
Searching for Light (Stig Nordhagen)
Friday 5th February
Griegsalen
Start: 3.30pm (local time)
Adjudicators: Lars-Erik ter Jung, Aline Nistad, Manuel Hofstatter
1. Krohnengen (Bjorn Breistein)
2. Oslo Brass (Geir Holm)
3. Stavanger Brass (Allan Withington)
4. Molde Brass (Russell Gray)
5. Oslofjord Brass (Garry Cutt)
6. Jaren Hornmusikkforening (Howard Evans)
7. Eikanger Bjorsvik Musikklag (Prof Nicholas Childs)
8. Manger Musikklag (Philip Harper)
9. Ila Brass (Adam Cooke)
10. Bjorsvik Brass (Howard Snell)

Own Choice:
Saturday 6th February
Griegsalen
Start: 2.45pm (local time)
Adjudicators: Jan Van der Roost, Arthur Vanderhoeft, Torgny Hanson
1. Stavanger Brass (Allan Withington)
Trance (Thomas Doss)
2. Molde Brass (Russell Gray)
As if a voice were in them (Oliver Waespi)
3. Manger Musikklag (Philip Harper)
Old Licks Bluesed Up (Torstein Aagaard-Nilsen)
4. Oslofjord Brass (Garry Cutt)
Music of the Spheres (Philip Sparke)
5. Eikanger Bjorsvik Musikklag (Prof Nicholas Childs)
Trance (Thomas Doss)
6. Oslo Brass (Geir Holm)
Titan's Progress (Hermann Palhuber)
7. Bjorsvik Brass (Howard Snell)
Rococo Variations (Edward Gregson)
8. Jaren Hornmusikkforening (Howard Evans)
Titan's Progress (Hermann Palhuber)
9. Krohnengen (Bjorn Breistein)
Audivi, Media, Nocte (Oliver Waespi)
10. Ila Brass (Adam Cooke)
REM-scapes (Thomas Doss)
---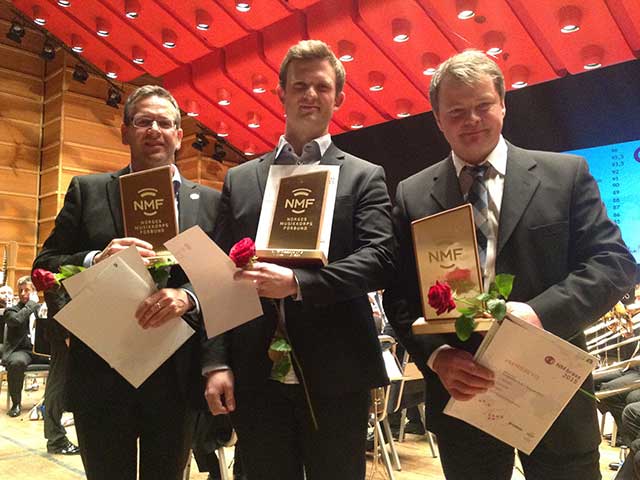 2015 podium finishers

First Division:
Saturday 6th February
Griegsalen
Own Choice
Start: 8.30am (local time)
Adjudicators: Michael Bach, Arsene Duc
1. Oster Brass (Jospeh Cook)
The New Jerusalem (Philip Wilby)
2. Sola Brass Band (Rune Gundersen)
Journey to the Centre of the Earth (Peter Graham)
3. Askoy Brass Band (Reid Gilje)
Sketches from Nowhere (Thomas Doss)
4. Sandefjord Brass Symposium (Trond Husebo)
Of Distant Memories (Edward Gregson)
5. Tertnes Brass (David Roberts)
As if a voice were in them (Oliver Waespi)
6. Tertnes Amatorkorps (Bengt Florvag)
On Alderney Edge (Peter Graham)
7. Musikkorpset Gjallarhorn (Selmer Simonsen)
Chivalry (Martin Ellerby)
8. Tomra Brass Band (Nick Ost)
Harmony Music (Philip Sparke)
9. Alexander Brass Band (Moten E Hansen)
Cloudcatcher Fells (John McCabe)
10. Brottum Brass (Stian E Svendsen)
Paganini Variations (Philip Wiby)
11. Kleppe Musikklag (John Philip Hannevik)
REM-scapes (Thomas Doss)
12. Hasle Brass (Robert Solberg Nilsen)
English Heritage (George Lloyd)
---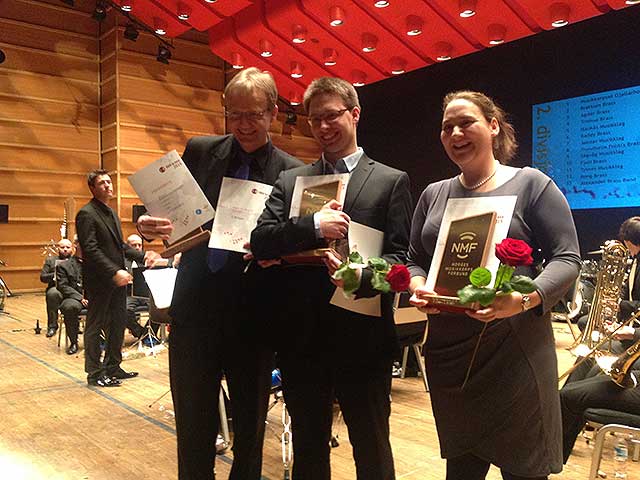 2015 podium finishers

Second Division:
Friday 5th February
Griegsalen
Own Choice
Start: 9.30am (local time)
Adjudicators: Arsene Duc, Torgny Hanson
1. Radoy Brass (Gareth Pritchard)
Salute to Youth (Gilbert Vinter)
2. Agder Brass (Ola Balstad)
A London Overture (Philip Sparke)
3. Sorum Musikklag (Henrik Dagestad-Dalhaug)
Endeavour (Philip Sparke)
4. Haukas Musikklag (Jan Egil Jorgensen)
A London Overture (Philip Sparke)
5. Folleso Musikklag (Torstein Aagaard-Nilsen)
Forest of Dean (Derek Bourgeois)
6. Jolster Musikklag (Stian E Svendsen)
Salome (Gareth Wood)
7. Orskog Brass (Arnfinn Dalhaug)
…Dove Descending (Philip Wilby)
8. Flesland Musikklag (Thor-Arne Pedersen)
Trittico (James Curnow)
9. Tromso Brass (Tor-Kristian R Innbjor)
Energy (Robert Simpson)
10. Fjell Brass (Paul Fensom)
The Son of Light (Bertrand Moren)
11. Bergen Brass Band (Sturle Berntsen)
Connotations (Edward Gregson)
12. Sagvag Musikklag (Paul Hughes)
Vivat! (Tom Davoren)
13. Trondheim Politis Brassband (Espen Andersen)
Connotations (Edward Gregson)
---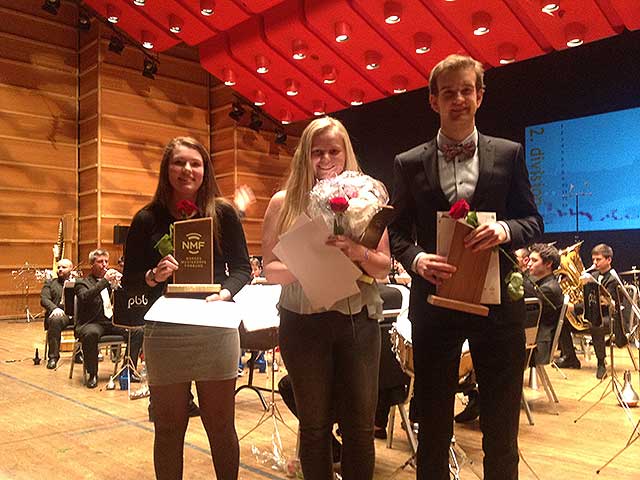 2015 podium finishers

Third Division:
Friday 5th February
Peer Gynt Hall
Own Choice
Start: 4.00pm (local time)
Adjudicators: Michael Bach, Bjorn Sagstad
1. Stangaland Brass (Rrasmus Kaersgaard)
Purcell Variations (Kenneth Downie)
2. Valdres Brass (Tor Arthur Hagen)
Purcell Variations (Kenneth Downie)
3. Laksevag Musikkforening (Helge Haukas)
Trittico (James Curnow)
4. Manger Old Star Brass (Marit Tommermo)
Triumphant Rhapsody (Gilbert Vinter)
5. Fla Musikkorps (Odd Steinar Morkved)
Variations on Laudate Dominum (Edward Gregson)
6. Flora-Bremanger Brassband (Philip Goodwin)
Firestorm (Stephen Bulla)
7. Lindas Brass (Hilde Margrethe & Brevik Grytten)
Harmonius Variations on a theme by GF Handel (Gordon Langford)
8. Tysvaer Brass (Martin Kinn)
Paganini Variations (Philip Wilby)
9. Gjesdal Brass Band (Jonas Skartveit Rogne)
Prisms (Peter Graham)
10. Fraena Musikkorps (Mareika Gray)
Visions (Dan Price)
11. Rong Brass (Thor-Arne Pedersen)
The Present Age (Leslie Condon)
12. Langhus Brass (Tomas Carstensen)
Variations on a Chrod (Jan de Haan)
13. Gjovik Bybrass (Christian Tenfjord)
The Present Age (Leslie Condon)
14. Tysnes Musikklag (Yngve Nikolaisen)
Variations on a Ninth (Gilbert Vinter)
---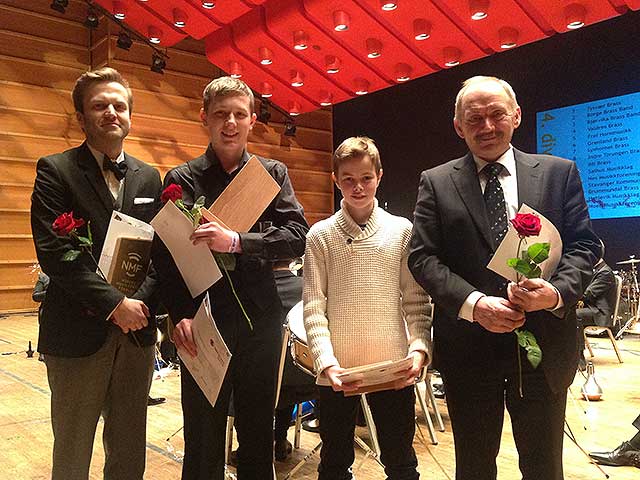 2015 podium finishers

Fourth Division:
Saturday 6th February
Peer Gynt Hall
Own Choice
Start: 11.00am (local time)
Adjudicators: Katrina Marzella, Bjorn Sagstad
1. Lismarka/Mesnali Brass (Andres Halla)
Saint-Saens Variations (Philip Sparke)
2. Frei Hornmusikk (Stein Age Sorlie)
The Graces of Love (Oliver Waespi)
3. Bjorvika Brass Band (Robert Solberg Nilsen)
Labour & Love (Percy Fletcher)
4. Filadelfia Hornorkester Drammen (Jan Arne Stavik Karlsen)
On Ratcliff Highway (Ray Steadman-Allen)
5. Salhaus Musiklag (Vidar Nordli)
Saint-Saens Variations (Philip Sparke)
6. Floro Hornmusikk (Torgeir Halvorsen)
Lake of the Moon (Kevin Houben)
7. Hordvik Musikklag (Patrik Randefalk)
Labour & Love (Percy Fletcher)
8. Indre Torungen Brass Ensemble (Lars Bjornar Strengenes)
The Graces of Love (Oliver Waespi)
9. Lyshornet Brass (Oyvind Raknes Nikolaisen)
Lydian Pictures (Simon Dobson)
10. Stavanger Kommunes Korps (Gwyn Evans)
Plus Ultra (Andrew Stevenson)
11. Sotra Brass (Oddvar Nostdal)
A Salford Sinfonietta (Darrol Barry)
12. Grenland Brass (Arild Ovrum)
Forest of Dean (Derek Bourgeois)
13. Nes Musikkforening (Thorbjorn Lunde)
A Cambrian Suite (Michael Ball)
14. IMI Brass (Per-Erik Petersen)
Fire in the Blood (Paul Lovatt-Cooper)
15. Skui Brassband (Thor-Willy Karlsen)
A London Overture (Philip Sparke)
---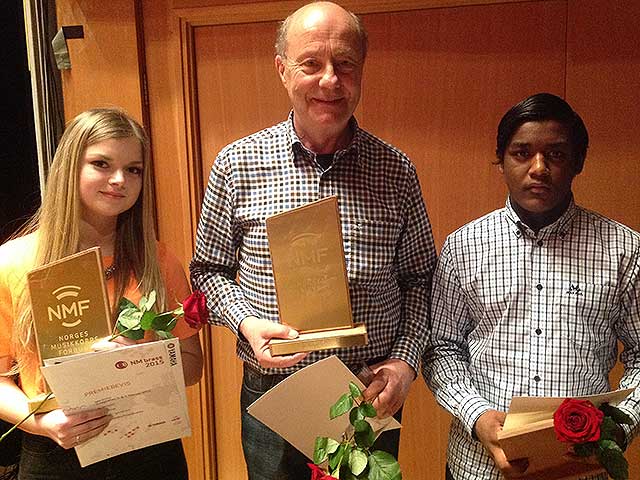 2015 podium finishers

Fifth Division:
Friday 5th February
Peer Gynt Hall
Own Choice
Start: 11.00am (local time)
Adjudicators: Katrina Marzella, Jan Van der Roost
1. Saksumdal Musikkforening (Andres Halla)
The Prizewinners (Philip Sparke)
2. Musikkorpset Heimdal (Kristian Thulin)
Hinemoa (Gareth Wood)
3. Holmestrand Ungdomskorps (Svend Erik Andersen)
Gothic Danes (Alan Fernie)
4. Brumunddal Brass (Per Kristian O Syversen)
Hispaniola (Jan de Haan)
5. Kjolsdalen Musikklag (Arvid Anthun)
Inspiration (Jan de Haan)
6. Skeie Brass (Nigel Fielding)
Dimensions (Peter Graham)
7. Moen Musikkforening (Ole Kristian Egge)
A Celtic Suite (Philip Sparke)
8. Lalm Musikkforening (Odd Ivar Svelstad)
Anglian Dances (Alan Fernie)
9. Randaberg Musikkorps (Pal Magne Austernes-Underhaug)
Labour & Love (Percy Fletcher)
10. Lillehammer Brass (Per Kristian O. Syversen)
Evolution (Philip Sparke)
11. Hetlevik Musikklag (Asbjorn Hauge)
Music for a Festival (Philip Sparke)
12. Alvik Musikklag (Torbjorn Dagestad Jnr)
Little Suite No 2 (Malcolm Arnold)