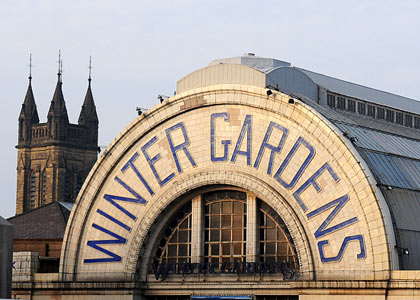 Starting at this door...

The Beatles had it right with their song 'The Long and Winding Road'.
I've seen that road before
It always leads me here
Lead me to your door
It rather sums up the annual pilgrimages via Blackpool, Bradford, Swansea, Stevenage and all stops in between. Year in, year out; M6, M4, M1, M5: The long and winding road to the stage door of the Royal Albert Hall or Cheltenham starts here at the Winter Gardens on Sunday morning.
Nothing quite like it

Over the next four weekends, there will celebrations and commiserations, hard luck stories and conspiracy theories, tales of heroics and rumours of post performance sackings. There is nothing quite like it.
Late night Blackpool invariably sees an outpouring of various emotions - from tears of joy to red-eyed broken hearted despair; so much to look forward to then as 78 bands take to the stage in one pulsating day of competition.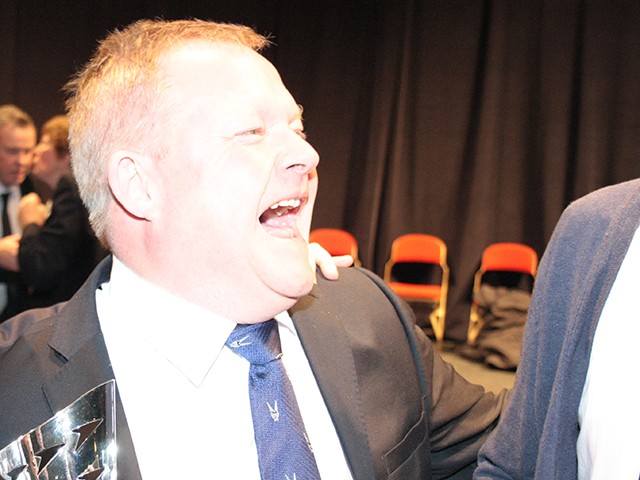 Hat trick seeker: Can Garry Cutt lead Fairey to a first Area hat trick?

Strongest

The North West remains one of the strongest (there are five more entries this year) and most successful regions in the UK (42 top-six finishes since 2010 in all sections at the Finals), and will send three bands to the Royal Albert Hall (two qualifiers plus pre-qualified Fairey), with two in the First and Fourth and three in the Second and Third Sections making their way to The Centaur.
That's some record, and although the region has only claimed three National titles in the same period of time, some impressive early season success at Butlins and Preston should see the Area send formidable qualifiers to London and Cheltenham.
Excellent

Excellently run by the Regional committee, the action starts at 9.30am in the Empress Ballroom for the Third Section (followed by the First Section); in the Opera House at 10.00am for the Second Section (followed by the Championship); and the Pavilion Theatre at 11.00am for the Fourth.
Plenty of great music and contesting to enjoy then (4BR will be there to provide live coverage of all the sections, plus twitter comments, results, interview and opinions) as bands take their first steps on the long and winding road to potential National Finals glory...
Iwan Fox
---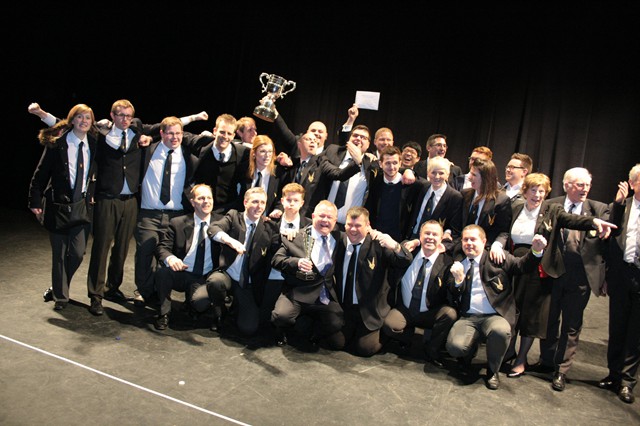 2015 Champions: Fairey

Championship Section:
Opera House
Draw 1.45pm
Commence: After Second Section results
Adjudicators: John Berryman & Stephen Roberts
Ashton-Under-Lyne (Phil Chalk)
Blackburn & Darwen (Huw Thomas)
Co-operative Funeralcare North West (Jef Sparkes)
Diggle (Alan Wycherley)
Fairey (Garry Cutt)
Foden's (Prof Nicholas Childs)
Freckleton (Paul Dalton)
Leyland (Thomas Wyss)
Milnrow (Mark Bentham)
Oldham (Lees) (John Collins)
Roberts Bakery (Simon Stonehouse)
Wingates (Paul Andrews)
A mouth watering contest in prospect as Fairey look to claim what rather surprisingly would be a first Area hat-trick.
That may well be the key to spur Garry Cutt and his band on; as following their fine podium finish at the Albert hall last October they are pre-qualified. You can be sure they will come out all guns blazing on Philip Sparke's expertly crafted set work then.
Pep Guardiola

They may need to, as after the end of their six year hegemony here in 2012 Foden's are now playing hardball by linking back up with former MD Prof Nicholas Childs, who led them to a hat-trick of his own before leaving for Black Dyke in 2000. It's a bit like Arsenal asking Pep Guardiola to coach them against Barcelona in the second leg of the Champions League next week.
All that and we have a rejuvenated Leyland back on track under Thomas Wyss, as they look to reclaim the local bragging rights for the first time since 2013 (and who won on this work on its contest premiere in 1992), whilst some pretty ambitious rivals will be snapping at the heavyweight trio's ankles if they don't quite play to form.
Cultured work

Much then will depend on how the fancied runners approach Philip Spark's cultured work - one that has remained welcomingly untarnished by over-exposure since being written for the 1992 All England Masters.
There may be a reason for that: 'Cambridge Variations' is bloody hard.
It takes its inspiration (although not exclusively) from the musical notes found in the name (CABDGE) - mostly used in reverse. The five variations themselves flow seamlessly: from an opening chorale followed by a transposed version led by a high flying flugel horn, baritone and troms.
Further variants (based on the last three notes of the cell and then the first three) lead into a central section, preceded by cadenza-like passages. Demanding tests for soloists and ensemble lead into a final vivo with a familiar and persistent semi-quaver ostinato accompaniment derived from the notational row, which in turn leads to a restatement of the opening choral and flourishing coda.
Perfect embryonic form

It is so expertly crafted - with elements heard in future works presented in perfect embryonic form. Not a note is wasted or misplaced; it is lyrical, dextrous and resplendent.
As in recent years the Kapitol Music Panel has picked a work with a very specific remit - to sort out the competitive wheat from the chaff - and 'Cambridge Variations' will surely separate them out like a combine harvester in overdrive.
---
Who will win?
It would be a major surprise if a name other than Fairey, Foden's or Leyland appears on the winner's trophy, but a few bands may well fancy their chances of bagging that extra qualification spot courtesy of the vastly experienced judges, Stephen Roberts and John Berryman.
The likes of Wingates (third last year), Ashton under Lyne, Co-operative Funeralcare North West and Oldham have shown decent form here over the last few years, whilst Roberts Bakery returns to the top flight after a fine 2015. Blackburn & Darwen and Milnrow are consistent contenders whilst both Freckleton and Diggle could spring a surprise or two.
That said, the force seems to be with Fairey and Garry Cutt at the moment, so a first Area hat-trick may well be on the cards.
4BR Prediction:
1. Fairey
2. Foden's
3. Leyland
4. Ashton under Lyne
5. Milnrow
6. Wingates
Dark Horse: Co-operative Funeralcare North West
---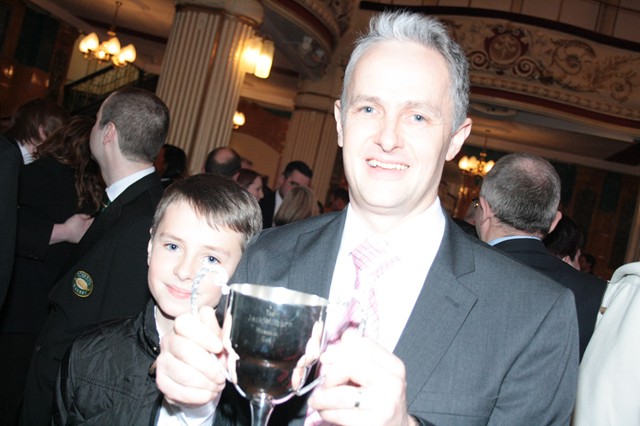 2015 Champions: Roberts Bakery

First Section:
Empress Ballroom
Draw 1.15pm
Commence: After results of the Third Section
Adjudicators: Colin Hardy & David Hirst
Bollington Brass (Peter Christian)
Eccles Borough (Mareika Gray)
Haslingden & Helmshore (Andrew Warriner)
Hazel Grove (Nigel Beasley)
Longridge (Mark Peacock)
Marple (Sarah Groarke-Booth)
Mossley (Duncan Byers)
Pemberton Old Wigan DW (Kevin Gibbs)
Poulton-Le-Fylde (Dave Collins)
Rainford (Gareth Brindle)
Silk Brass (Tony Wyatt)
Vernon Building Society Poynton (Neil Samuel)
Wardle Anderson Brass (Sean Conway)
Whitworth Vale & Healey (John Binns)
Where would we be without the great British essayists?
From Francis Bacon and Thomas Carlyle through William Hazlitt and Thomas Paine, Mary Wollstonecraft and George Orwell: Even Christopher Hitchens if you like that sort of thing.
Perfect form

The essay is the perfect form of artistic critique; cultured, reasoned, academic. As Aldous Huxley once wrote; '…it is a device for saying almost everything about almost anything.'
However, that is certainly not the case with Edward Gregson's youthful work.
Written in 1971 (when the composer was 25) his 'Essay' it is a sublimely realised symphonic study - set out in the type of refined prose Huxley surely would have admired - the thematic 'Dialogue' of the first movement ticking all the necessary academic boxes.
Cardiac and cerebral

Musically it also links to the cardiac as well as cerebral; the central 'Soliloquy' a wonderful example of sparse melancholic writing that sets out its case with simple, elegiac beauty.

The work is dedicated to Gilbert Vinter - and you can hear echoes of his lyrical inspiration (think of the middle movement of 'Entertainments') as it closes with the falling trombones.
The final movement 'Epigram' is a short, witty riposte (with a hint or two of Vinter there too) which bubbles with energy as it propels itself to its conclusion - never bombastic or overblown, but always controlled and as dry as a Dorothy Parker one liner.

It is a work that demands and retains the respect of its performers and listeners - an 'Essay' that states it case with lucid intelligence from first note to last.
Overdue

The North West has a fine record of achievement at the National Finals ever since the First Section was established in 1992, but hasn't registered a title success since 2004. Qualifiers have come close since (Roberts Bakery came third last year) so a victory is a touch overdue.
14 well matched rivals take to the Empress Ballroom looking to impress Colin Hardy and David Hirst: 'Essay' is a stiff test - so whoever gets through will have done so the hard way.
---
So who will win?
There was an interesting pre-season 'friendly' at the Brass at the Guild contest, where an impressive Longridge led the way from Haslingden & Helmshore, Pemberton Old Wigan DW and Poulton le Fylde - and this quartet should be confident of battling it out for the two qualification places on offer.
However, two bands that kept their powder dry may have a thing to say about that, in the ambitious pairing of Rainford and Vernon Building Society Poynton, whilst Mossley, Eccles, Silk Brass and the upwardly mobile Marple will be in with a shout too.
4BR Prediction:
1. Longridge
2. Rainford
3. Pemberton Old Wigan DW
4. VBS Poynton
5. Haslingden & Helmshore
6. Poulton le Fylde
Dark Horse: Mossley
---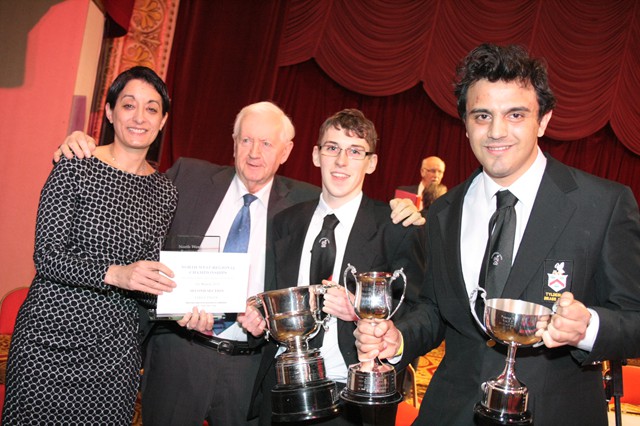 2015 Champions: Tyldesley

Second Section:
Opera House
Split Draw: 9.00am & 11am
Commence: 10.00am
Adjudicators: Mike Kilroy & David Lancaster
Besses Boys (James Holt)
Boarshurst Silver (James Garlick)
Cheshire Constabulary (David Woollam)
City of Chester (TBA)
Crewe Brass (Jamie Meredith)
Darwen Brass (Steve Hartley)
Delph (Philip Goodwin)
Eccleston Brass (John Wood)
Flixton (Jason M. Smith)
Golborne (Trevor Halliwell)
Haydock (Mark Quinn)
Hoover Bolton (Craig Mann)
Manx Concert Brass (Ian Clague MBE)
Middleton (Martyn Evans)
Old Hall Brass (John North)
Pemberton Old Wigan DW "B" (Michael Golding)
Tyldesley (Robert Taylor)
Uppermill (Alan Widdop)
High quality consistency has been one of the real features of the Second Section here over the last few years - with qualifiers going on to claim top-six finishes at the Finals since 2010 at least - although Marple's 2014 win was the first since 2000.
Last year's qualifiers had mixed fortunes (2nd & 11th) but the early season skirmishes at Butlins and Brass at the Guild suggest that a trio of very solid contenders will once again make their way down the M5 to Cheltenham come September.
Sellafield nuclear station

They will do so by making the most of Philip Harper's take on the mythical 'Mermaid of Zennor' - which given the quality of the water flowing down from Sellafield nuclear station over the years may have even led to the appearance of one flapping about on the sands beneath the Golden Mile.
This one's a love story set in the village of Zennor on the coast of Cornwall, and tells the mythical tale of chorister Mathew Trewella and an ageless mermaid who fall in love.
Return to the sea

The music comprises three sections: 'The Sea and Seafaring', which evokes rising and falling waves before the fishermen set sail; 'At the Church' portraying the mermaid with gentle, magical-sounds and the groom's vocal talents, and 'Return to the Waves', which tells of their post- nuptial return to the sea.
Blinky the three eyed fish

It's richly descriptive and cleverly scored, with more nods and winks to seafaring compositions than Blinky the three-eyed fish in 'The Simpsons' cartoon could manage: From 'Scheherazade' and 'Peter Grimes' to the 'Sailor's Hymn', the tale unfolds with colour, passion and drama; as well as with tricky solo and ensemble work, time signature shifts, some lovely choral development, longing sighs and a surging finale.
It's a busy piece you suspect everyone has enjoyed working on, and it could well see some cracking performances for Mike Kilroy and David Lancaster to compare and contrast from 18 well matched bands looking to claim one of three qualification places up for grabs.
---
Who will win?
A hard one to call especially as ten of the contenders have already enjoyed at least one major contesting outing so far this season - either at Butlins or more recently at Brass at the Guild.
Besses Boys took the title at Skegness but failed to impress at Preston, whilst it was almost the opposite for Pemberton Old Wigan DW B. Butlins was in fact a bit of a disappointment for the other North West contenders with Darwen the only other band to make it into the top six, so it will be interesting to see how the likes of Boarshurst, Haydock, Hoover Bolton and Middleton have bounced back.
There may also be a few salty tears shed at Uppermill as Alan Widdop takes his final bow with the band and would love to 'retire' by sending his charges to Cheltenham, whilst Flixton, Delph and City of Chester could also be in with a fishy shout or two.

4BR Prediction:
1. Besses Boys
2. Pemberton Old Wigan DW B
3. Uppermill
4. Flixton
5. Boarshurst Silver
6. Haydock
Dark Horse: City of Chester
---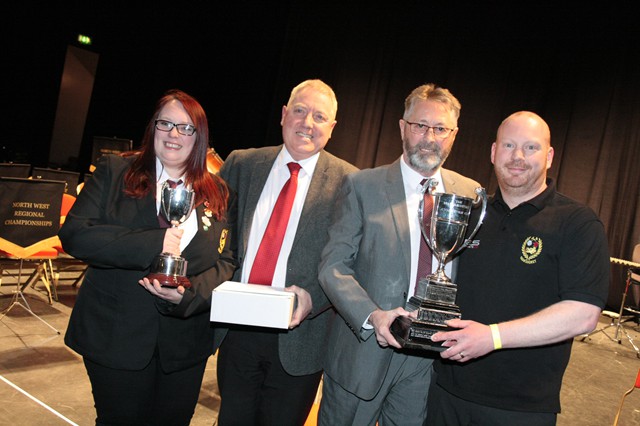 2015 Champions: Boarshurst

Third Section:
Empress Ballroom
Split Draw: 8.30am & 10.30am
Commence: 9.30am
Adjudicators: Michael Fowles & David Roberts
Besses o'th' Barn (Phil Shaw)
Blackpool Brass (John Pearson)
Coppull & Standish (Matt Stringer)
Dobcross Silver (Tim Sidall)
Douglas Town (Robert Mitchell)
Eagley (Matthew Ryan)
Farnworth & Walkden (Matt Shaw)
Greenalls (Phil Boardman)
Greenfield (Tom Haslam)
Hawk Green (Neil Hewson)
Littleborough (Adrian Woodhead)
Lostock Hall Memorial (Phil Edwards)
Parr St. Helens (John Ludden)
Pilling Jubilee Silver (Len Charnock)
Rivington & Adlington (Malcolm Wilson)
Skelmersdale Prize (Karl Stott)
Stacksteads (Fred Bowker)
Trinity Girls (Ryan Watkins)
Valley Brass (Haydock) (David Chadwick)
Welsh banding has been pretty dominant at the National Finals in the past few years - making Cheltenham sound more like Cardiff than Dublin even on Gold Cup Day.
However, the North West has tried damn hard to stem the tide in the Third Section - with no less than 10 top six finishers (including Delph's win) since 2010 (Wales can only boast four). They could also add to that list this time round given the strength of the 19 bands that will take to the stage in the Empress Ballroom.
Solid and well led

Michael Fowles and Dave Roberts will have plenty of solid, well led ensembles to compare and contrast on Michael Ball's neatly structured 'A Cambrian Suite'.
Although used as the set-work for the National Youth Championships and as the set-work for the Fourth Section National Finals in 2002, it still poses enough tricky questions of musicality and technique to sort out the best from the rest at this qualifying level.
Mother tongue

There were a few murmurings that it may be too easy, but as with all Michael Ball works, the simple facade belies its complex inner workings; with bands required to master more subtle aspects of texture and balance, dynamic contrast and lyrical phrasing (these are all linguistically complex songs in their mother tongue). Hats off then to the Music Panel.
It comprises three sections: 'Gwyr Harlech' (Men of Harlech), 'Suo Gan' (Cradle Song) and 'Codiad Yr Hedydd' (The Rising of the Lark) - each familiar to even those without a drop of Celtic blood in their veins.
Rourke's Drift

'Gwyr Harlech' is a bit more fragmentary than the usual 'Rourke's Drift' rendition most people think of, so requires attention to detail as well as pace, whilst 'Suo Gan' needs to be treated with the dulcet fragility of Mary Hopkins rather than a beltissimo Tom Jones: Euph players would do well to listen to a recording of the solo to get the triplet inflection right.
To close, 'Codiad Yr Hedydd' is best played bold and light - as crisp as a Methodist preacher's starched collar before a quick Zulu frightening climax.
Get it right and you can sing songs in triumph like rugby fans after a Welsh Grand Slam - but get it wrong and you may have to find solace rather than celebration in the bottom of a pint glass.
---
Who will win?
This is going to be an interesting one - especially after the bands that filled the top six places at Brass at the Guild are all here - and all played this piece, and played it rather well.
How much would you want to bet on a repeat top six then of Farnworth & Walkden, Blackpool Brass, Stacksteads, Lostock Hall Memorial, Pilling Jubilee Silver and Parr St Helens (seventh placed Skelmersdale played the Butlins test piece)?
All that and you have a rejuvenated Besses o'th' Barn and Greenfield (runner-up at Butlins) to fit into the mix too.
Perhaps it will depend on how much extra Cambrian polish the conductors have been able to apply since - a difficult task at times as players can soon get bored of a piece even if they have been successful on it. A few tweaks here and there then can make all the difference to victory or an all important top three qualification place - but who for?
4BR Prediction:
1. Blackpool Brass
2. Farnworth & Walkden
3. Besses o' th' Barn
4. Greenfield
5. Stacksteads
6. Pilling Jubilee Silver
Dark Horse: Parr St Helens
---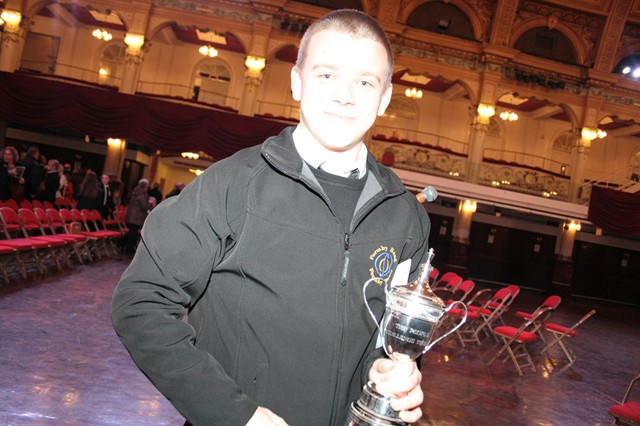 2015 Champions: Formby

Fourth Section:
Pavilion Theatre
Draw: 10.00am
Commence: 11.00am
Adjudicators: Steve Pritchard-Jones & Kevin Wadsworth
Blackley (John Atkinson)
BMP Europe Goodshaw (Josh Hughes)
Brindle (Keith Richmond)
Cadishead Public (Craig McFarland)
Denton Brass (Matthew Bailey)
Dobcross Youth (Richard Windle)
Formby (Louise Hough MBE)
Lees (TBA)
Manx Youth (Ian Clague MBE)
Rode Hall Silver (Nigel Butler)
Sale Brass (Alan Seymour)
Stalybridge Old (David Ashworth)
Stockport Silver (Ian Colwell)
Tarleton Brass (Gillian Bould)
Thornton Cleveleys (Stephen Craig)
Peter Graham loves the intrepid adventures of science fiction and subversive political critique; from the robotic love story of 'Metropolis 1927' and subterranean drama of 'Journey to the Centre of the Earth', to the tetrapod terrors of 'War of the Worlds' - although we may have to ask him a bit more about the Wikipedia credit for the Jonathan Swift inspired film, 'The Key to Determining Dwarves'.
Around the world

This time he returns to Jules Verne - and the whimsical 1873 adventures of Phileas Fogg and his loyal man-servant Passepartout in 'Around the World in 80 Days' - or in Graham's cleverly inspired composition originally written for the National Children's Band in 2012 (although tweaked a little since) - 'The Journal of Phileas Fogg'.
Travelogue vignettes

It's not really a work that stays faithful to Verne's original (in as much as 'Metropolis 1927' is a direct Marxist Leninist critique of the Weimar Republic from Fritz Lang's film) - but more a highly entertaining series of ten, travelogue vignettes.
That said, it does what it sets out to do brilliantly; taking in London (the bet of £20,000 starts at the Reform Club just off Pall Mall) before shifting through Europe in a rather haphazard geographical tour (no sat-nav in those days) taking in the sights and sounds of Paris, Moscow, the Russian Steppes, Vienna, Seville and a homeward trip with a suspiciously sounding Australian passport stamp or two added on.
Good test

It's fun alright, but also a very good test of brass band contesting basics; from intonation, balance and dynamic control to style and musicality - and includes the much neglected art of playing a flowing waltz, a Paso Doble and even the Can-Can.
It's music that puts a smile on the face - but one that can be swiftly wiped off if you don't take the content seriously enough. Try to make too much of it and the music loses its character and wit (Fogg is a bit of a lovable rogue - more Dick Dastardly than Dick Turpin on his travels) so MDs better beware tying to opting for too much style over substance.
Fogg of course wins his wager (the international date-line comes to his rescue) - and although only one band will walk away with the prize here (with the princely sum of £200 to their name) - the runner-up won't be too disappointed by gaining qualification to Cheltenham.
---
Who will win?
As with the other sectionS this weekend, bands have been busy making sure they have put plenty of contesting mileage on this piece under their belts.
The North West also has a very fine record come the Finals, so who ever gets through should be confident of doing well (10 top-six finishes since 2010 - although none in the last two years)
Steve Pritchard-Jones and Kevin Wadsworth have seen plenty of the musical world, so should enjoy themselves in the box even if they could be faced with a hard choice between a host of well matched bands.
Brass at the Guild saw seven of these rivals lock horns on this work, with BMP Europe Goodshaw coming out on top ahead of Tarleton Brass with Brindle in third. Rode Hall, Thornton Cleveleys, Denton and Cadishead were not too far behind either.
Meanwhile, two bands kept their travel plans secret - with Butlins winners Sale Brass and runner-up Stalybridge Old waiting a bit longer before getting their passports stamped. And with the likes of Formby (last year's Area champion), Blackley and Manx Youth also in the mix, it's hard to really find an out and out favourite.
Time to make our pick though - and we are opting for Stalybridge Old and Sale Brass to gain the all important qualification places ahead of Formby, Tarleton, BMP Europe Goodshaw, Rode Hall and our dark horse of Brindle.

4BR Prediction:
1. Stalybridge Old
2. Sale Brass
3. Formby
4. Tarleton
5. BMP Europe Goodshaw
6. Rode Hall
Dark Horse: Brindle