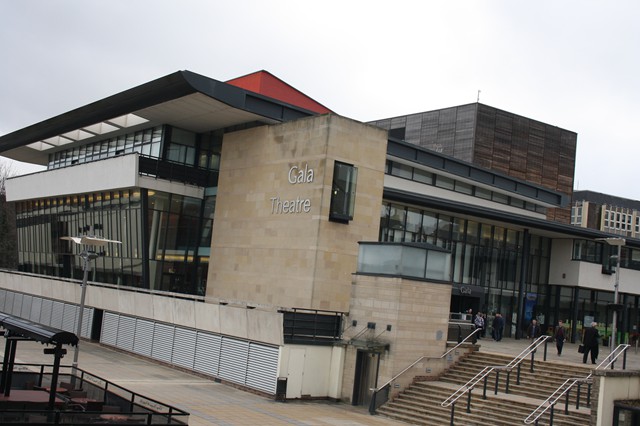 The new North of England power station

There is a great deal of political debate at present amongst the metropolitan elite of London that future UK prosperity lies with so called 'Northern Powerhouses' - cities and communities north of the M42 motorway that will be fired by the modernising forces of the white heat of HS2 rail link technology (to borrow an old Harold Wilson phrase).
Sowing the seeds

Perhaps the politicians have been picking up ideas from the North of England Regional Committee, who has been sowing the seeds for long-term brass band regeneration in these parts over the last few years.
They are not alone: The Brass in Concert Championship has certainly reinvigorated interest on both sides of the River Tyne, and a number of domestic contests are thriving. There are also signs of the tangible benefits enjoyed since the Area contest moved from the rather utilitarian satanic mill feel of the Dolphin Centre, to the Silicon Valley optimism of the Gala Theatre in Durham.
More than rivals

It's certainly been seen in the results at the National Finals: Reg Vardy finishing just outside the top six at the Albert Hall in the last three years, whilst the region has notched up a brace of National titles at Cheltenham since 2010 (including Houghton Brass last year in the Third Section) - the same as their Yorkshire counterparts and more than both Scotland and the Midlands put together.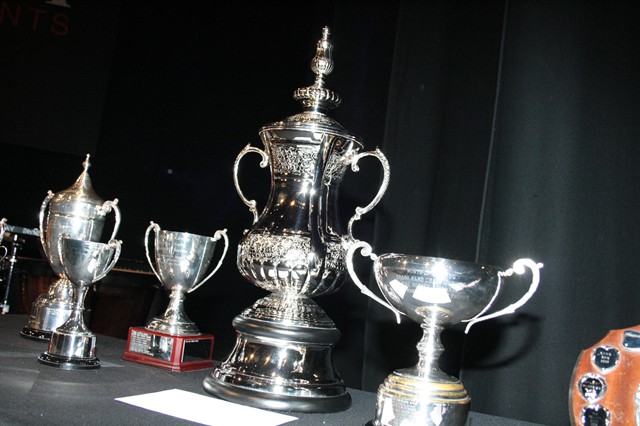 Familiar silverware for some...

For a region with just 41 competitors (up 1 from 2015), that's a record to be proud of - and one which was further boosted in Cheltenham last year by an additional podium place and two other top 10 finishes.
It may be a little while before the North of England powerhouse is producing National title winning wattage to set the country alight, but thanks to Tony Griffiths and his excellent regional committee, plenty of dedicated volunteers and a rich seam of playing talent, it may be getting there sooner than even David Cameron and his Whitehall apparatchiks think possible.
4BR will be in Durham to cover the two days of action, so keep an eye on our live coverage page to see who picks up the prizes and who finds themselves claiming the qualification places.
---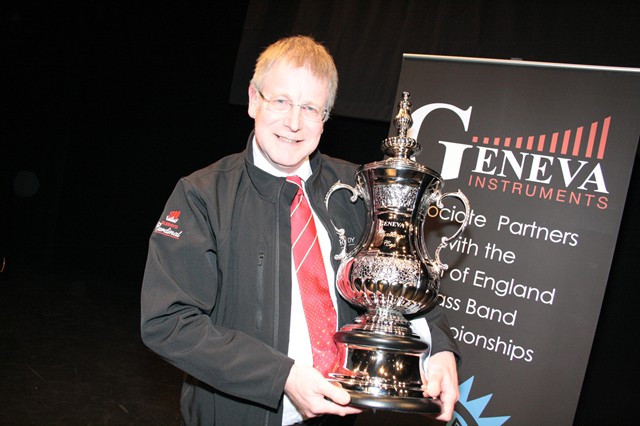 2015 Champion: Reg Vardy

Championship Section:
Test Piece: Cambridge Variations (Philip Sparke)
Sunday 20th March
Commence: After Second Section
Adjudicator: Mark Wilkinson
Easington Colliery (Chris Bentham)
EYMS (Stig Maersk)
Fishburn (Joe Cook)
Kirkbymoorside (John Woodward)
NASUWT Riverside (John Berryman)
Reg Vardy (Russell Gray)
Shepherd Building Group (Richard Wilton)
York Railway Institute (Chris Hirst)
Due to ill health there has been a change in the adjudicator for the event, with Roger Webster replaced by Foden's respected principal cornet player Mark Wilkinson. It's also sad to report there will be no sign of the 2012 champion Felling either. Both will be back to full health very soon we hope.
The Area is the last to remain with the 'one in a box' method, although it is understood that may change for 2017. Over the next few days there is sure to be a brisk trade in bootleg recordings of Foden's winning performance of 'Cambridge Variations' at Blackpool.
Muted help

What help that will be to the eight competitors is a mute point (especially at the beginning of the piece, where the clarity of the running semi-quaver work sets the dynamic level) - but if they can capture the ensemble detail and drive linked to secure solo lines and the clear-cut transparency of the mazy quaver runs as the best did at the Winter Gardens, then they may be in with a fair chance.
As was also heard at Bradford, the best bands were able to hit the required tempo markings (and more in some cases) without losing cohesion, and 'not getting bogged down in the detail' as one of the judges remarked.
And whilst the overall standard may not be as strong here, there are a few bands that should have the ability to show their class without risking their qualification hopes.
---
Who will win?
Over the last few years there have been occasional upsets - although Reg Vardy remains the standard bearer and will be looking for another hat-trick of wins, this time under the baton of Russell Gray.
His lyrical interpretation won admirers with Carlton Main at Bradford, so a reprise should be on the books. If it comes close to what was heard at St George's Hall the odds-on favourite could well be lifting the Regional Trophy for the 36th time.
On paper

On paper it looks like a much closer battle to see who joins them in London - although as was seen in 2012 and 2013, it's not always a sure fire bet that they get things all their own way.
EYMS has pushed them hard in recent years and has enjoyed a significant upturn in contest fortunes of late, but with Alan Morrison no longer at the helm it will be interesting to see what newly appointed MD Stig Maersk can do. He produced a no-nonsense take at Bradford with Yorkshire Imps and more of the same my gain a better reward here.
Fishburn could well be the band to have something to say about that, as they team-up again with local lad/cum Nordic import, Joseph Cook. The partnership has been making excellent progress together, so a first trip to London since 2006 may be on the cards.
However, NASUWT Riverside may just stop that, as they link-up with the vastly experienced John Berryman - although they are in need of a bit of boost after a poor return at the Scottish Open.
4BR Prediction:
It's difficult to see beyond the quartet Reg Vardy, Fishburn, EYMS and NASUWT Riverside, but Easington Colliery is on solid form and the ambitious Shepherd Group may well fancy their chances of taking a few notable scalps as well.
Our joint dark horses (there are just eight bands) are Kirbymoorside and York Railway Institute
1. Reg Vardy
2. Fishburn
3. EYMS
4. NASUWT Riverside
5. Easington Colliery
6. Shepherd Group
Dark Horses: Kirbymoorside and York Railway Institute
---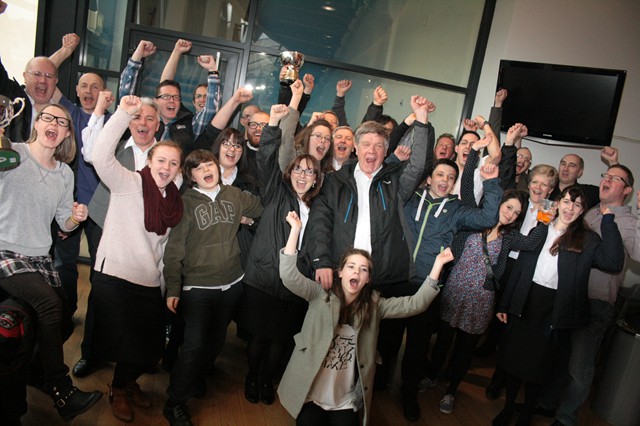 2015 Champion: Kirbymoorside

First Section:
Test Piece: Essay (Edward Gregson)
Saturday 12th March
Commence: 3.00pm approx at conclusion of Fourth Section
Adjudicator: Alan Morrison
Cockerton Silver (Michael Hardman)
GT Group Peterlee (Ian Langthorne)
Harrogate (David Smith)
Lockwood (John Roberts)
Ripon City (Martin Hall)
Westoe (Lee Morris)
Of late, the small First Section here hasn't produced the type of bands that have made a National mark at Cheltenham or a lasting Area impression in the top flight - although that may change with this line-up of confident rivals.
Since BHK Horden won the National title in 2003 it's been pretty slim pickings; just one top six finish at Finals since 2010. Last year's qualifiers came 9th and 11th respectively, so it will be interesting to see how the brace that get through courtesy of their 'Essay' writing skills will do.
Invigilator

The invigilator to impress is none other than Alan Morrison - the top man at the Association of Brass Band Adjudicators - so no point trying to bluff your way through with under-prepared answers on what is already proving to be one heck of a tough exam paper.
That was certainly seen at Blackpool and Bradford - with the judges at St George's Hall making it perfectly clear that no-one really mastered its transparent challenges.
It wasn't the obvious demanding solos and precise, balance ensemble work, or even the more esoteric requirements of poise and poignancy that found them out either: The much more basic requirements of intonation and extraneous noises also caused trouble.
Much then for the sextet to grapple with on Saturday afternoon as they turn over their papers to give their answers: Whoever gets through will have done it the hard way.
---
Who will win?
Last year's runner-up Westoe returns and put in a solid showing at Cheltenham where they came ninth. They haven't exactly been prolific on the contest stage since, so much to ponder as they take to the stage with MD Lee Morris.
Lockwood could be the bookies favourite, as the ambitious outfit laims to make it a hat-trick of Area titles after their successes in the Second Section in the past two years. The experienced John Roberts will surely have picked up a few extra tips from leading Drighlington at Bradford (where they came 5th).
Ripon City may be the band to force their way into the reckoning though under the talented Martin Hall - if they have built on their early season run-out at Preston, whilst Harrogate will be keen to make a mark following their relegation from the top flight.
GT Group Peterlee, who has been making solid progress, will be hoping to carry on in the same direction under new MD Ian Langthorne, whilst Cockerton has been in and around the prizes under MD Michael Hardman.
4BR Prediction:
Not as clear cut as you might think at first glance. That said, Lockwood seem to be a band on the rise and could find themselves planning another trip to Cheltenham alongside Harrogate, whilst Westoe could also force their way into the reckoning.
Ripon, GT Group Peterlee and Cockerton won't be far behind for certain.
1. Lockwood
2. Harrogate
3. Westoe
4. Cockerton
4. Ripon
6. GT Group Peterlee
---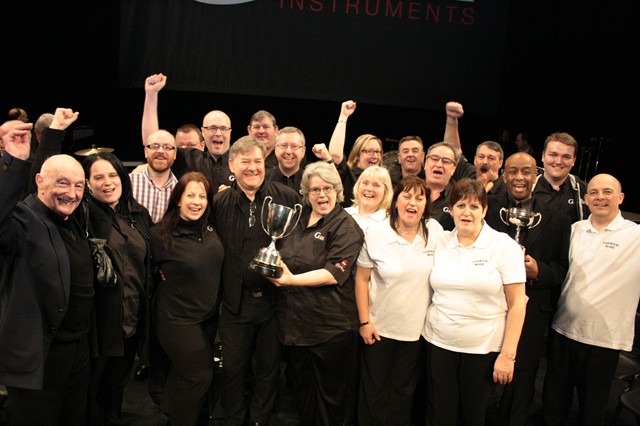 2015 Champion: Lockwood Brass

Second Section:
Test Piece: The Mermaid of Zennor (Philip Harper)
Sunday 13th March
Commence: 1.00pm approx at conclusion of Third Section
Adjudicator: Alan Morrison
Ashington Colliery (David Kendall)
Billingham Silver (Vaughan Evans)
Durham Miners Association (Stuart Gray)
Dunston Silver (Aidan Hodgson)
East Riding of Yorkshire (Garry Hallas)
Ellington Colliery (Jonathan Fenwick)
Houghton Brass (Tom Gibson)
NASUWT Concert (Andrew Hunter)
Philip Harper's mythical Cornish love-story has proved a popular choice for the competing bands - and certainly brought the best out of them at Blackpool and Bradford.
Hopefully it will be the same here, with eight solid looking rivals all ready to explore their Piscean romantic inclinations to find their way to Cheltenham.
Lapping waves

Once again they will have to do so by impressing the top man at ABBA, with Alan Morrison sure to be keeping his ears cupped for those able to capture both the busy pulse of the working seafarers as well as the lilting feel of the lapping waves on the sides of their boat in the opening movement.
Euph players have enjoyed themselves as the leading voice of the local church choir in the central section, whilst the best bands have brought drama as well as momentum to the final chase to the foaming waters in 'Return to the Waves'.
It is music full of character as Philip Sparke said at Bradford - but also a score full of pitfalls for the unwary or over-confident too; with ensemble intonation, subtle dynamic contrasts and sensitive percussion also key ingredients to master if the tale is not to sound as raw as plate full of mermaid sushi.
---
Who will win?
Despite its size, the North of England has punched above its weight at the Cheltenham in recent years - boasting one win and runner-up finish since 2010 - although last year's qualifiers came 10th and 15th respectively.
Plenty to aim for then with some ambitious contesting outfits - a number of who have locked horns at the Durham League contest earlier this year, and a couple who also headed to Butlins.
Relegated Ashington will be keen to make a mark after coming 6th at Durham, as will Billingham who will be looking for their first trip to the Finals since 2008. Durham Miners Association topped the results table at their home contest and will look to carry that form forward, whilst promoted Dunston dipped their toes in Skegness waters but found it a little chilly.
East Riding of Yorkshire has been making solid progress over the last few years and have the experienced Garry Hallas at the helm, whilst Jonathan Fenwick returns with Ellington Colliery after they claimed a solid midfield finish at Butlins.
Third Section National champions Houghton enjoyed a great 2015 and will be looking to build on that as they make the step-up (and coming runner-up at the Durham League contest), whilst NASUWT Concert continues to grow in contesting maturity.
4BR Prediction:
This could be the keenest battle of the weekend - with a decent case to be made for each of the contenders.
However, and with our necks on the line we go for Durham Miners Association and Houghton Brass to nip ahead of Ellington Colliery, with East Riding of Yorkshire just behind. NASUWT Concert and Billingham may also just pip our joint dark horses of Dunston Silver and Ashington Colliery.
1. Durham Miners Association
2. Houghton Brass
3. Ellington Colliery
4. East Riding of Yorkshire
5. NASUWT Concert
6. Billingham Silver
Dark Horses: Dunston Silver and Ashington Colliery
---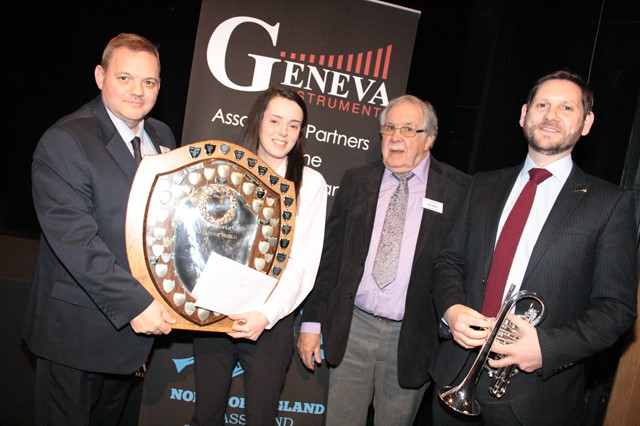 2015 Champion: Houghton Brass

Third Section:
Test Piece: A Cambrian Suite (Michael Ball)
Sunday 20th March
Draw: 8.30am
Commence: 10.00am
Adjudicator: Mark Wilkinson
Backworth Colliery (Colin Harris)
Barton Community (Gary Oglesby)
Bearpark & Esh (Peter Elcoat)
Burneside Brass (Laurie Johnston)
Ferryhill Town (Andrew Hall)
J36 Brass (Andrew Warriner)
Kingsway Cleethorpes (Steve Askew)
Marske (Alun Prest)
Murton Colliery (Tom Maddison)
North Skelton (George Nicklin)
Trimdon Concert (Philip Tait)
Much for the competing bands to live up to this weekend - especially if they are to go on to emulate the fantastic triumph of Houghton Brass at Cheltenham.
That memorable win gave the region a huge collective boost of confidence, as it was the first time a band from the region had even had a mention off the stage since 2010. Hopefully more to come then as eleven well matched rivals tackle the Celtic inspired challenges of Michael Ball's 'A Cambrian Suite'.
It's a piece that has caused a few linguistic musical headaches so far, with Bob Childs and Michael Dodd the latest judges (Michael Fowles did the same in Blackpool) to remind bands that the composer has a well known reputation for making his intentions clear on the score.
Welsh flanker

Stray too far and trouble looms like a Welsh flanker bearing down on an over-confident English outside-half at Twickenham: The result could be painful. Stick to the game plan and things should be cushty. There's no need to try and do something that isn't written in the script here.
Mark Wilkinson will be the man to impress in the box - and after sitting opposite a proud Welshman in Glyn Williams at Foden's for over 20 years, he will know his way around 'Men of Harlech', 'Suo Gan' and 'Codiad Yr Hedydd' for certain.
---
Who will win?
Another close battle looms you suspect - with no out and out favourite and more than a couple of bands who have more mystery about them than Merlin the Magician.
Recent form is patchy to go by, although the promoted duo of Bearpark & Esh (who came a fine third at the Fourth Section National Final) and Backworth Colliery could be worth a bob or two at the bookies.
Then there is the solid looking trio of North Skelton, Marske and Murton Colliery (despite their relegation) and Kingsway Printers, who will be looking to get to the Finals for the fourth time since MD Steve Askew took over the baton in 2006.
Ferryhill Town will be aiming to go one better after coming third last year, whilst Barton Community has been making good progress under Gary Oglesby since being set up in 2012.
That leaves the rather intriguing trio of the returning Burneside Brass, Trimdon Concert under the youthful baton of Reg Vardy principal cornet Phil Tait and debutants J36 Brass - named after the junction on the M6 where they are based. Rumours abound that they could be the band to beat.
4BR Prediction:
A tough one - but if those rumours are anything to go by the band named after a motorway junction could well be looking towards a trip to the bottom end of the M5 later this year.
Bearpark & Esh may well join them there to pip Ferryhill Town, with a top six of Murton Colliery, North Skelton and Marske. Our dark horse is Trimdon.
1. J36 Brass
2. Bearpark & Eash
3. Ferryhill Town
4. Murton Colliery
5. North Skelton
6. Marske
Dark Horse: Trimdon
---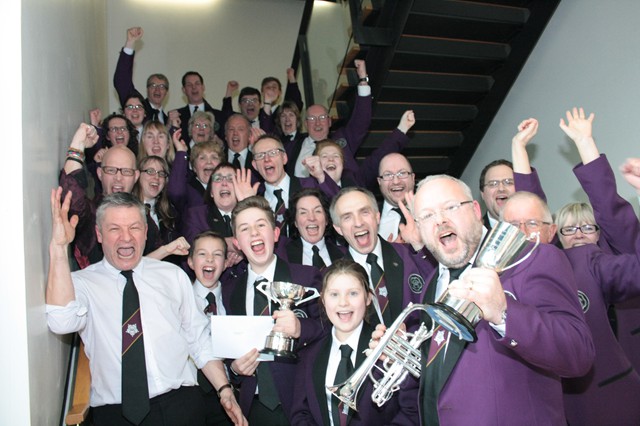 2015 Champion: Knaresborough Silver

Fourth Section:
Test Piece: The Journal of Phileas Fogg (Peter Graham)
Saturday 19th March
Draw: 10:30am
Commence: 12 noon
Adjudicator: Alan Morrison
Beverley Brass (Peter Kench)
Craghead Colliery (Jack Dodds)
Jayess Newbiggin (Andrew Griffiths)
Knaresborough Silver (Steve Moreland)
Lanchester (Steve Robson)
Penrith Town (Mark Wilkinson)
Spennymoor Town (Neil Davies)
Swinton & District (Robin Rutter)
This area of the country has produced its fair share of intrepid travellers over the years - including a certain James Cook of circumnavigating fame.
Unfortunately, he came to a rather sticky end - which is not what any of the eight competitors want to experience as they plan their musical travels to take in London, Paris, the Russian Steppes, Vienna, Spain and a touch of Australia.
Mini break snapshot

'The Journal of Phileas Fogg' has proved a popular test-piece; each of the stereotypical vignettes not just giving a mini-break snapshot of Euro destinations but also a fine test of good contesting basics.
And if the passport applications are stamped in the right place (including a very tricky waltz) bands can look forward to the exotic delights of Cheltenham come September.
The Final haven't been the happiest of historical hunting grounds for the region's qualifiers, but things have looked up of late with a brace of podium finishes in the past two years - so you never know what the final destination could bring as they set out on their travels on Saturday lunchtime.
---
Who will win?
There are eight solid contenders here all with the ability to snatch victory - so plenty for Alan Morrison to compare and contrast in the box.
Good to see the annual returns of Beverley, Spennymoor and Penrith (directed by Mark Wilkinson), whilst last year's champion Knaresborough will be looking for a return of their own - back to Cheltenham. Jayess Newbiggin comes with good form tucked under its belt, as do Swinton & District after a fine runner-up place at Bolsover late last year.
With Craghead Colliery boosted by a podium finish at Durham and Lanchester looking to carry on their progress, it could be a close battle.
4BR Prediction:
A contest with almost any number of potential winners - so time to put tipping tuppence in for good measure. We are going for a return to Cheltenham for Knaresborough - joined by Jayess Newbiggin.
That may just mean Swinton & District and Craghead Colliery missing out alongside Spennymoor, and Lanchester with our dark horses of Penrith and Beverley Brass.
1. Knaresborough
2. Jayess Newbiggin
3. Swinton & District
4. Craghead Colliery
5. Spennymoor
6. Lanchester
Dark Horses: Penrith and Beverley Brass