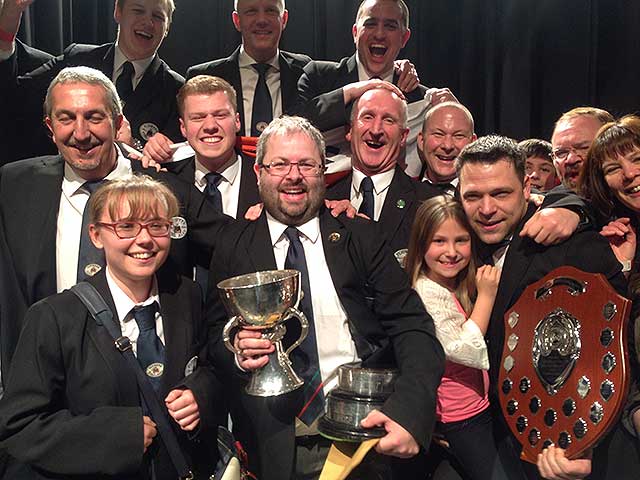 Lots of smiles in Torquay

There can't be a more upbeat regional contest to attend this year than the West of England Championships in Torquay. Optimism is bubbling at all levels like fermenting scrumpy in a local famer's back yard barn - from the smallest community bands with one eye on Cheltenham to the heavyweight contenders with Royal Albert Hall ambitions.
Although the region was unable to add to its impressive recent tally of National title winning success in 2015, the efforts of their representatives from Fourth to Championship level surely filled supporters with confidence for the future.
Leading the way

And it was the top section bands that finally led the way - with Flowers and Camborne securing excellent top-six finishes at Kensington Gore to see three bands qualify this year for the first time since 1994.
Meanwhile, five Cheltenham qualifiers secured top 10 finishes - including a fine runner-up spot for Camborne Junior Contesting in the Third Section. Only the North-West and Wales have produced more top-six finishers there since 2010.
And with Woodfalls also claiming a long awaited return to the British Open, youth bands producing prize winning musical talent that is being exported to play, conduct and compose with some of the very best bands all over the country, you can see why people tend to wear a smile on their banding faces.
Tribalism

It's not to say that there isn't a fierce local rivalry on occasions - but any tribalism between Cornwall, Gloucestershire, Devon, Wessex and all stops in between, is invariably accompanied by a cheerful pint of beer and plenty of good humour.
The Regional Championships are very well run at the Riviera Centre by Sue Oldfield and her team. You may hear the cackle of the occasional seagull making its voice heard in the sky during the quieter passages of a band's performance in the Forum auditorium, but it's a quirky price to pay for the warm welcome that visitors always receive.
4BR will be making the trip down the M5 to cover the weekend, which this year sees the action kick off on Saturday with the Fourth Section (9.30am) in the Arena, and the Third (10.00am) and Championship in the main Forum.
---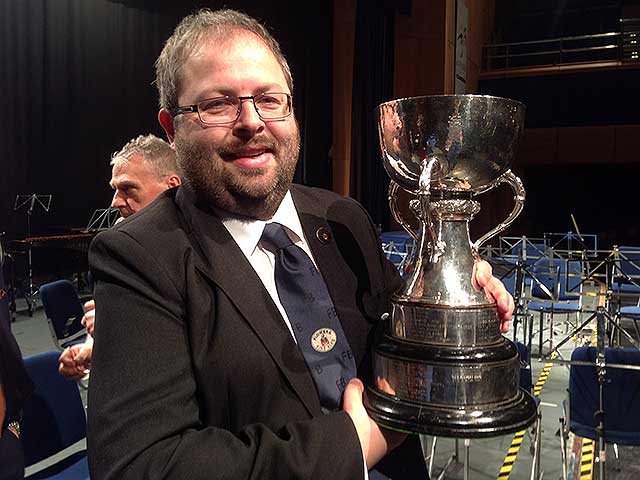 2015 Champions: Flowers

Championship Section:
Test Piece: Cambridge Variations (Philip Sparke)
Saturday 12th March
The Forum
Draw: 1.00pm
Commence: 3.30pm
Adjudicators: Jacob Dijkstra and Richard Marshall
Aldbourne (David Johnson)
Alder Valley Brass (Roger Burke)
Bournemouth Concert Brass (Matthew Brown)
Camborne Town (Ian Porthouse)
Filton Concert Brass (Tom Davoren)
Flowers (Paul Holland)
Lanner & District Silver (Leonard Adams)
Lydbrook (Glyn Williams)
Mount Charles (Nigel Seaman)
St Austell Town (Steve Sykes)
Verwood Concert Brass (Kevin Smith)
Woodfalls (Dr Robert Childs)
Yeovil Town (Ian Holmes)
There was a time when the main talking point about this contest was whether or not the reigning champion could successfully defend its title: Now it's about which two bands will join perennial winners Flowers at the Royal Albert Hall.
Their transformation from decent top-flight also-rans into a band many consider to be one of the few short-priced favourites for major honours has paid a welcome dividend for rivals who may have thought that their regional hegemony was detrimental to the health of top flight banding in the region.
Stranglehold

It rather mimics what happened across the River Severn a decade or more ago when Cory gained a stranglehold on the Area title. First it was thought of as being a bad thing for Welsh banding - only for it soon to have a beneficial 'trickle down' effect that now regularly sees three and even four Welsh contenders make the annual trip to London.
This is no noblesse-oblige on Flowers part - and you suspect they won't be in any hurry to extend their largesse to relinquishing their title anytime soon, but their pre-qualification has given the contest an added piquancy: Long may it continue.
Paul Holland's band won't be taking anything for granted either on 'Cambridge Variations' - as it has more than shown that despite its age it can still inflict a terminal bite on title-winning ambitions that would make even an attack from the Beast of Bodmin feel like a nip from a guinea pig.
Hard yakka

Only bands that have put in the hard, hard rehearsal yakka will be able to muzzle it successfully: From the opening muted balances, the demanding flugel and cornet solos, the mazzy, wriggling chromatic runs and the final, fractured run for home, the craftsmanship of 'Cambridge Variations' is gloriously severe on the unwary and under-prepared.
The good news is that there appears to plenty of hard grafting contenders taking to the stage, although you suspect Jappie Dijkstara and Richard Marshall would love to be able to sort out their results without writing their remarks with pens full of a rabies antidote.
---
Who will win?
It is hard to see past Flowers making it five wins in a row - but as was shown last year when they were really pushed by Camborne (who went on to come sixth at the Albert Hall) the rather dead acoustic of the Forum doesn't always do them any great favours.
That said, they should have more than enough firepower, technical polish and the additional musicality from their star soloists to again come out on top, despite Camborne best efforts to claim their first Area title since 2009.
Woodfalls will want to banish the memories of a disappointing performance last year as they look to secure their first win since 2011 to emulate their rivals with appearance at both the Open and National, whilst last year's podium finishers Filton Concert Brass may be the band that could sneak in and beat the lot. They certainly sounded a confident band in winning the Welsh Open earlier this season.
It's hard to see past this group for a winner, but qualification may well be on the horizon for Mount Charles as they look to return to London for the first time since 2008, whilst Aldbourne can't be discounted as they team up again with the inspirational David Johnson.
Lydbrook and St Austell are solid challengers, but after that it's more Foinavon territory.
4BR Prediction:
If they play to form Flowers are a class above the field and should add another regional title to their name. Camborne and Woodfalls should also join them in London if they are also on top of their contest game.
Filton Concert and Aldbourne look like they could snap at their heels, alongside Mount Charles and our dark horse of Lydbrook.
1. Flowers
2. Camborne
3. Woodfalls
4. Filton Concert
5. Aldbourne
6. Mount Charles
Dark Horse: Lydbrook
---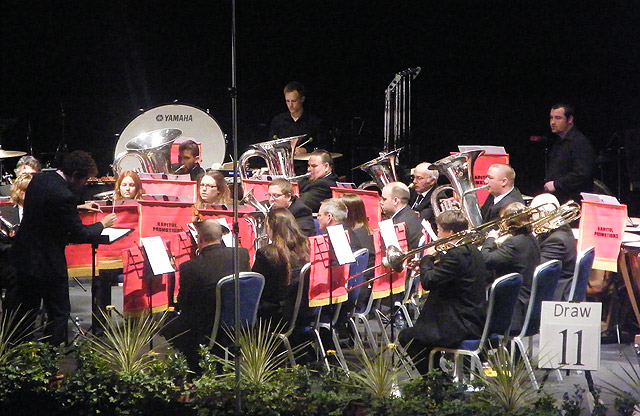 2015 Champions: Roche Brass at the National Finals

First Section:
Test Piece: Essay (Edward Gregson)
Sunday 13th March
The Forum
Draw: 1.00pm
Commence: 2.30pm approx
Adjudicators: Jappie Dijkstra and Alan Fernie
A W Parker (Drybrook) (Josh Ruck)
Brunel Brass (John Winterflood)
Chalford (Steve Tubb)
Forest of Dean (Gareth Ritter)
Helston Town (David Johnson)
Hyde (Jonathan Lush-Camps)
Michelmarsh Silver (Major David Barringer)
Otterbourne Brass (Melvin White)
Pendennis Brass Falmouth (John Woodrow)
Roche Brass (Garry Cutt)
Sherborne Town (Steve Rogers)
St Dennis (Darren Hawken)
St Keverne (Gareth Churcher)
St Pinnock (Jane Whitehead)
Wooton-under-Edge & District (Ian Dickinson)
There is a large field of fifteen bands waiting to tackle Edward Gregson's imposing 'Essay' on Sunday afternoon.
Even now you can sense the sweaty trepidation before conductor's turn over the cover page to reveal the opening 'Dialogue' question. It has already proved to be an uncomfortable examination of aspiration - a transparent indicator of First Section reality in Blackpool and Bradford.
Thematic material

The thematic material of the flowing 'Dialogue' is incrementally built upon before the music segues into a sparse 'Soliloquy' and a final, spiky 'Epigram' - a novella that requires musical understanding without losing lucid control of the technical boundaries.
If the obvious demanding solos and precise, balance ensemble work are not enough of a test, then there are the more esoteric requirements of poise and poignancy let alone intonation and even extraneous noises that caused the judges at Bradford in particular to raise an eyebrow or two.
Whoever gets though will have earned the right to represent the region with pride at Cheltenham - and will know just how far away they really are from the foothills of the Championship Section: 'Cambridge Variations' is in another league all together.
---
Who will win?
That said, there are plenty of ambitious bands who will fancy their chances of giving the Dutch/Scottish invigilators of Jappie Dijkstra and Alan Fernie the musical lingua-franca answers they are looking for - headed by last year's winner Roche Brass.
Boosted by recent signings and the return of Garry Cutt, they could well be the favourites to top the qualification class once more - although there are a number rivals who will push them close.
Hyde, St Keverne and Helston all featured in the top six last year and are led by a trio of experienced MDs in Jonathan Lush-Camps, David Johnson and Gareth Ritter, whilst the relegated duo of St Dennis and Sherborne will be looking to make an immediate impression.
Brunel Brass has a proven track record at this level, whilst Otterbourne and Michelmersh will also benefit from the experience their MDs Melvin White and Dave Barringer bring.
After that it's a bit more multiple-choice than reasoned guesswork, although the two promoted bands of Wotton under Edge and AW Parker (Drybrook) could be decent outside bets for a top 10 finish.
4BR Prediction:
A hard one to call, but Roche Brass showed a great deal of quality last year in claiming the title, and if they have built on that they could well be the narrow favourites, whilst Helston and Brunel Brass could push them all the way to Cheltenham.
The two saints of Keverne and Dennis should be in with a shout alongside Hyde and our dark horse of Otterbourne Brass.
1. Roche Brass
2. Helston Town
3. Brunel Brass
4. St Keverne
5. St Dennis
6. Hyde
Dark Horse: Otterbourne Brass
---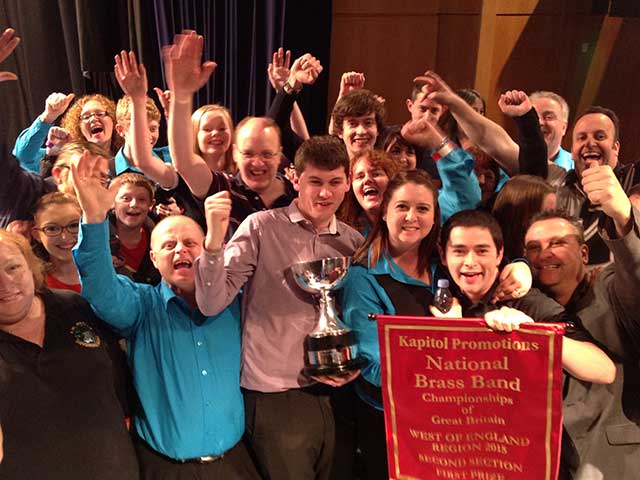 2015 Champions: AW Parker (Drybrook)

Second Section:
Test Piece: Mermaid of Zennor (Philip Harper)
Sunday 13th March
The Forum
Draw: 8.45am
Commence: 10.00am
Adjudicators: Philip Littlemore and Richard Marshall
Andover Town (Steve Large)
Bodmin Town (John Maines)
Bream Silver (Philip Turner)
Bugle Silver (Steve Osborne)
Camborne Junior Contesting (Alan Pope)
City of Bristol Brass (Bryn James)
Denmead Brass (Estelle Flood)
Downton (Paul Williams)
New Forest Brass (Ian Luxford)
Ocean Brass (Edward March)
Poole Borough (Dr Chris Davis)
Shrewton Silver (Michael Dunford)
Sidmouth Town (Adrian Harvey)
Soundhouse Brass (Lee Clayson)
S W Communications (David Shead)
Swindon Pegasus (David Mace)
This is a region of the country that has a very strong connection to the sea, so there cannot be a better piece to inspire the bands this weekend than Philip Harper's colourful set work.
It may well be a mythical tale of young love lost in the heady waves of romance - but you can bet your bottom dollar that quite a few fumbling brass band relationships started amid the sand dunes of beaches from St Ives to Weston super Mare.
Happy memories

Happy memories for some conductors then as they recall their testosterone fuelled youth eyeing up the pick of the local catch - although they may enjoy much more lasting satisfaction if they can claim one of the two qualification places on offer.
That's because it's a work that demands quite a bit more care and attention than a fishy one night stand: This mermaid of Zennor certainly takes her time to be reeled in hook line and sinker - especially in the opening movement that combines the four square industry of the seafarers with the more 'two in a bar' lilting of the waves that lap their boats.
Narrative line

The narrative line may well be easy to follow, but still asks searching questions of good contesting basics throughout; especially with the hymnal qualities of Axbridge and the warm euphonium lead in 'At the Church', and the increasing drama of the final 'Return to the Waves'.
Get it right and two bands will be celebrating long into small hours of Monday morning let alone Sunday afternoon if they have caught the ears of Phillip Littlemore and Richard Marshall in the box.
And there may be further celebrations to enjoy at Cheltenham where the region has enjoyed great success of late - including one victory and five top-six finishes since 2010 - so plenty to cast the nets and fish for...
---
Who will win?
With last year's qualifiers promoted it seems to be a very open field with a host of contenders eager to claim the qualification places on offer.
Bodmin just missed out last time and could be in with a strong shout once again, whilst those sprat sized nippers from Camborne Junior Contesting came tantalisingly close to winning the Third Section National titles at Cheltenham. You suspect they won't be daunted by the step-up in class.
Poole Borough and City of Bristol are two solid looking outfits led by conductors with more experience searching for illusive prizes than Captain Ahab, whilst Downton and Sidmouth Town could nip in for a top-six finish or better.
4BR Prediction:
That extra level of experience may just count this time, with City of Bristol under Byrn James and Bodmin with John Maines perhaps just having the edge over Poole Borough and Camborne Junior Contesting to claim the qualification places.
Downton and Sidmouth are well led bands with a good mix of youth and experience and should be in with a shout, whilst our dark horse is the appropriately fishily-named Bream Silver.
1. City of Bristol
2. Bodmin
3. Poole Borough
4. Camborne Junior Contesting
5. Downton Brass
6. Sidmouth Town
Dark Horse: Bream Silver
---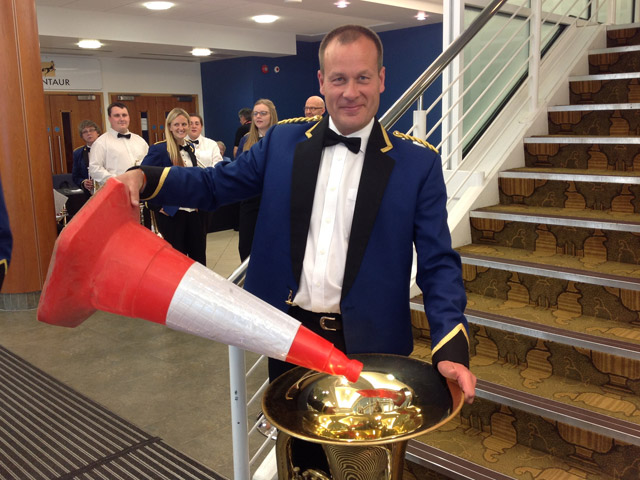 2015 Champions: Soundhouse Brass at Cheltenham

Third Section:
Test Piece: A Cambrian Suite (Michael Ball)
Saturday 12th March
The Forum
Draw: 8.45am
Commence: 10.00am
Adjudicators: Jappie Dijkstra and Richard Marshall
Bath Spa (Martin Perry)
Bratton Silver (Simon Carr)
Chalford Academy (Steve Tubb)
Cinderford (David Hayward)
Corsham (Colin Hogg)
Gillingham Imperial Silver (Jim Bennett)
Heyl Town (Shaun Marsden)
Midsomer Norton & Radstock Silver (Joanne Sykes)
Phoenix Brass (Crewkerne) (David Boorer)
Porthleven Town (Tom Bassett)
South Molton Town (Gil Taylor)
Spinnaker Brass (Ted Howard)
St Stythians (James Burns)
Swindon Brass (Francis Cowley)
Tewkesbury Town (Nigel Morgan)
Weston Brass (Bryn James)
Weymouth Concert Brass
Wilton & District (Colin Herbert)
The people this side of the River Severn have always had a bit of bother with their Celtic neighbours over the years - although in some areas they share almost the same type of mysterious language, the ability to have family arguments that last for generations and have a deep, abiding love of music - and brass bands and choral singing in particular.
Essential ingredients

That could well come in handy as some of the essential ingredients they may have to call upon for inspiration with Michael Ball's tricky 'A Cambrian Suite' - which has already proved to be a severe test of musical linguistics.
As the judges at both Blackpool (Michael Fowles in particular) and Bradford (Dr Robert Childs and Michael Dodd) made clear - the composer has a well respected reputation for having a very specific sound and tempo remit in his mind: One that he clearly lays out in his scores.
Horizontal and vertical

Michael Fowles called it 'horizontal and vertical' reading; that found above and below the staves, whilst Bob Childs referred to the 'pitfalls' that can only be overcome by adherence to the delivery of good dynamics, playing together and in tune.
It was clear what they meant, as those who strayed too far from the linguistic path soon got into trouble - whilst those who stuck to the directions by following the welsh-cake crumbs on 'Men of Harlech', 'Suo Gan' and 'The Rising of the Lark' tended to end up in qualification territory.
It sounds ever so simple - but as bands have found to their cost so far, it is much harder than it looks.
---
Who will win?
Much then for the 18 bands to ponder on Saturday morning as they seek to claim one of the three qualification places that are available courtesy of Jappie Dijkstra and Richard Marshall in the Forum box.
Although the region hasn't produced a National champion since 2009, it has maintained a good record, with four top-six finishes - including Camborne Junior Contesting coming runner- up last year.
4BR Prediction:
With Soundhouse Brass, Camborne and Denmead promoted, last year's top six of Bath Spa, Midsomer Norton & Radstock Silver and Corsham could be short priced favourites to battle it out for the podium/qualification honours, whilst relegated Weston Brass and Cinderford could also be in with a shout.
Bratton Silver and our dark horse of Spinnaker Brass could be worth an outside bob or two bet.
1. Corsham
2. Bath Spa
3. Midsomer Norton & Radstock Silver
4. Cinderford
5. Weston Brass
6. Bratton Silver
Dark Horse: Spinnaker Brass
---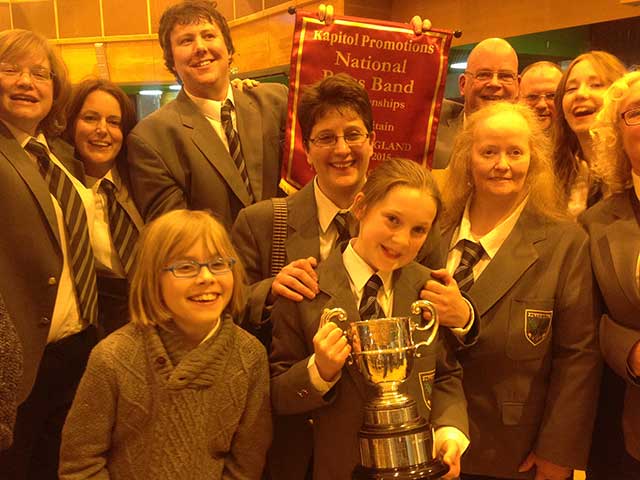 2015 Champions: Pillowell Silver

Fourth Section:
Test Piece: The Journal of Phileas Fogg (Peter Graham)
Saturday 12th March
The Arena
Draw: 8.30am
Commence: 9.30am
Adjudicators: Alan Fernie and Phillip Littlemore
Bideford Town (Mark Durham)
Cheltenham Silver (Nigel Galliott)
Gosport Silver Brass (Colin Garner)
Hatherleigh Silver (Matt Green)
Indian Queens (Mark Arnold)
Launcester Town (Colin Gay)
LostwithielTown (Norman Pendray)
Lydney Town (Kevin Ford)
Nailsworth Silver (Paul McLaughlin)
Newquay (Ben Martin)
Okehampton Excelsior Silver (Richard Beardon)
Pendeen Silver (Darren Jenkin)
Pillowell Silver (Ian Whitburn)
Redruth Town (Sara Munns)
Saltash Town (Bob Julian)
Shaftesbury Town Silver (Martin Hill)
Shanklin Town (IoW) (Malcolm Lewis)
Test Valley Brass (Matt Pithers)
Tiverton Town (Colin Dance)
Totnes (Phil Cleave)
Verwood Town (Emma Button)
The Arena auditorium may not be the most glamorous contesting stage in the banding world, but its Bedouin tent acoustic cover does lend it a touch of the exotic - something which the 21 bands here will have to capture in musical spirit if they are to claim one of the three qualification places.
Cracking travelogue

'The Journal of Phileas Fogg' has proved to be a cracking travelogue tour of the sights and sounds of London, Paris, the Russian Steppes, Vienna, Spain and a curious touch of Australasia thrown in for good measure.
The cartoonish adventures are enjoyable stereotypical cultural vignettes, but they are also put together with a great eye for detail, colour and texture - as well as tricky banding basics.
That is certainly heard with the elegant Viennese waltz, which has found some conductors stuck between the proverbial rock and a hard place; either to beat a quick three or a languid, but more troublesome, one in a bar.
Bravura trumpeter

Alan Fernie and Phillip Littlemore have bags of experience in writing for bands at this level and know exactly what can be played in comfort and what can't; from the tricky wood block horses hooves that signal the trot through the streets of London to the bravura trumpeter signalling the start of the Spanish bull fight.
Get it right and things fall into place with such a sense of adventure that the final ride for home and the £20,000 prize (a bit more than the £200 on offer to the winners here) has a noble triumphalism about it. However, get it wrong and bands could be coming through the door to the famous Pall Mall club with their tails between their legs.
That said, whoever does qualify will be confident of doing well at Cheltenham where over the years the region has a proud record - although you have to go back to 2009 for the last time they returned back home like Phileas Fogg in triumph.
Last year's representatives ended up 8th, 13th and 19th - so a little bit of work to do this time round.
---
Who will win?
This is perhaps the hardest regional contest of all to call - so apologies to the bands that we have given the traditional 4BR 'kiss of death' to.
Looking for lasting form here is like looking for needle in the proverbial haystack, but with last year's winner Pillowell back again (and they came 8th at Cheltenham) they may be the bookies favourites.
We're also taking a tipping fancy to Lydney Town and Tiverton Town if they have built on last year's solid returns, with Cheltenham Silver, Saltash, Test Valley Brass and last year's qualifiers Totnes in the mix.
In celebration of the far-flung nature of Phileas Fogg's travels our dark horse is the equally exotic sounding Indian Queens.
4BR Prediction:
As we have said - this one is perhaps the hardest contest to call anywhere around the regions, so we have tried our best and good luck to everyone taking part.
We've opted for Cheltenham, Tiverton and Lydney to get the qualification places, but it could just as easily be Shanklin, Test Valley Brass and Totnes alongside our dark horse and plenty of others.
1. Cheltenham
2. Tiverton Town
3. Lydney
4. Shanklin
5. Test Valley Brass
6. Totnes
Dark Horse: Indian Queens