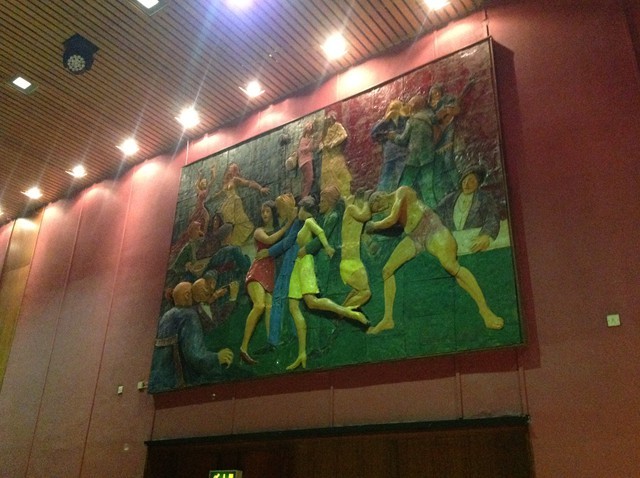 A calming influence abounds in Bedworth

If the tribal passion of the Scots, or the excitable emotions of the North East or West of England are not quite your cup of tea this weekend, why not go and enjoy the common sense approach to banding that is on show in the Midlands?
You won't be disappointed.
Sober

There is almost a deliberate air of sober calmness about Bedworth and the contests that take place in the Civic Hall and Nicholas Chamberlaine Technology College: Unlike some areas of the country, people in these parts don't tend to wear their banding hearts on their sleeves or at the bottom of a pint glass for everyone to see and hear.
It's as if the bands turn up at the venues to enquire about library opening hours in Hathern or the availability of evening cookery classes in Ratby. It's not that they don't have that same ingrained passion about their banding - far from it in fact - but they do tend to keep a lid on their more feral emotions - until the announcement of the results that is.
No wins

Perhaps the region's record of late at the National Finals has something to do with it: No win at the Albert Hall since the heady Desford days of the late 1980's, and no Cheltenham title winning silverware since 2008.
There have been occasional near misses (not at London - where the record has been lamentable over the last few years) with 19 top-six finishes at Cheltenham since 2010. However, for a region regularly registers around 80 competing bands and has a thriving local contesting scene, it's about time some long overdue silverware was displayed in a qualifier's trophy cabinet.
Half of last year's representatives at Cheltenham claimed top-six finishes, so confidence should be high this time around for whoever gets through.
Brilliant job

Lesley Bentley and her regional committee do a brilliant job running the event over two days in two separate venues. You are guaranteed a warm welcome and the contest runs like clockwork - with Saturday kicking off with the First Section at the Civic Hall at 11.00am and with the Third Section taking place at the Nicholas Chamberlaine Technology College at the same time.
Sunday sees the Second Section (10.00am) followed by the Championship in the Civic Hall, whilst 18 Fourth Section bands compete in the Technology College (11.00am).
4BR will be there to bring you our usual live action coverage - but why not take a trip to Bedworth yourselves. They also do a very nice bacon butty in the cafeteria there; so who can ask for anything more.
---

2015 Champions: Virtuosi GUS

Championship Section:
Test Piece: Cambridge Variations (Philip Sparke)
Sunday 13th March
Civic Hall
Draw 1.00pm
Commence: After Second Section results
Adjudicators: Steve Sykes and Jim Davies
Bilton Silver (Rugby) (David Stowell)
Derwent Brass (Keith Leonard)
Desford Colliery LCIWTF (Thomas Wyss)
Jaguar Land Rover (Dave Lea)
Leicestershire Co-operative (Graham Jacklin)
Newstead Brass (Duncan Beckley)
Ratby Co-operative (Michael Fowles)
Shirley (Dave Bishop Rowe)
Spal Sovereign Brass (Trevor Jones)
Staffordshire (Leigh Baker)
Thoresby Colliery (Ian McElligott)
Virtuosi GUS (Adam Cooke)
As we have already heard in Blackpool and Bradford (and which will surely be repeated in Durham, Torquay and Perth) 'Cambridge Variations' is going to be a severe test of qualification, let alone title winning aspirations this weekend.
Just how many bands will travel to Bedworth inherently confident that they have mastered its ensemble intricacies of balance and precision allied to searching lead lines and stamina sapping dynamics is open to question.
Bravura

Despite the bravura outward appearances of players and conductors before they step foot on stage, you can bet your bottom dollar quite a few will have already said a secret prayer or two hoping nothing too horrendous goes too wrong over the next 15 minutes.
There is plenty of quantity here, but the question mark is over true Championship quality.
Desford is the only current British Open band, whilst Virtuosi GUS and Jaguar Land Rover are the only other two in the Grand Shield in May. That leaves a lot of others battling it out in the midfield contest trenches of top flight banding.
Signs

That said, there are signs of increasing competitiveness (Virtuosi GUS were excellent at Brass in Concert and gave Flowers a run for their money at Butlins), but it remains stubbornly hit and miss - especially at London where there hasn't been a top 10 finish since 2011 and only two top-six mentions since 2004.
Whoever gets through on 'Cambridge Variations' courtesy of Steve Sykes and Jim Davies in the box will have deserved it, but they will also know that the true test of their national character will come at the Albert Hall in October.
---
Who will win?
It's been something of a two-way battle in the last couple of years, with the domestic bragging rights currently sitting proudly with Virtuosi GUS, whilst perennial rivals Desford have had to settle for second place on both occasions.
GUS is seeking a hat-trick of victories under the baton of Adam Cooke, and the partnership has now grown in contesting substance after a few hiccups along the way.
They will be favourites, although they won't take anything for granted against the capricious Desford talents led by Thomas Wyss. He was unlucky not to get Leyland to the Albert Hall with a thrill a minute account at Blackpool, so it will be interesting to see if he opts for the same high energy approach here.
Confident

A confident Jaguar Land Rover will also fancy their chances of repeating their 2013 title winning success - especially after their Senior Cup win at Blackpool last year. Dave Lea has a solid looking team of talent under his baton.
Ratby Co-operative were not too far off joining them in the Grand Shield, and will surely be a good bet for another to-six finish, whilst the same can be said of Thoresby Colliery who gave the piece a solid airing at Preston.
Derwent Brass - with MD Keith Leonard spotted on a crafty spying mission in Bradford last weekend, is a another solid top-six looking outfit - although after that its harder to see anyone else forcing their way into qualification places.
The improving Staffordshire may just be a dark horse whilst Spal Sovereign Brass and Newstead (who will be conducted by Phil Godwin due to Duncan Beckley's ill health) are all more than capable of upsetting the odds.
The hard working trio of Bilton, Shirley and Leicestershire Co-op may be resigned to a battle amongst themselves on this occasion.
4BR Prediction:
Hard to see past another locking of horns between Virtuosi GUS and Desford, although Jaguar Land Rover has been making impressive strides in the last year.
Ratby and Thoresby could be worth an eachway bet for a qualification place if they can really hit their straps, whilst Derwent and our dark horse of Staffordshire could claim a top-six nod or better.
1. Virtuosi GUS
2. Desford
3. Jaguar Land Rover
4. Ratby Co-operative
5. Thoresby Colliery
6. Derwent Brass
Dark Horse: Staffordshire
---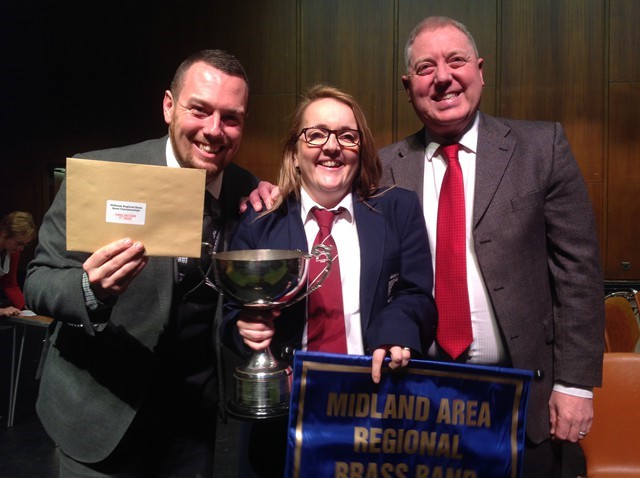 2015 Champions: Jackfield Elcock Reisen

First Section:
Test Piece: Essay (Edward Gregson)
Saturday 12th March
Civic Hall
Draw 10.00am and 12 noon
Commence: 11.00am
Adjudicators: David Roberts and Chris Wormald
Bakewell Silver (Roger Jepson)
Bedworth Brass (David Maplestone)
Blidworth Welfare (Martin Heartfield)
Carlton Brass (Paul Watson)
Daventry Brass (Neil Brownless)
Enderby (Simon Greswell)
Foresters Brass 2000 (Jack Capstaff)
Gresley Colliery (Dave Purkiss)
Harborough (Chris Groom)
Hathern (David Newman)
Ireland Colliery Chesterfield (Richard Windle)
Jackfield (Elcock Reisen) (Simon Platford)
Kibworth (David Holling)
Langley (Cliff Parker)
Oddfellows Brass (Dave Holling)
Shirebrook Miners Welfare (Mark Wilcockson)
Wigston (Garry Sleath)
When it comes to great writers the Midlands can boast perhaps the best of the lot: 400 years since his death, nobody has come close to matching the skills of a certain William Shakespeare as a wordsmith.

No couplets

And although there are no rhyming couplets in Edward Gregson's 'Essay', there is a demanding central 'Soliloquy' - perhaps not quite in the league of the utterances of Hamlet or Macbeth, but still as nerve racking to perform on a stage in front of audience as well as two judges more than familiar with its content.
'Blow, winds, and crack your cheeks!', as King Lear would say - because the cornet solo in particular is one heck of a tough ask of any player.
Tricky

The outer movements of 'Essay' are equally as tricky - especially the opening 'Dialogue' with its free flowing discourse between sections and sparse motifs, whilst the final, spiky 'Epigram' is a wonderfully crafted series of paragraphs relating to the original thematic material that builds in momentum to a thrilling denouement - as if the final sentence finally reveals whodunit.
As we have said, the bands will need to bring out the musical elements without losing lucid control of the technical boundaries. 'Once more into the breach' then...
---
Who will win?
A field of 17 means that there will be three qualification places on offer - with the list of well match rivals headed by last year's champion Jackfield Elcock Reisen.
Unlike some other Areas winning the Regional title doesn't ensure automatic promotion - a good thing at this level as it can enable bands to acquire more experience, strength in depth and maybe even set them up for a much more successful promotion when it comes.
It could also benefit whoever gets through this year, as last year's qualifiers ended a forlorn 12th, 13th and 14the, whilst the region last tasted success way back in 2004. Four top-six finishes since tells its own tale.
It promises to be a keen battle, with the likes of Foresters, Kibworth, Gresley, Shirebrook, Enderby, Langley, Ireland Colliery, Harborough and Jackfield all testing their early season form at Butlins - although none made much of a mark.
4BR Prediction:
Another hard one to call - with Chris Wormald and Dave Roberts having a difficult-looking task to separate the high flying essayists from the also-rans polemics.
With Blidworth, Hathern and Foresters looking to make an immediate mark following their relegation, Jackfield having one eye on a Cheltenham return and the likes of Gresley, Shirebrook and Enderby all in the mix, this is a contest that could be won by anyone.
That said, we have to out our necks on the line, and we opt for Foresters Brass 2000, Jackfied Elcock Reisen and Kibworth to battle it out for the qualification places, alongside Blidworth Welfare, Langley , Gresley Colliery and our dark horse of Hathern.

1. Foresters Brass 2000
2. Jackfield Elcock Reisen
3. Kibworth
4. Blidworth Welfare
5. Langley
6. Gresley Colliery
Dark Horse: Hathern
---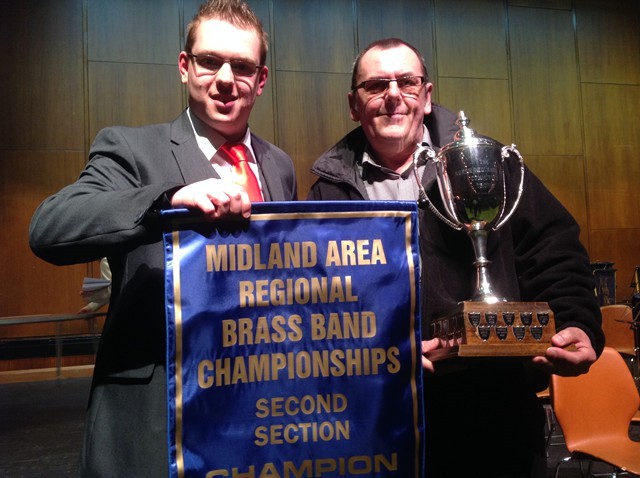 2015 Champions: Carlton Brass

Second Section:
Test Piece: Mermaid of Zennor (Philip Harper)
Sunday 13th March
Civic Hall
Split Draw: 9.00am & 10.30am
Commence: 10.00am
Adjudicators: Paul Norley and Gordon Higginbottom
Avonbank (Evesham) (Ceri Thomas)
Brackley and District (Alexander Webb)
Burbage Buxton (Steve Critchlow)
City of Coventry (Stephen Cooper)
Foss Dyke (Simon Oates)
Glossop Old (Les Webb)
Hucknall and Linby MC (Paul Whyley)
Ibstock Brick Brass (Simon Willis)
Long Eaton Silver Prize (Sharon Stansfield)
Raunds Temperance (Robin Norman)
Rushden Town (Adele Hudson)
Shirland Welfare (Lynden Cooper)

Bedworth may well be further from the sea than just about any other Regional venue this year, but given the cracking line-up of a dozen bands on show, there are sure to be plenty of performances of 'The Mermaid of Zennor' with more sea-salt musical flavour to them than a packet of Walkers crisps bought at the Civic Hall cafeteria.
SpongeBob

Philip Harper's colourful tale of a Cornish seafaring tenor who falls in love with a mysterious brine-scented temptress has been a great hit with players, conductors and listeners alike; a Piscean love story with a narrative line that is as enjoyably bonkers as an episode of SpongeBob Squarepants.
However, its three contrasting movements still asks searching questions of good contesting basics; from the ability to create the feel of the lilting waves contrasting the beating industry of the fishermen in the opening, 'The Sea and Seafaring', to the hymnal qualities of 'Axbridge' and the warm euphonium lead in 'At the Church', and the increasing drama of the final 'Return to the Waves'.
Pinpoint

The judges have also enjoyed themselves - although they have pinpointed the potential troubles that await; from the lyrical security of other lead lines such as the baritone and soprano, to the need for subtle percussion textures, good dynamic balances and spot-on intonation.
Get it right and the music which is all about people and places could bring a qualification place (or should that be plaice) at Cheltenham with celebratory lobster thermidor to enjoy on the way home from the chippy.
---
Who will win?
There are two places up for grabs - but 12 bands all more than capable to claiming them it seems.
The region has a pretty good record at the National Final, (three runner-up spots since 2010) with last year's representatives coming home in 4th and 7th place. The last time they recorded a win though was back in 2004, so another victory is a little overdue.
There are some busy contesting bands here too - with at least three of them testing the waters with some success at Butlins earlier in the season.
4BR Prediction:
There are more combinations to crack here than even the Hatton Garden diamond robbers would find difficult to get right - but with last year's runner-up back once again in the shape of Foss Dyke, they should fancy their chances of a return to Cheltenham.
Rushden Town and Hucknall & Linby MC did well as Butlins, so if they can add to that form they should be in with a very good shout, whilst the solid contenders of Ibstock Brick Brass, Avonbank (Evesham) and Glossop Old are worth a few bob at the bookies. Our dark horse is Long Eaton.
1. Rushden Town
2. Foss Dyke
3. Hucknall & Linby
4. Avonbank (Evesham)
5. Ibstock Brick Brass
6. Glossop Old
Dark Horse: Long Eaton Silver Prize
---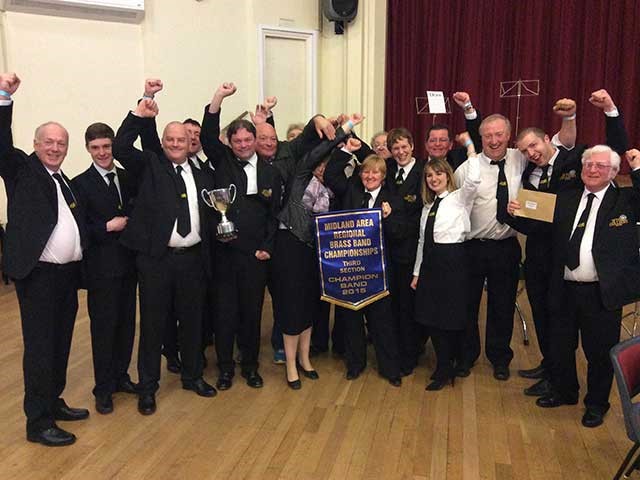 2015 Champions: Ifton Colliery

Third Section:
Test Piece: A Cambrian Suite (Michael Ball)
Saturday 12th March
Nicholas Chamberlaine Technology College
Split Draws: 9.000am & 12 noon
Commence: 11.00am
Adjudicators: Paul Norley and Gordon Higginbottom
Amington (Malcolm Read)
Arrow Valley Brass (Andy Culshaw)
City of Birmingham (Iain Masson)
Fairfield (Buxton) (Charles Kitchen)
Ifton Colliery (Wayne Ruston)
Matlock (Geoff Hawley)
Melton (Graham Sutton)
Newhall (Kevin Holdgate)
Pleasley Colliery Welfare (Geoff Benson)
(Resdev) Market Rasen (David Dernley)
Rolls Royce (Derby) (Graham Cardwell)
Shipston Town (Howard Gibbs)
Stamford Brass (Robert Prew)
Stourport-on-Severn (Oliver Wilson)
Towcester Studio (Neil Brownless)
Trentham Brass (Mike Caveney)
Wellington (Telford) (Mark Parry)
Even though Welsh sporting passions will be focused on a former cabbage patch in south west London on Saturday afternoon, there will surely be at least one or two performers with hwyl running through their veins for who the final result in Bedworth will be much more important.
Outside half

Michael Ball's 'A Cambrian Suite' is as tricky as any outside-half who can turn a side-step on a sixpence though. Written with an almost forensic attention to detail, it may lack the spontaneity of a Phil Bennett jink past a slow- witted flank forward, but it does have the ability to accumulate points for a band that follows its instructions with the accuracy of Jonny Wilkinson in his prime.
And it's that attention to detail that is the key.
Summed up

Michael Fowles summed it up best at the North West Regional Championships - calling it 'horizontal and vertical' reading; that found above and below the staves. Meanwhile, Bob Childs in Bradford referred to the 'pitfalls' that can only be overcome by adherence to the delivery of good dynamics, playing together and in tune: All of which the composer clearly marks in black and white for conductors to follow.
Those who have played a number of Michael Ball works in the past will know what he meant: He is a composer who has a very specific sound and tempo remit in his mind - and one that he clearly lays out in his scores.
Bands need to act on the advice, as the fragmentary nature of the opening 'Men of Harlech' isn't quite the stirring stuff you may have heard in the film 'Zulu', whilst 'Suo Gan' needs delicacy and tenderness - not Tom Jones at full throttle. 'The Rising of the Lark' is a touch of Welsh whimsy - all Max Boyce sparkle and wit.
The best

The best bands in Blackpool and Bradford captured the Welsh spirit without letting their hearts rule their minds - a hard trick when you feel the music may need an extra bit of front-five scrum power.
Those who used cerebral power to paint the musical pictures the composer so clearly wished to create ended up heading to Cheltenham. Those who didn't found themselves cursing in what sounded like Welsh but wasn't…
---
Who will win?
Another contest that features plenty of bands with the ability to produce qualification performances or better - despite it being a big old field of 17 contenders.
The region will send three bands to the finals once more, and the successful trio will be boosted by the efforts of last year's representatives, who came 3rd, 4th and 10th. A first national victory since 2008 may be sniffed in the air then.
These are also pretty busy, well led bands, with a number testing the early season waters at Butlins and the Oxfordshire contest, so a number of the should be in pretty decent contesting shape.
4BR Prediction:
A well matched field, but one which a couple of contenders do stand out a bit - led by last year's champion Ifton Colliery. They really put in a cracking show at Cheltenham and will be confident of returning under the baton of Wayne Ruston.
They could well be joined by Amington and Pleasley, who showed good form at Skegness, whilst Towcester Studio, Rolls Royce (Derby) and Stamford Brass. Our dark horse is Arrow Valley Brass.

1. Ifton Colliery
2. Amington
3. Pleasley Colliery
4. Towcester Studio
5. Rolls Royce (Derby)
6. Stamford Brass
Dark Horse: Arrow Valley Brass
---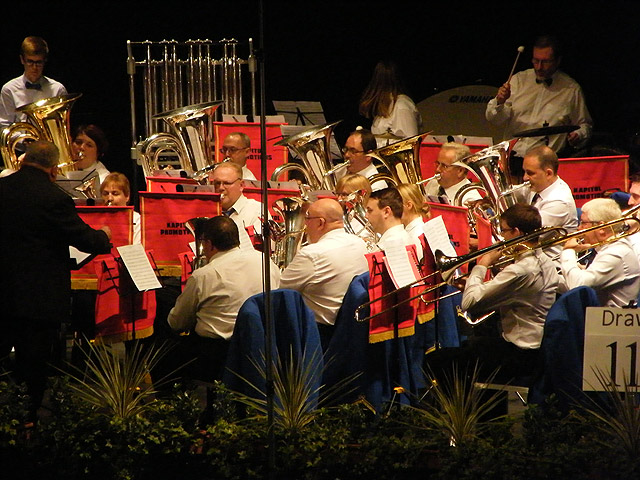 2015 Champions: Cubbington on stage at Cheltenham

Fourth Section:
Test Piece: The Journal of Phileas Fogg (Peter Graham)
Sunday 13th March
Nicholas Chamberlaine Technology College
Split Draws: 10.00am and 12 noon
Commence: 11.00am
Adjudicators: David Roberts and Chris Wormald
Audley Brass (Tom Hancock)
Bestwood Welfare Black Diamonds (Tony Wilson)
Bilton Silver (Rugby) Training (Jack Fisher)
Cleobury Mortimer Concert (David Maplestone)
Corby Silver (Cathy Fountain)
Croft Silver (Ian Needham)
Cubbington Silver (Mark Phillips)
Ilkeston Brass (Jeff Shaw)
Kirkby Colliery Welfare (Neville Buxton)
Malvern Hills District (Chris License)
Moulton 77 (Nicholas Garman)
Porthywaen Silver (Dougie Graham)
Ratby Co-operative Mid (Geoff Newman)
Skegness Silver (Steve Walker)
Syston (Chris Banks)
University of Warwick (Simon Hogg)
WEM Jubilee (Roger Thorne)
Whitwell Brass (Robert Woffinden)
The era of the mammoth Fourth Section contests in these parts are now long gone (There were an incredible 33 bands in 1984), but it's still great to see 18 contenders on the starting line (1 up from 2015) on Sunday.
There may be no Beevor or Barlestone Victoria, Lincoln Hospitals or Kettering Gold & Silver to enjoy, but with Peter Graham's Jules Verne inspired test-piece listeners can instead be transported to the delights of London, Paris, the Russian Steppes, Vienna, Spain and a curious touch of Australasia thrown in for good measure.
Happy old gentlemen

32 years ago the bands had to tackle 'Divertimento' by Eric Ball - a short piece that in its first movement poked fun at the 'Serious Young Men' who were hoping to make the world a place fit for machines to live in. After an interlude called 'The Passing Years', the final movement was entitled 'The Dance of the Happy Old Gentlemen' - all about those who have survived life's vicissitudes.
People must have died a death of boredom. It was Saga holiday music for geriatrics.
18-30

Thank goodness for then for the '18-30 Club' delights of Phileas Fogg - as we take a mini-break tour of the nightlife of the Moulin Rouge, sip a few shots of vodka with some narkey Cossacks, do a bit 'Come Dancing' in Vienna, imitate Herb Alpert and his Tijuana Brass in Seville and then head for home with a few Aussie stowaways in the trunk - all in time for a pint at the local London club and a £20,000 accumulator payout from the bookies to boot.
Brain bubbling

This is a cracking test piece to get the interest bubbling in brain and the adrenaline coursing through the veins - a hoot of enjoyable stereotypical cultural vignettes put together with a great eye for detail, colour and texture.
Set off at too fast a pace though and the clip-clopping hooves of the 1873 sherbet-dab will trip over itself in its eagerness, whilst have a snifter or two too much musical absinthe in Paris or vodka on the Russian Steppes and you could come a cropper too.
It's the waltz that holds the key though - a quick three or a languid one in a bar?

MDs may have to ask Craig 'Bag of Revels' Horwood for advice. I wonder what Eric Ball would have thought about all that...
---
Who will win?
Get things right and any number of these well match bands could be stamping their passports to Cheltenham in September.
There are three qualification places up for grabs, so it should be a great contest for everyone (including the judges, Dave Roberts and Chris Wormald) to enjoy.
The region had mixed fortunes last year with representatives coming 6th, 17th and 18th, and you have to go back to 2001 for the last time someone lifted the national trophy in triumph. It would be great if they didn't have to wait any longer.
4BR Prediction:
Last year's champion returns to defend its title - and Cubbington could well be in the mix once again, whilst fellow 2015 qualifier Porthywaen is also back and keen to join them again - especially after coming a fine sixth at Cheltenham.
Syston should be confident after taking the honours at the recent Oxfordshire BBA contest with the solid looking WEM Jubilee, Skegness Silver and Cleobury Mortimer Concert also bands on the up alongside our dark horse of Bestwood Welfare Black Diamonds.
1. Syston
2. Porthywaen
3. Cubbington
4. WEM Jubilee
5. Skegness Silver
6. Cleobury Mortimer Concert
Dark Horse: Bestwood Welfare Black Diamonds