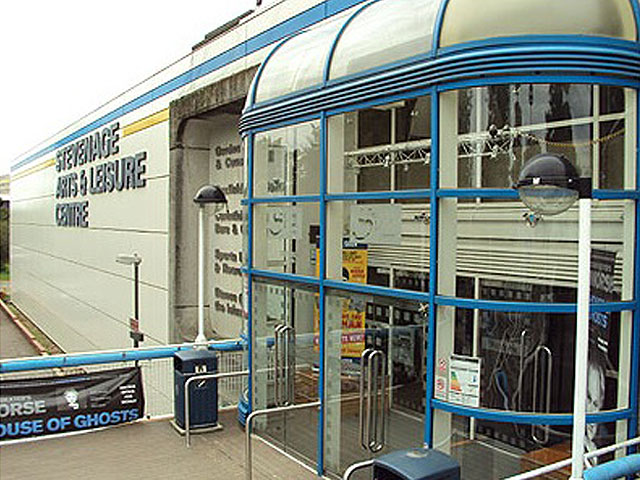 The place to be this weekend...
There was a time when the hard core brass band cognoscenti north of the Watford Gap would sneer with undisguised contempt when assessing the National Championship chances of competitors from the London & Southern Counties.
They would be stupid to do that nowadays. The era of quantity and not quality is long gone.
100 years

That said, you still have to go back nearly a century for the one and only time the Championship Section pennant has flown in triumph following Luton Red Cross's win at Crystal Palace in 1923, although 2015 saw Zone One Brass record the Area's best result at the Albert Hall since 1989 - the second successive top 10 finish for Stevenage qualifiers.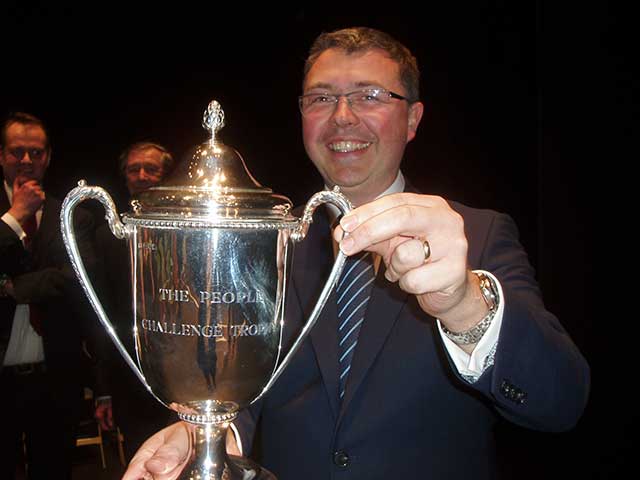 Lots of ambition: 2015 top section winning MD, Chris King

In addition, the region has produced four National Champions at Cheltenham since 2010 - and 16 top-six finishes. That's three times more than the Scots, who haven't got a single National win to their name since 2000. No wonder some of them want independence.
All that and the region is also benefitting from a host of talented young conductors who are starting to their mark with ambitious bands: There should be plenty of qualifiers to fear come the autumn.
However, there still isn't a band at the British Open and only one at the Grand Shield in May, although there were podium finishes in each of the First to Fourth Sections at Butlins and some decent from shown at the recent ODBBA contest as well.
Wonderful job

The Championships are a massive logistical event with Kevin Williams and his team doing a wonderful job ensuing the smooth running in the somewhat utilitarian surroundings of the Stevenage Arts & Leisure Centre.
It's a great two days though - full of enthusiasm, good humour and some pretty good potential qualifiers at all levels. Who's sneering now?
4BR will be there to cover the action as it unfolds and to bring you our live coverage and the results as soon as we get them.
---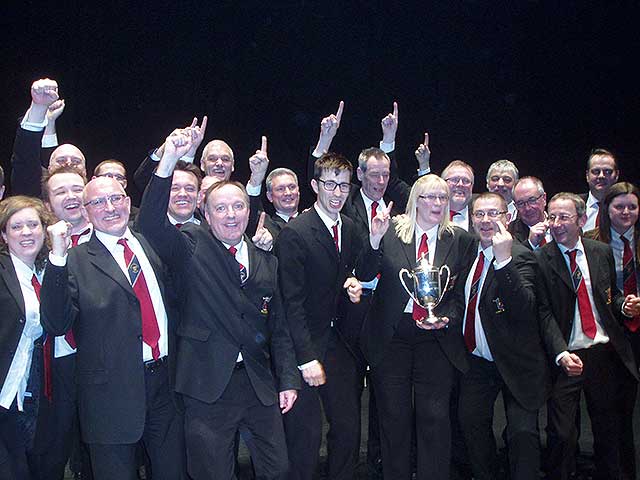 2015 Champions: Friary Guildford

Championship Section:
Test Piece: Cambridge Variations (Philip Sparke)
Sunday 20th March
Gordon Craig Theatre
Draw 1.00pm
Commence: After Third Section results
Adjudicators: Stephen Roberts and Ewan Easton
East London Brass (Jayne Murrill)
Friary Guildford (Chris King)
Haverhill Silver (Mark Ager)
Ipswich & Norwich Co-op (Nigel Cooper)
Medway (Melvin White)
Redbridge Brass (Alan Duguid)
Regent Brass (Paul Archibald)
Sandhurst Silver (Andrew Porter)
Staines Brass (Jonathan Pippen)
Thundersley Brass (Nigel Taken)
Wantage Silver (Craig Patterson)
Zone One Brass (Richard Ward)
With the majority of top flight competitors in all the regions struggling to master the imposing technical and musical challenges of Philip Sparke's set-work, it will be interesting to see how these twelve bands cope on Sunday afternoon.
Quality

There is quality here, but the dead acoustic of the Gordon Craig Theatre will not exactly help those who deliberately try to camouflage the transparent troubles that lie within the score of 'Cambridge Variations' - from the subtle balances of the opening semi quaver work, to the stretching flugel and cornet solos, the testing motifs and mazy chromatic runs, and the clutch-slipping gear changes of tempo to close.
Stephen Roberts and Ewan Easton could be in for a challenging afternoon separating out the best from the rest, as there is no stand out dominant band here at present with the top end of the results table in a state of flux of late.
Last year Friary Guildford was the fifth different winner since 2011, and although we haven't quite reached the realms of the old West of England curse of the defending champion, you can still get decent odds on the regional trophy finding itself another temporary home come Sunday evening.
---
Who will win?
The Albert Hall isn't quite the sink hole of aspirations now - with Wantage and Zone One both claiming top 10 finishes in the last two years - although the second qualifier has tended to sink without a trace.
However, top flight form is difficult to gauge, as Friary Guildford's appearance at Brass in Concert late last year was in a totally different league, whilst Butlins (where they were joined by Redbridge) was also a contest of literally two very different halves against high-class opposition.
Sparring mode

Zone One isn't exactly a prolific contesting outfit, whilst East London Brass and Wantage were still in sparring mode you suspect when they took the top slots at the recent Oxfordshire & District contest.
Some of the bands are reliant on a little conscripted help, whilst the two promoted bands in Haverhill and Ipswich & Norwich Co-op may be looking to find their feet rather than chop the legs off the opposition.
Medway, Thundersley and Regent Brass have enjoyed their moments here of late, whilst Staines put in a decent showing on their travels at the other end of the M4 at the Welsh Open earlier this season.
4BR Prediction:
As they sometimes say in trying to find a public convenience in these parts - there's not a lot to go on.
However, Friary Guildford has been improving solidly year on year under the direction of Chris King and the experience of Gateshead and Skegness will have surely been of huge benefit. A fourth successive Albert Hall qualification should be within their grasp if they play to form - with decent odds on a successful defence of their title.
Redbridge has been through a bit of a rebuilding phase of late but has returned in pretty good nick under Alan Duguid. They haven't enjoyed much luck here recently, so time for that to change on the weekend.
Meanwhile, Zone One remains a bit of an enigma - although as they showed at the Masters and certainly at London last year, when they are able to get together long enough they do have the players to perform the most difficult of repertoire with classy ease.
The ambitious Staines and East London Brass could be decent each-way bets for a podium place or better, whilst Wantage Silver and our dark horse of the improving Sandhurst could sneak into the frame.
1. Friary Guildford
2. Zone One
3. Redbridge
4. East London Brass
5. Staines
6. Wantage Silver
Dark Horse: Sandhurst Silver
---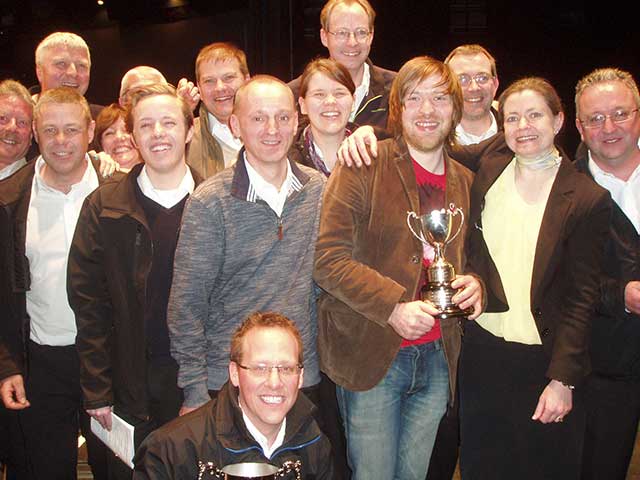 2015 Champions: Haverhill

First Section:
Test Piece: Essay (Edward Gregson)
Saturday 19th March
Gordon Craig Theatre
Draw: 2.00pm
Commence: at conclusion of Second Section results
Adjudicators: Mark Wilkinson and Paul Norley
Aveley & Newham (Robert Nunnery)
Becontree Brass (Nigel Taken)
Bedford Town (Steve Phillips)
City of Cambridge (Peter Bassano)
Colchester (David Maddocks)
Egham (Gareth Green)
Epsom & Ewell Silver (Paul Graham)
Fulham (John Ward)
Hitchin (Graham Chambers)
Horsham Borough (Andrew Kershaw)
Jersey Premier Brass (Tim Pritchard)
Kidlington Concert Brass (Paul Cosh)
Milton Keynes Brass (Craig Patterson)
Northfleet Brass (Melvin White)
Wantage Silver 'B' (Danny Dullforce)
Ware Brass (Philip Littlemore)
If the complexities of 'Cambridge Variations' have found the genuine top flight credentials wanting of many bands this year, then the transparent treachery of Edward Gregson's 'Essay' has caused literary musical havoc.
In Torquay we heard one outstanding performance and not much else from 15 contenders - a ratio also reflected in a smaller field in Durham. In Blackpool there were a handful of good ones, whilst in Yorkshire, the Midlands and Scotland it was much the same. You can't help but feel it could be the same story on Saturday afternoon.
Technical challenges

'Essay' may well be an almost perfect example of a cultured, reasoned, academic composition; a pellucid symphonic study set out in the type of austere prose that players and especially conductors find difficult to understand, but it is also constructed with fairly undemanding technical challenges (even the cornet solo is an extended slow melody).
The flowing 'Dialogue' is a discourse between sections of free-flowing balances and contrasts, whilst the sparse 'Soliloquy' makes sense when conductors do not mangle it with their ignorance of its Vinteresque inspiration. The spiky 'Epigram' is perhaps the easiest section of all - as long as it's not blasted into oblivion.
Leopold Bloom

Play it with an appreciation of the inspiration as well as the white space between the black notes and it all falls into place: It's a bit like reading 'Ulysses' by James Joyce.
So where will Mark Wilkinson and Paul Norley find their Leopold Bloom in the box?
---
Who will win?
Another hard one to call - but that may be because you can make a decent case for any number of these well led bands claiming the qualification places on offer.
Last year's representatives came 6th and 15th at Cheltenham - the fifth out of the last six years that at least one has had a mention off the stage (including a winner in 2010). Whoever gets through may be confident of extending that record.
4BR Prediction:

Milton Keynes Brass and Colchester claimed top-six finishes at Skegness with Becontree and an unlucky Fulham close behind, whilst the recent Oxfordshire BBA contest saw Kidlington take the honours with Milton Keynes, Northfleet, Horsham, Egham and Epsom & Ewell left in their wake.
Aveley & Newham will be determined to make their mark after rather unluckily finding themselves relegated from the top flight, whilst Jersey Premier Brass and Ware Brass will be looking to push towards the qualification slots after last year's fine returns.
1. Aveley & Newham
2. Kidlington
3. Becontree
4. Fulham
5. Milton Keynes
6. Northfleet
Dark Horse: Ware Brass
---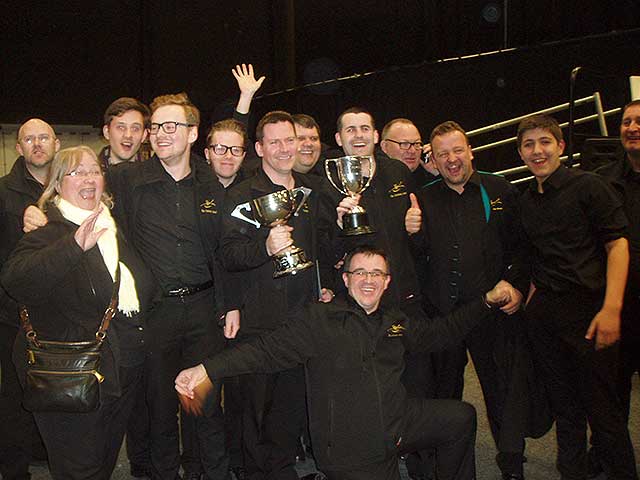 2015 Champions: Colchester

Second Section:
Test Piece: Mermaid of Zennor (Philip Harper)
Saturday 19th March
Gordon Craig Theatre
Draw: 9.00am
Commence: 10.00am
Adjudicators: Stephen Roberts and David Lancaster
Amersham (Paul Fisher)
BAE Systems (Jonathan Crowhurst)
Cawston (David Stowell)
Chichester City (Tim Cooper)
Chiltern Hills Brass (Gordon Davies)
Epping Forest (Keith Schroeter)
Grimsdyke (Sharon Broughall)
Hungerford Town (Tim Crouter)
LGB Brass (Ian Stewart)
Littleport Brass (Nigel Bramley)
Norfolk Wherry Brass (Kevin Mann)
Soham Comrades (Jayne Murrill)
St. Sebastian Wokingham (Lee Woodward)
Tilbury (Andrew Austin)
Welwyn Garden City (Graham Chambers)
Yiewsley & West Drayton (Chris Cole)
Philip Harper's set-work has been a fishy hit this year with players, conductors and audiences alike - from the brine sprayed air of Blackpool and Torquay to the land-locked confines of Perth and Bedworth.
Stevenage may by a few miles from the foaming waves of the English Channel, but a fish supper and a few jellied eels should get the locals in the mood for a piece of Piscean mischief making.
Head over tail

This one's a love story set in the village of Zennor on the coast of Cornwall, and tells the mythical tale of chorister Mathew Trewella and an ageless mermaid, who, as is usually the case when you come across a woman with long blond hair, no legs or bra and a taste for crustaceans, fall head over tail in love.
The music comprises three sections: 'The Sea and Seafaring', which evokes the industry of the fishermen on their boat as the waves rise and fall around them; 'At the Church' portraying the mermaid with gentle, magical-sounds and the groom's vocal talents to try and impress her, and 'Return to the Waves', which tells of their post- nuptial return to the sea.
Popeye

It's richly descriptive and cleverly scored; with more nods and winks to seafaring compositions - from 'Scheherazade', 'Peter Grimes' and the 'Sailor's Hymn' to the opening to 'Black Beauty' (or the first three notes to the old 'World of Sport' 1970 television theme) - than Popeye with a nervous twitch.
It's a tale that that unfolds with colour, passion and drama; as well as with tricky solo and ensemble work, time signature shifts, some lovely choral development, longing sighs and a surging finale.
No wonder it's been popular.
---
Who will win?

Sixteen well matched bands will try to catch the ears of Stephen Roberts and David Lancaster in the box - with David already making his thoughts known on how to approach the piece at the North West Championship last month.
How that will influence the way bands tackle things on Saturday morning we will have to wait and see, but he did point out that not many captured the lilting 'two in a bar' feel of the waves lapping the seafaring boat in the first movement.
Whoever gets through has a decent record to maintain at Cheltenham, with four top-six finishes since 2010, although last year's representatives came 9th and 16th. You also have to go back to 1977 for the last time the Area produced a winner - so one is long overdue.
4BR Prediction:
There are a couple of bands on recent form that will be good each-way bets to claim a qualification place - headed by Soham Comrades, who came runner-up at Butlins earlier in the season and has been making fine progress under the direction of Jayne Murrill.
Cawston, Norfolk Wherry Brass and Tilbury didn't enjoy their trip to Skegness as much, but shouldn't be discounted, whilst there were encouraging run-out performances from St Sebastian Wokingham and Yiewsley & West Drayton (who qualified last year) at the recent Oxfordshire contest.
BAE Systems could be a band listen out for if they take as an inventive approach as they did at the National Finals last year in the Third Section, whilst both Amersham and Hungerford will be looking to improve on solid top-six finishes in 2015 to claim a qualification berth.
1. Soham Comrades
2. Cawston
3. Amersham
4. St Sebastian Wokingham
5. Yiewsley & West Drayton
5. Hungerford
Dark Horse: BAE Systems
---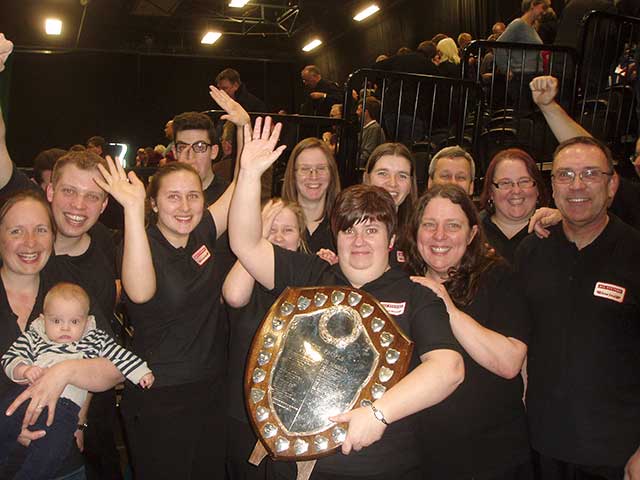 2015 Champions: BAE Systems

Third Section:
Test Piece: A Cambrian Suite (Michael Ball)
Sunday 20th March
Gordon Craig Theatre
Draw: 9.000am
Commence: 10.00am
Adjudicators: Mark Wilkinson and David Lancaster
Chinnor Silver (David Pegram)
City of Oxford Silver (Nigel Hall)
Cold Ash Brass (Jemma Evans)
East Coast Brass (Paul Speed)
Fairlop Brass (Kevin Jordan)
Great Yarmouth Brass (Colin Swaep)
Hangleton (Richard Baker)
Hemel Hempstead (David Edmonds)
Jubilee Brass (Oxford) (Clifford Sadler)
Olney Brass (Guy Bennett)
Oxford Cherwell Brass (Terry Brotherhood)
Regent Community Brass (Chris Bearman)
Simon Langton Brass (David Cutting)
Tadley Concert Brass (Paul Chapman)
Tendring Brass (Antony Sanders)
Waterbeach (Andrew Kershaw)
Michael Ball's test piece has been proving itself something of a Celtic conundrum so far at the regional championships; with its detailed notational and descriptive instructions causing no end of problems.
That was certainly the case in Torquay, Bedworth, Perth and Durham, where despite the clarity of the composer's written intentions, conductor's still found it hard to bring out the required dynamic, texture and tempo remits.
Attacca

That also included the short 'attacca' between the second and third movements, which with some bands were long enough to have a cup of tea in, whilst the opening few bards found many players still finding their stage 'whereabouts' as they took time to lock in concentration.
It really is a much tricky work than it looks - and although not written in Welsh (apart from the names of the three movements), the 'horizontal and vertical' reading - that found above and below the stave as Mike Fowles so accurately referred to it at Blackpool, has been as well understood by some conductors as the translate 888 page to 'Pobol y Cwm'.

Zulu hordes

Hopefully the conductors here won't be as musically monoglot - as the opening pride of 'Men of Harlech' - even in rather fragmentary form - the lullaby 'Suo Gan' and fleet-footed 'The Rising of the Lark' could be written in just about any mother tongue and still get you repelling the Zulu hordes at Rourke's Drift or racing down the wing like Gareth Bale.
---
Who will win?
Just two qualification places up for grabs - but plenty of bands who will fancy their chances of snatching them.
The region has an excellent record at Cheltenham since 2010, with a brace of victories and two top-six finishes, although last year's representatives came home in 14th and 16th places respectively.
4BR Prediction:
A few bands have been busy of late and should fancy their chances if they have built on their early season form, whilst others may have been keeping their powder dry.
Waterbeach certainly made a mark at Skegness where they came a fine third, although East Coast Brass and Great Yarmouth didn't fare so well. Meanwhile, Cold Ash Brass (who came runner-up last year) took the honours at the recent Oxfordshire BBA contest, ahead of Chinnor Silver, Jubilee Brass and City of Oxford Silver.
Hemel Hempstead will be looking to push towards the qualification spots after coming in the top-six last year, whilst relegated Fairlop will be looking to bounce straight back after rather unluckily dropping through the trap door from the Second Section.
1. Waterbeach
2. Fairlop
3. Cold Ash Brass
4. Hemel Hempstead
5. Chinnor Silver
6. Jubilee Brass
Dark Horse: City of Oxford Silver
---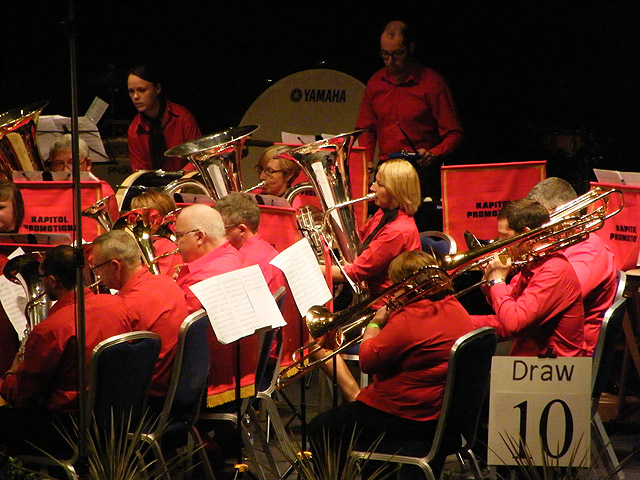 2015 Champions: City of Norwich

Fourth Section:
Test Piece: The Journal of Phileas Fogg (Peter Graham)
Sunday 20th March
Main Hall
Split Draws: 10.30am and 12:30pm
Commence: 11.00am
Adjudicators: Paul Norley and Philip Littlemore
Abbey Brass (Rob Tompkins)
Betteshanger Colliery Welfare (John Goold)
Bletchington Silver (Sheldon Barwick)
Bradwell Silver (Brian Keech)
Brighton and Hove City Brass (Matthew Hackett)
Castleton Brass (Peter Ryan)
City of Norwich Brass (Andrew Craze)
Cottenham Brass (Peter Mackley)
Crystal Palace (Michael Gray)
Hadstock Silver (Di Pannell)
Letchworth Garden City (Tim Welch)
North London Brass (Patrick Dodds)
Pangbourne and District Silver (John Watts)
Royston Town (Steve Earley)
Snowdown Colliery (Keith Twyman)
Wantage Academy (Nikki Jones)
Watford (Ian Graves)
Witney Town (Rhys Owens)
Woodbridge Excelsior (Chris Lewis-Garnham)
It may have taken Phileas Fogg 80 days to win his £20,000 bet with his world travels, but if bands wish to be inspired by his antics to claim victory on the weekend, all they really have to do is take a stroll around any London borough.
Diversity

Despite the Narborough Road in Leicester boasting 23 nationalities on its single street of pavement, the nation's capital has a worldwide reputation for historical diversity - from the French of south Kensington and Portuguese of Vauxhall, to the Russians in Knightsbridge and the Poles living in Acton, the Bangladeshis and Indians of Brick Lane, Chinese in Soho, Ghanaians in Lambeth and Greeks in Harringay.
There must even be a few Huguenots left around. It's a wonderful mix of creed and colour, religion and politics; cheek by jowl, takeaway by restaurant, church by mosque. Forget 80 days - you could win your bet in 80 minutes.
Arturo Sandoval

Lots to look forward to then as 19 bands tackle Peter Graham's enjoyable set-work, which although something of a stereotypical series of travelogue vignettes encompassing a round trip from London via, Paris, the Russian Steppes, Vienna, Spain and a curious touch of Australasia thrown in for good measure, has been put together with a great eye for detail, colour and texture.
It's also a work that has caused problems - especially the elegant waltz, which has either been played at the speed of a pensioner's tea dance (as in Yorkshire), or has had the down-beat of a jack hammer (as in Torquay). Let's see if any of the MDs here have been secretly watching box-sets of 'Come Dancing'.
As for the bull fighting trumpet call? Ad-lib really does refer to the style not the notes as one player (who was brilliant it must be said) fell foul of last weekend in Torquay. The Regional Championship contest stage isn't quite the right time to unveil your impression of Arturo Sandoval.
---
Who will win?
Although we no longer have the leviathan line-ups of a few years ago (there were 32 bands listed in the programme in 1985), there is a still a strong looking field of 19 rivals looking to claim one of the three qualification places.
The region has become much more competitive at Cheltenham - with a victory and two top-six finishes since 2010, and with last year's representatives coming 5th, 11th and 16th.
4BR Prediction:
This really is a difficult one to try and predict - although you can rest assured Paul Norley and Philip Littlemore will have a great time in the box in deciding - especially if the standard is anything as good as it was in Torquay last weekend.
Crystal Palace and Brighton & Hove City showed good form at Butlins earlier this year, whilst Abbey Brass, Witney Town, Bletchington Silver and Wantage Academy (alongside Crystal Palace) gave the piece a good work out at the recent Oxfordshire contest.
2015 champion City of Norwich returns to defend its title alongside fellow qualifier Castleton, with Watford and North London Brass, who came close to grabbing a Cheltenham slot last year, also back to see if they can rectify that this time around.
1. City of Norwich
2. Crystal Palace
3. Abbey Brass
4. Brighton & Hove City Brass
5. North London Brass
6. Watford
Dark Horse: Castleton