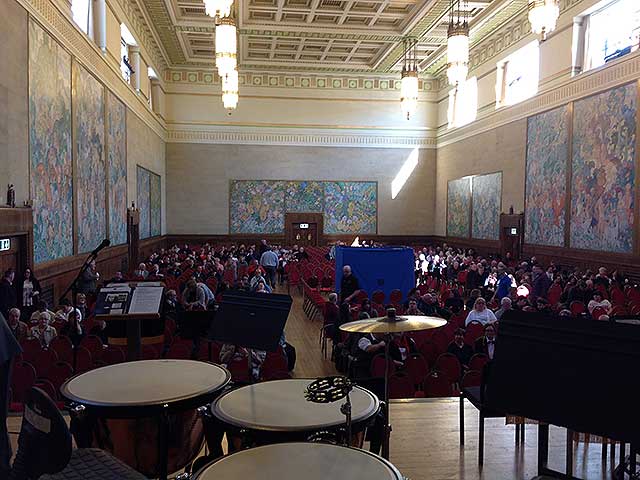 Things are looking up and out for Welsh banding...
Welsh banding continues to punch above its National weight like a flyweight boxer taking to the ring with a horseshoe hidden in his southpaw glove.
Jimmy Wilde

In the past few years the level of success enjoyed at London and Cheltenham has been unprecedented: Twelve National titles have been secured since 2010 alone - four of which came in 2015 from Cory, Goodwick, Ebbw Valley and Usk. The nation's bands have sparked-out rivals at all levels in a way the legendary Jimmy Wilde - 'The ghost with a hammer in his hand' - would have been proud.
How long?

The question is: How long can it continue?
As long as a very peculiar set of brass banding circumstances in Wales remain it seems - thanks to the influx of players from all corners of the globe to the Royal Welsh College of Music & Drama in Cardiff, which under Bob Childs has fuelled an explosion of competitiveness in south-east Wales in particular, to the remarkable community investment in the north and the west which has seen the blossoming of amazing local talent.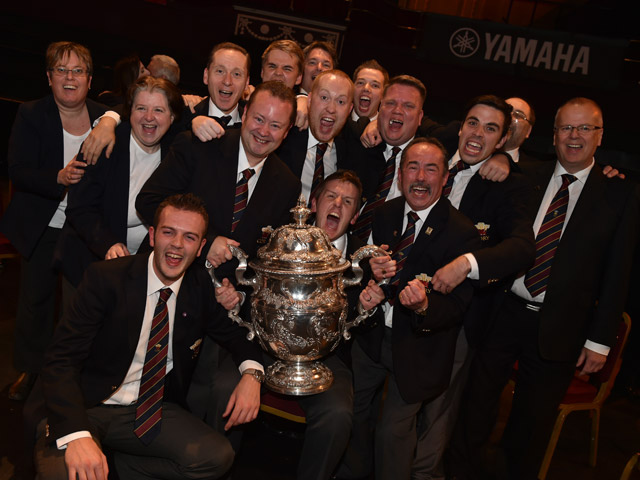 Cory remain the standard bearer...

In addition, ambitious young conductors are taking the lead with bands eager to emulate rivals, whilst clever administrators are coming-up with innovative ideas to dip into the quango-land arts funding money pots.
All this (plus two televised band contests), and the Ty Cerdd organisation now provides a professional foundation base that not only runs a much more focused National Youth Band, but is also making excellent progress in hosting the European Championships in Cardiff in 2020.
Standard bearer

Cory fresh from their successful USA tour remain the standard bearer, but others have also been inspired to stamp their mark on the banding world - from award winning CDs to trans-Atlantic tie-ups, youth and community initiatives, commissions and concerts.
Happy days

Happy days then? Not quite.
Music Service funding continues to be obliterated as local authority austerity cuts to the marrow, whilst the local contesting set-ups remain stubbornly myopic in outlook.
Tribalism in Wales remains a huge stumbling block to collective aspiration, whilst the usual banding tales of fallouts and damaging squabbles continue to blight many individual organisations that have the potential to become beacons of excellence.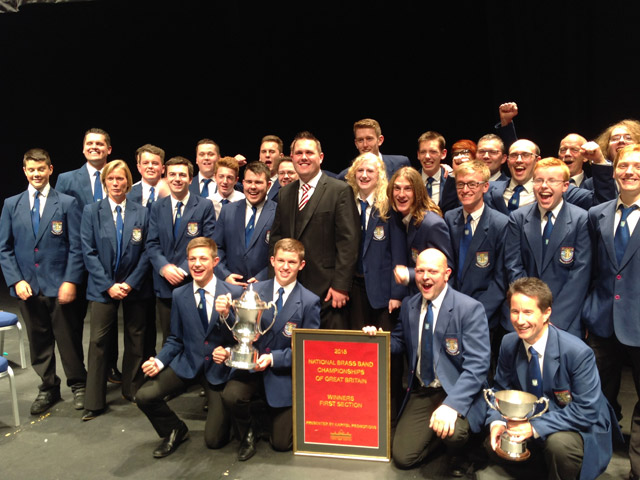 More National success for Goodwick at Cheltenham

As one observer told 4BR last year with a touch of bible-black humour; "Just think what Welsh banding could achieve if things were really going well."
Strange as it may seem, but Welsh banding is always at its best when faced with troubles - so lots to look forward to at the Brangwyn Hall in Swansea, which has its own inherent logistical problems; from a lack of warm-up spaces to roadworks on the way to the venue.
Get there early

Bands have therefore been asked to ensure they give themselves plenty of time to get to the hall. Nobody wants to suffer a knock-out sucker punch before they have even taken to the stage.
4BR will bring you our usual live-coverage (which starts on Saturday morning at 11.00am and on Sunday at 10.00am), with our views on performances and the results as soon as we get them.
---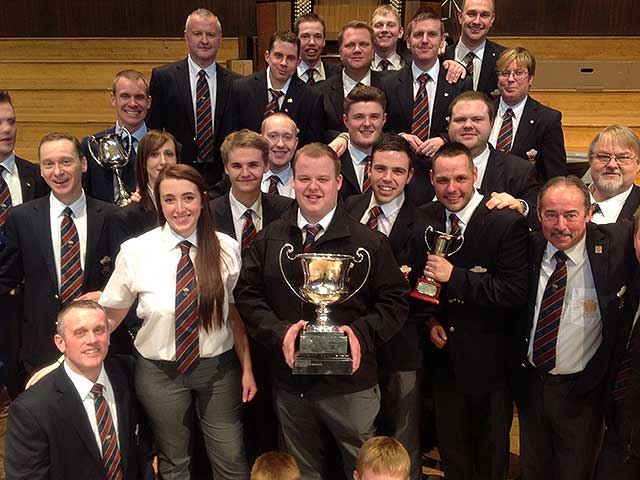 2015 Champions: Cory

Championship Section:
Test Piece: Cambridge Variations (Philip Sparke)
Sunday 20th March
Commence: After Fourth Section results
Adjudicators: Dr Robert Childs and David Hirst
Burry Port Town (Tom Davoren)
Cory (Philip Harper)
Goodwick (Matthew Jenkins)
Llwydcoed (Chris Turner)
Northop (Andrew Berryman)
Tongwynlais Temperance (Michael Fowles)
Tredegar (Ian Porthouse)
Tylorstown (Gary Davies)
Top flight Welsh banding has enjoyed fantastic success at the Albert Hall in recent years.
With Cory's wins in 2013 and 2015 supplemented by pre-qualification finishes by Tredegar and Tongwynlais, it has meant that the nation has had at least three representatives taking to stage since 2003, and has registered at least two bands in the top-six, every year, since 2011.
Cake-tin

That is some record - and one that whoever gets through on Sunday will be confident of maintaining in the old Kensington cake-tin. First though, they will have to overcome the complexities of 'Cambridge Variations', which has already cut a swath through many qualification aspirations over the last three weekends.
With European qualification up for grabs, there promises to be a great fight to join Cory at the Albert Hall, but also to claim the trip to Ostend in 2017. Much then for the experienced duo of Dr Robert Childs and David Hirst to compare, contrast and consider in the box (the first time two judges have been used at the region).
---
Who will win?
Cory will be looking to claim the first hat-trick of the Philip Harper era, and will be odds-on to do it given their recent form, which has of course included substantive victories at London and Gateshead.
They wear the favourite's tag comfortably, and fresh from that successful tour to the USA they will be keen to wrap up their European travel plans for 2017 with a performance that brokers little argument.
Push hard

Tredegar will undoubtedly push them hard - and with a settled band and their own fine achievements of 2015 to boost collective confidence, they know they have the ability to pip their rivals if there is the merest gap left on the inside rail to beat them. They cannot afford to make any mistakes though.
The gap between the two heavyweights and the rest of the field may appear a wide one on paper, but the Brangwyn Hall usually brings out the best in the hard working Tongwynlais Temperance (who have qualified for the last four years) whilst Northop will be keen to return once more as they team up with Andrew Berryman for the contest.
Two strong contenders though could well come in Goodwick - who won the First Section National Championship in superb fashion in Cheltenham last September, and the ambitious Llwydcoed, who has been making equally impressive progress under Chris Turner and won the Welsh League series for the first time last year.
Burry Port has been rebuilding of late, but is still a very solid competitor under Tom Davoren, whilst Tylorstown could well take scalp or two if others find the Cambridge exam a little on the tough side.
4BR Prediction:
Lots to look forward to with the battles for the Welsh Regional title, European representation and Albert Hall qualification on offer. It will be fascinating.
Cory has the undoubted quality to claim the first two accolades, although they know they will face one heck of a challenge from Tredegar if they really hit top form.
It's that second qualification place for London that could be one heck of a scrap though with Tongwynlais, Northop, Burry Port and Llwydcoed all more than capable of being a clear podium finisher.
Our joint dark horses are Goodwick and Tylorstown.
1. Cory
2. Tredegar
3. Tongwynlais Temperance
4. Northop
5. Burry Port
6. Llwydcoed
Dark Horses: Goodwick & Tylorstown
---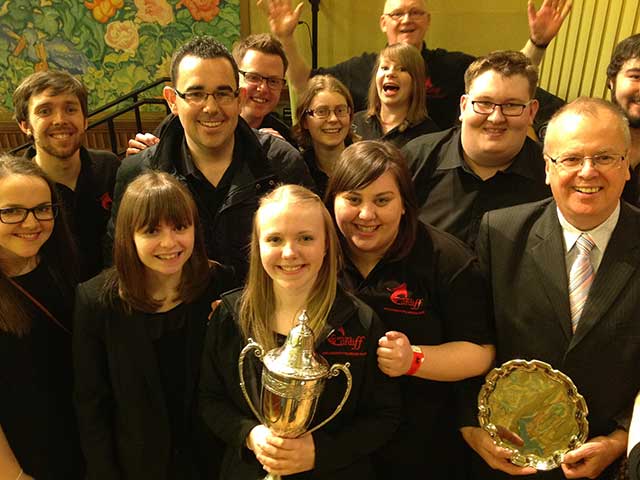 2015 Champions: City of Cardiff (Melingriffith)

First Section:
Test Piece: Essay (Edward Gregson)
Saturday 19 March
Draw: tbc
Commence: at conclusion of Second Section results
Adjudicators: David Hirst and Paul Holland
Blaenavon Town (Jamie Jones)
BTM (Jeff Hutcherson)
City of Cardiff (Melingriffith) (Nigel Seaman)
Ebbw Valley (Gareth Ritter)
Lewis Merthyr (Craig Roberts)
Llanrug (Paul Hughes)
Markham and District (Matthew Rowe)
Parc & Dare (Andrew Jones)
Pontardulais Town (Paul Jenkins)

Edward Gregon's austere 'Essay' may well lack the lyrical prose of Dylan Thomas, but as the poet from just around the corner in Cwmdonkin Drive once described himself as a 'martyr to music', there may be enough inspiration within its pages for the nine competitors as they tackle what has been a very demanding musical novella.
And it has been one heck of a test of interpretation and execution skills: Age has not wearied its challenges from the flowing 'Dialogue', through the sparse 'Soliloquy' (with a cornet solo every bit as lyrically beautiful as the Rev. Eli Jenkins' 'Prayer' from 'Under Milk Wood') and the spiky 'Epigram' to close.
Pellucid

It's pellucid writing lays bare its traps and pitfalls - all there to be seen and heard.
And while the Brangwyn Hall may have a generous acoustic to help bands, even it can't hide the wrong notes (especially trombone glissandos), misplaced entries (some of the percussion playing has been bizarre) and the unsuccessful attempts at splicing the cornet solo like the wires on an old electric plug, that have blighted so many performances up and down the country this year.
Final prayer

Perhaps the conductors will do well to recite a line or two from the prayer before they go to bed on Friday night:
And every evening at sun-down
I ask a blessing on the town,
For whether we last the night or no
I'm sure is always touch-and-go...
---
Who will win?
Whoever gets through will do well to maintain the nation's fine record at Cheltenham, which has seen two wins in the last three years and a superb one/two finish in 2015.
However, given the strength of the small nine band field, whoever gets the nod from judges David Hirst and Paul Holland will be confident of doing just that.
Swift return

Defending champion City of Cardiff (Melingriffith) will surely be looking to make a swift return to the stage where they pushed Goodwick all the way last year in a battle that would have graced the Gold Cup.
So too Ebbw Valley, who won the Third Section by a distance not even the great Arkle could have bettered, as they seek to become the first band win four consecutive National titles.
Welsh League champion Markham & District and joint runners-up Lewis Merthyr and Parc & Dare are bands on the up, whilst Pontardulais and Blaenavon Town are solid outfits led by talented conductors.
The north Wales challenge comes from Llanrug, who have been a bit unlucky at Swansea in the last couple of years, whilst BTM, who as anyone who knows anything about Welsh banding will tell you, can beat any band on their day.
4BR Prediction:
City of Cardiff (Melingriffith) was good value for its win last year and started the season with a fine runner-up finish at the Welsh Open ahead of top flight opposition. With Nigel Seaman back at the helm they could be the band to beat, although Ebbw Valley could push them all the way.
There is no disguising their ambition, which is backed by plenty of talent both in front and behind the stands, so they could return to Cheltenham on their Grand Slam national title quest.
Markham & District and Llanrug are solid contenders with the ability to take their chances if the top two slip, with Lewis Merthyr and Parc & Dare close behind. Our dark horse, who could just pip the lot if they are in the mood, is the mercurial BTM.
1. City of Cardiff (Melingriffith)
2. Ebbw Valley
3. Markham & District
4. Llanrug
5. Lewis Merthyr
6. Parc & Dare
Dark Horse: BTM
---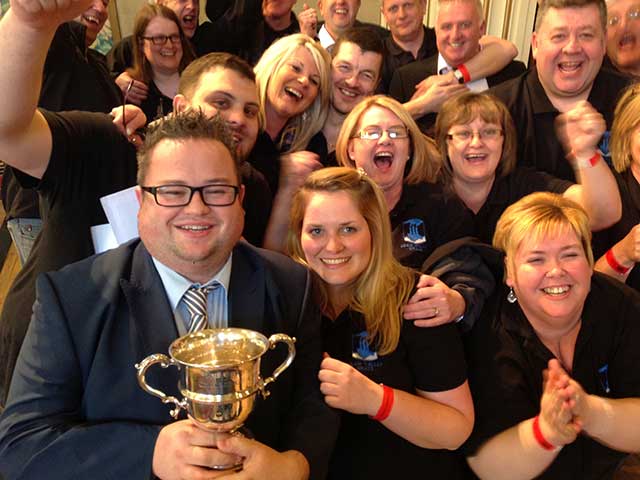 2015 Champions: Ebbw Valley

Second Section:
Test Piece: Mermaid of Zennor (Philip Harper)
Saturday 19th March
Draw: tbc
Commence: At conclusion of Section Three
Adjudicators: Dr Robert Childs and Paul Holland
Abergavenny Borough (Alun F. Williams)
Ammanford Town (Gary Davies)
Crwbin (Lynne Turner)
Deiniolen (Lois Eifion)
M2 (Jack Capstaff)
Newtown Silver (Steve Edwards)
Ogmore Valley (Alice Jones)
Penclawdd (Tony Small)
Royal Buckley Town (Lee Skipsey)
Thomas Coaches Mid Rhondda (Alan Gibbs)
With the Swansea seafront just a stone's throw from the Brangwyn Hall, (although you need arms like Fatima Whitbread to reach it) you would think the 10 bands here won't have much problem seeking the right brine-soaked inspiration to enjoy Philip Harper's 'The Mermaid of Zennor' test-piece.
Cockles

However, this part of the world is more famed for cockles and laverbread than a Piscean maiden down on her luck looking for a lonely-hearted stevedore to tickle her gills - so perhaps the bands may have had to try their best with an extra fishcake alongside their post-rehearsal bag of chips.
Whatever their method, you can bet they have enjoyed it though - as have all the bands around the country this year.
Cracking test

It's been a cracking test of musical character, style and technique - from the 'The Sea and Seafaring' opening which evokes the industry of the fishermen on their boat as the waves rise and fall around them; through 'At the Church' portraying the mermaid with gentle, magical-sounds and the groom's vocal talents, and 'Return to the Waves', which tells of their elopement chased by locals hoping to dip the bride in batter.
It's richly descriptive and cleverly scored, with its nautical allusions and some neatly-hooked motifs; from 'Peter Grimes' to the opening three notes to the old 'World of Sport' 1970 television theme - although it's a piece that cannot be taken lightly.
Get the balances, tempos and dynamics wrong and it becomes a tale as hard to master as the white whale in Moby Dick. But get it right, and the narrative storyline jumps off the page and a cracking tale of people and plaices (sorry - places) makes glorious sense and fun.
---
Who will win?
An interesting one to savour - with the promise of it turning into perhaps the closest battle for glory all weekend. Much for Robert Childs and Paul Holland to enjoy in the box, as ten bands look to claim the two qualification places on offer.
When they do get to Cheltenham they have a remarkable recent record to uphold - with three wins (including last year with Ebbw Valley) since 2010 and five other top-six finishes. No wonder there is plenty to play for.
4BR Prediction:
Deiniolen will certainly lead the charge as the north Walians look to return for the second successive year, whilst compatriots Royal Buckley Town could be the other decent each-way bet as they team up with City of Bradford MD, Lee Skipsey.
The south Wales challenge will be spearheaded Welsh League runner-up Thomas Coaches Mid Rhondda and Abergavenny Borough, whilst further west sees two competitive outfits in the solid brace of Crwbin and Penclawdd. Ammanford and Newtown are bands that can certainly make their mark, whilst Ogmore and our dark horse of M2 shouldn't be discounted.
1. Deiniolen
2. Royal Buckley Town
3. Abergavenny Borough
4. Thomas Coaches Mid Rhondda
5. Penclawdd
6. Crwbin
Dark Horse: M2
---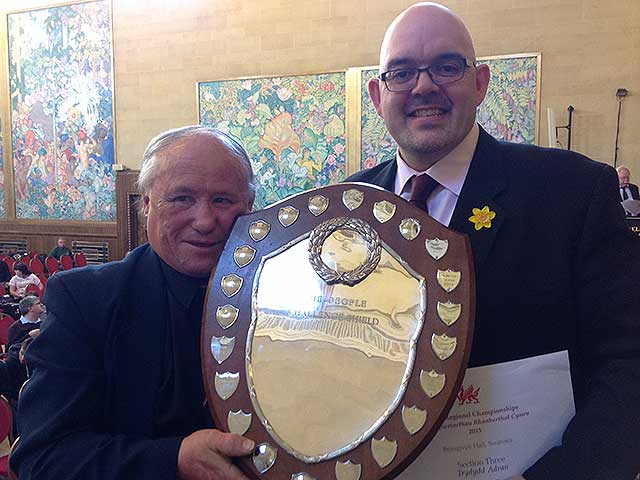 2015 Champions: Rhyl Silver

Third Section:
Test Piece: A Cambrian Suite (Michael Ball)
Saturday 19thb March
Draw: tbc
Commence: 11.00am
Adjudicators: David Hirst and Gary Davies
Abertillery Youth and District (Josh Ruck)
Briton Ferry (Jeff Pearce)
Crosskeys Silver (Benjamin Atkinson)
Gwaen-cae-Gurwen (Jeff Hutcherson)
Rhyl Silver (Keith Jones)
Severn Tunnel (Grant Jameson)
Usk (Jeff Jones)
Just the seven competitors full of hwyl and hearty ambition take to the stage in the Third Section, where they face familiar musical fayre in 'A Cambrian Suite'.
Well known it may be, but it will still take some playing - especially if conductors haven't used their noggins and taken note of what various judges have been saying about it.
Mother tongue

Michael Ball's music is certainly inspired by the mother tongue - or vocal chords - but it's the much more prosaic instructions found written above and below the stave of the score that need to be translated correctly for it to make coherent sense.
There should be no problems for these bands knowing what the opening 'Men of Harlech' - even in rather fragmentary form - goes like; or the soothing lullaby 'Suo Gan' or fleet-footed 'The Rising of the Lark' for that matter, but they will still come a cropper if they haven't paid close attention to the specific dynamic tempo and textural markings (horizontal and vertical) that are liberally inked in from start to finish.
24th Foot

No rousing rallying-call of the '24th Foot' then, or wannabe Tom Jones warblers in the middle section to compare and contrast for David Hirst and Gary Davies in the box if bands want to get to Cheltenham: Just good old plain, solid, no-nonsense brass band contesting basics done well.
---
Who will win?
It's not often we can say Welsh banding has underachieved at National level, but success in the Third Section has been a bit hit and miss over the years, with Ebbw Valley recording the nation's sole success for over twenty years in 2014.
Last year's representatives came 9th and 11th, so a little bit of work to do if Wales is to add to its total of four top-six finishes since 2010.
4BR Prediction:
Saturday morning's opening contest should be short and sweet with just seven bands taking part. However, it could be a keenly fought musical skirmish with the field headed by last year's returning champion, Rhyl Silver.
They will fancy their chances of returning to Cheltenham with the likes of Welsh League champion Abertillery Youth & District (the youth is a bit of a misnomer with some of their great stalwart players!) and runner-up, Gwaun Cae Gurwen battling to join them.
Fourth Section National Champion Usk look to show their title winning qualities at the higher level, whilst Briton Ferry and our dark horse of the returning Severn Tunnel (directed by the first American born conductor at the Welsh Area in Grant Jameson) can't be ruled out.
1. Abertillery Youth & District
2. Rhyl Silver
3. Gwaun Cae Gurwen
4. Crosskeys Silver
5. Briton Ferry
6. Usk
Dark Horse: Severn Tunnel
---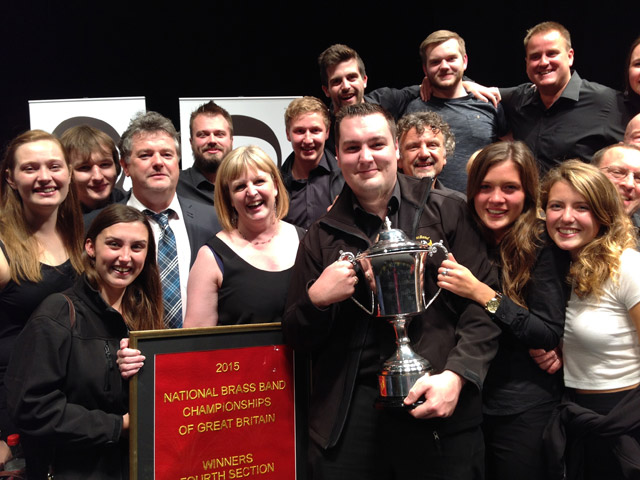 2015 Champions: Usk at Cheltenham

Fourth Section:
Test Piece: The Journal of Phileas Fogg (Peter Graham)
Sunday 20th March
Draw: tbc
Commence: 10.00am
Adjudicators: Paul Holland and Nigel Seaman
Newport Borough (Robin Hackett)
Oakdale Silver (Kerry Bowden)
Oakeley Silver (John Glyn Jones)
Phoenix (Luke Jenkins)
RAF St. Athan Voluntary (Alan Bourne)
Upper Rhondda (J. Thomas)
Ynyshir (Gary Davies)
Wales has a pretty distinguished list of intrepid explorers and travelers (including for the benefit of a certain English rugby coach, Welsh prop Samson Lee) to its name - from the man (Henry Morton Stanley) who found Dr Livingstone at Ujiji to the chap who had the highest mountain in the world named after him (Mr Everest).
There is even an urban myth that it was one of our boyos who gave America its name.
Glory

Not all have covered themselves in glory it must be said, so hopefully that won't be the case with the seven bands that tackle Peter Graham's, 'The Journal of Phileas Fogg'.
It has proved to be a cracking travelogue tour of the sights and sounds of London, Paris, the Russian Steppes, Vienna, Spain and a curious touch of Australasia thrown in for good measure; a series of fun-packed stereotypical cultural vignettes - put together with a great eye for detail, colour and texture.
Problems

However, it has also caused its problems - the pictures postcards only making sense if they are not smudged by poor intonation, dynamic imbalances and poorly observed tempos. The waltz has been a stumbling block - all left feet leads and far too slow tempos, although the bull-fight trumpet call has been a hoot - with some fantastic blasts that have been played in the manner of everyone from Maurice Murphy to Arturo Sandoval.
Get the overall package right and hard-working band secretaries will be looking at travel plans for Cheltenham, but get it wrong and it could be a long and winding road home.
---
Who will win?
Wales has produced some cracking qualifiers at this level over the last few years - with National title success since 2011 coming from Melingriffith 2, Ebbw Valley Brass, Northop Brass and Usk last year.
It's a brilliant record of achievement, so whoever gets through courtesy of Paul Holland and Nigel Seaman has a lot to emulate.
4BR Prediction:
It's a great pity we are not seeing the likes of Northop Brass competing anymore, whilst unfortunately Cwmbran and Cwmtawe don't make it to the starting line-up either.
However, look out for Phoenix - the feeder band to the outstanding Goodwick Brass, who made a great impression last year, whilst Newport Borough and Upper Rhondda should be bands to look out for alongside RAF St Athan and Ynyshir, both of who are rebuilding nicely.
Great to see the Oakeley Silver return with our dark horse of the hard working Oakdale Silver.
1. Phoenix
2. RAF St Athan
3. Ynyshir
4. Newport Borough
5. Upper Rhondda
6. Oakeley Silver
Dark Horse: Oakdale Silver