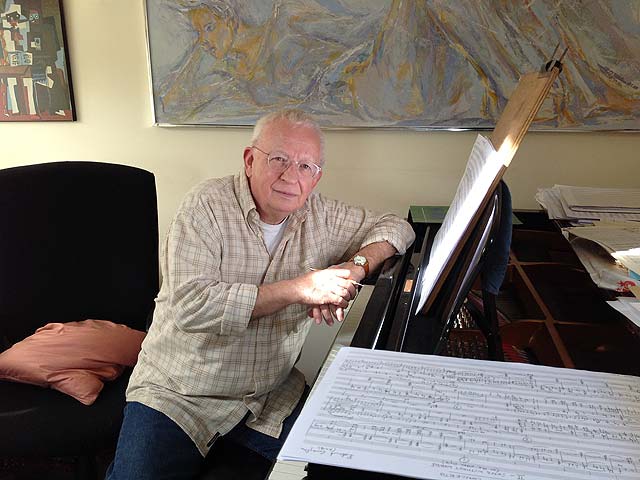 The composer at his work place in Pott Shrigley

Edward Gregson is looking for Yuri Gagarin.

Strange as it may seem, but the iconic Russian cosmonaut once played a very small part, albeit by default, in the composer's artistic development when he was a student at the Royal Academy in London.

Now, having just celebrated his 70th birthday, the man who also launched the banding world into a new sphere of exploration with 'Connotations' in 1977, is keen to explain that fleeting Gagarin connection, as he starts a substantive new role as Composer in Residence with the Black Dyke Band.

Alan Bush

Much to his delight, he finds what he is looking for tucked in a draw of the music studio in his lovely house in the picturesque village of Pott Shrigley, just outside Macclesfield.
"I knew I still had it here somewhere," he says as he joyfully brandishes the 1960s sheet music (costing 1 shilling and sixpence) written by composer Alan Bush, with its image of a waving Gagarin on its cover.
"Alan taught me composition at the Academy - and his influence was immense," he says as the reason for the search becomes clear. "He was an imposing, even frightening man to get to know at first - especially due to his stature and staunch Marxist politics - but his teaching was a revelation.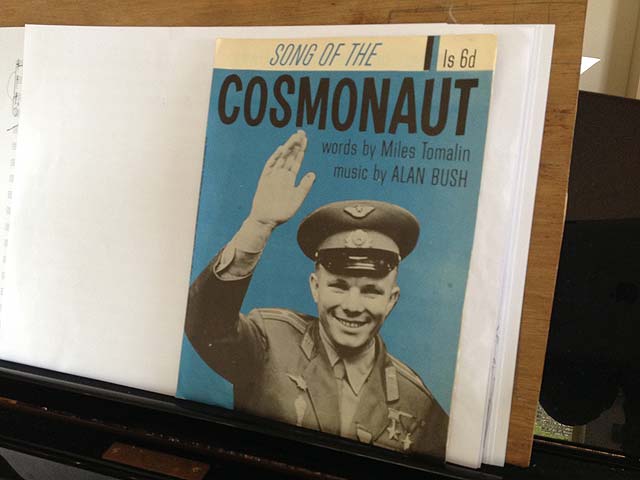 One small step of a Russian kind...

However, there was a great contradiction with him as a composer. He mainly wrote immensely 'serious' music: operas, symphonies, string quartets, song cycles, and so on, but he also wrote music for the Worker's Association, and much of this (with the copy still in his hand) wasn't much good."
Compositional voice

Placing the music on the piano, he continued: "It was through Alan Bush though that I was able to find my compositional voice - develop, explore and polish it, so that when I left the Academy I was in a position to start to take the first steps on what has been a long and rewarding musical career.

And that's at the heart of what I want to do in this exciting role with Black Dyke over the coming year - help the next generation of talented musicians find their unique compositional voices."

Key opportunity

As suspected, 'Song of the Cosmonaut' is no masterpiece - even with Gregson's best sight-reading piano and singing skills...

"Not perhaps his best stuff," he laughs before he delves further back in time by reaching into a cardboard box and pulling out one of his own earliest works - a romantic piano piece scribbled into a book of manuscript as a teenager.

"This is not much better either," he says with a smile, "...but the key is that having the opportunity to study with someone like Alan Bush opened new horizons and unlocked doors - even to the brass band compositional world.
Without his and other's invaluable teaching when I was a student I don't think my work would have developed along the lines it did.

I became a composer who eventually wrote for brass bands - not merely a brass band composer per-se, which I think there is a danger of some talented students becoming."



Recognition: The Patron's Award from the North American banding world

His appointment as Composer in Residence has therefore come at a time when Gregson is keen to replicate that Alan Bush role himself.

After retiring as Principal of the Royal Northern College of Music he has remained busy working on new commissions and projects, but he jumped at the chance to link up with a band he has enjoyed a long and distinguished connection with - especially as it now enables him to shape and develop a new generation of composers.

Connection

"My connection to Black Dyke goes back to the late 1960s," he says. "Like many young composers I had written works with a sense of optimism that they were going to lead to immediate success, but I found myself struggling."

He revealed that good fortune and circumstance saw Geoffrey Brand (who was Black Dyke's professional conductor at the time and who was present at a performance of Gregson's 'Concertante for Piano and Band' at the Royal Festival hall in 1967, with the composer as soloist) get in touch and make him an offer too good to resist.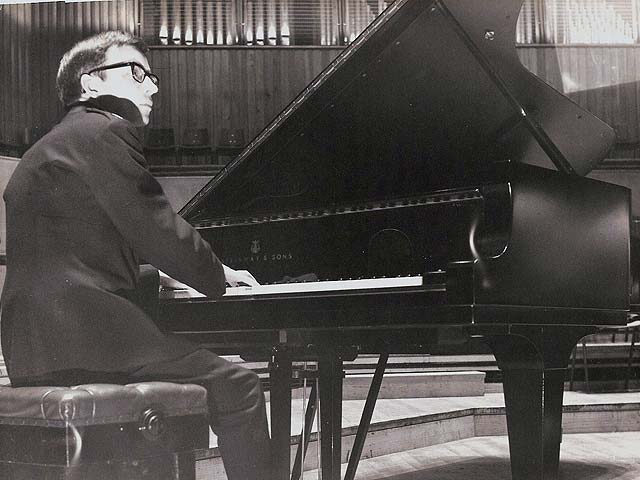 First movement: At the Royal Festival Hall as soloist in 1967

"Geoffrey was looking for a new young composer to write music for his newly acquired publishing company, R. Smith & Co., and he offered me a contract to write brass band music exclusively for them. The rest is history!
At the same time I had my first non-brass band works published by Novello (Elgar's publisher), who remain my main publisher to this day.

So having an income from composing from two publishers was too good to be true - and having the chance to develop my skill set and style by writing for different genres proved very beneficial. Without it wouldn't have come works such as 'Essay', 'The Plantagents' and even 'Connotations'."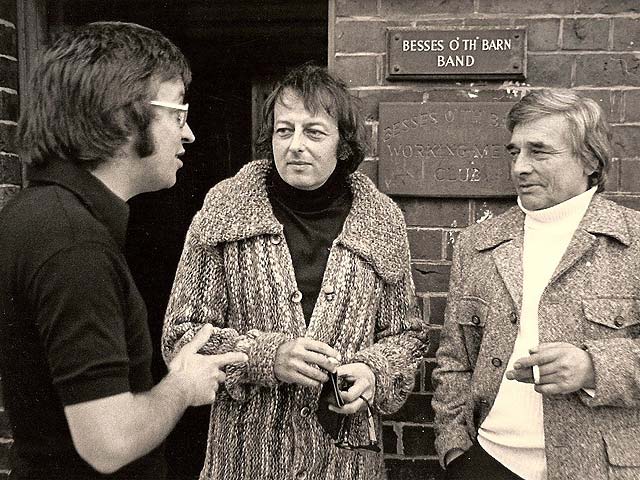 Connections to a wider musical world: With a certain Andre Previn

New directions

He added: "This new role at Black Dyke working with Nicholas Childs now gives me the chance to work directly with its own 'in-house' compositional talents such as Jonathan Bates.

It's also such an exciting project that could have huge benefits for the banding movement as a whole. We need works that take us in exciting new directions - just like many people believe 'Connotations' did in 1977."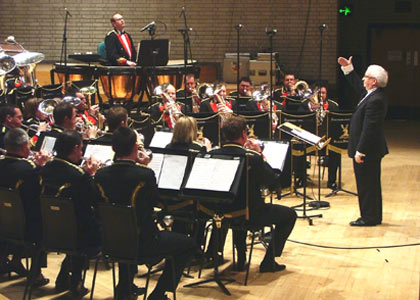 Black Dyke link: Conducting the band at the RNCM in 2008

The opportunity has come from the award to Black Dyke of the first tranch of £49,000 of an overall £147,000 funding package to support a far-reaching 'Three Year Strategic Music Development Plan' for the band.
The ground breaking project has been supported using public funding through the National Lottery through Arts Council England, and will see the Queensbury band work with major partners such as Gregson to further enhance their extensive commitment towards youth development and artistic projects.


Arts Council support

Significant

Director of Music Prof Nicholas Childs also sees it as a hugely significant opportunity for emerging compositional talent such as his solo horn player.
"Having the chance to work in this way with Edward Gregson is remarkable for any young composer. His breadth of experience and world renowned reputation will enable both Black Dyke and the wider banding world to reap the benefits in the years to come.
It's a privilege to have him working with Black Dyke in such a key role. Jonathan will benefit hugely and so will the band, but in the years to come I'm sure it will also lead to a lasting legacy of substantial works too."

Better composer

For Jonathan it is another major stepping stone on what is already proving to be an increasingly successful composing career, and one which has already seen him also write a National Finals test-piece - his 'British Isles Suite' for the Fourth Section in 2012.
"I couldn't have wished for anything better," he said. "You only have to study the orchestral scores of Edward Gregson to immediately become a better composer. Having the chance to work with him throughout the coming year is an amazing opportunity that I'm sure will be of huge benefit to me."

With Ib Lanzky Otto: principal horn of the Stockholm Philharmonic Orchestra

Musical hunger

It's that sense of eager musical hunger that also appeals to the composer himself as he explained further.
"It's so refreshing to hear a young composer who wants to develop in so many ways," he says. "I want the next generation to bring different colours, textures and ideas to their writing - and not just for brass bands. I want a talented composer like Jonathan to find his own individual voice and explore it to the maximum – to write music for music's sake and not to be confined by needing to write test-pieces for band contests - something that can be very limiting from a creative point of view.

I see my role as being the touchstone for young composers to help explore and develop their techniques in different genres. Underpinning this though must be the desire to test their talents to the limit at all times."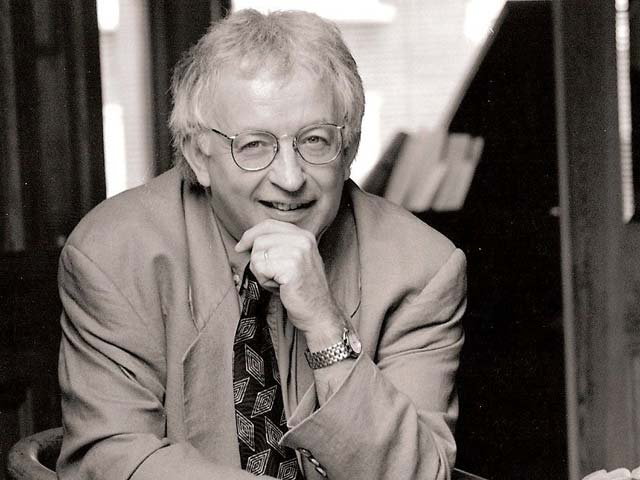 Undimmed passion...

Long term
He speaks with a musical passion that you sense has never dimmed its bright light ever since those early days in London.
He is also delighted that with the Arts Council backed three-year plan, Black Dyke has also embraced that sense of long-term musical investment - something which he feels they have also led the way with in the brass band world.
"Nicholas Childs is a remarkable musician - and someone for whom I have the greatest respect. This role is in many ways an extension of what he's helped promote with them since taking over as Musical Director.
Black Dyke has helped numerous young composers over the years, many of who have gone on to become very successful. This new Arts Council England project - one which has taken a great deal of hard work and professional inspiration to gain - is another remarkable achievement, and I hope to play my part in its successful outcomes."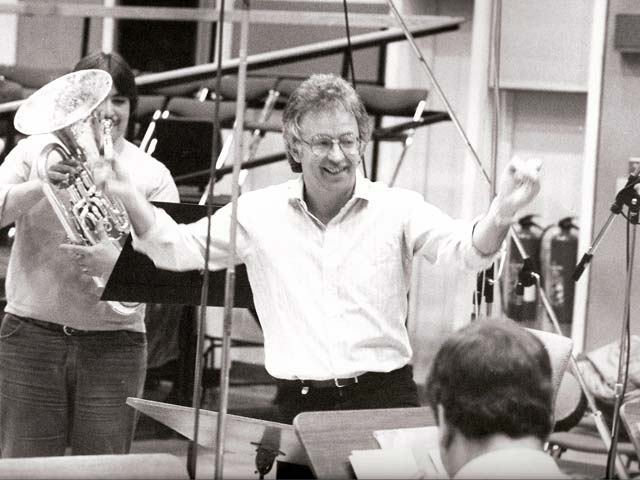 Helping developing talent...

Deep pool

And although that role also encompasses his own compositional output for the band, he remains hopeful that it will also develop a deep pool of future composing talent that can be dipped into with his help.
"Getting that talent to explore a landscape that embraces other genres is so important," he adds.
"As I said - we need to develop a new generation who are serious about what they want to achieve - and not just through the brass band medium. I want to work with composers who don't compromise, but who want to embrace change without losing their individuality. That way they will write more meaningful music for the brass band medium.

This project facilitates that brilliantly - and I can see it having lasting benefits in the years to come. I want to help produce what I call 'thinking composers' - those serious about their talents and how they broaden their horizons.

Just think what is waiting to be unlocked with the likes of Jonathan Bates and others. Just think what they can achieve and produce by further developing their talents in innovative ways."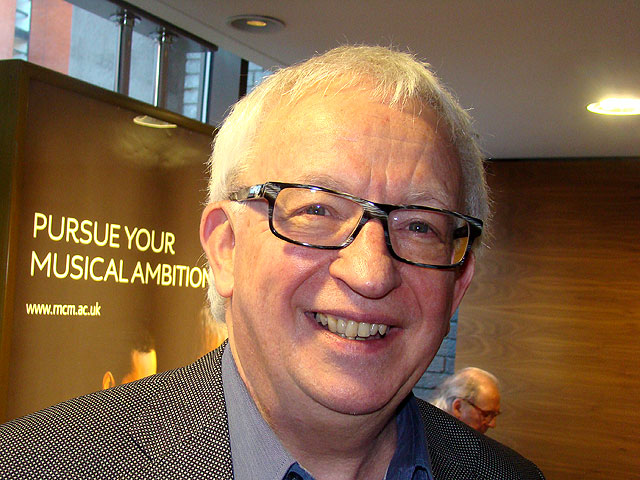 The sign says it all...

Full flow

The composer is now in full flow - and you can feel the passion that fuelled his own desire to broaden his horizons in those early learning sessions with Alan Bush seeping through his veins once more.
"It's going to be a two way process - and one that the Band will embrace. It's not about helping one composer, but helping many, many more. Black Dyke can, and will, do that: They are a great bunch of musicians, never afraid to take up musical challenges - and what an opportunity they offer.
I'm so committed to this project that we've already started working on plans that will keep us all busy for the next twelve months and more!"
That passion also means Edward Gregson is set to help light the blue touch-paper to ignite the fuel for new composers to reach for the skies above.
No wonder we both joined in the song chorus of 'Yuri Gagarin! Defied the laws of gravity, broke out of earth's captivity...' before I left for home....

Iwan Fox