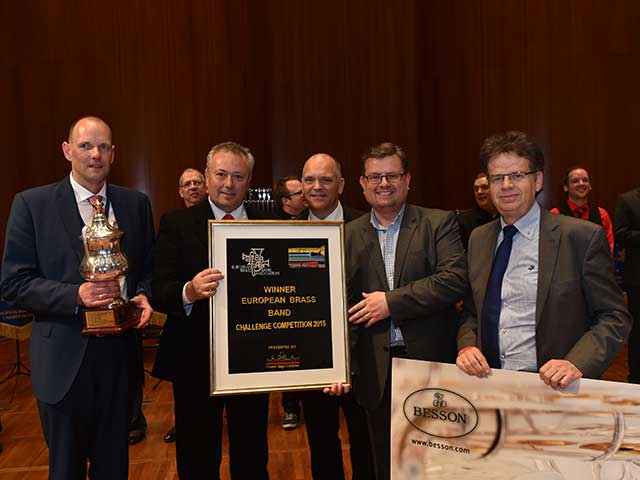 2015 Challenge Section winners: Italian Brass Band

Solo Champion

In addition to the main Blue Riband Championship Section contest, there will also be a great deal of interest in the other European title attractions over the weekend - with the first decided on Thursday evening with the 7th European Solo Competition.
Over the years we have enjoyed some memorable performances - all the way back to remarkable 1999 winner Thomas Ruedi, so hopefully another superstar player will claim the trophy this time around.
Judges Michel Becquet, Thierry Deleruyelle, Russell Gray, Steven Mead and Thierry Thibault have had a hard task in picking out a top three, so we should be in for a treat at the Conservatoire de Roubaix.
Challenge Section

The Challenge Section meanwhile will take place on Saturday morning as the tasty aperitif to the own-choice selections of the elite bands. There are six rivals this year - led by defending champion Italian Brass Band under the baton of Filippo Cangiamila.
They are up against a strong field of challengers though, with the Irish of Lourdes (Michael Hannan) and the Northern Irish of Murley Silver (William Hill), the Germans of Brass Band Sachsen (Bryan Allen), the Lithuanians of Sekmaieninis Brass (Tadas Sileika) and the home favourites of Douai Brass (Oliver Degardin)

Future champions?

The set-work is entitled, 'Samson' by Rodolphe Schacher, whilst the music to performed shows just how far this level has progressed in recent years with the own-choices pieces of 'A London Overture', 'Abaddon 'The Dark Angel', 'Blackout', 'Glorifico Aetrnum', 'Rhapsody in Brass' and 'The Saga of Tyrfying'.
Plenty then for the judges of Michael Bach, Michael Forsyth and Fabrice Millischer to enjoy after the heavy-duty work they had placed in their laps with the Elite section set-work the night before.
And whilst both the new 2016 European Challenge and Championship Section winners celebrate long into the small hours on Saturday, thirteen youth ensembles will be preparing to represent their counties with pride at the European Youth Championship the following day.
Hopefully there will be plenty of people in the hall to support their efforts too - as last year's event was a bit sparse on numbers (and that the competitors can get in for free to check out their rivals and meet new friends)
---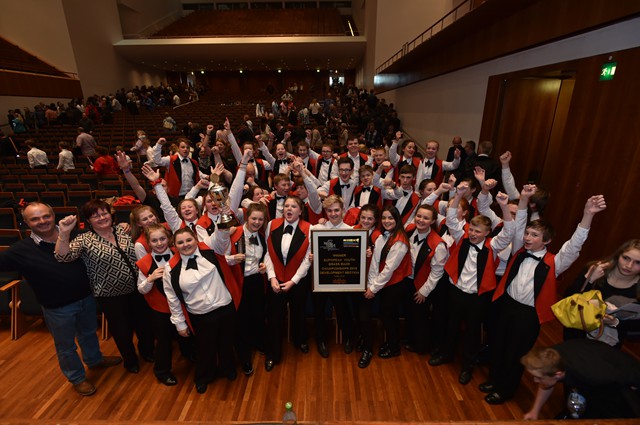 European Youth Brass Band Contest:
Development Section:
Test Piece: Music for Greenwich (Edward Gregson) & Own Choice Programme
Le Nouveau Siecle
Draw: Pre-drawn
Commence: 9.30am
Adjudicators:
Florient Didier, Thierry Deleruyelle, Michael Forsyth, Steven Mead
1. Elland Silver Youth (Samantha Harrison)
Prismatic Light (Fernie); Bayerische Polka (arr. Fernie); March Lorraine (Ganne); Lady Stewart's Air (Graham); Sparkling Diamonds (arr. Smith)
2. Ausktyn Brass (Remigijus Vilys)
Santa Lucia (Jakma Sr arr. Daugela); Lai Skamba Dudos Agnelu (Sieika); Gospel Brass Machine (Taylor arr. Specha)
3. Tertnes Skoles Musikkorps (Jan Egil Jorgensen)
Norwegian Dance (Aagard-Nilsen); Fields of Gold (Sting arr. Giske); Robbie and Michael (Williams, Chambers, Jackson arr. Giske)
4. Cardiff County and Vale of Glamorgan Youth (Charles Maynard)
Concorde (Roy Newsome); Funk Engine (Howells)
5. Wardle Academy Youth (Lee Rigg)
Old Hundredth (Vaughan Williams arr. Stanko); Canterbury Chorale (Van der Roost); The Mansions of Glory (Bates)
---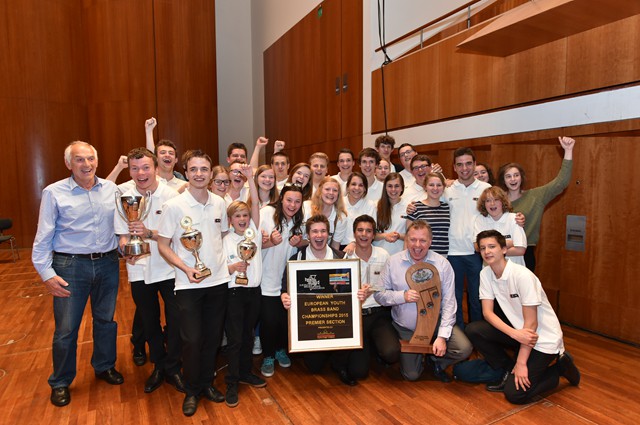 Premier Section Section:
Test Piece: Olympus (Philip Harper) & Own Choice Programme
Le Nouveau Siecle
Draw: Pre-drawn
Commence: 11.30am
Adjudicators:
Florient Didier, Thierry Deleruyelle, Michael Forsyth, Steven Mead
1. Bayerische jugend Brass Band des 3BA (Benjamin Markel)
Carnival of Venice (arr. Mark Freeh); Lake of the Moon (Houben)
2. National Youth Brass Band of Denmark (Stig Maersk)
Mysterious Voices (Kiurkchiiski arr. Simon Dobson); Lux Aurumque (Whitacre arr. Smith)
3. Young Brass Band Willebroek (Frans Violet)
Rule Britannia (Hartmann arr. Stephens); Irish Blessing (Bacak arr. Bradnum); Cossack Fire Dance (Graham)
4. Youth Brass Nord Pas de Calais (Luc Vertommen)
Tribute (James Curnow); 'neath Dublin Skies (Lovatt-Cooper); In Perfect Peace (Downie)
5. Youth Brass 2000 (Chris Jeans)
Capriccio Brillante (Belstadt arr. Smith); Scherzo for Motorcycle and Orchestra (Williams arr. van de Woude); Marco Brioso (Sparke)
6. Liberty Brass Band Junior (Christoph Luschsinger)
Olympiada (Hazo arr. Bates); The Piper o' Dundee (Downie); The Champions (Willcocks)
7. Great Gwent Youth Brass Band (Gareth Ritter)
Brooklyn (Youngblood Bras Band arr. Collins); Me Sandman (Bollard arr. Baker); The Shepherd's Song (Richards); Nightingale Dances (Hall)
8. Pavoveres Brass Band (Bronislovas Vilimas)
The African Connection (Wittrock); Vaivorykste (Rainbow) (Giedraitis)