The Senior Trophy:
Spanish Hall

Test Piece: James Cook Circumnavigator (Gilbert Vinter)
First Prize: £600 and Senior Trophy
Second Prize: £400
Third Prize: £300
Fourth Prize: £200
Draws: 10.15am & 1.20pm
Commence: 11.15am
F: First half draw
S: Second half draw
1st Old Boys (Stephen Cairns) (F)
Bo'ness & Carriden (Andrew Duncan) (F)
City of Bradford (Lee Skipsey) (S)
Dalmellington (Richard Evans) (S)
Drighlington (John Roberts) (F)
East London Brass (Jayne Murrill) (S)
Felling (Chris Bentham) (F)
Filton Concert Brass (Tom Davoren) (S)
Foresters Brass 2000 (Jack Capstaff) (F)
Goodwick Brass (Matthew Jenkins) (S)
Jackfield (Elcock Reisen) (Simon Platford) (S)
Laganvale (Metal Technology) (Stephen Crooks) (S)
Leicester Co-op (Graham Jacklin) (F)
Longridge (Mark Peacock) (S)
Medway (Melvin White) (S)
Oldham (Lees) (John Collins) (F)
Roberts Bakery (Simon Stonehouse) (F)
SPAL Sovereign Brass (Trevor Jones) (S)
Tylorstown (Gary Davies) (F)
Unison Kinneil (Colin McKenzie) (F)
---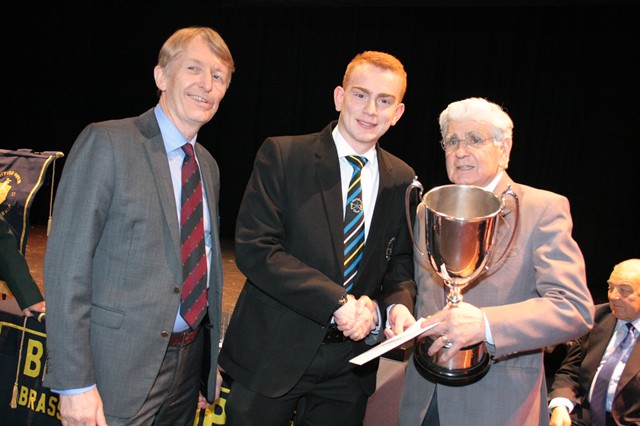 2015 Champion: Rainford Band

Every one of the 20 bands that take to the stage amid the exotic surroundings of the Spanish Hall on Saturday will know that they are potentially just three steps away from Symphony Hall.
How many actually believe they can get there by 2018 is another matter - but to be fair, they wouldn't be making the trip to Blackpool if they didn't at least think they were in with a chance.
Reality and ambition are therefore intertwined at a contest that since it's reconstitution in 2002 has seen four bands make it through to Symphony Hall; Tongwynlais, Woodfalls, Milnrow and Beaumaris - with the now non-competing north Walians taking shortest time of five years.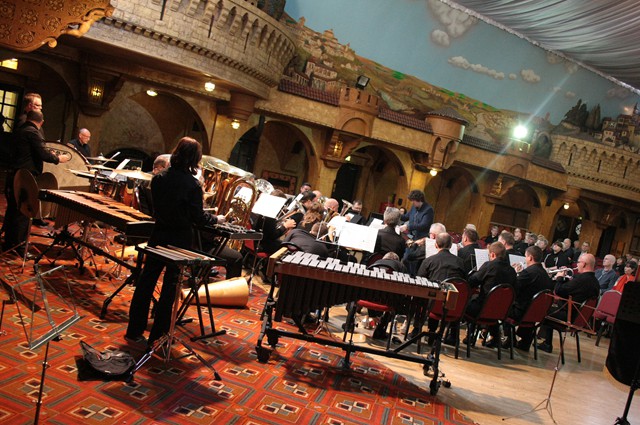 Exotic surroundings

However, before the dreams of others can come true, the first musical hurdle to overcome is provided by a classic piece of brass band writing - and Gilbert Vinter's 'James Cook- Circumnavigator'.
Considered choice

It's a well-considered choice - and follows a pattern that since 2002 has seen a balanced mix of established repertoire that has given the competitors every chance to showcase their inherent strengths without over-illuminating more obvious weaknesses.
That's a good thing (and a bit of a relief after the difficulties of 'Cambridge Variations' at the Areas and the bear trap that faces contenders in the Senior Cup). Each band should be more than capable of meeting the challenges of a composition, that although testing, should be within their technical and musical reach (and that includes the five First Section outfits).
Last work

Vinter's final test-piece was completed shortly before his death in 1969, and was originally commissioned for the New Zealand Brass Band Association by the Port Nicholson Band Trust to commemorate the Cook Bicentenary. It was subsequently premiered at their National Championships in 1970.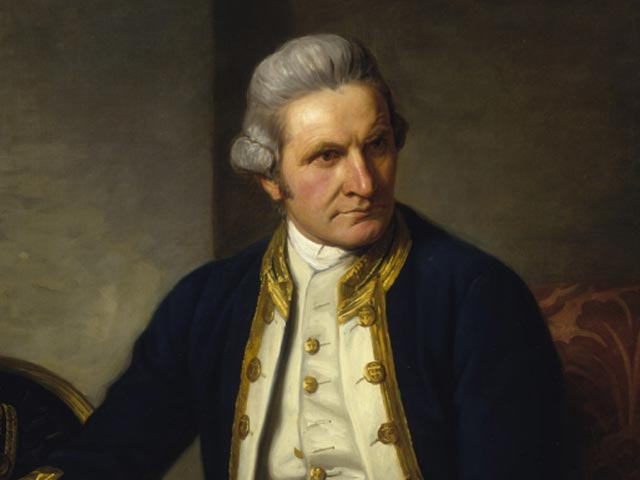 A complex man: James Cook himself

It has since become one of his most popular works (used at the British Open in 1974) - although in comparison to 'Spectrum' written just a year before, it is much more orthodox in structure and outlook.
Moods and aspirations

However, it is still a portrait of a man of complex moods and aspirations; marked by the lilting optimism of the waves breaking on the hull of his ship 'Endeavour' to open and the fractured 7/4 excitement of his initial voyages of discovery (including the circumnavigation of New Zealand), before his fateful return to Hawaii in 1779.
Vinter therefore asks questions in unexpected places; from the opening to the Allegro giocoso on the baritones to the calming solos handed gently between Bb tuba, horn, soprano, euphonium, flugel and euph again that herald a cornet cadenza of authoritative panache that also acts as a clarion call to a trio of triple-tonguing trombones.
Disembowelled

The noble march that follows is built on carefully defined dynamic steps (from pianissimo to forte only) which is brought to a sudden, terrifying climax, as Cook is clubbed to death; falling face down in the tam-tam crashing surf. The aftermath (he was disembowelled and his flesh boiled from the bones) is full of sombre remorse from natives who believed him to be a deity.
His passing is marked by a distant recall of his thematic motif accompanied by the sound of muffled drums, before his memory is revived in spirit as a triumphant reprise coda of brilliance.
It's stirring stuff.
---
Who will win?
A hard one to call this given the well matched field of contenders on a test-piece that should bring out the best in Captain Cook MDs who understand the need for considered dynamics, texture and pace, as well as first-mate soloists who can spot the chance to claim a 'Best Instrumentalist Award' with a display of seafaring bravura.
With that in mind then the impressive trio of Filton Concert, East London Brass and Dalmellington all come to the contest on the back of good Area outings, whilst Goodwick Brass, Longridge and Jackfield (Elcock Resien) are also brim full of confidence.
However, there are also a host of 'dark sea-horses' worth putting a treasure chest full of gold on too - with City of Bradford, Roberts Bakery, Oldham (Lees) and Drighlington in the mix to fill the top ten spots for us.
4BR Prediction:
1. Filton Concert Brass
2. East London Brass
3. Dalmellington
4. Goodwick Brass
5. Longridge
6. Jackfield (Elcock Reisen)
Top 10 Dark Horses: City of Bradford, Roberts Bakery, Oldham (Lees), Drighlington