The Grand Shield:
Opera House
Test Piece: Of Distant Memories (Edward Gregson)
First Prize: £800 and Grand Shield
Second Prize: £600
Third Prize: £400
Fourth Prize: £300
Draws: 9.30am & 1.00pm
Commence: 10.30am
F: First half draw
S: Second half draw
Aldbourne (David Johnson) (F)
Ashton-under-Lyne (Philip Chalk) (F)
Burry Port Town (Michael Thorne) (F)
Carlton Main Frickley Colliery (Erik Janssen) (S)
Camborne Town (Kevin Mackenzie) (S)
Co-operative Funeralcare (North West) (Jef Sparkes) (F)
East Yorkshire Motor Services (Stig Maersk) (S)
Friary Guildford (Chris King) (S)
Hepworth (Mark Peacock) (F)
Jaguar Land Rover (Dave Lea) (S)
Kirkintilloch (Garry Cutt) (F)
Northop Silver (Andrew Berryman) (S)
Pemberton Old Wigan DW (Kevin Gibbs) (F)
Redbridge (Alan Duguid) (S)
Reg Vardy (Russell Gray) (F)
Tongwynlais Temperance (Glyn Williams) (S)
Unite the Union (City of Sheffield) (David Hirst) (F)
Virtuosi GUS (Adam Cooke) (S)
Whitburn (Prof Nicholas Childs) (S)
Wingates (Paul Andrews) (F)
---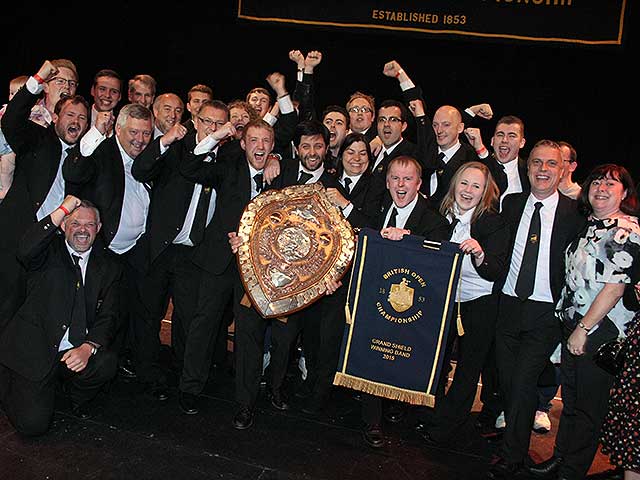 2015 Champion: Rothwell Temperance

The Grand Shield is the hardest contest in the banding world to win for good reason.
20 competitors that in the vast majority of potential qualification cases can only be separated by a wafer thin sheet of contesting Bronco paper will take to the stage in the Opera House to battle it out for the two priceless tickets to Symphony Hall.
Heady mix

The air will be filled with a heady mix of sweat, valve oil and cheap deodorant: Bums will squeak, nerves will shred and reputations will be made or diminished. It is a brilliant, heartbreaking event - where the prize for coming second tastes every bit as sweet as that for winning, and the despair at coming third makes even seasoned players scream silently in horror like a muted Edvard Munch painting.
Come Saturday night, success can turn the Winter Gardens into a palace of earthly delights or the first stop on the Golden Mile of misery back home.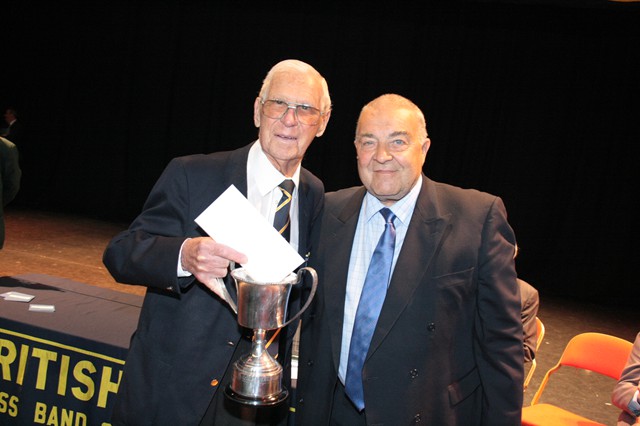 No happier man last year than the much missed Ken Worgan of Woodfalls

Nine Albert Hall qualifiers

Just look at the line-up this year: There are no less than nine Royal Albert Hall qualifiers (Aldbourne, Carlton Main, EYMS, Friary Guildford, Reg Vardy, Tongwynlais Temperance, Virtuosi GUS, Whitburn and Wingates) in the ranks plus another three that claimed a podium slot and didn't get through.
There are bands on the up and those still smarting from an Area boot in the knackers, high profile conductors with points to prove and those with reputations to maintain. Nobody wants to come back here next year.
Hard way

Whoever gets to engrave their name on the newly refurbished Grand Shield Trophy will have done it the hardest way possible.
To ensure they don't have to find out the early booking discounts for 2017 bed and breakfast rates they will have to master a wonderful work from the pen of Edward Gregson - one that will have found a great deal of favour from just about every person taking part.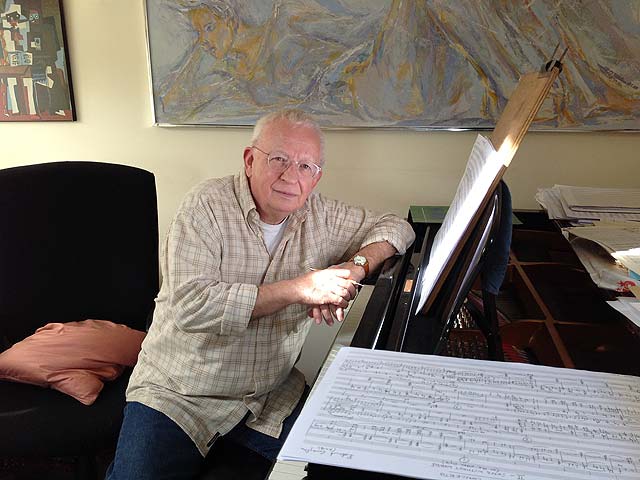 The Memory Man: Edward Gregson
'Of Distant Memories' (Music in an Olden Style), made such a favourable impression when first used at the 2013 National Final at the Royal Albert Hall, and it has since gained critical acclaim throughout the banding world.
It is a masterfully created tone poem of adaptive test-piece facadism that pays generous musical homage to pioneering composers such as Fletcher, Holst, Bliss, Howells and Vaughan Williams, who gave the brass band movement a foundation of distinguished original works on which to build.
Skill

The inherent skill in preserving that exterior 'olden style' of writing is obvious; but it is pinioned by stanchions that support modern internal material, made up of elegant melodic, harmonic and textural balances.
His 'contemporary colouristic terms' (as he states in his own notes to the score) are certainly far removed from the original palette shadings of 'Epic Symphony', 'Severn Suite', 'Moorside Suite' and 'Kenilworth', but they are never garish, or disrespectful.
Sublime detail

There are affectionate nods of test-piece appreciation, but Gregson also revels in other elements of sublime detail - little motifs and interventions that add a spark of sharply focused, intellectual wit; from a little snippet of Alban Berg to a touch of Leonard Bernstein.
The composer has repaid his personal debt of gratitude to the giants of our musical past with a work that places him firmly in their historic company - and in doing so asks substantive questions of bands and their MDs in trying to bring it thrillingly to life.
---
Who will win?
If ever there was a $64,000 question that nobody really knows the answer to then this is it.
What odds on a splendidly rejuvenated Carlton Main Frickley under the baton of Erik Janssen, or a uber-confident Whitburn directed by Prof Nicholas Childs?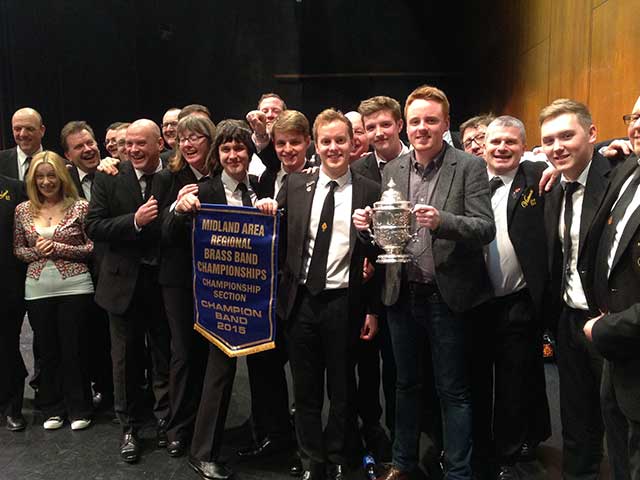 Can Virtuosi GUS put their name on the Grand Shield trophy?

Impressive

Will the mightily impressive Area winning duo of Virtuosi GUS or Reg Vardy sweep all before them under their MDs Adam Cooke and Russell Gray, or will the player infused brace of Wingates and Tongwynlais have a fine reason to give their temperance heritage a celebratory miss come the results?
The revitalised trio of Hepworth, EYMS and Aldbourne come on a wave of inspired contesting form whilst Friary Guildford seems to get better and better on each outing.
All this and you would be silly to dismiss the chances of the solid looking Kirkintilloch or Ashton under Lyne (both of who just missed out on the Albert Hall), or the likes of Burry Port, Camborne, Co-operative Funeralcare (North West), Jaguar Land Rover, Northop Silver, Pemberton Old Wigan DW or even the eager replacements for the withdrawals of Marsden and Mount Charles of Redbridge and Unite the Union.
Everywhere you look

Everywhere you look there is a case to be made for a potential qualifier.

That said, Virtuosi GUS will not want to make it two narrow misses in a row, whilst Whitburn will definitely not want to extend their stay for a seventh year. Carlton Main spent nine years in the British Open before falling through the trap door last year, whilst Reg Vardy will be looking to repeat their 2011 Grand Shield success as they look to return to Symphony Hall after three years in the Blackpool wilderness.
Hepworth is another band that has tasted success here twice in the past decade or so, whilst Friary Guildford is determined to become the first London Regional band to qualify for the British Open since 2007. These are all good value each-way bets at the nearby bookies.
And if any, or all, fail to live up to their pre-contest form, there is a veritable stampede of dark horses waiting to take their place...
4BR Prediction:
1. Virtuosi GUS
2. Whitburn
3. Carlton Main Frickley
4. Reg Vardy
5. Hepworth
6. Friary Guildford
Top 10 Dark Horses: Tongwynlais Temperance, Wingates, Jaguar Land Rover, Kirkintilloch