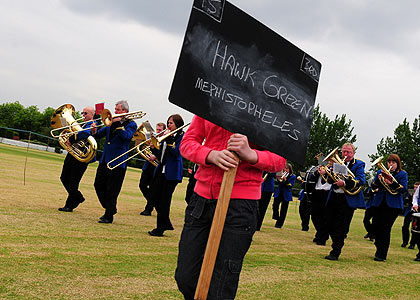 Summer is here again...
You know when Summer has arrived in the UK: The last managerial sacking of the football season is announced, the first ball of the English test match cricket is bowled and the annual pilgrimage to the Whit Friday contests takes place.
The self-proclaimed 'greatest free show on earth' - with its intoxicating mix (in every sense of the phrase) of keen contesting rivalry and unquenchable thirst, will once again take place around the famous villages of Tameside and Saddleworth & Oldham.
And with the weather forecast being variable depending on which forecast you view, it should turn out to be yet another memorable banding occasion - well into the small hours of Saturday morning.
Tarnished

Very little can spoil the enjoyment factor of Whit Friday (despite a few deluges in recent times) but last year's events in Saddleworth were tarnished somewhat by the well-documented accounts of alleged gamesmanship.
However, any player still smirking at Black Dyke's disqualification in Delph (for not being ready to play as the rules stated) would be better off biting their lips before indulging in a faux display of contesting piety; whilst any band with a glass house near their rehearsal room would do equally well to reign in any lingering sense of schadenfreude too.
With the exception of the hard working contest officials, nobody came out of it looking good.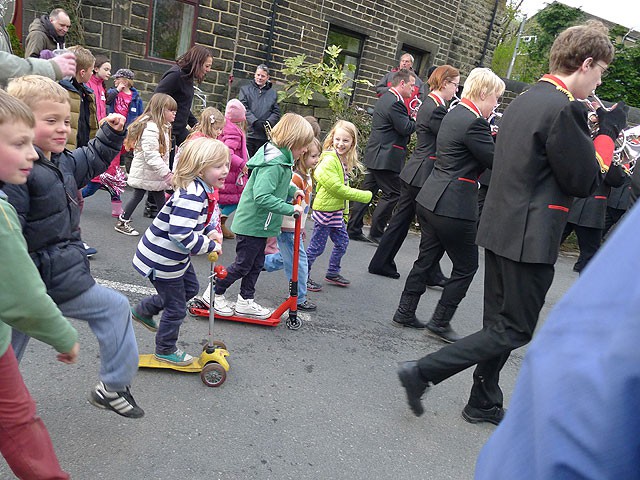 Lets try and make it a good news story this year

Squalid and petty

Whatever the rights and wrongs involved, to the outside world it all looked a little squalid and petty - and rather summed up the feeling that for far too long, too many bands had been 'trying their luck' at getting away with bending the rules.
What should have been a very positive feature on the North West regional current affairs programme, 'Inside Out', of a story of youth bands, charity ensembles and overseas visitors lapping up the atmosphere and warm community welcomes, turned into fly on the wall tale of negative parochialism - played out to camera with a stereotypical musical amateurism for all the world to see.
It was a PR banding disaster that had been waiting to happen for years.
The fine line between keen competition and down-right cheating is a fine one in banding - one that had been crossed far too many times at Whit Friday in recent years.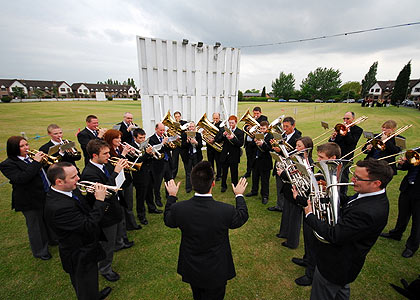 Pitching in: Venues in all shapes and sizes

Lessons learnt

Hopefully the lessons have been learnt - but don't bet against it. If it happens again this year, then those involved should hang their heads in shame.
Similarly, bands need to start accepting the decisions of the judges on the night and stop their petty-minded moaning (and some bands ring up with their demands and accusations to contest organisers well into the early hours of the morning) of the 'we wuz robbed' variety.
This year 4BR has been informed of some bands already complaining that the prize money on offer at some venues 'isn't good enough'. What? Isn't good enough to win them up to a grand for playing an old march?
Amazing achievement

The fact that the contests run year after year is an amazing achievement - especially as many of those involved are not banding aficionados. They now have to also contribute towards costs that in many cases used to be met by cash-strapped local authorities.
Times are tough: very tough in some areas, so asking small local businesses to support events each year is hard. Why should they support things if all the PR that eventually finds its way to the outside world through the national media is about accusations of cheating?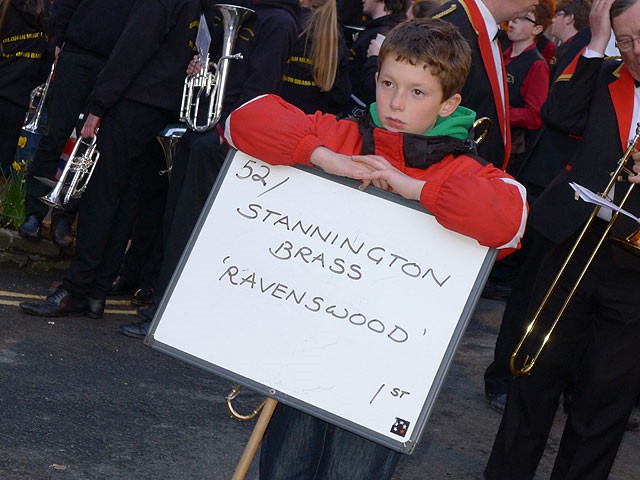 Waiting patiently...
£60,000

In Tameside, organisers have managed to overcome the prospect of being charged extra for having rubbish bins at their venues. Carrbrook meanwhile has managed to find an extra £500 to ensure that they can have their bands performing on a properly constructed stage once again.
This year over £60,000 is on offer in prize money to competitors over both circuits. That an incredible achievement by those putting on the events. Bands really do need to wake up and start smelling the coffee before they start spouting off about hard done by they are...
Tameside's support is helped by 103.6 FM Tameside Radio and Premier Kia (Dukinfield) with the latter taking over the sponsorship of the Youth contest previously supported by Besson, whilst in Saddleworth, it continues from Oldham Council and Saddleworth District Partnership.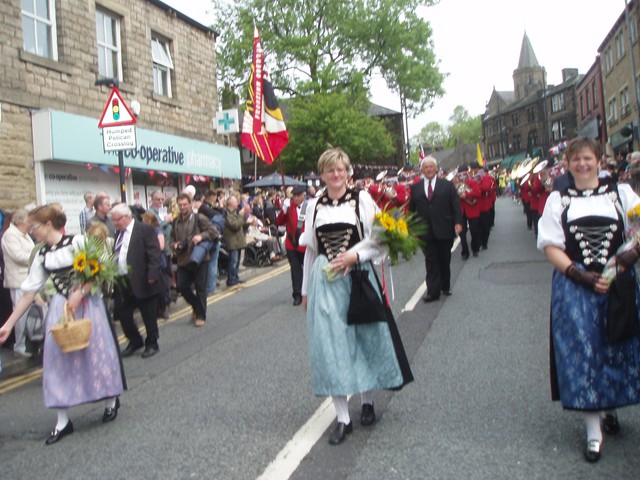 Warm welcome for visitors

Sadly missed

As ever the contests also bring time for a different type of reflection, as this year two popular figures will be sadly missed.
Bill Cullen, the respected co-ordinator at Lees & Springhead, and the man who collated the overall Saddleworth results passed away in February, whilst the popular cornet player, Mark Rodgers died suddenly just a few days ago. It will be a night to respect but also celebrate their contributions.
Police instructions

As for other considerations: In Denshaw, on police instructions, Huddersfield Road must reopen by midnight, so the band must have finished playing by that time. Consequently, Denshaw have brought their last 'booking-in' to 10.30pm. The organisers are also planning to shorten the 'march-down' after 10.00pm if there are a large number of bands waiting.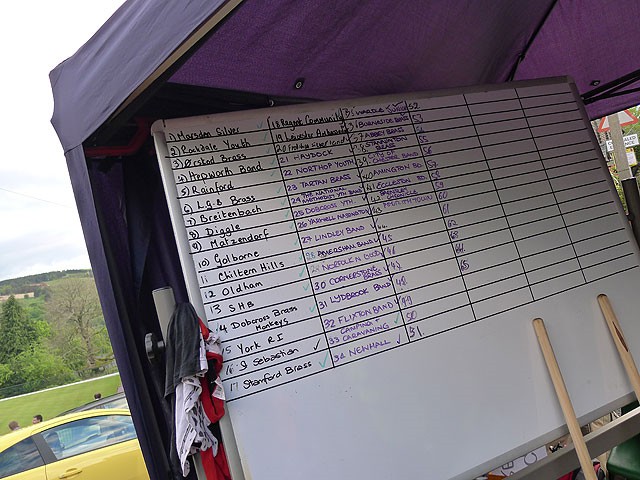 Its all on the board...
21st century

As always, the day will start with the traditional Processions of Witness in Saddleworth and Mossley at 9.00am, before the band coaches take to the roads led by reigning Saddleworth Champion, Fairey.
All that and it's great to see that a number of contests have taken on board the 21st century world of social networking, with Twitter updates on social media for @BandContest, @CarrbrookWhitFr, @DBBAwhitfriday, @DelphContest , @Denshawcontest and @digglecontest amongst others.
Profitable night
Defending Saddleworth Champions, Fairey & Garry Cutt will be out aiming to retain their title, but no Black Dyke or Grimethorpe Colliery this year, but fresh from their European challenge, Brighouse & Rastrick will have Leigh Baker at the helm, whilst Hammonds Saltaire will be led by Morgan Griffiths. Regular prize winners Hepworth and Marsden are anticipated to be out in force once more.
Meanwhile, Rothwell Temperance will be looking for a profitable night on both circuits whilst Leyland has advertised on their website their intention to compete, as have newly crowned Senior Cup winners, Rainford. Keep an eye out also for the immaculately presented Kings Division Band who is planning to be out in force.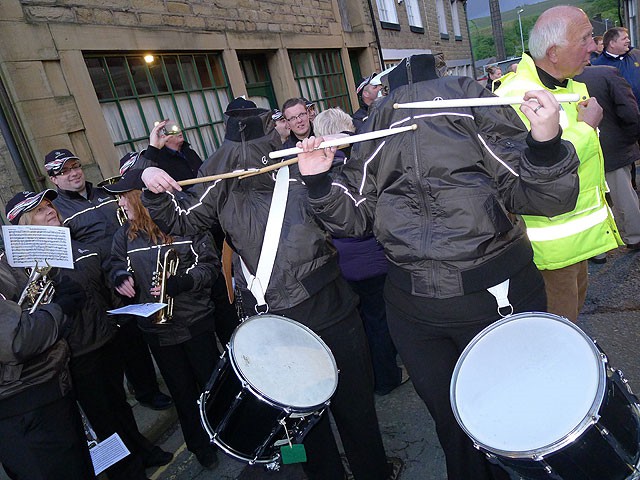 Its when you become legless that the problems begin...

Young guns

Over in Tameside, Foden's will look to claim a thirteenth title in fourteen years, having created their own bit of history by winning all the contests in the borough last time out.
How many bands have decided to take to the Tameside circuit with the aim of 'dethroning' the defending champion is unknown, but local favourites Ashton-under-Lyne, Mossley and Stalybridge will all have their eyes on picking up cash in the Open and Local contests categories.
The Youth championship will no doubt see a host of young guns, putting any GCSE and A-level revision aside for the night to enjoy themselves, but they, like their senior counterparts, must compete at a minimum of 6 venues to be eligible for the competition.
As usual, there will be a host of 'scratch bands' taking to the streets, so look out for something a little different, whilst there is always the welcome appearance of overseas visitors - with at least two participating in the morning Walks of Witness.
M. G. Dietwil, Lignieres and Musik Frohsinnoberburg are all over from Switzerland, as are Swedish outfits Windcorp and Lund University. Windcorp's first Whit Friday visit also coincides with them being present at the Major Peter Parkes memorial concert and joining forces with Fairey in concert on Saturday.
Results
4BR will aim to publish the results as soon as possible over the weekend, including the identity of the overall champions in Saddleworth and Tameside.
Please be patient though - they will appear when they do. It's not the end of the world if people have to be patient and wait.
---
Saddleworth & Oldham District:
Area Open Champions: £2,500, 2nd: £1,000, 3rd: £750, Youth: £250
Local Area Champion: £750, 2nd: £600, 3rd: £400
The Saddleworth & Oldham Contests are supported by Oldham Council and Saddleworth and Lees District Partnership
Delph:
http://www.delph-whit-friday.co.uk
Contest: 4.15pm - 10.30pm
Main Prize: £1,000 from a total prize fund of £4,000
Adjudicator: Mike Kilroy
Contact: Mr R. Rodgers (01457 874354)
twitter: @DelphContest
Denshaw:
http://www.denshawcontest.co.uk/
Contest: 4.00pm - 10.30pm
Main Prize: £1,000 from a total prize fund of £3,690
Adjudicator: Allan Holdsworth
Contact: Andrina Baxter (07920763979)
twitter: @denshawcontest
Diggle:
http://www.digglebandcontest.co.uk
Contest: 4.00pm - 10.30pm
Main Prize: £800 from a total prize fund of £2,765
Adjudicator: Simon Kerwin
Contact: B. Cliffe (01457 873901)
twitter: @DiggleContest
Dobcross:
Contest: 4.00pm - 10.00pm
Main Prize: £750 from a total prize fund of £2,995
Adjudicator: Alan Widdop
Contact: Gavin Roberts (07877015169)
twitter: @DobcrossWhitFri
Friezland:
3rd, 4th & Youth Sections only
Contest: 4.30pm - 10.30pm
Main Prize: £200 from a total prize fund of £575
Adjudicator: T. Newbigging
Contact: J. Barrett (01457 870612)
Greenfield:
Contest: 4.00pm - 10.00pm
Main Prize: £1,000 from a total prize fund of £4,250
Adjudicator: Chris Wormald
Contact: Frank Rothwell (07802938270)
Grotton:
Contest: 4.00pm - 10.00pm
Main Prize: £700 from a total prize fund of £2,500
Adjudicator: Stephen Tighe
Contact: Graham Talboys-Smith (07761 593342)
twitter: @WhitBrass
Lydgate:
Contest: 4.00pm -10.30pm
Main Prize: £850 from a total prize fund of £3,285
Adjudicator: Derek Southcott
Contact: Nita Porter (01457 877629)
Lees & Springhead:
Contest: 4.30pm - 10.00pm
Main Prize: £500 from a total prize fund of £1,755
Adjudicator: Alan Fernie
Contact: Barbara Beeley (0161 652 0930)
Scouthead & Austerlands:
Contest: 4.15pm -11.00pm
Main Prize: £800 from a total prize fund of £3,680
Adjudicator: Jonathan Pippen
Contact: D. Needham (0161 6520341)
Bands waiting on the night number: (07880 743876)
Uppermill:
Contest: 4.00pm - 10.30pm
Main Prize: £1,000 from a total prize fund of £2,660
Adjudicator: David Marshall
Contact: Pam Byrne (01457 820149)
twitter: @BandContest
---
Tameside:
Area Open Champions: £2,500, 2nd: £1,000, 3rd: £750, Youth: £200, 2nd £100
Local Area Champion: £750, 2nd: £600, 3rd: £400
The Tameside Contests are supported by Premier Kia (Dukinfield) and 103FM Tameside Radio in conjunction with Tameside Council and the Friends of Tameside Whit Friday
Audenshaw:
http://www.clubbz.com/club/4633/manchester/aldwinians_rufc_brass_band_contest_2010
Contest: 4.00pm-10.30pm
Main Prize: £500 from a total prize fund of £1,750
Aldwinians Rugby Club
Adjudicator: Paul Holland
Contact: Sylvia Donley (0161 336 6814, 07947 018175)
Broadoak:
Contest: 5.00pm-11.00pm
Main Prize: £500 from a total prize fund of £1,600
Broadoak Hotel
Adjudicator: Duncan Beckley
Contact: Robert Frost (0161 3302764)
Carrbrook:
Contest: 4.30pm-10.30pm
Main Prize: £600 from a total prize fund of £1,555
Carr Rise
Adjudicator: John Davies
Contact: Andrea Broadhurst (07980743006)
twitter: @CarrbrookWhitFr
Denton:
Contest: 4.15pm-11.15pm
Main Prize: £250 from a total prize fund of £1,260
Adjudicator: Mike Lyons
Contact: Mrs Joan Emery (0161 2925319)
twitter: @DBBAwhitfriday
Droylsden:
Contest: 4.30pm-11.00pm
Main Prize: £400 from a total prize fund of £2,000
The Bush Inn
Adjudicator: Ryan Breen
Contact: Sheila Bowater (0161 3702811)
Dukinfield:
Contest: 4.30pm-11.00pm
Main Prize: £400 from a total prize fund of £1,500
Tame Valley Hotel
Adjudicator: Dave Chapman
Contact: Brian Hill (07506053670)
Heyrod:
http://www.heyrodbandcontest.com
Contest: 4.30pm-10.30pm
Main Prize: £600 from a total prize fund of £1,745
John Street
Adjudicator: A.F. Williams
Contact:
Hurst Village:
Contest: 4.30pm-10.15pm
Main Prize: £300 from a total prize fund of £1,275
Ashton United FC
Adjudicator: Richie Howard
Contact: Denise Pinder (0161 308 4076, 07789392856)
Stalybridge:
Contest: 4.30pm -10.30pm
Main Prize: £400 from a total prize fund of £1,250
Stalybridge Labour Club
Adjudicator: Paul Norley
Contact: Mike Round (07980102158)
Stalybridge Celtic:
Contest: 4.30pm-11.00pm
Main Prize: £400 from a total prize fund of £1,525
Stalybridge Celtic FC
Adjudicator: C. Evans
Contact: Gordon Greenwood (07770 433336)
Upper Mossley:
Contest: 4.30pm-10.00pm
Main Prize: £600 from a total prize fund of £1,900
Mountain Street
Adjudicator: M. Tweedle
Contact: Paul Harrison (07876214425)
Find the venue:
To enable bands to plan their routes and find the contest venues, visit the following link:
http://www.www.tameside.gov.uk/brassband/whitfriday/
Further details:
Further details for the Tameside Contests are available from: http://www.tamesidebrassbands.org