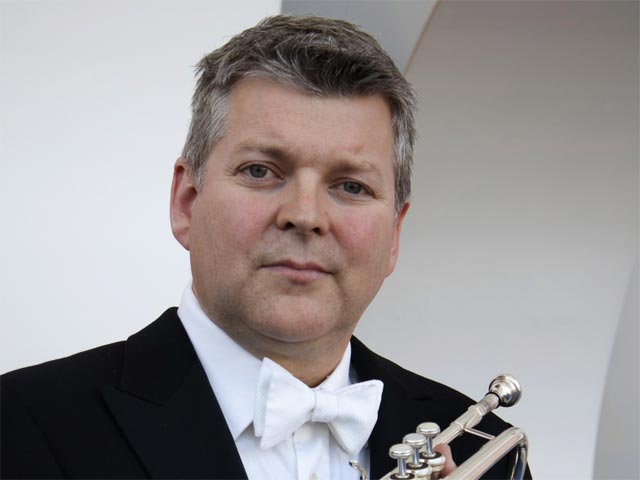 The professional foundation builder: Halle Principal Trumpet Gareth Small

Black Dyke has enjoyed a long and distinguished association with the orchestral brass world.
From the legends of Willie Lang and Maurice Murphy to the remarkable Rod Franks and James Watson, each, in their own unique way, has left an indelible mark on the band from Queensbury.
Gareth Small is determined to join their ranks.
Artist in Association

The Principal Trumpet of the Halle Orchestra has already started as he means to go along - winning the 'Best Instrumentalist' award for his stunning contribution to their performance of Edward Gregson's 'The Trumpet of the Angels' at the recent European Brass Band Championships in Lille.
Teaching legacy

However, it is his teaching legacy through his newly appointed role as Artist in Association, supported using public funding by the National Lottery through Arts Council England, which he hopes he will be remembered for most.
"Playing with Black Dyke at the European contest was a great thrill," he says. It did send a shiver of apprehension down the spine just before I had to stand up for my first entry - but I really wouldn't have missed it for the world.
It was also a huge personal bonus following my appointment as Artist in Residence with the band - and that's the role I really want to make the lasting impression with."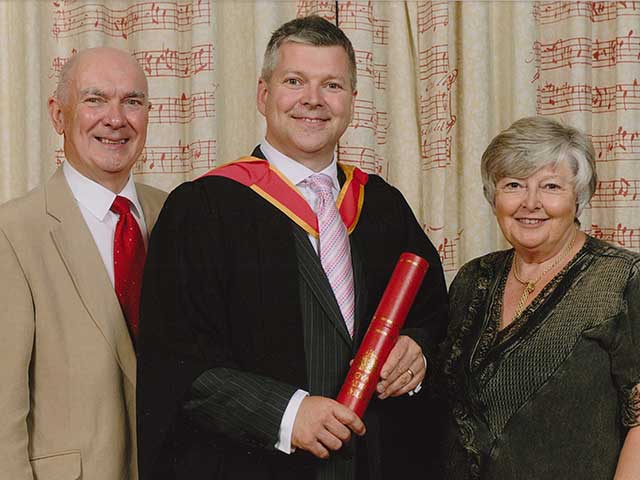 A musical hinterland: With his mam and dad...

The 45 year old's hinterland gives him a unique insight into both the amateur and professional world of brass music making. Growing up in West Wales he was taught by his father Tony - a remarkable musician who continues to inspire countless young performers as conductor of the Penclawdd Band.
Talent

Gareth later went on to study at the Royal Academy in London, where his burgeoning talent soon became apparent. By his third year he was working with the likes of the Bournemouth Symphony Orchestra and doing West End shows (his CV of sound track credits is packed with blockbusters) and in his fourth year he claimed the plumb job at the Halle - first as assistant principal and then as principal.
23 years later, and with his reputation cemented as one of the UKs finest orchestral trumpeters, he is looking towards broadening his musical horizons based on two decades and more of accumulated teaching experience logged up at both the renowned Chetham's School of Music and RNCM in Manchester, as well as back at his old Academy alma-mater in London.
"I've been very fortunate during my playing career," he says modestly. "I've been able to work under many of the world's finest orchestral conductors, travel the world and perform some amazing repertoire - from historic classics to the latest contemporary works, films scores to solos."
Aim

He adds: "I want to use that experience through the Artist in Residence role to help new generations of young players - from the current crop at Black Dyke as well to those they work with through their long term investment in the Yorkshire Youth Brass Band, the West Yorkshire Music Hub or the many masterclasses and workshops undertaking with other bands and organisations.
My aim is to help young players develop their skills and widen their experience to enable them to enjoy their musical careers - be it professionally or as a player in their local band."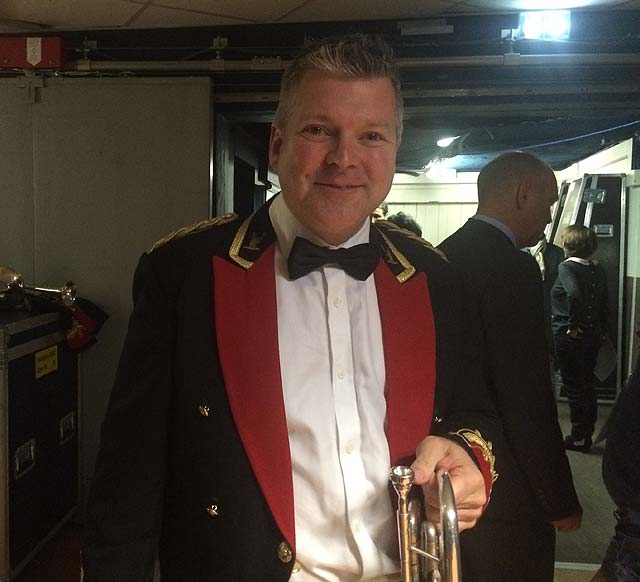 Making a musical mark with Black Dyke in Lille

Talking to Gareth reveals a heartfelt passion for playing, as well as an acute, quick-witted academic appreciation of how to meet the needs of the innovative National Lottery projects that will be funded through Black Dyke's successful Arts Council England initiative.
"I've enjoyed 23 years at the Halle - but I wouldn't have even got close to getting there if it hadn't been for the brilliant teaching and musical direction I received when I was growing up and when I was at the Royal Academy.
I was no star prodigy - not by a very long way when I first entered the Academy, but I was so lucky that my desire to improve was spotted and worked on by the likes of John Wilbraham, James Watson and Laurie Evans - all great players and teachers. Their mantra to build your playing on a solid foundation of good, simple basics is something that remains with me to this day - and it has been something I have always passed on myself."
Foundation building

Gareth takes his time in explaining why he believes that an adherence to disciplined foundation building is so important to long term success and enjoyment as a player.

"It sounds simple - but that's the key. It takes time and a great deal of hard work, but the end result is a lifetime of musical enjoyment: You can become the player you want to be. That's the satisfaction of teaching players with open minds and a desire to improve."

To highlight the fact he recalls one of his great teaching successes - Jason Evans, now the Principal Trumpet of the Philharmonia Orchestra.

"I first met him when he was a student at Chet's and over six years we have linked-up and worked together. He had a great foundation on which to build - but he was keen to take the right decisions - no fast fixes.
He's now 24 years old and a highly successful professional player - but one who still wants to improve and develop."



Unique position

It's that desire to help develop a legion of eager, passionate players at many different levels of brass band music making which appeals to Gareth about his role with Black Dyke.

"I appreciate they are in a unique position as the most famous brass band in the world," he says.
"However, I was bowled over by the desire, led by Prof Nicholas Childs to invest in youth, work with players at all levels and to bring a lasting benefit to community bands and organisations. It's a form of social musical responsibility that they take so seriously and are so committed to: And where Black Dyke leads other will hopefully follow."
Value

Black Dyke's Director of Music, Prof Nicholas Childs has no doubt about the value of linking up with his fellow Welshman.
"Gareth's reputation as a world class player is equalled by the acclaim he has achieved as a teacher. This innovative Arts Council England project required a musician who could be an inspirational bridge to connect with young performers. It was an easy choice: There is nobody better."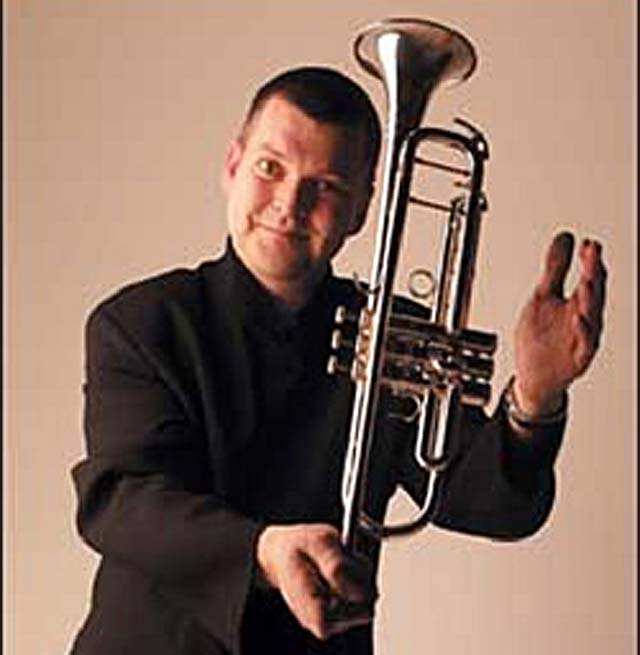 Aims and objectives

That appreciation of individual needs is also something Gareth knows is of vital importance - especially in the brass band environment.
"Each person I will work with will have different aims and objectives. More experienced players may want to find out about the mental or psychological side of playing, whilst younger ones may just need to know how to overcome troublesome technical hurdles they are finding difficulty with.
For instance, how do you retain focus on stage, or how do you keep your personal practice regime fresh and relevant? There is always something to work on even for players as good as those in Black Dyke."
Career adviser

It may sound as if it's something of a career's adviser role then?
"You may be right!" he says with a laugh. "It's a wonderful chance to help improve skill sets - how to become more rhythmic or articulate, enhance range and sound. I love the challenge and the chance to help inspire players to improve - just like my teachers did all those years ago."
Still learning

So does the teacher still learn something new himself as the Principal Trumpet of the Halle Orchestra?
"Absolutely. My father told me to make sure you listen to every performer you can to see if you can take away something from them. I've done that for 23 years now at the Halle and every day you get to hear something new that opens your eyes and ears and triggers the musical imagination.

If I can do that in my role with Black Dyke in my role as Artist in Residence then I will be delighted.
It's a remarkable opportunity that means a great deal - and I hope it will enable me to leave a little bit of a lasting legacy in the history books of Black Dyke."

Iwan Fox