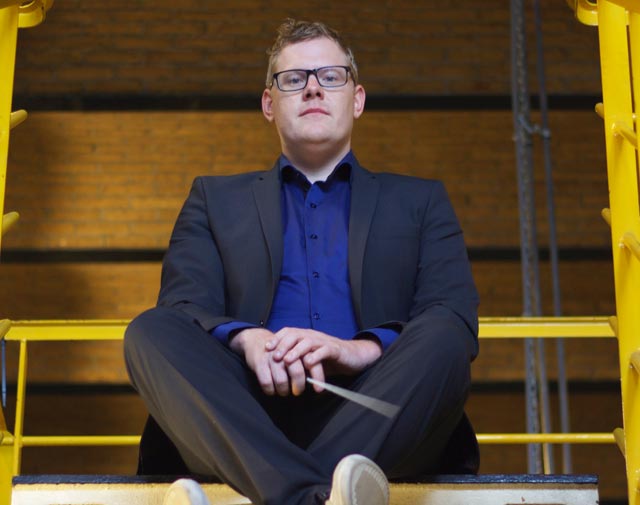 An emerging Dutch master: Geert Jan Kroon
At a time when emerging composers are finding it increasingly difficult to get their voices heard in the brass band world, it's good to talk to a Dutchman who is determined to gain recognition by linking hard work to a desire not to lose his musical indentity.
Geert Jan Kroon enjoys life - a wonderful young family sees to that - but it's also one based on the day to day graft of making a living as a working conductor, composer and teacher.

Crucially though he does it in a way in which both aspects can mix to beneficial effect as he continues to develop an increased awareness of his compositional output.
Juggling act

Each day he teaches pupils in the local area - although he combines this with the hours spent in his music studio on the opposite side of the street where he lives, to practice (he plays euphonium for Soli Brass) and to compose.
"It is a bit of a juggling act at times," he says when we met a few weeks ago in the pretty Friesland town of Leeuwarden in The Netherlands where he lives and works. "I'm so lucky though as my wife understands how I make my living and how I have to work.
Because of that I think I've been able to strike the perfect balance. The studio is a bit of a hideaway even though it just across the road - but it means work doesn't intrude on family life too much."
Increasing mark

It has also meant that he has been able to build up a growing catalogue of compositions that have making an increasing mark on the Dutch banding scene and further abroad, and which recently saw him make a trip to Cardiff where his latest work, 'Those Gazing Eyes' had won through to the final of the RWCMD/Cory Band Compositional Prize.
Inspired by the daydreaming thoughts of a young child, it's a short, languid, melancholic piece of fantasy and musing - layered in texture and colour, deliberately never quite resolving its thought process until the child's distant self-possessed gaze is brought back into focus.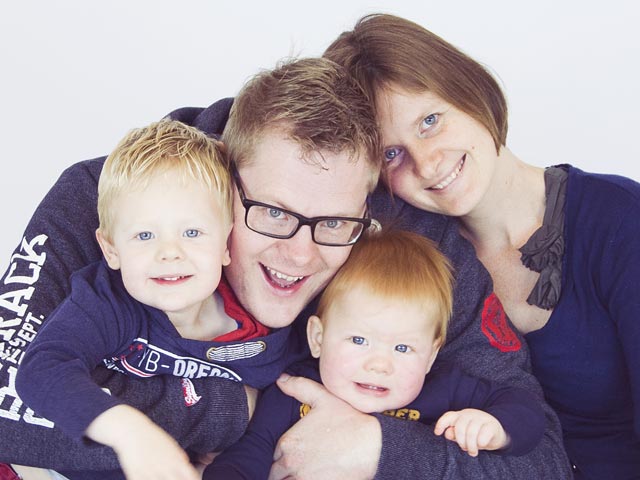 Those Gazing Eyes: Fantastic support from the family

It's the latest work from a musician who has carefully set out his compositional stall; one that retains a clearly defined thought process and structural identity through an engaging individuality of style. It's music of intriguing clusters of harmony, texture and fluidity that draws the listener in through its layers of tonality.
Background

"Perhaps it's because of my background," the multi-lingual 34 year old says when I enquire about his musical inspirations.

"Different aspects of life, history, concepts and identity intrigue me - something which I wanted to explore in compact form with 'Those Gazing Eyes'. It was a great thrill to hear Cory play it and to gain encouraging feedback from Philip Harper and the panel of judges.
There is no better experience than hearing your music performed: New ideas come to your mind and old ideas can be re-evaluated."
Not disappointed

He adds: "Although I didn't win, I wasn't disappointed in any way. I went back to my studio as soon as I got home and started looking at it again. I'm determined to retain my individual compositional voice - but I know it can be improved upon time and time again. The competition was invaluable in that respect."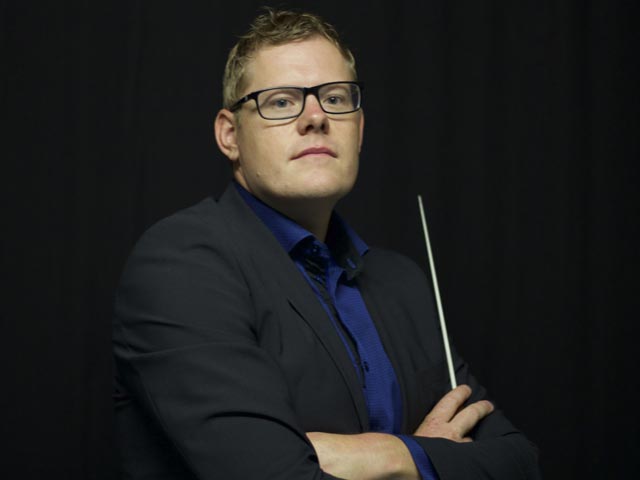 Taking up the baton

His is an interesting hinterland of experience.
Initially Geert Jan had a career in IT before he found his real passion and changed direction as music became more and more important to him - resulting in a return to university (he had already obtained a BSc in Software Engineering), where he undertook a degree in Cultural Studies at the Rijksuniversiteit Groningen and then did a Master of Arts (MA) in musicology at Utrecht University.
"I researched French fourteenth century polyphonic music, especially the Roman de Fauvel which fascinated me," he says. "But I also ensured that I included other aspects such as contemporary cultural theory and even music journalism so I had other skills to base a new career on. Luckily, they have all come in handy - and those old IT skills help as well as a composer."
Exploratory

That Master of Arts in Musicology saw him present a thesis entitled, 'Interpretating Fortune, Fauvel and his Counsellors: A New Perspective on Dissonance' - perhaps explaining why that exploratory musical mind continues to delve into such a bold sound palette of colours and textures.
"Maybe," he says, "although I think it's because you can do much, much more with the sound of a brass band than you may think. Sometimes it works, sometimes it doesn't, but there is plenty of fun to be had trying."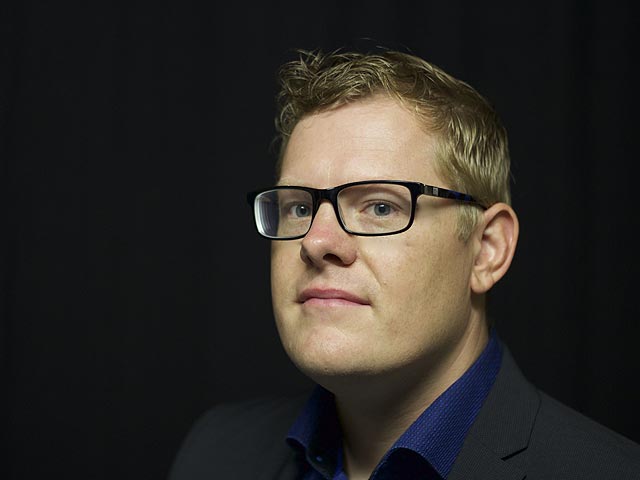 A look of determination

The refreshing approach stands him out somewhat from the mainstream course - one that sees far too many young composers try to mimic modern filmatic techniques of short, underdeveloped bursts of ideas.
Quirky imagination

For instance, his 'Dante's Descent' is a quirky imagination of the first level of the famous 14th-century epic poem 'Divine Comedy'; six scenes in five sections that leads the listener on a crepuscular journey deeper and deeper into hell. In contrast, 'Saint Lambert' is an equally powerful, but more hopeful exploration of spiritual hope and acclamation based on the story of a seventh century Bishop of Maastricht.
He has also written a solo work for euphonium and band entitled, 'Spinning Gears' - a tale of physical endurance and mental fortitude; the body and mind battling to stay focused against the odds of a foggy cycling ascent and descent of a treacherous mountain.
Original themes

Each is underpinned by a connection to original ideas and themes - ones that are not tossed away thoughtlessly as the works progress: The linear development of the music is bold and malleable, enabling the listener to understand the what, why and how he has developed the inspiration. It's refreshing to hear at a time when instant gratification and effect seems to be all the rage.
"It's something I want to keep doing," Geert says over a morning coffee in his home as his young son demands a little bit of attention from his father. "It may mean that it takes people a little more time to understand my music, but I don't mind that. I want to retain my style and individuality so that people can appreciate what I try to do.
Thankfully I think it is starting to pay off. I'm already working on two commissions with another couple already in the pipeline. I would love to be able to get a major work played at contest, but I know that there are so many talented composers out there that I will have to earn the right.
Exploring

"I don't mind that," he adds. "It means I can keep exploring and developing as a composer, present my works for consideration and benefit from the feedback."
And that's as equally refreshing to hear from a young composer with a clear musical mindset, a fantastic family foundation and an admirable sense of proportion about his abilities.
We are about to hear a lot more from the voice of Geert Jan Kroon.
Iwan Fox