Japan's most famous cultural icons may well be Anime, Karaoke and Pokemon Go, but catching up fast is the Japanese brass band scene - as the female players of Yorkshire champion, Black Dyke found out on their recent trip to the Land of the Rising Sun.
The group, known colloquially as 'Team Girl', were thrilled to undertake a week-long tour of the country's second largest city Osaka and the surrounding Kansai region as the guests of Brass Band Mikeneko - an all-female ensemble that has gained widespread critical acclaim in breaking new musical ground.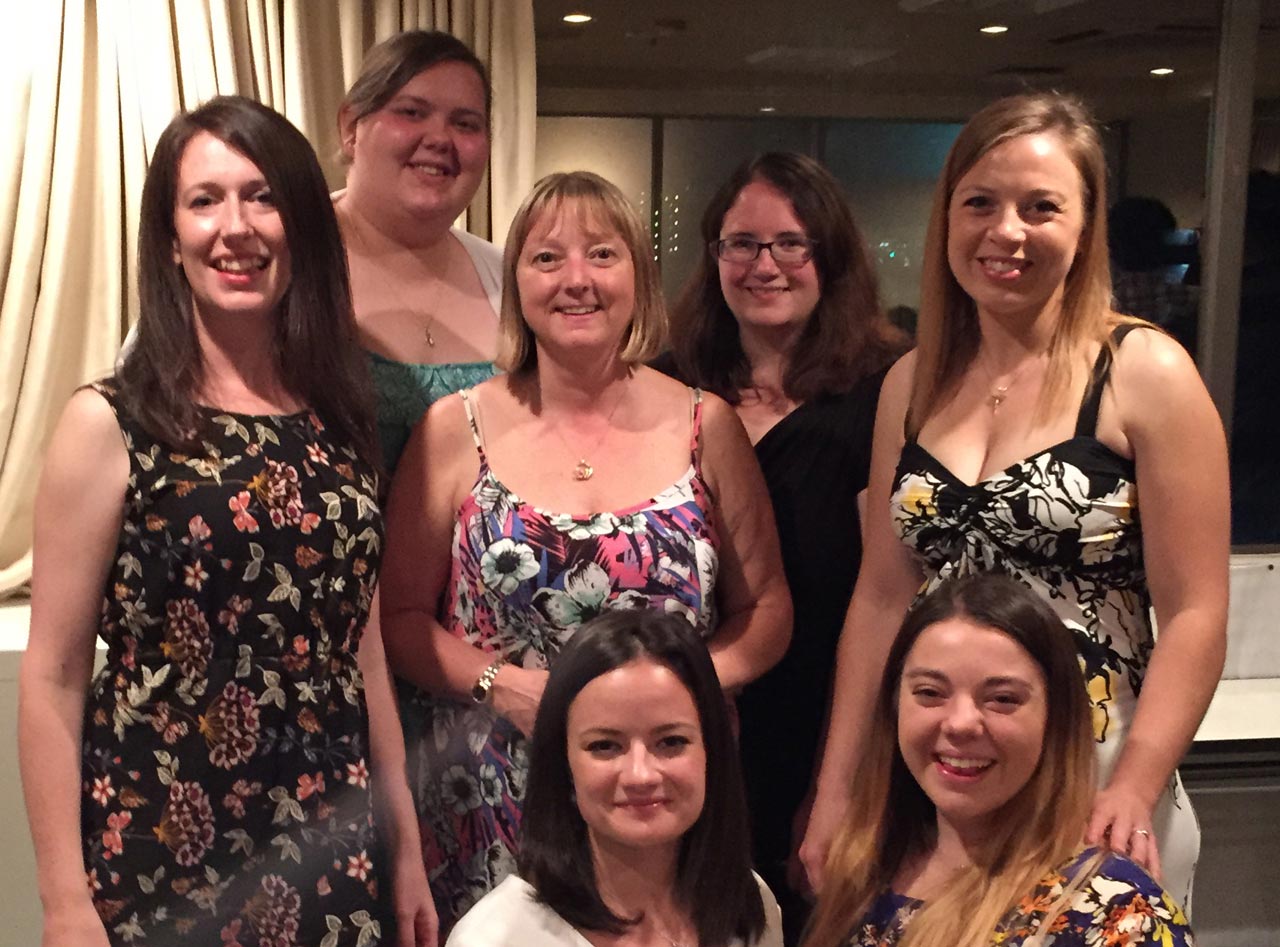 Team Girl: Ready for action

The trip was inspired by a conversation between Black Dyke's baritone star Katrina Marzella and two of the players of Mikeneko - bass trombonist Shizuka Fujita and principal cornet Naoko Ozaki on Katrina's 2015 solo tour to the county.
There she found out more about the workplace and a social challenge faced by women in the country, and was surprised to learn that there were many similarities to that found in the UK.

Prominent roles

Impressed by the prominent role models found at Black Dyke (the Yorkshire band boasts no less than nine female players) Brass Band Mikeneko decided to combine forces and arrange a joint event which could also help strengthen the role played by female players in Japan's thriving brass band scene.
Fundraising

Making the long haul trip east from Queensbury were Kathleen Gaspoz (cornet), Victoria Kennedy (cornet), Helen Varley (horn), Alison Childs (horn), Katrina Marzella (baritone), Andrea Price (percussion) and special guest player Rebecca Childs (baritone).
Brass Band Mikeneko was established in 2002 by drawing top female players from across Japan.
Meeting on an annual basis, their 2016 event marked the 12th time they had come together - and also marked a remarkable fundraising and logistical support effort to bring Black Dyke's 'Team Girl' to the country for what proved to be a truly memorable tour.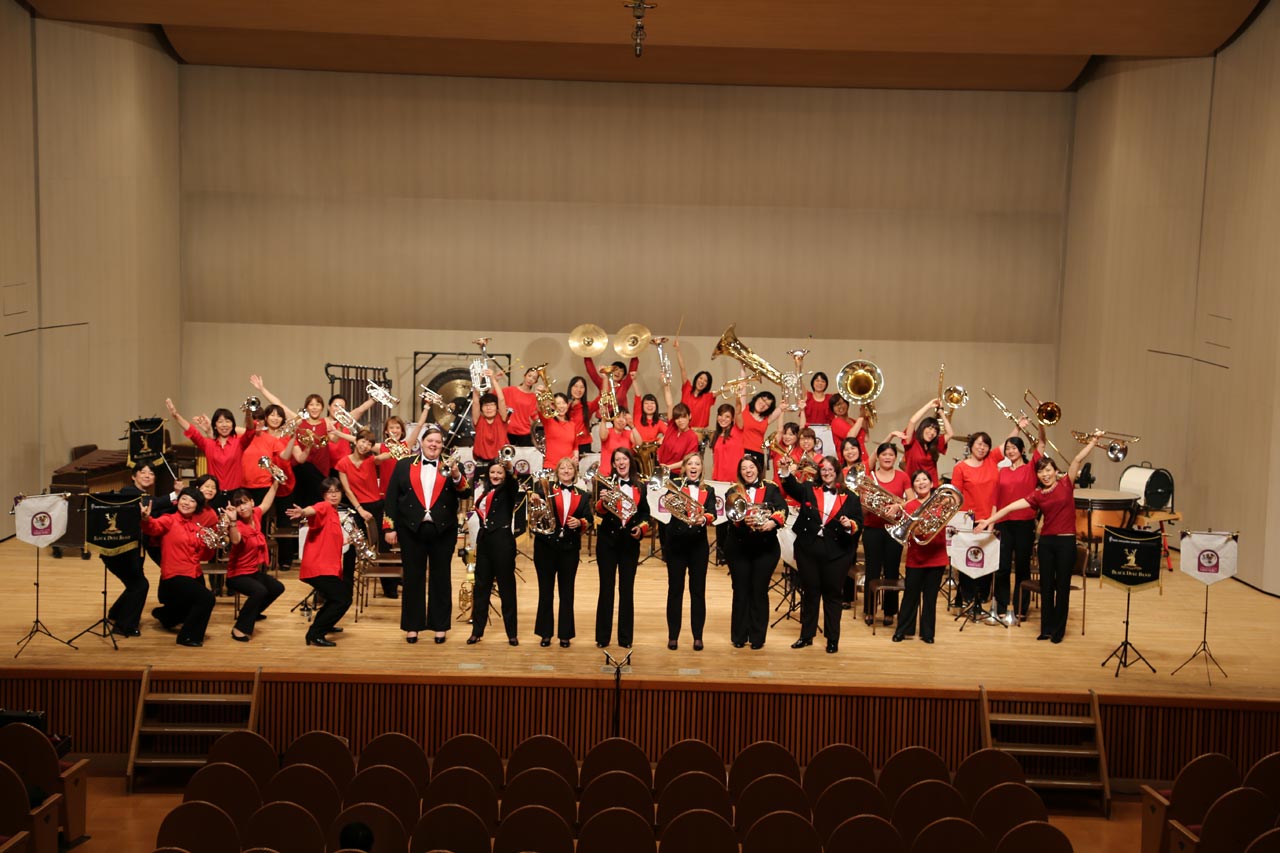 What a welcome!

Ambitious music

The main event of the visit was an outstanding concert in the beautiful Mitsunaka Concert Hall of Kawanishi City, directed by guest conductor Toshiyuki Ise.
"The programme featured plenty of ambitious music," Black Dyke's Helen Varley told 4BR. "We were able to perform a number of pieces including the 'Hymn of the Highlands' suite by Philip Sparke, whilst the second half was no less ambitious, with a number of Mikeneko's players delivering fantastic solo spots in Peter Graham's 'The Triumph of Time'."
The Black Dyke 'Team Girl' ensemble also featured in a solo set, with a highlight being a new arrangement of the famous Japanese folksong, 'Song of the Seashore'. Helen added: "This was arranged by our brilliant percussionist Andrea Price as a small group piece as well as full band as a special presentation gift to our gracious hosts."

That Grand Concert was followed by an equally 'Grand Party', with plenty of speeches, food and 'Kanpai!' - although there wasn't too much time for the Black Dyke players to relax.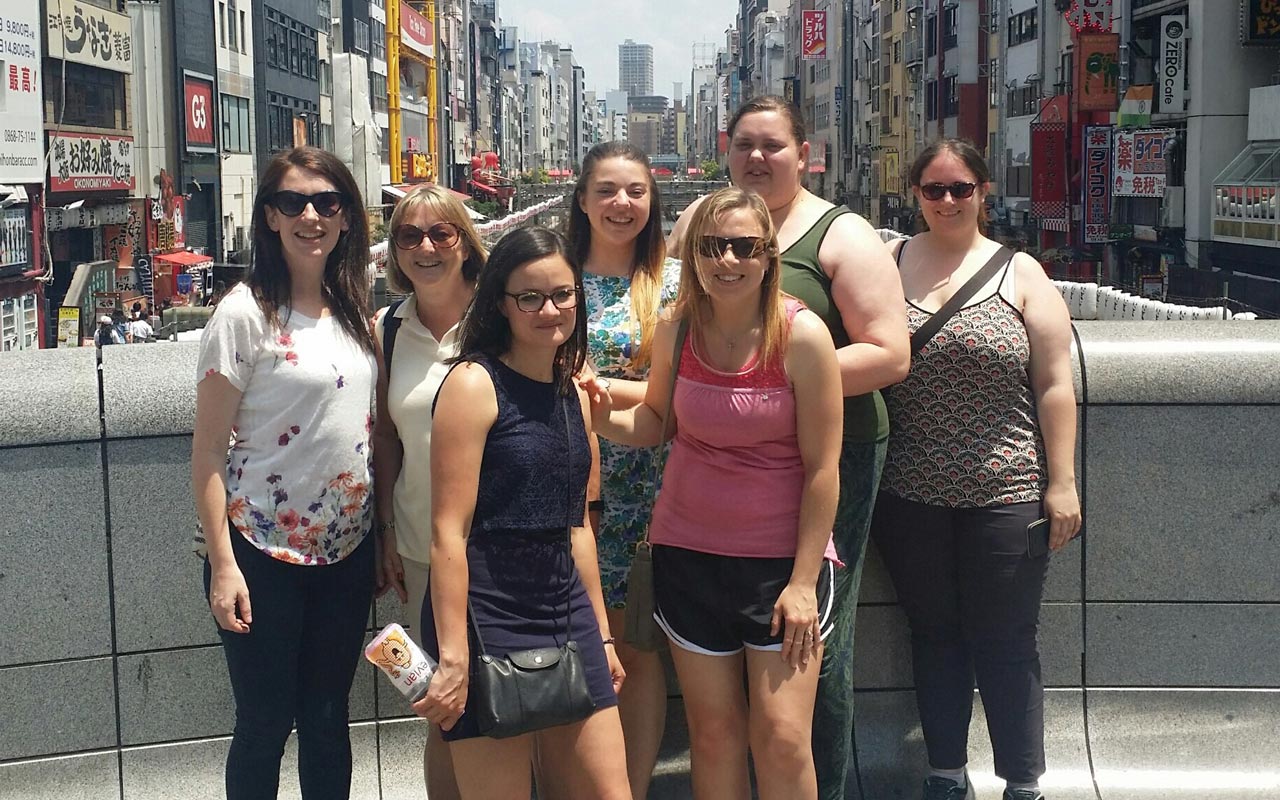 Taking in the sights
The following morning 'Team Girl' departed for Nishinomiya - a smaller city halfway between Osaka and Kobe to start the educational part of their tour.
Fun filled

The first stop was a concert for 50 brass students from two local high schools, followed by interactive trumpet and trombone workshops, and a fun-filled joint performance at its conclusion.
The following events were hosted by the Miki Gakki Music Shop, one of Osaka's largest music shops and also an impressive centre for brass education. Helen Varley and Katrina Marzella held horn and baritone workshops, followed by an intimate concert performed by the full team that was enthusiastically received by the audience of brass players.

Families

The following day's concert in Nishinomiya City was for a completely different audience; this time a well-attended public concert for families with young children.
Helen recalls: "It was a lighter programme tailored to include entertainment in the form of explanations of the physics of musical instruments. Victoria Kennedy was brilliant playing the post horn and the demonstrations by each of the players was so well received."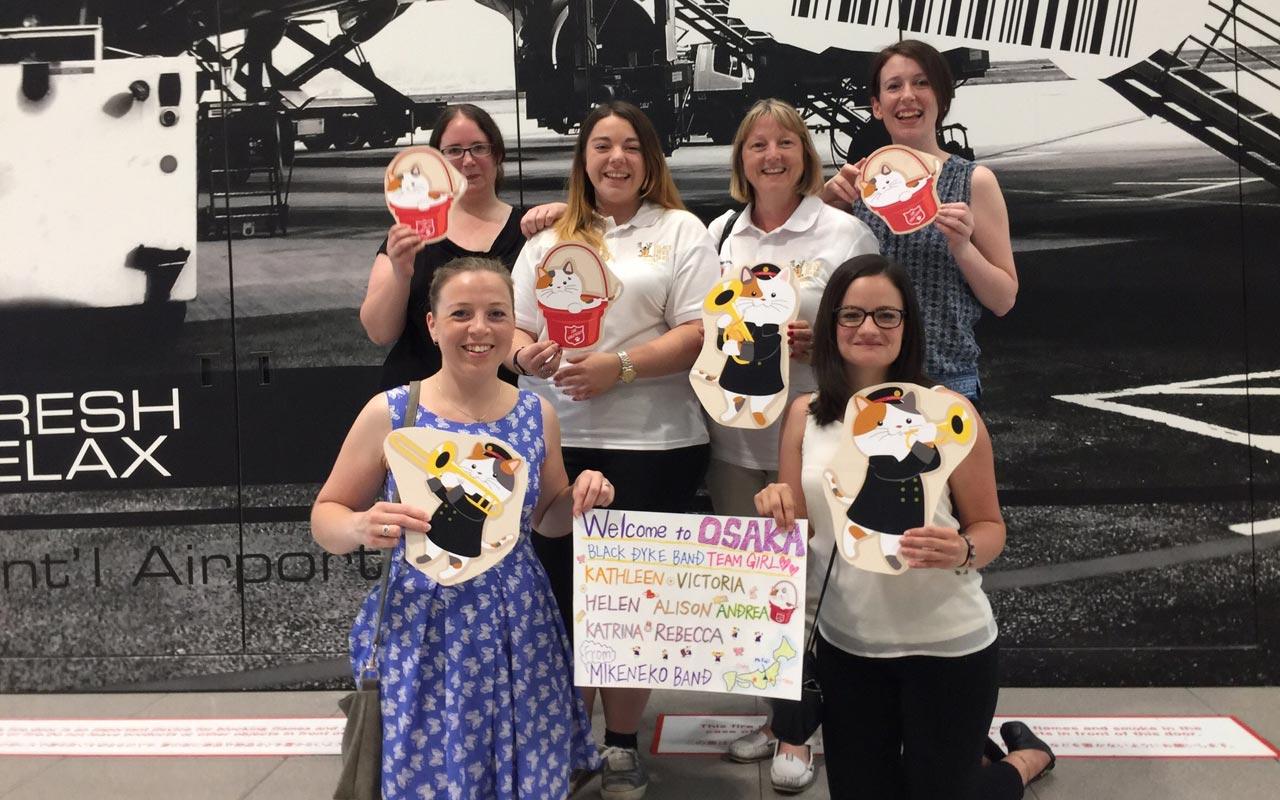 Special presents in Osaka

Each one of the events was very well supported and wonderfully received, and the strength and depth of the 'Team Girl' ensemble was on full display throughout the trip.
All the members of the ensemble were featured as soloists; including a special mother-daughter duet by Alison and Rebecca Childs, as well as the multi-instrumental skills of Andrea Price and Kathleen Gaspoz who were also featured on the piano.
So well prepared

Helen continued: "The group was so well prepared for the trip, having spent several months working on a CD project with Black Dyke's former soprano star Paul Duffy. It was a wonderful experience to be able to record in Queensbury's Black Dyke Mill, and the CD was sold exclusively on the Japan tour, with remaining CDs sold to raise funds for Breast Cancer charities."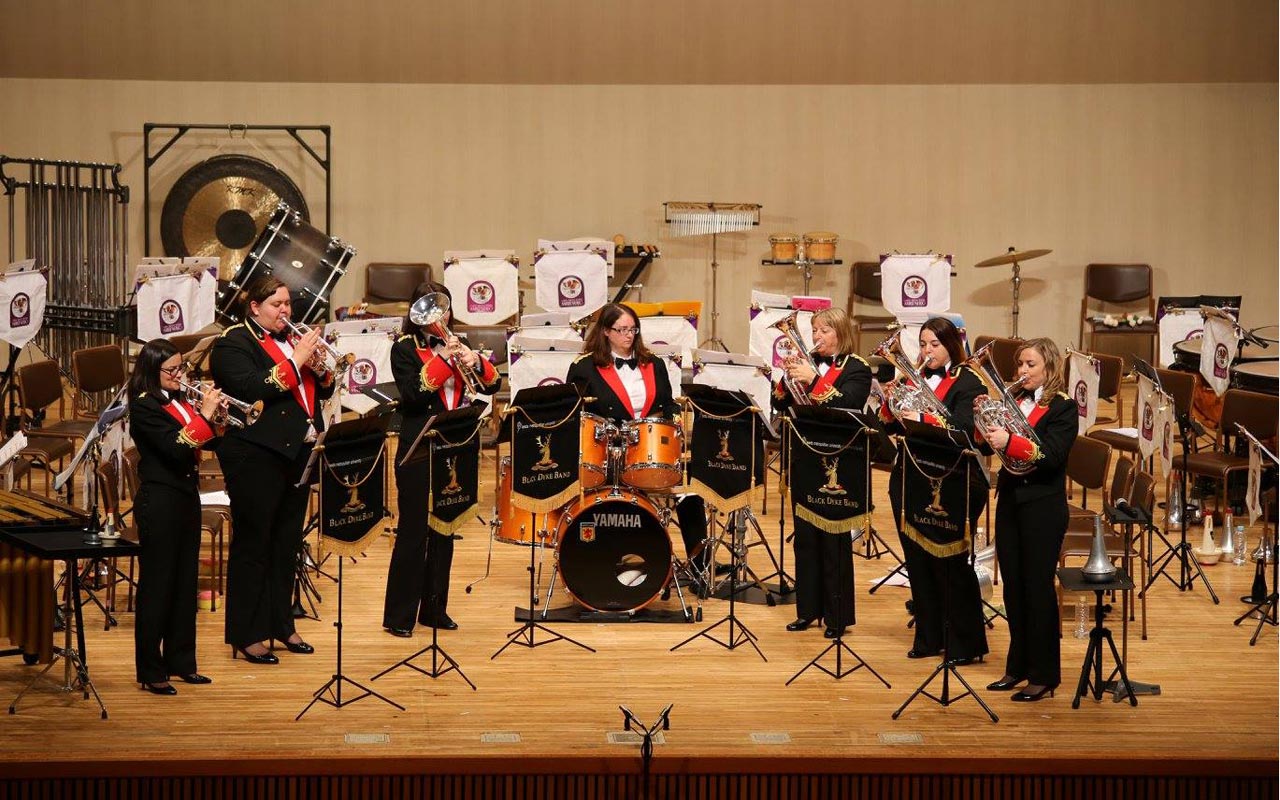 The famous red, black and gold uuniforms were on display

Hospitality and culture

Although the group thoroughly enjoyed their busy performance schedule, there was also time to enjoy the famous Japanese hospitality and culture, with strong bonds of friendship developed over chopsticks and sushi, with mutual brass banding humour overcoming all language barriers.
Amazing hosts

Helen added: "Throughout the trip a dedicated team of Mikeneko members provided the invaluable services of welcome committee, chauffeurs, interpreters, tour guides and companions. They were amazing."

The final night banquet and speeches highlighted the heartfelt sentiments from both parties about the lasting impact of the trip, with perhaps the most touching comment coming from a Japanese player who expressed her gratitude - and her realisation that being a female brass player was something to be proud of and celebrate.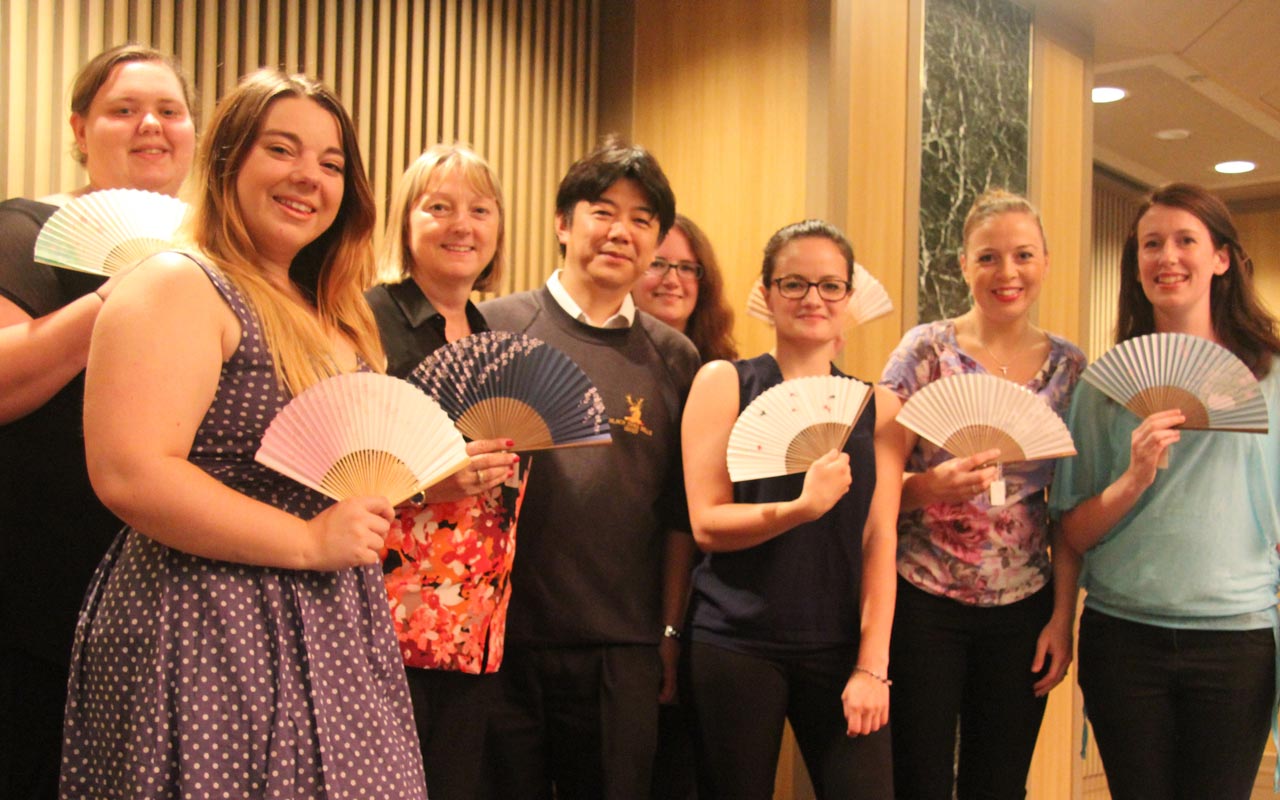 Japanese fans in every possible way

Helen concluded: "We felt privileged to be ambassadors for Black Dyke in Japan and to be part of such a unique event. Ultimately we were the warm-up act, and we can now look forward to experiencing the wonderful Japanese culture all over again in October when the full Black Dyke Band will be travelling to this wonderful corner of the globe."
Feature videos of the highlights of the trip can be found at: www.facebook.com/BDTeamGirl.

With thanks to Helen Varley