In an age when modern culture has become so ingrained with stereotypical modes and models that we have, in fact, lost touch with what is true and what is not, we now find that even our own history takes on a peculiar form of reality, or 'hyper-reality'.
For instance, people now look back at the different eras of post war British society with a nostalgia moulded by social signifiers that never really existed.
The Sweeney

Simply we are told, the 'never had it so good' 1950s led into the swinging 60s, the angst of the 1970's and consumerist 1980s, before we finally ended up with 'Cool Britannia' and the toxic nosedive into financial meltdown of the new century.
Really?
Surely it was much more complex than that: What of the effects of the Suez Crisis and the Profumo Affair, North Sea Oil and the financial big bang, the end of British rule in Hong Kong and the first Iraq War?
No. Forget them.
People now remember the 60's for The Beatles and the contraceptive pill, the 70's as the era of the 'Three Day Week' and 'The Sweeney' and the 80's for 'Loads of Money' plasterers and council house sell offs - history as retold on television by Dominic Sanderbrook of The Daily Mail.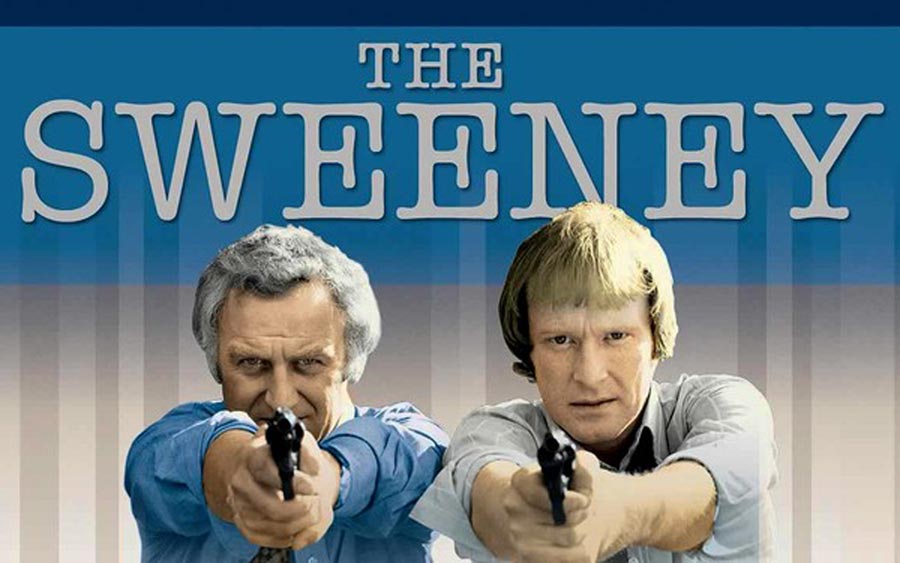 You're nicked. Comfort in old coppers
It is a form of cultural simulacra - a likeness we think we can identify with and take some form of comfort from. The viditaction of the media ('told by a media that exists to please itself and no-one else') gives too much accountabilty to what has become an ideological problem that transcends media coercion.
On a much more personal level it is also seen in the general public's perception of the brass band medium. It is a display of one of two simulacra - a likeness we think we can identify with and take some form of comfort from. This likeness has begun merely to imitate an already existing likeness and now precededs to determine the real world.
Idealised

The first is the aesthetic signifier of an idealised Victorian Britain - full of well-meaning bosses, mill owners and industrialists eager to promote moral rectitude in their workers through an appreciation of music making: The brass band as a tool for social improvement.
The second is that of the brass band movement as an outdated signifier for left wing politically agitating industralised labour: The brass band as a symbol of inward looking localism - protectionist and outdated in a global world of free trade liberalisation and financial deregulation.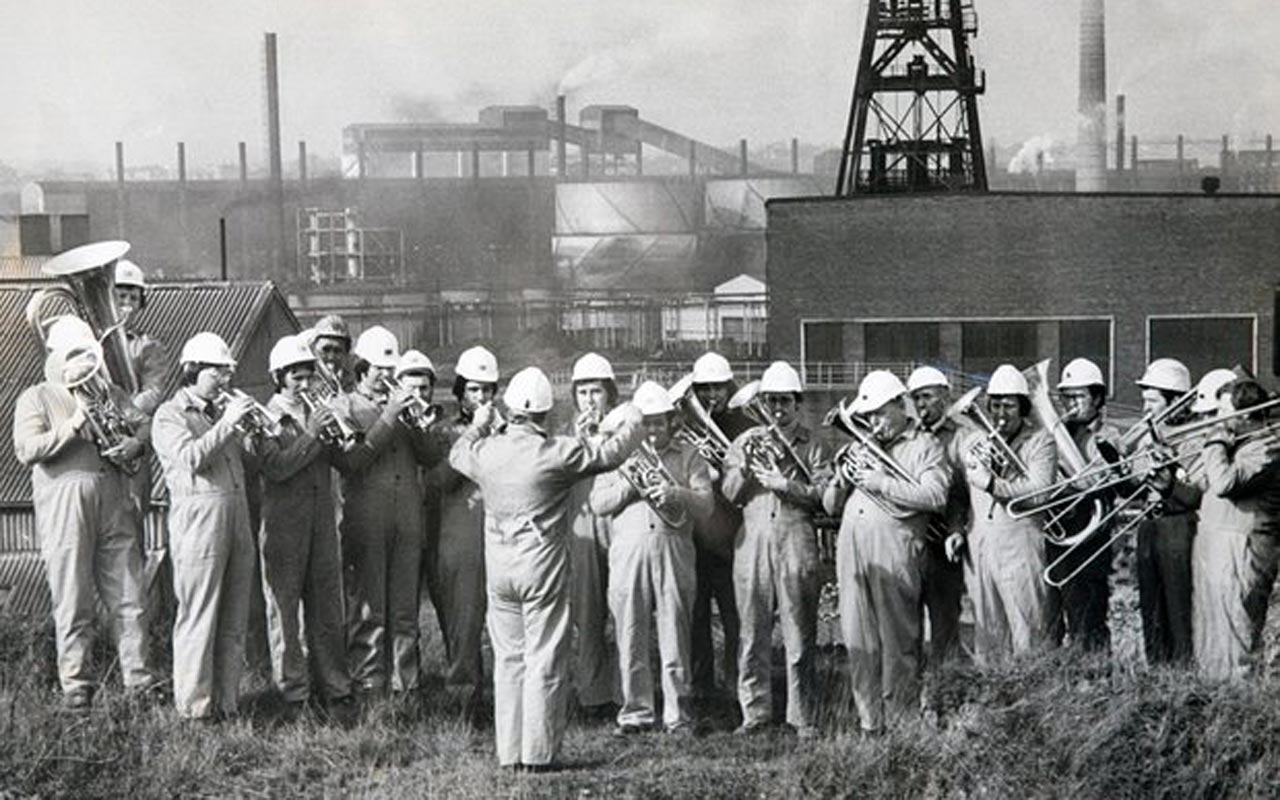 The perceived image of 1970s brass banding: Grimethorpe at the pit head

Both are perceptions that reduce both the working class and the brass band to an empty form; a void ripe for exploitation and oppression; an irrelevance of musical expression that deserves to be rarely heard outside its self-imposed hermetically sealed contest hungry environment.
You don't have to look far for the evidence.
High water mark

The immediate post war years are seen by many to be the high water mark of brass banding in our cultural consciousness.
However, in 1953 with the new Elizabethan age at its zenith, the brass band movement became pickled in musical aspic - a museum piece before its time, a curiosity of working class expressionism appreciated by an ever-diminishing audience of aficionados.

People still said they loved brass bands - but within a context that already spoke of times past.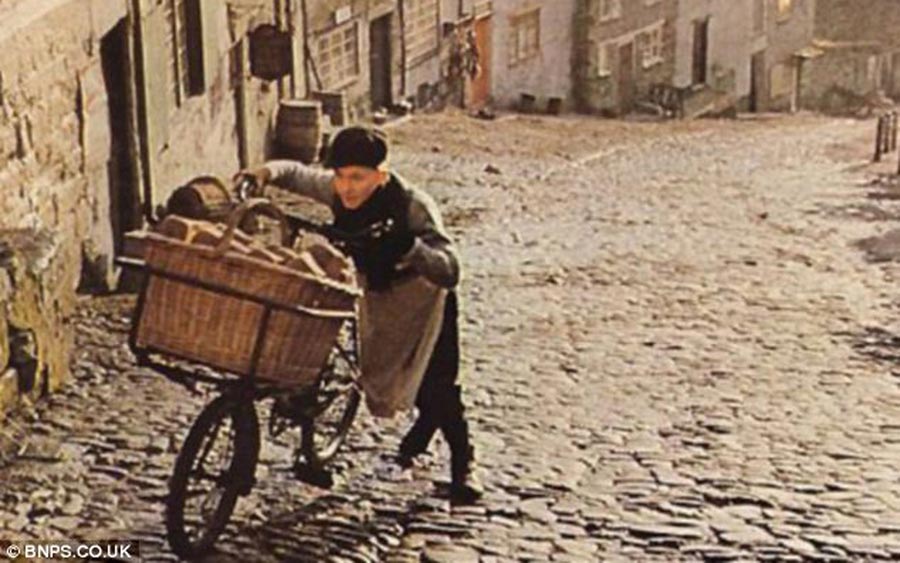 A lack of ambiguity: Even Mrs Thatcher loved the Hovis image

Brass bands soon became an emotive, but misplaced stereotype, occasionally decanted over the next 40 years into the living rooms of a rapidly changing social Britain.
Try as some did (notably through the likes of Elgar Howarth and later Howard Snell at the Granada Band of the Year) it was soon set in stone - from the famous 'Boy on the Bike' Hovis television advert of the early 1970s to the 1997 film 'Brassed Off!'.
Both were warm hearted and cleverly written, but also played on those manipulated simulacra that had been fed to us for generations. They were essentially, complete fabrications.
Stereotype

In The British Brass Band: A Musical and Social History, author and Professor of Music, Trevor Herbert observed of the Hovis advert (shot by Ridley Scott, who went on to make the Oscar winning film 'Gladiator'):
'The images were, of course, almost entirely false, but the use of music in this commercial illustrated the manner by and in which a certain stereotype of brass bands is ingrained into the general pattern of stereotypes that image-makers manipulate and utilise.'
He added: 'Orchestral music can, or course, be slow and flowing, but brass bands can, with a remarkable lack of ambiguity, create, even today, assumptions about 'class'.'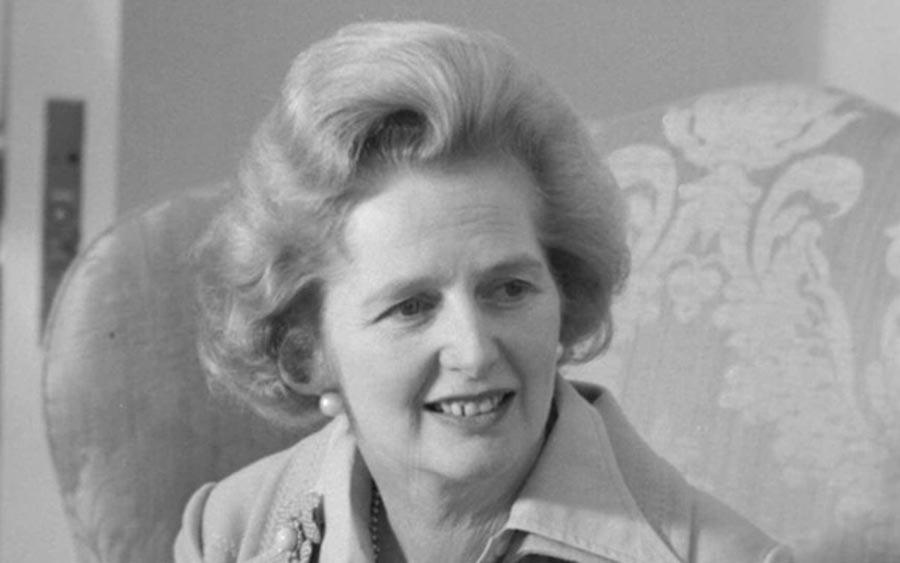 A desert island: Mrs Thatcher chose a brass band to accompany her there

A little later, another famous misinterpretation came in 1978, Margaret Thatcher, then Leader of the Opposition, appeared as the castaway on 'Desert Island Discs'.

As her second record, the MP for Finchley said. "I've chosen a brass band. You know they played quite a large part in my youth. We loved them. I would like to hear something like 'Going Home'."
No explanation

There was no other word of explanation for her rather surprising revelation - the presenter Roy Plomley having to inform the audience that in fact it was the GUS (Footwear) Band playing the 'Largo' from Dvorak's 'Symphony No. 9'.
Six years later 'Going Home' became a musical metaphor for the beaten Miners of the 1984 Strike, as they return to their pits - a horrible paean to Dvorak's own view on his famous work that, '…these beautiful and varied themes are the product of the soil.'
It may come as little surprise also that Mrs Thatcher's renowned ability to tap into the aspirations of middle class voters meant that her 'love' for brass bands was never mentioned again in the remaining years of her life.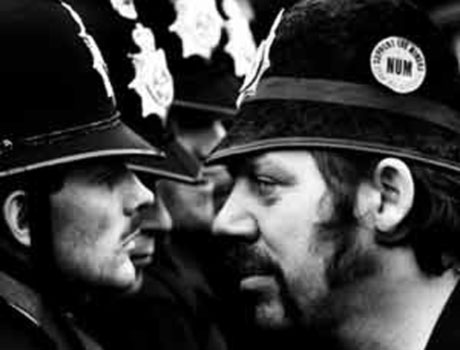 No brave New World for the Miners after the 1984 Strike

The brass band movement's relegation to an ephemeral cultural signifier of post war UK history has in part been self-inflicted (for example - the lack of a nationally organised governing body) but in general terms it has been the result of decades of an incremental erosion of a once strong social labour movement and the cultural appendages which played such a significant part in keeping it alive and vibrant.
Myopic understanding

The political consensus of the 1950s and 1960s - of Keynesian economics and Beveridge inspired social security enabled the brass band movement to survive - although with a somewhat myopic understanding of the changing world outside its own musical boundaries.
As it all started to implode in the late 1970s, brass banding gradually retreated further into its own social, political and musical hinterland.
Ingrained and unimaginative, suspicious of outsiders, it clung onto what it perceived was the safety blanket of social immobility, trade unionism and political certainty. All however were living on borrowed time.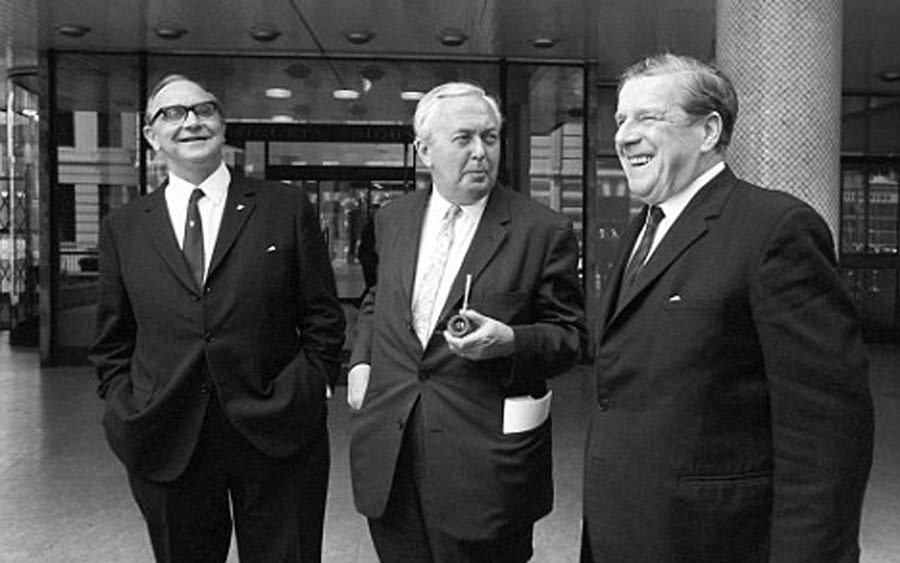 Safety in those we trust in power: Jack Jones, Harold Wilson and Vic Feather

It is perhaps summed up by the fact that just two years after the first screening of the famous 'Hovis' advert and just a year before percussion would first be phased in for all regional contests, the prizes for the 1975 South Wales Miners Eisteddfod were presented by Sir Derek Ezra (Chairman of the National Coal Board), Jack Jones (General Secretary of the Transport & General Workers Union) and Nikolay Mitrofanovich Lunkov (The Soviet Union Ambassador).
It could well have been 1955. By 1995 everything had changed forever.
How and why

How and why did brass banding become marginalised to such an extent that the general public's perception of it is now governed by a 20 year old film, an old bread advert and the Iron Lady's ignorance of classical music?
Where and how that narrative line of banding history has been lost is a story I will explore again in future articles, but it underpins my opinion that for the banding movement to progress it must break free of the subverted falsehood of misrepresentation that has consumed our artistic, social and political identity for far too long.
It has occasionally succeeded - but by no means on enough occasions.
Reasons

There may well be those, even within the communities that still have a close heritage of both brass banding to industrial life that would refute this argument on either political or historical grounds.
However, if we are to break with its purposeful ideological suppression, and rise out of the ashes to truly become a social and political musical movement of relevance, we must first acknowledge the exact reasons we found ourselves there in the first place.
Jack Goldstein
---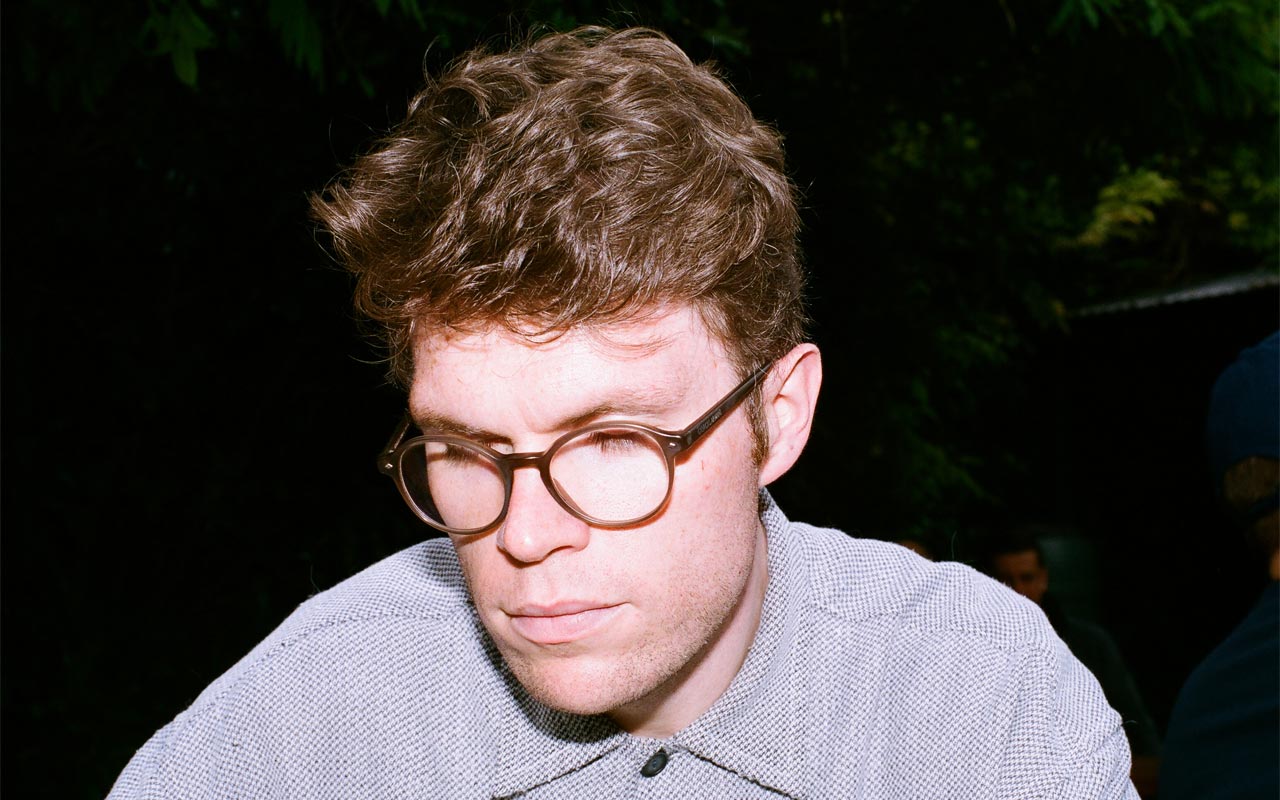 The Author:

Jack Goldstein is a Musicologist studying a masters in Contemporary Music Studies at Goldsmiths University.

He has written on brass banding, Post-Internet aesthetics and experimental music. Growing up, his family were involved in several local brass bands and his father currently plays Bb Bass in Jubilee Brass.