Second Section:
Saturday 8th September
Draw: 8.15am
Start: 9.30am
Adjudicators: Alan Fernie and Stephen Sykes
Set Work: Images for Brass (Stephen Bulla)
Boarshurst Silver (James Garlick)
Cawston (Leigh Sharpe)
Cheshire Constabulary (David Woollam)
City of Bristol Brass (Bryn James)
Coalburn Silver (Gareth Bowman)
Deiniolen (Lois Eifion)
Dunaskin Doon (Chris Bradley)
Glossop Old (Les Webb)
Haydock (Mark Quinn)
Houghton Brass (Tom Gibson)
Ibstock Brick Brass (Simon Willis)
Old Silkstone (Sam Fisher)
Sidmouth Town (Adrian Harvey)
Stannington (Derek Renshaw)
St Sebastian Wokingham (Nigel Howard)
Thomas Coaches Mid Rhondda (Alan Gibbs)
---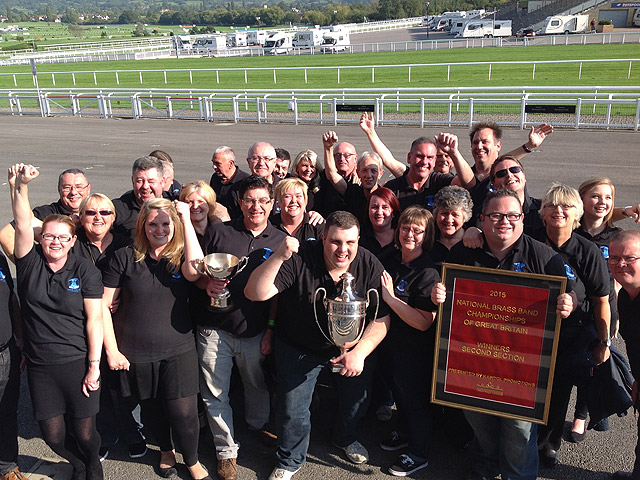 2015 National Champion: Ebbw Valley Brass

On the 23rd February 1945, six US Marines raised the American flag on the summit of Mount Suribachi during the Battle of Iwo Jima.
Although it did not signal the end of the horrendous conflict on the tiny volcanic island, it came to signify both to the American troops below and to the wider American public, via the iconic photograph taken by Jack Rosenthal, the cost of securing peace in the Pacific.
Frozen in time
Three of the men were killed within days of the photo being taken; the others lived with the consequences of their participation for the rest of their lives.
It may remain an image frozen in time - yet it was not until some years after the War that the full story of the battle - its significance and cost - became known.
Distinguished
Stephen Bulla was for 30 years the distinguished Chief Arranger of the 'President's Own' United States Marine Band; a role that saw him produce over 650 works that were performed at some of the most important occasions hosted at the White House.
His symphonic suite 'Images for Brass' was first performed to celebrate the 50th anniversary of the hoisting of the flag on the summit of Mount Suribachi in February 1995, and is a remarkably powerful, poignant memorial to the sacrifice and bravery of those who took part.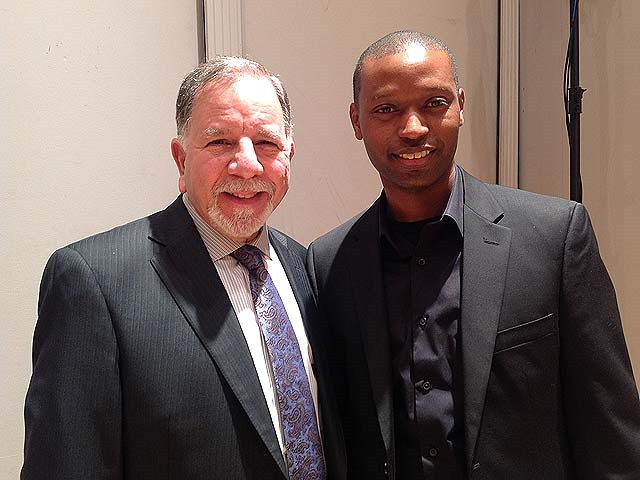 The composer smiles for the 4BR camera

Taken from the original brass suite, it is a compact work in four linked movements - 'Prologue', 'Approach by Sea', 'Chorale Prayer' and 'Engagement', which although not retelling the historic time line, brings the character of the unfolding conflict into relevant focus (nearly 25,000 men on both sides were killed).
Sombre tension
The first movement is marked Lento lamentoso and is a sombre heightening of tension as the timpani and field drums offer a funereal pulse that never wavers. We hear ciphers of the 'Navy Hymn', 'Melita' and the 'Star Spangled Banner' as the focus of thoughts and prayers are brought to bear in the minds of the brave combatants.
Dark menace
The lilting 6/8 rhythms of the second movement recall the bobbling landing craft packed with men which head towards the black volcanic sands of Iwo Jima - the rising sentinel of Mount Suribachi growing on the horizon. Patriotism as the 'National Anthem' is recalled stirs the blood before the alarm calls to action sends a judder of apprehension and dark menace.
The peaceful chorale featuring a more clearly defined 'Melita' and the composer's own thematic lyricism is a double edged sword - an interlude that speaks of both the relief of making it to land and of the misplaced thoughts of a quick and decisive victory to follow.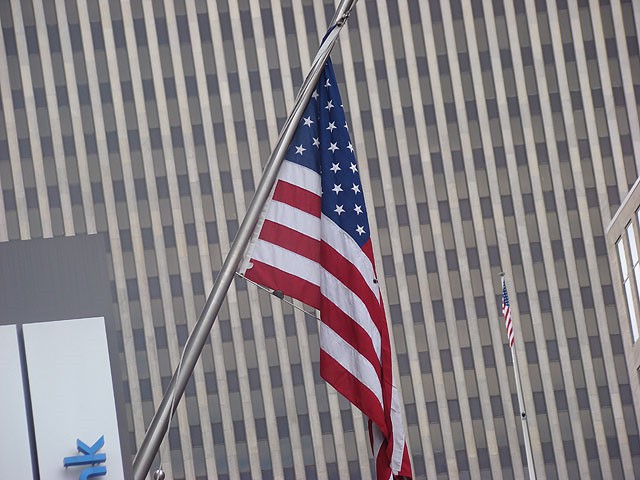 The American flag is such an emotive symbol of freedom

That is shown in the final movement; a viscerally powerful battle of engagement as troops, deliberately lured further in-land by the Japanese, come under horrendous attack; wave upon wave of American Marines making pain staking progress at a terrible cost before the US flag is finally planted on the summit.
The conclusion is a chorale of remembrance rather than triumphalism - with a respectful nod of homage to 'The Holy War' by Ray Steadman Allen.
'Images of Brass' deliberately sets out its emotive memorial message; colourful, exciting, transparent and bold. Not once however does it cross into sentimentality or misplaced filmatic drama, despite the composer's engaging style of writing.

It is a fine choice, and played with sensitivity it will make a mark on both the hearts and minds of conductors, players and audience alike.
---
Who will win?
16 solid looking bands take to the stage on Saturday morning for what promises to be a peaceful battle for supremacy.
The experienced pairing of Alan Fernie and Steve Sykes should be able to sit back and enjoy some fine playing if the contenders have been able to put banding basics together with a sense of musical character and style. If not, it could be hard graft for them both.

Welsh champion Thomas Coaches Mid Rhondda
Wales
Last year it was the all conquering Ebbw Valley that lifted the National Trophy, with their north Wales counterparts of Deiniolen in third, so Welsh hopes will once again be high as Deiniolen returns alongside Area champion Thomas Coaches Mid Rhondda.
Both are in decent form - Deiniolen already claiming a National title at the Eisteddfod in Abergavenny and Mid Rhondda making a rapid return to Cheltenham after coming 9th in the Third Section Final last year.
North West
The North West last won the title with Marple in 2014, and hopes rest with the powerful trio of Area champion Haydock, the emerging Cheshire Constabulary and a rejuvenated Boarshurst.
Each is more than capable of making a significant mark, despite this being Haydock's first appearance since 2008, Boarshurst not really shining at Butlins earlier this season and Cheshire taking their first bow since 2010.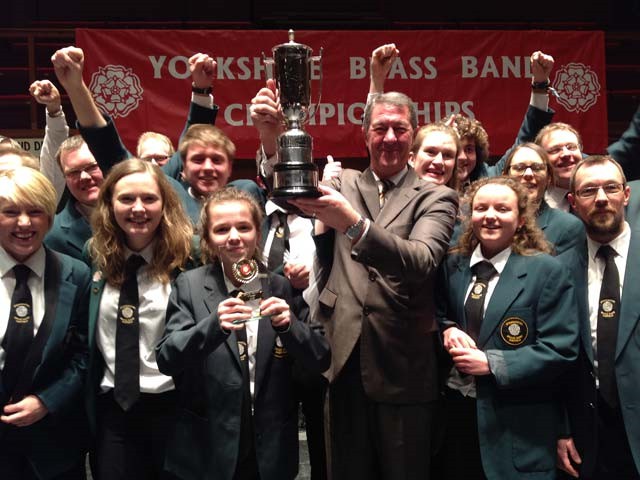 Yorkshire champion Stannington
Yorkshire
Over the Pennines, Yorkshire hasn't tasted success here since 2003, so the pressure will be on both Area champion Stannington and Old Silkstone to do well.
With two experienced MDs to lead them (Derek Renshaw certainly knows a thing or two about winning here, and Sam Fisher led his band to a fine sixth place last year) they should travel south in confident mood.
West of England
There is also a pair of sturdy looking challengers from the West of England, where Area champion City of Bristol Brass and Sidmouth Town qualified in some style at Torquay.
Bryn James and Adrian Harvey are talented MDs who know how to bring the best out of their bands, and with decent form to back them up they could be fancied runners to bring the National title back West for the first time since 2011.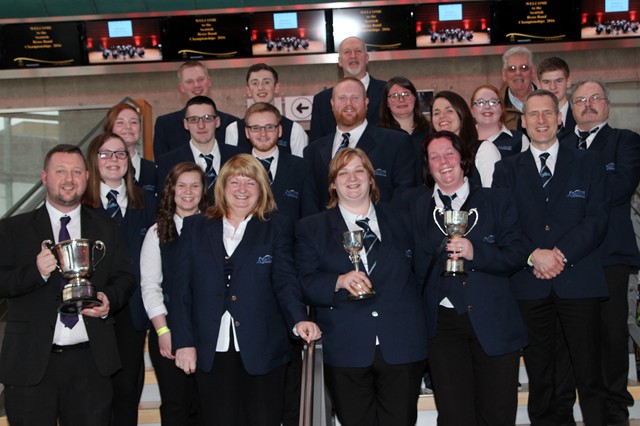 Scottish champion Coalburn
Scotland
Scotland's tale of woe at this level continued last year with a brace of lowly finishes, and you have to go back to 1997 for the last time the Saltaire was flown in triumph.
The long term seeds of youth development are finally maturing though north of the border though and they could blossom this year with champion Coalburn Silver and Dunaskin Doon - both led by fine MDs in Gareth Bowman and Chris Bradley who have plenty of musical nous to make the most of their resources.
North of England
Two rapidly emerging bands also make the trip from the North of England, led by the in-form Area champion Dunston Silver and last year's Third Section National Champion, Houghton Brass.
Dunston also won at Brass at Beamish earlier this season and Houghton has continued to make solid progress under their inspirational MD Tom Gibson, so who knows? Yet another celebration or two for an Area that has punched well above its musical weight in recent years may be in order at the bar.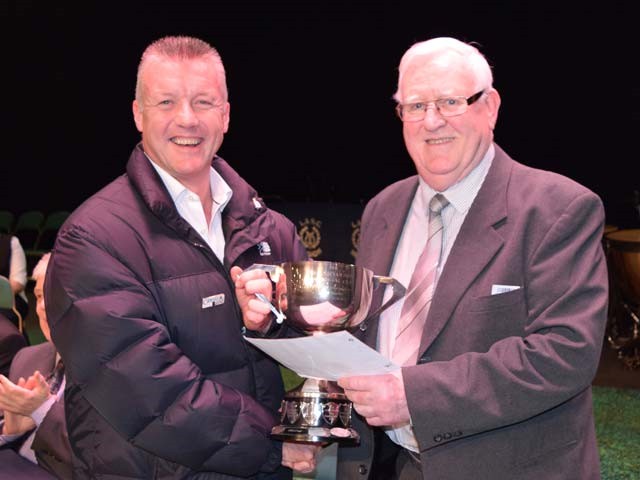 London & Southern Counties champion Cawston
Midlands
Midlands hopes of a first win since 2004 rest with Area champion Ibstock Brick Brass and Glossop Old - with both more than capable of doing just that.
Ibstock won off the number 1 draw at Bedworth - their first win of any sort since 2001, so nothing should faze them under MD Simon Willis, whilst Glossop Old is continuing its welcome return to good contesting health under the expert musical eye of Les Webb.
London and Southern Counties
That just leaves the London & Southern Counties challenge of Area champion Cawston, led by the experienced Leigh Sharpe, who make their first appearance since 2007, and St Sebastian Wokingham under their recently appointed MD, Nigel Howard. They last appeared here in 2009.
Dark horses maybe, but bands to watch out for and not to under estimate.
---
4BR Prediction:
A hard one to call, with potential winners and podium finishers just about everywhere you look.
City of Bristol was an impressive champion in Torquay and more of that may hold them in good stead, although they could well come under pressure from the likes of Old Silkstone, Deiniolen, Boarshurst, Stannington and Haydock.
Our dark horses are Ibstock Brick Brass and Glossop Old.
1. City of Bristol Brass
2. Old Silkstone
3. Boarshurst
4. Deiniolen
5. Stannington
6. Haydock
Dark Horses: Ibstock Brick Brass and Glossop Old