First Section:
Sunday 9th September
Draw: 2.00pm
Start: 4.00pm
Adjudicators: Alan Morrison and John Maines
Set Work: Ballet for Band (Joseph Horovitz)
Aveley & Newham (Robert Nunnery)
Bedworth Brass (David Maplestone)
Bo'ness & Carriden (Charlie Farren)
Blidworth Welfare (Martin Heartfield)
Brunel Brass (John Winterflood)
Chapeltown Silver (Andrew Dennis)
City of Cardiff (Melingriffith) (Nigel Seaman)
Ebbw Valley (Gareth Ritter)
Hatfield (Stan Lippeatt)
Jackfield (Elcock Reisen)
Lockwood Brass (John Roberts)
Northfleet Brass (Melvin White)
Rainford (Gareth Brindle)
Ripon City (Martin Hall)
St Dennis (Darren Hawken)
Tullis Russell Mills (Paul Kiernan)
VBS Poynton (Neil Samuel)
---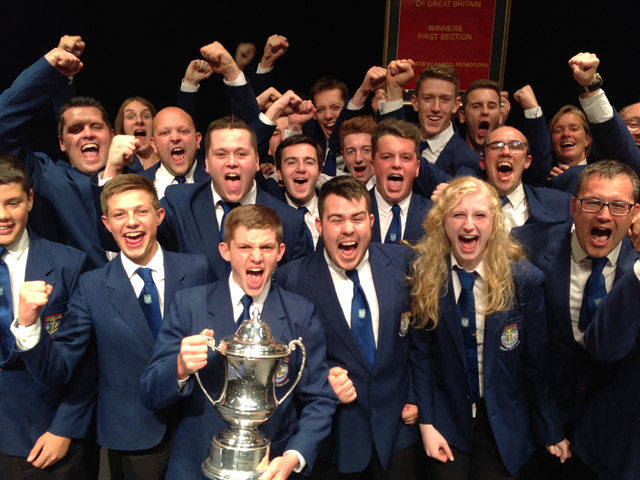 2015 National Champion: Goodwick
The First Section National Final reaches its 25th anniversary this year in Cheltenham.
It seems strange that even after a quarter of a century we still don't quite understand the real purpose of why the section was created in the first place.
That debate is perhaps better resolved at a future date, as for the time being 17 well matched contenders take to the stage on Sunday afternoon (starting at 4.00pm) to try and claim a victory that will enable them to be automatically promoted to the elite level.
And whatever the rights and wrongs of the current contesting structure in the UK, that is still one heck of an incentive.
Not an easy task
Over the past 25 years the Kapitol Music Panel hasn't made it easy for them to do it either - from 'A London Overture' back in 1992 to 'Ballet for Band' this year. In between we've had everything from 'The Essence of Time' to 'The Force of Destiny' and even 'Pageantry', which a number of these contenders may be playing again in the not too distant future if the rumours are correct.
Anachronism
On the face of it, Joseph Horovitz's beautifully crafted work may seem like a musical anachronism given the plethora of steroid enhanced blockbusters that are now regularly heard on major contest stages.
However, its elegant refinement, cultured linear writing and classical dimensions are every bit as deadly: Instead of seeing you chances of success bludgeoned to death with anvil hammer wielded like Thor, this sticks a stiletto into the back of your neck like a mafia moll in a bad mood.

The composer and his lovely wife
Wonderful composition
It's a wonderful composition; 10 minutes of pure imagination not even Willy Wonka could better, and one that the judges John Maines and Alan Morrison will surely enjoy.
Commissioned for the 1983 National Finals, it's a miniature romantic ballet score (of the 19th century ballet blanc variety) that does not follow a narrative line - although Horovitz himself states that 'the characters and plot were quite clear in my mind before composing it'.
Instead, he rather cleverly asks the audience to 'exercise its own imagination rather than be influenced by mine', creating pictures in the mind's eye that starts with an introductory prologue of exquisite fanfare led pomposity.
Vignettes
We are then expertly led through a series of artistic, esoteric vignettes; scenes of comedy (the two galumphing tubas) inquisitiveness (led by the solo cornet and euph) and bravura, before the central core of the work is revealed in a stunningly simply flugel solo that flows with an underlying pulse of sensuality.
Taken on by a sweetly toned soprano it gently meanders to a halt - 'slower', 'even slower' and 'slowest' as the sore indicates, before the flugel rests on a perfect triple piano chord. It takes some band with players with ice cold blood running through the warmest of hearts, to make work.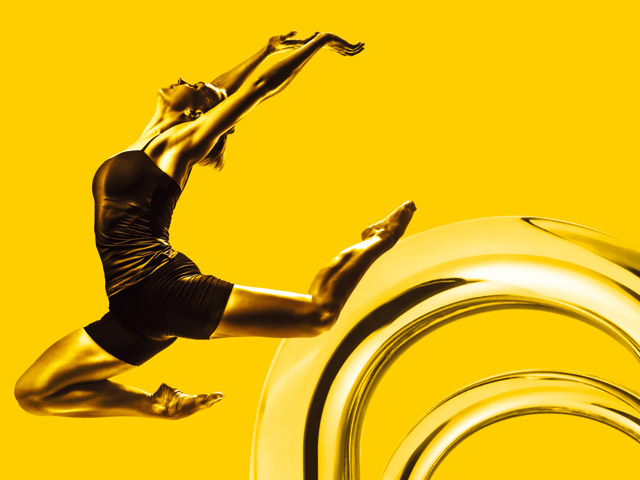 A brass band ballet
Wicked
The ride for home that follows is a perfect ramping up of tempo and intensity - 'shades' of incremental increase in dynamic, rhythm and speed that must never lose control or focus despite the flamboyant virtuosity on show from the euphonium, solo cornet and double tonguing trombones.
It closes with a final flourish and a wicked piu accel to 144 then 152 within a bar to close with a thump (the final three bars played for the first time at fff) before the curtain is brought down and the players and conductor can take their bows.
---
Who will win?
There have been some commanding winners recently - notably Filton Concert in 2014 and Goodwick last year, and the 17 contenders contain a fair sprinkling of potential worthy champions in its midst.
Wales
Wales defends the title with the strong looking duo of City of Cardiff (Melingriffith) and Ebbw Valley carrying the nation's hopes of a third victory in four years.
Both will be confident - with Area champion City of Cardiff looking to go one better than last year's runner-up finish and Ebbw Valley seeking a unique place in the record books by securing a fourth consecutive National title following wins in the Fourth, Third and Second Section.
West
The West of England can also boast a fine record of late, with hopes resting with St Dennis (who won the Area in superb fashion) and Brunel Brass, for whom their inspirational MD John Winterflood will be making his final appearance before retiring to enjoy the sunshine in Spain.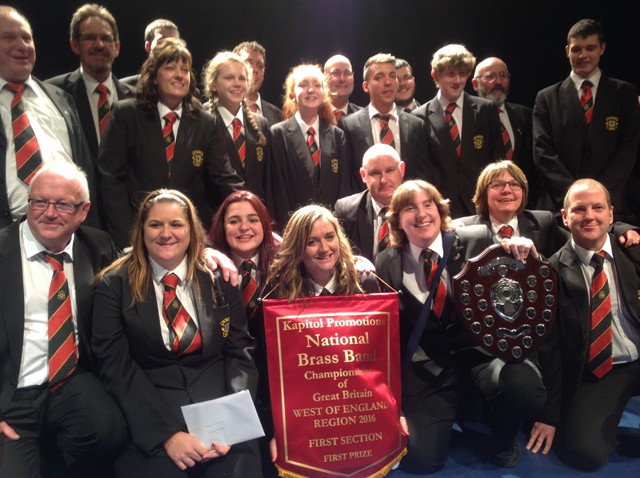 West of England champion St Dennis
North West
You have to go back to 2004 for the last time the North West was triumphant, but in the ambitious Area champion VBS Poynton and equally impressive Rainford (who won the Senior Cup in sparkling fashion in May) they have contenders who have already made their mark against top level rivals.
Packed with experience and led by two talented MDs they could be right in the mix come the results.
Scotland
Scotland still awaits its first champion. 25 years is a long time in anyone's book (especially as every other Area has claimed at least one title), so can either champion Tullis Russell Mills or Boness & Carriden do it this time?
Last year's representatives showed their quality (coming 4th and 5th) so could 'Flower of Scotland' be heard being sung in the bars on Sunday night? Maybe, just maybe.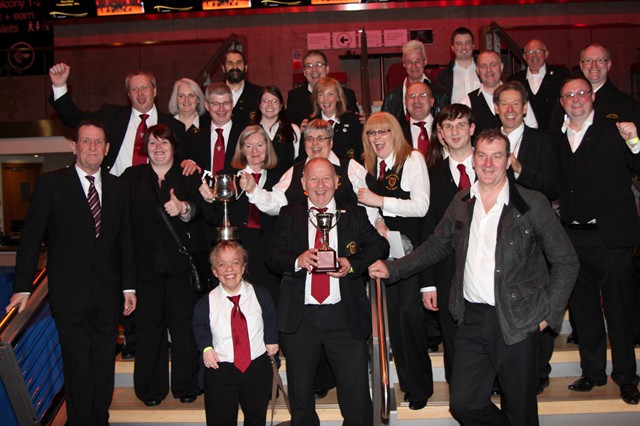 Scottish champion Tullis Russell Mills
Yorkshire
How Yorkshire could do with a National boost after the White Rose county drew a title winning blank at Cheltenham last year. They didn't come close in this contest either (7th and 16th) so hope, luck and determination will be prayed for with Area champion Chapeltown Silver and Hatfield.
Both have a fine mix of youth and experience in front and behind the stands, so expectations will be high.
London & Southern Counties
Not a great return either for the representatives of the London & Southern Counties last time out (6th and 15th), but in a resurgent Area champion Aveley & Newham (although the Senior Cup was a hard 'Battle') and a confident Northfleet Brass (aided by the vastly experienced Melvin White) that could well change this time around.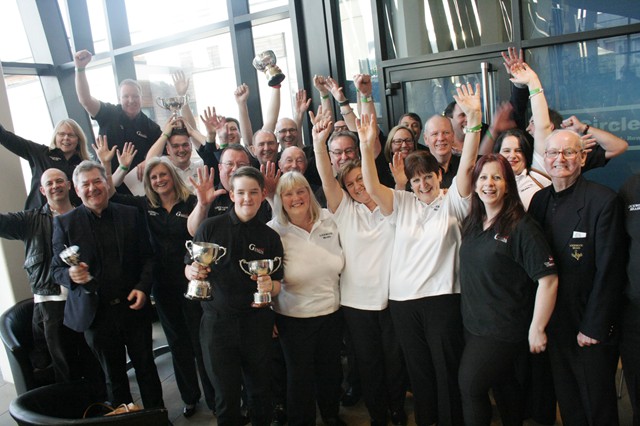 North of England champion Lockwood
North of England
You also have to go a little way back for the last time the North of England had cause to crack open a bottle or two of Newcastle Brown Ale in celebration (2003 in fact) but in Area champion Lockwood and the fast emerging Ripon City that may be about to be consigned to history.
Both have a great amount of talent in the ranks and two excellent MDs at the helm, so don't be surprised if you hear a cheer for at least a mention off the stage come the results.
Midlands
Finally, the trio of solid looking challengers from the Midlands - headed by an in-form Area champion Jackfield Elcock Reisen who return for a second attempt (although hoping not to get another number 1 draw), alongside Blidworth Welfare and Bedworth Brass.
The last time the Midlands Area celebrated a victory was 2006, so another is overdue, and with three fine MDs and talent aplenty around the stands there may be a chance or two of a stage mention at least.
---
4BR Prediction:
A hard one to call - and much will depend on whether the best bands can link technique to musical style and bring the score and its imaginary characters to life.
Rainford sounded a cracking outfit at Blackpool at the Senior Cup and could be the ones to beat, whilst St Dennis was also a class apart in Torquay earlier in the year.
Hatfield and City of Cardiff (Melingriffith) should be in with a good shout, as too will Ebbw Valley and Lockwood. Our pair of dark horses are Aveley & Newham and VBS Poynton.
1. Rainford
2. St Dennis
3. Hatfield
4. City of Cardiff (Melingriffith)
5. Lockwood
6. Ebbw Valley
Dark Horses: Aveley & Newham and VBS Poynton