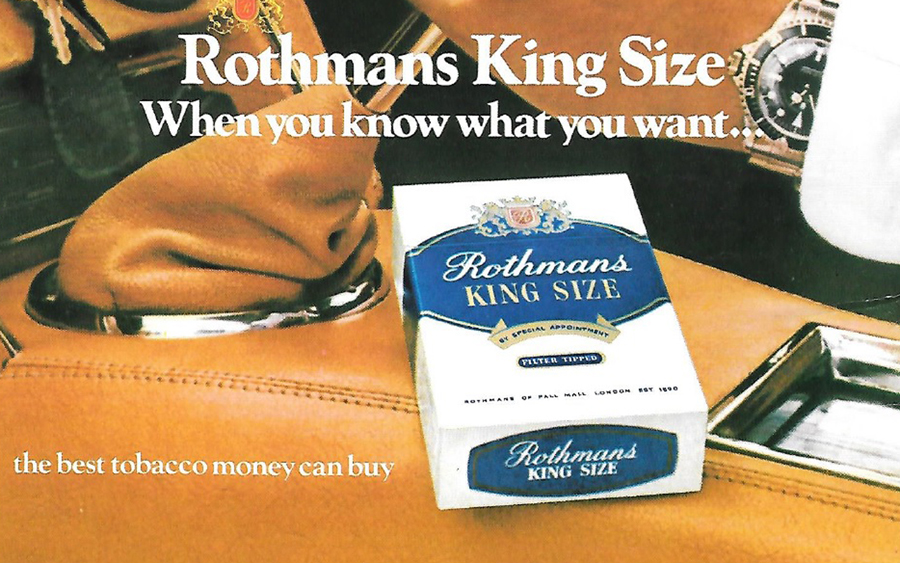 Sponsorship and freebies came from the first hosts

The Brass in Concert Championship reaches 40 this year.
Middle age suits it well.
The event has certainly come a long way since the Rothmans cigarette sponsored delights of the Beehive Theatre in Darlington in 1977 - a contest that saw the PR girls give out free samples of their products to breathless players as they left the stage.
Those little thank-you gifts came after the competitors had performed under a cumulonimbus nicotine haze that was the Geordie version of the 'Land of the Long White Cloud'.
Infused fog
Smoking was such a part of everyday 1970s life that the only tobacco infused fog that came with a government health warning was the one that rolled up the River Tyne with the tide: Even Roy Newsome wrote a march that paid tribute to their 'King Size' brand gaspers that had just won a Queen's Award for Export Achievement to 165 countries around the globe.
Today the contest is based at the anthropomorphic glass and concrete slug of architectural splendour that is Sage Gateshead. Health conscious players now rehydrate on green tea and humus & chick-pea cracker-bread, whilst the Tyne fog only whiffs of the vapours of e-cigarettes.
Four decades may have passed, but the event is in good health, even if at its heart you can still detect that link to its tobacco inspired past.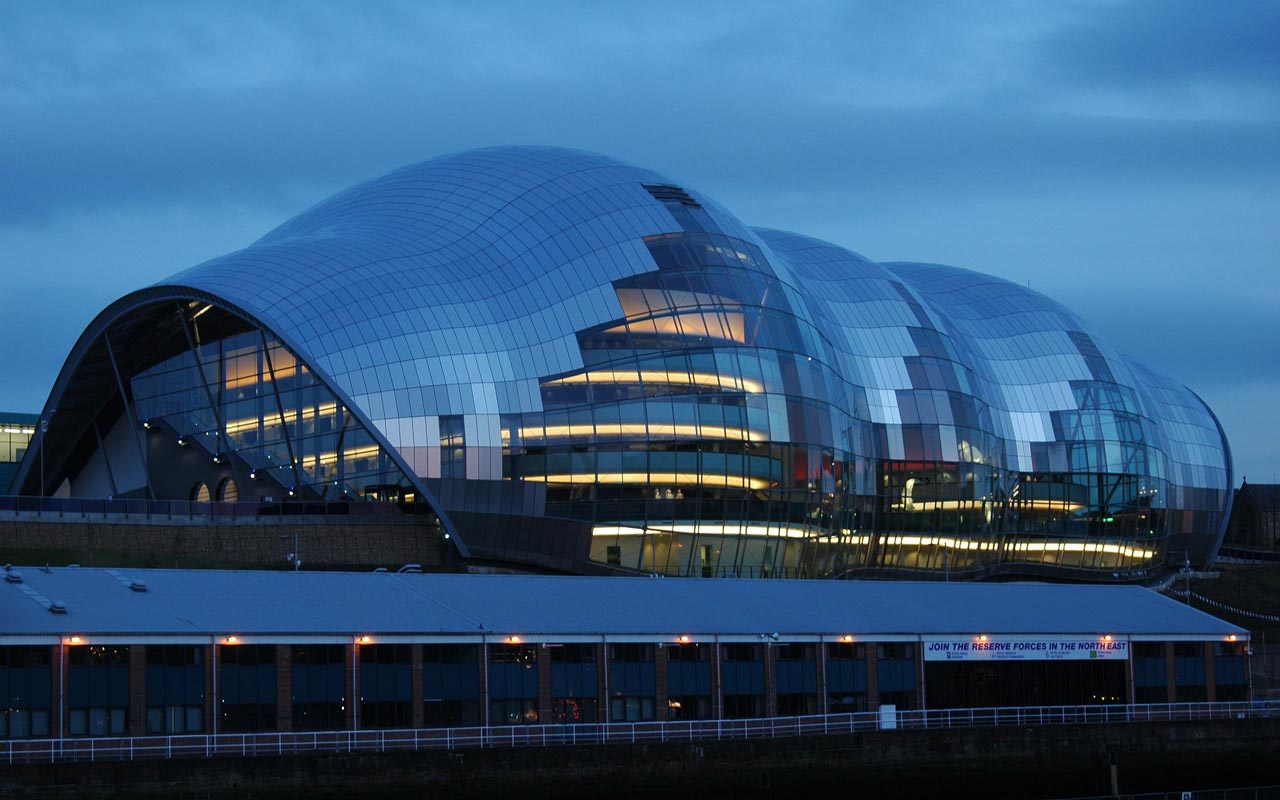 The wonderful new Brass in Concert home at Sage Gateshead
The 1977 contest ran on an ethos (Rule 8) of bands providing performances 'designed to provide a well-balanced and entertaining programme' and which saw the adjudication in the hands of five judges: two screened together to decide on the quality of the performance, and three sat separately to judge presentation and entertainment.
Fast forward
Fast forward to 2016 and we have a ubiquitous corporate 'mission statement' that aims 'to provide a platform for the finest brass bands in the world to display, free of artistic restriction, their excellence as performers of high-quality original and arranged brass band music...'.
The adjudication is open: two judges for musical quality of performance, two for entertainment and presentation and one for programme content. Even the soloists get one.
In reality it's really much the same thing - just with a health and safety warning now printed on the side of the packet: Even when Brass in Concert gave up the old high-tar fags for new fangled prescription adjudication patches, it couldn't quite fully rid itself of the craving for the original habit.
Gone for good
Some things have come and gone for good though - such as creaking venues, old bands, a couple of the more idiosyncratic awards and traditions, and hopefully, the habit of some MDs to indulge in memorably awful presentation ideas.
The Beehive years were followed by a one-off at the Dolphin Centre and a long tenure at Spennymoor Leisure Centre before the contest headed to its current home in 2005 at a time when it was in real danger of losing its appeal (not helped by an unfortunate dose of food poisoning in 2004 that left many players fearing runs of a different kind to those made up of fast paced semi-quavers).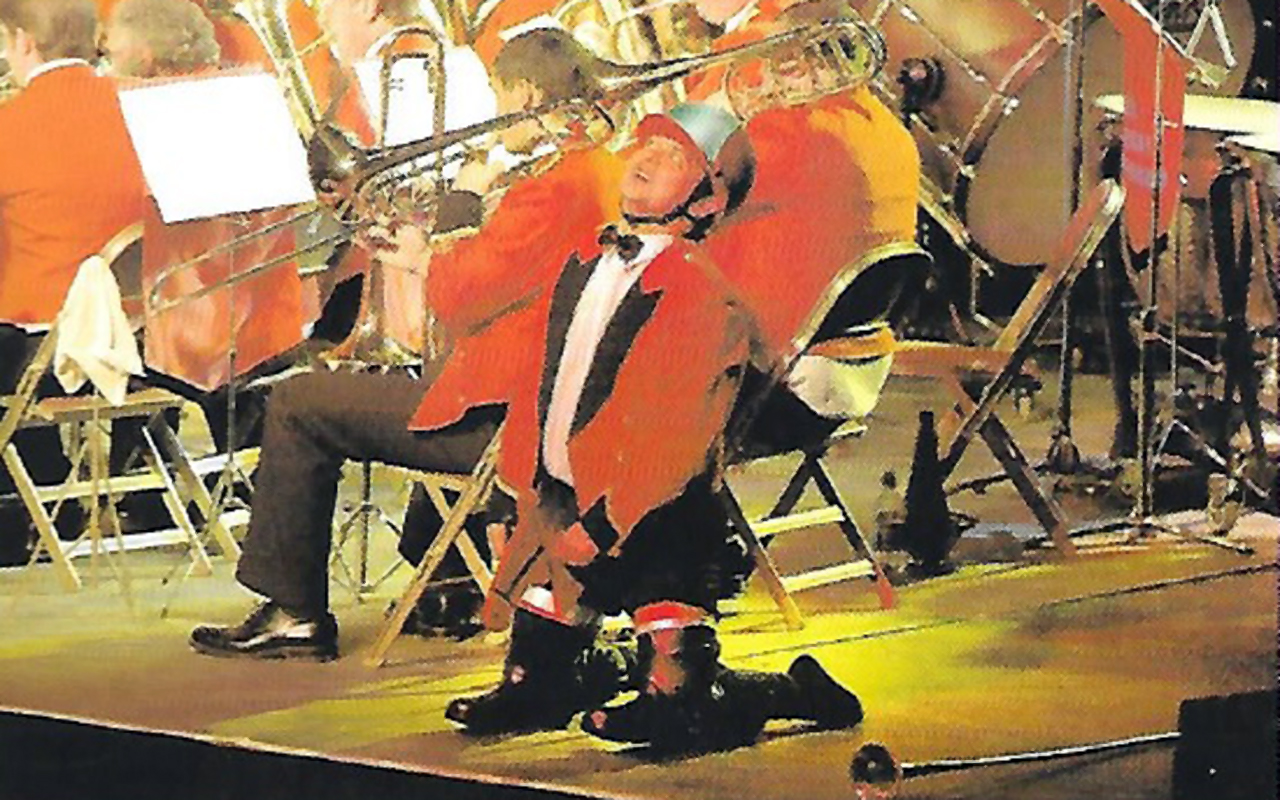 Things needed to look up after the 2004 event
Much more terminal effects though were felt by the early graves marked for Morris Motors (the first band to perform at the event), CWS Manchester, Jones & Crossland, Kennedy Swinton, Ransome, Rothwell (Leeds), Sellers International and Todmorden Old.
Worldwide appeal
Thankfully, the contest's increasing worldwide appeal (aided by links to other national contests, well thought-out added events and a hard working management committee) has meant that in recent years the local Big Market watering holes have enjoyed welcome musical visitors from Norway, Austria, The Netherlands and the USA.
One element that has also expanded is the number of awards on offer - the prize cabinet certainly packed with more silverware than 'The Toon Army' up at St James Park has seen come their way since 1977. Grimethorpe walked away with £1,000 as the first winners, whilst this year's champion could bag upwards of £6,500.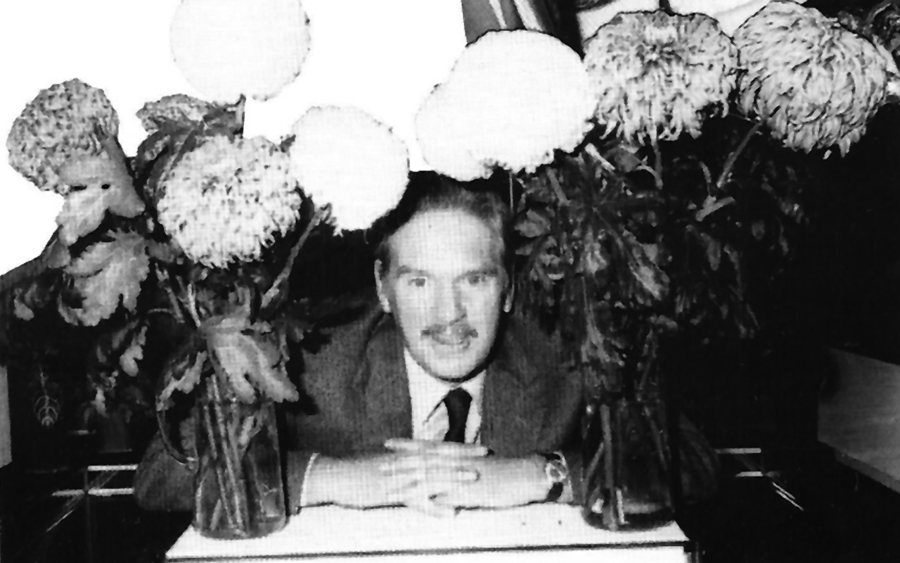 Not every idea has blossomed
Meanwhile, some things have also become quirks of history: The contest records note an appendix for former winners of the 'Best March' and 'Best Test Piece', whilst the Frank Johnson Memorial Trophy that used to go to the Band Secretary submitting the neatest package of musical scores and notes is now presented to the hard working secretary of the winning band.
From Foot to Keegan
Thankfully, the idea of making the draw by lifting pots of prize-winning chrysanthemums (as was used in 1984 - above) will surely not be repeated, although over the years the job has been undertaken by the likes of Michael Foot, Sir Charles Groves, Syd Lawrence and a certain Kevin Keegan.
It's also good that not all the links to those pioneering days have been forgotten.
The names of Cyril Beere and Peter Hartley - the two men who persuaded Carreras Rothmans to put their money where their product used to go all those years ago, are to be found on two trophies, whilst Paul and Jackie Beere and David Bennett remain indefatigable stalwarts in their commitment and dedication to the event. Frank Renton, who took over from John Dunn, is now the indispensible 'front-man' presenter.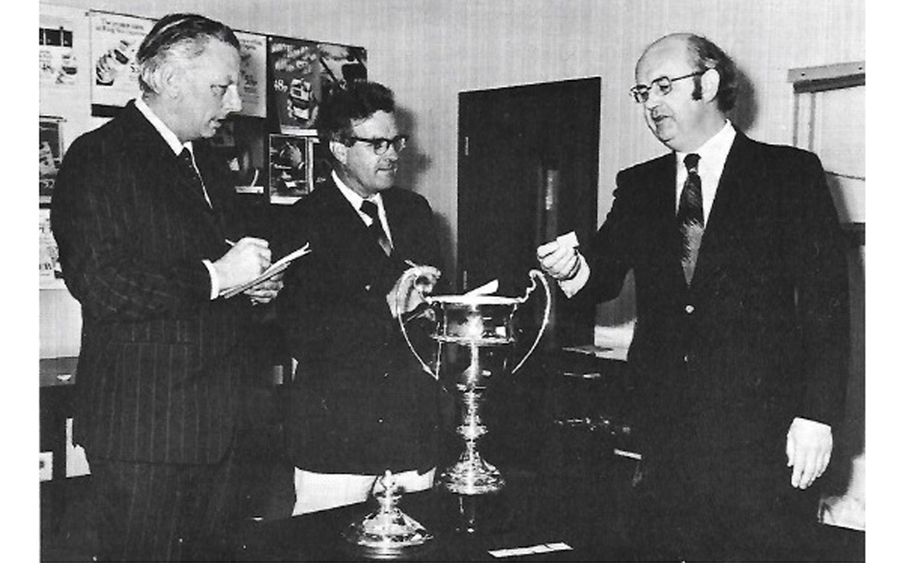 Cyril Beere (left) and Peter Hartley (centre) would be proud men today
Not everything has come off (and some decisions have been very poorly handled), but the contest has become the leading event of its kind in the banding world. Cyril Beere and Peter Hartley would be very proud of that.
As for the competitors and their ideas to create those 'well-balanced and entertaining programmes' that now encompasses the new age mantra of being 'free of artistic restriction'?
Subjective spectrum
That's more a subjective viewpoint depending on where on the brass band spectrum of well-balanced freedoms tickles your fancy, although you suspect that even today, quite a few in the audience would love to hear more glacially paced marches in the swaggering Richard Evans mode rather than gossamer thread linked variants on tenuously titled themes.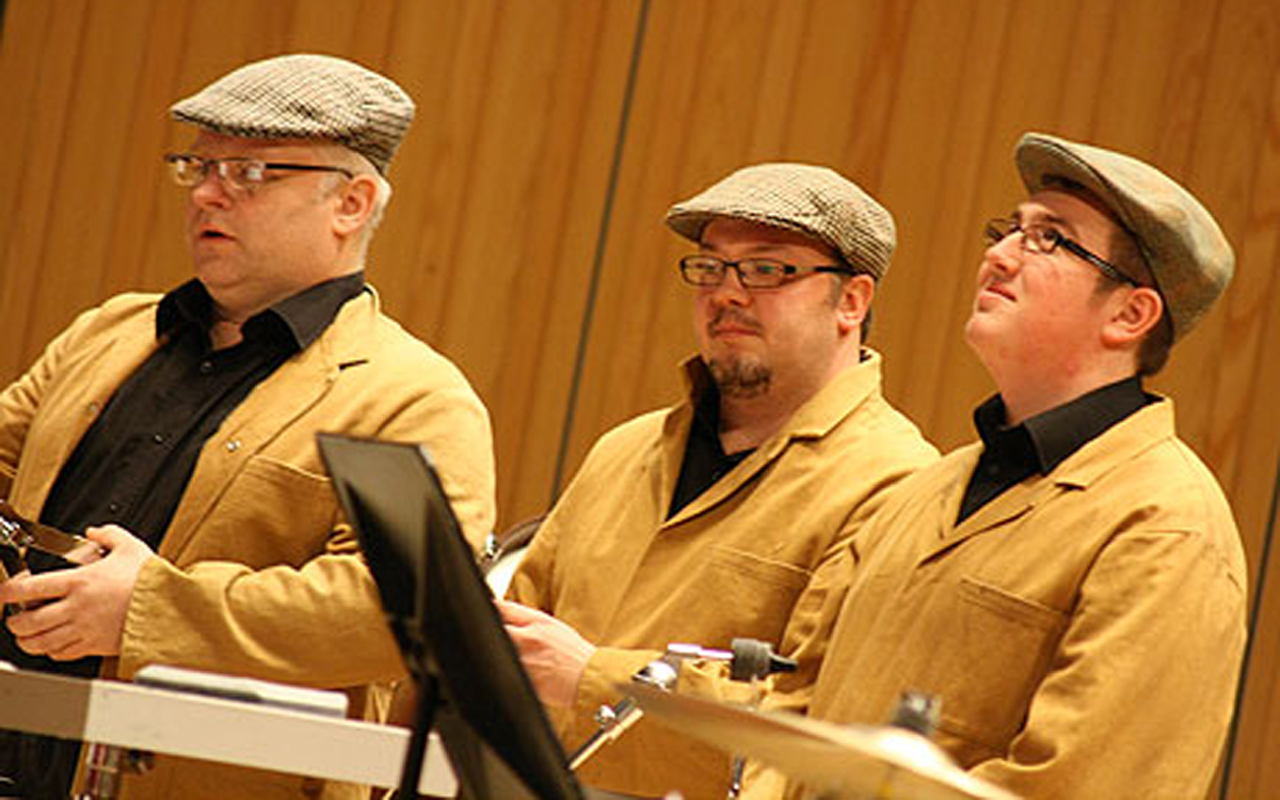 End of the cloth cap image
And how would the likes of Fairey's 'Sugar Plumb' tuba section resplendent in tutus, or Cory's 'YMCA' impersonators be appreciated nowadays?
Musical tastes, even with a rather 'conservative' listening demographic have become much more sophisticated; so will the current trend for 'themed' inspiration eventually run its course too?
That as ever is up to the bands.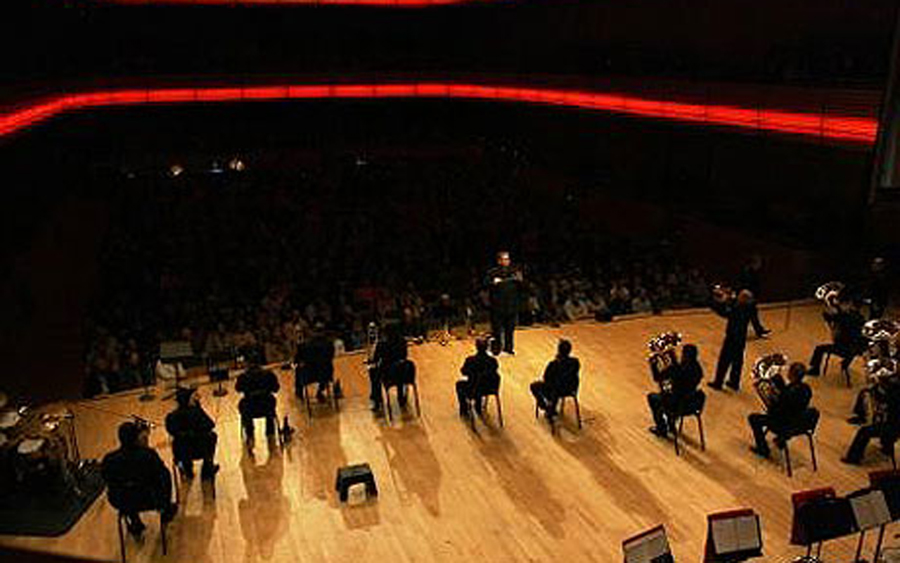 Use of technology has been used to wonderful effect
The opportunities afforded by Sage Gateshead and its technology have been used by a number of competitors to wonderful effect over recent years - although sometimes you are still left to ponder whether the musical inventiveness on display has also progressed as far.
Would a programme such as that used to win the contest by the likes of Grimethorpe under Ray Farr or Desford with Howard Snell three decades ago or more, now seem so out of place?
That though has been one of Brass in Concert's great strengths over the past 40 years.
You never quite know what might be about to come its way.
Iwan Fox