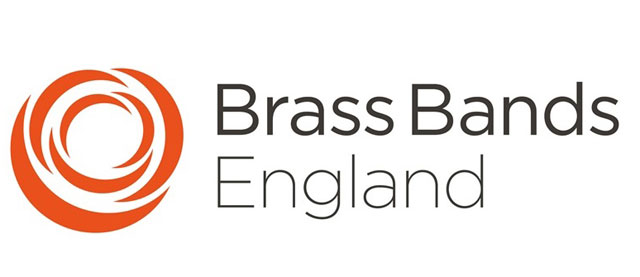 Has sanity finally prevailed at BBE?
By all accounts, insanity is doing the same thing over and over again in the vain hope of expecting a different result.
If that really was the case then Mike Kilroy and the Board of Directors at Brass Bands England would already be as mad as hatters as they look to provide a progressive influence over the future of the English brass band movement.
Glimpses
Thankfully, after the years of Alice in Wonderland nonsensical ideas and incomprehensible management-speak twaddle, their hosting of a National Brass Band Conference in Manchester provided glimpses that sanity has finally started to prevail: At least BBE now admits they really do need to try a different approach to achieve success.
That was the heartening subtext to a rather mixed day of achievement at Bridgewater Hall, attended by 56 delegates from different strands of the English (as well as a few Scots, Welsh and Irish) banding world.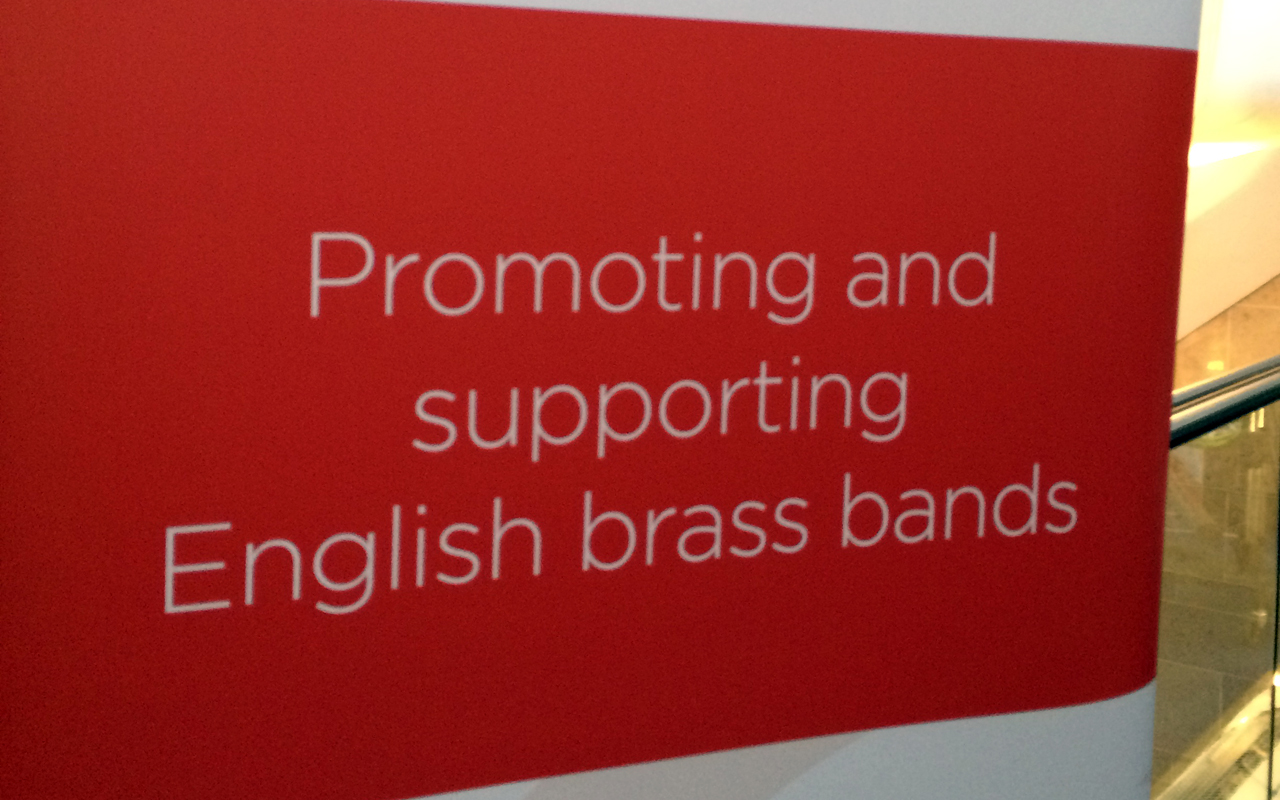 A clearer ethos is now emerging
Much will depend on how BBE communicates that new found acceptance of reality to current and prospective members (the current level is around 185 but rising); the crux of which will surely come if and when they are able to confirm the actual role it wishes to play in English banding's future.
Only then will the 890 or so bands that BBE has identified it could potentially represent, show if they really want to embrace yet another plan for change - and in doing so invest their faith as well as their money in an organisation that has rather belatedly recognised its real purpose for existence.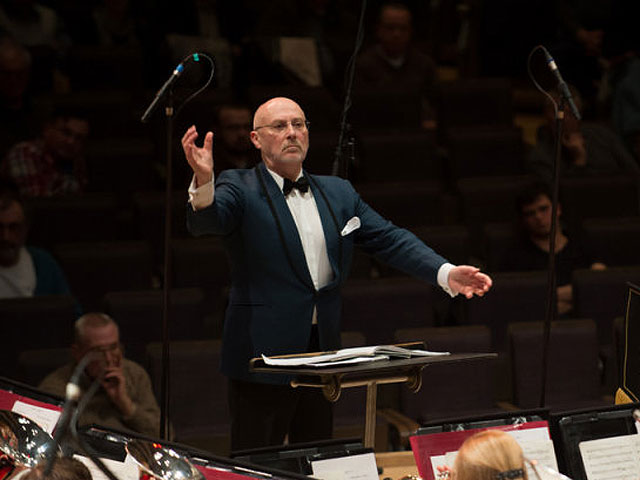 Keynote speaker Howard Snell
It's also still a question that requires a great degree of transparency; despite BBE Chairman Mike Kilroy clearly stating that BBE intends to obtain a much larger slice of the Arts Council England funding cake to do it. (Interestingly their Relationship Officer was in attendance).
Just how it intends to present the case for an extra wodge of annual grant aid cash when the current agreement ends in 2018 is currently somewhat opaque to say the least. To be fair though, that was never going to be resolved even on a busy day of debate.
A coherent answer will take time to achieve, but as Mike Kilroy admitted in his opening presentation, at least the years of essential repair work following the damaging internecine squabbles of the past are firmly behind them, whilst the present holds the promise of renewal and development.
Small steps
That said, reality will require small steps in the right direction, rather than the Miss World platitudes of wanting the brass band equivalent of world peace, helping disabled children and driving a double decker bus - and BBE has already used up nearly two years of their current enhanced Arts Council England NPO funding to get to this stage.
Mike Kilroy though was measured in his confidence of achieving success - although he didn't exactly hide his own ambition under a bushel with a PowerPoint presentation that claimed him as 'The Right Man to Take Us Forward'.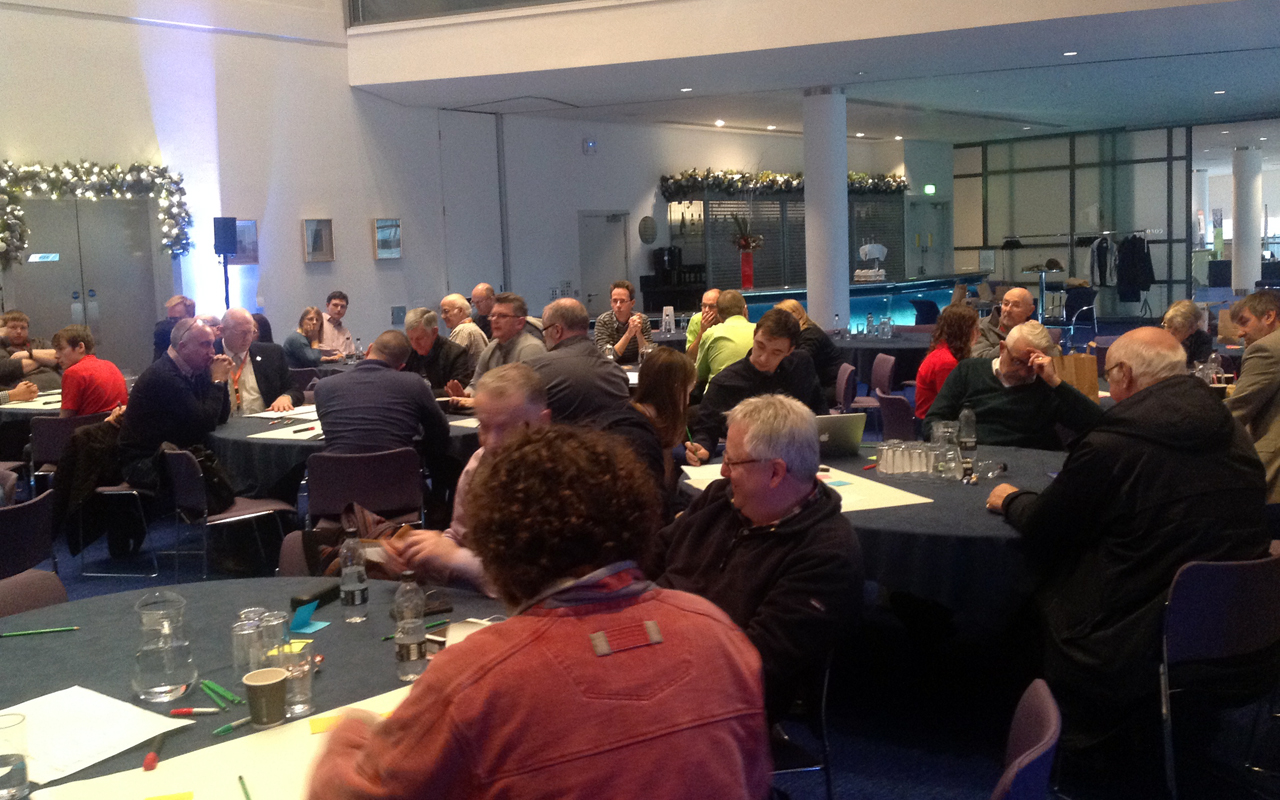 Thinking caps on...
Curious
That could well be true (and he did gain the endorsement of Frank Renton and Howard Snell), but a couple of hours of communal 'visioning' exercises using luminous 'Post It' stickers and a rather dated form of SWOT analysis still seemed a curious way of going about it - especially after Howard Snell had earlier given a thought provoking Keynote speech that clearly identified several essential elements on which BBE and the assembled delegates could focus.
Instead, a somewhat misplaced exercise in asking 56 people to come up with a single word definition of 'the value of banding' was of very little help - as the two white board easels full of different ideas showed.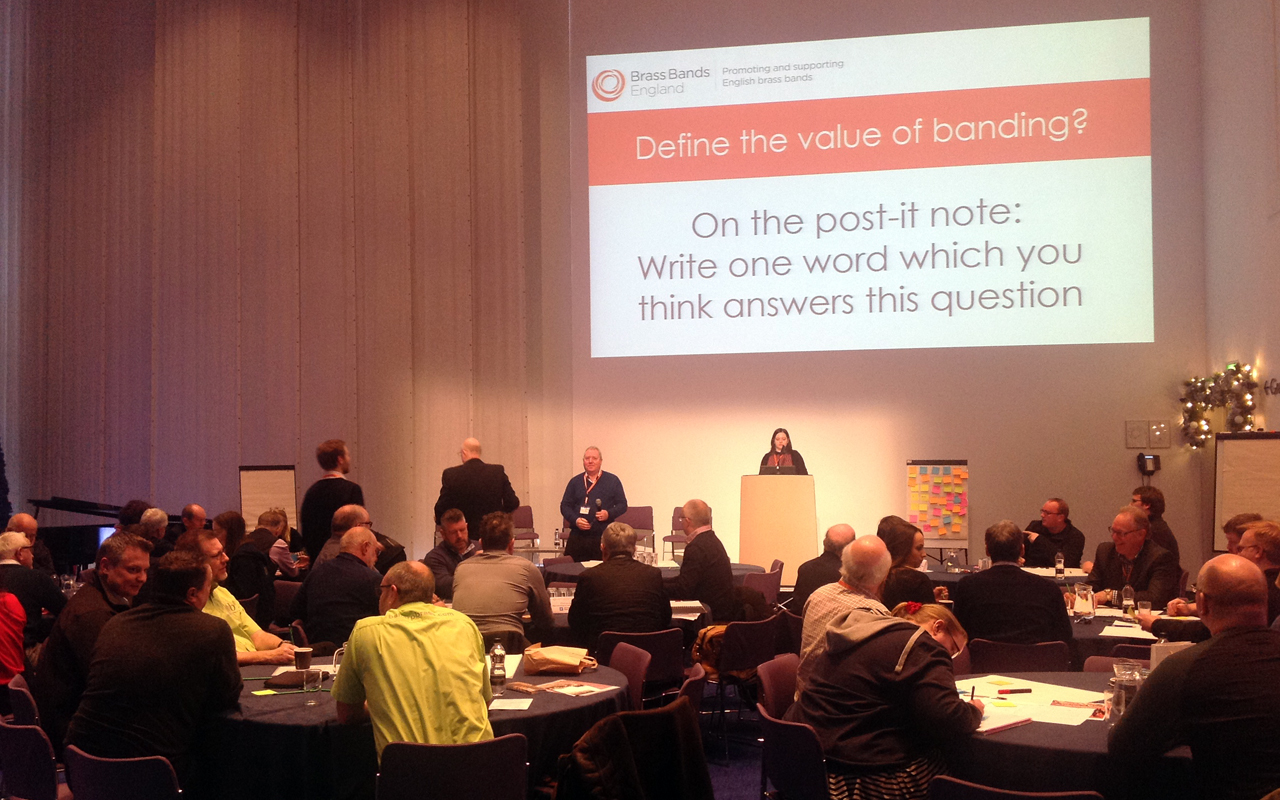 Are one word answers the way forward?
In contrast, if BBE could show that it deserves to gain extra Arts Council funding by taking a proactive lead on the fledgling Bandsafe Campaign excellently presented by Heidi Bradley, a Club and Coach Support Officer from England Athletics and PC Jonathan Smith, then surely no one would begrudge them a vault full of extra funding cash.
This was a clear, unequivocal message on the need to promote a banding culture throughout which supports and protects children and vulnerable adults from bullying, discrimination, harassment, abuse and neglect.
Nothing is more important: And it could become a foundation stone on which BBE builds its own successful future.
Lewis Carroll
With a much more balanced BBE management team now including Andrew Coe, a former Chief Executive of International Motor Sports Ltd, a new strategic plan based on membership support, proving respected enabling advice, and promoting good banding ethics rather than well meaning platitudes, could be within their grasp.
It also came in stark contrast to the entertaining, if rather wasted discussion on brass band repertoire, which despite interesting views from the panel (Howard Snell, Frank Renton, Kenny Crookston, Tom Davoren and Iwan Fox) and the delegates, didn't seem to have any real relevance to the day's ambitions.
Perhaps BBE wants to have more of a say in these matters in future with private major contest promoters, but in truth that's a reality that belongs in the realms of Lewis Carroll.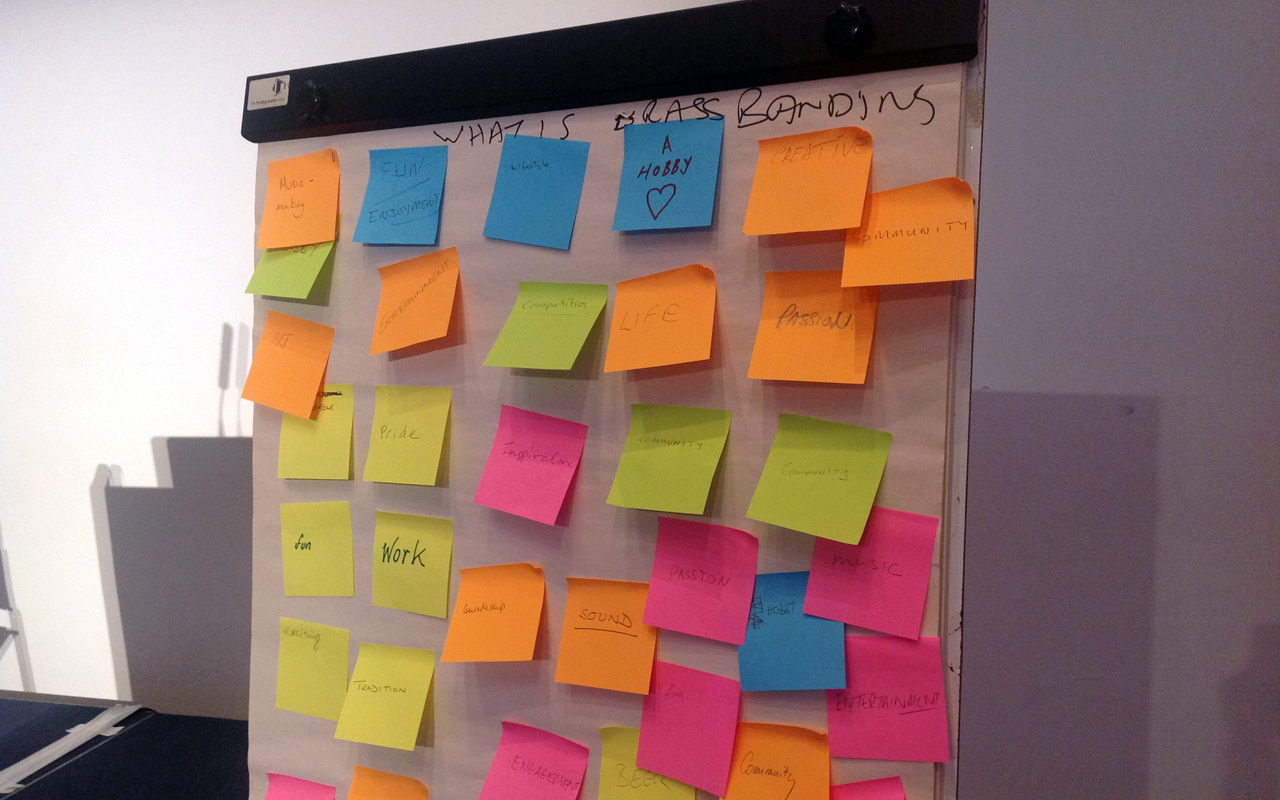 There were many colourful ideas

Interestingly, the more prosaic matters of current management administration shone a light on the successes, as well as the challenges they face, and which they are continuing to work hard to overcome.
Successes
The National Youth Championships remain a beacon of success (despite an administrative cock-up that will see the 2017 event held at the University of Salford rather than the RNCM in Manchester), whilst the temporary abeyance of the Parliamentary Group on Brass Bands will hopefully be just that - with Mike Kilroy confirming that BBE would support Roy Terry in continuing to provide its secretariat lead.
The link with the UniBrass is flourishing, and there have been some excellent individual successes such as the 'Just a Vibration' collaboration between Shri Sriram and Hammonds Saltaire Band which BBE was actively involved in. The dumping of the millstones of the English Nationals and Registry was a financial necessity.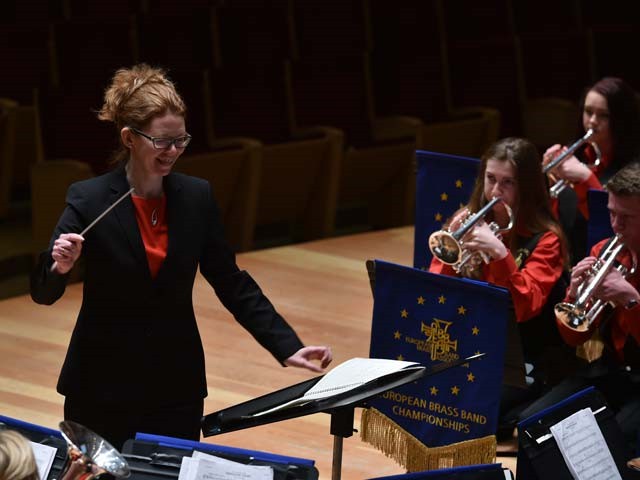 Help for English youth in Europe?
The repayment of £15,000 back to the Norman Jones Trust Fund was good news, as was the major upturn in reserves; although the rather clumsily handled anomaly of awards of £5,000 to Black Dyke and latterly Brighouse & Rastrick to fund music commissions following their qualification as English representatives to the European Championship was not.
This has now ended (although English Youth bands never got a penny) and Mike Kilroy did offer some hope that BBE will look at other ways representative bands may be helped in future (including pressuring EBBA to look at the terrible decision to sanction ticket costs on players wishing to listen to fellow bands at the European Youth Championships).
More forthcoming
And whilst there is still no recording methodology to quantify the results of the work of the BBE Development Officers in pounds, shillings and pence, a promise of better, more regular press releases supported by solid anecdotal evidence will be more forthcoming.
If insanity is indeed doing the same thing over and over again in the vain hope of expecting a different result, then at least BBE has shown that it has finally recognised the signs that threatened to send it back down the rabbit hole into Wonderland.

Now comes the hard work of showing that this time it's not just a temporary relapse.
Iwan Fox