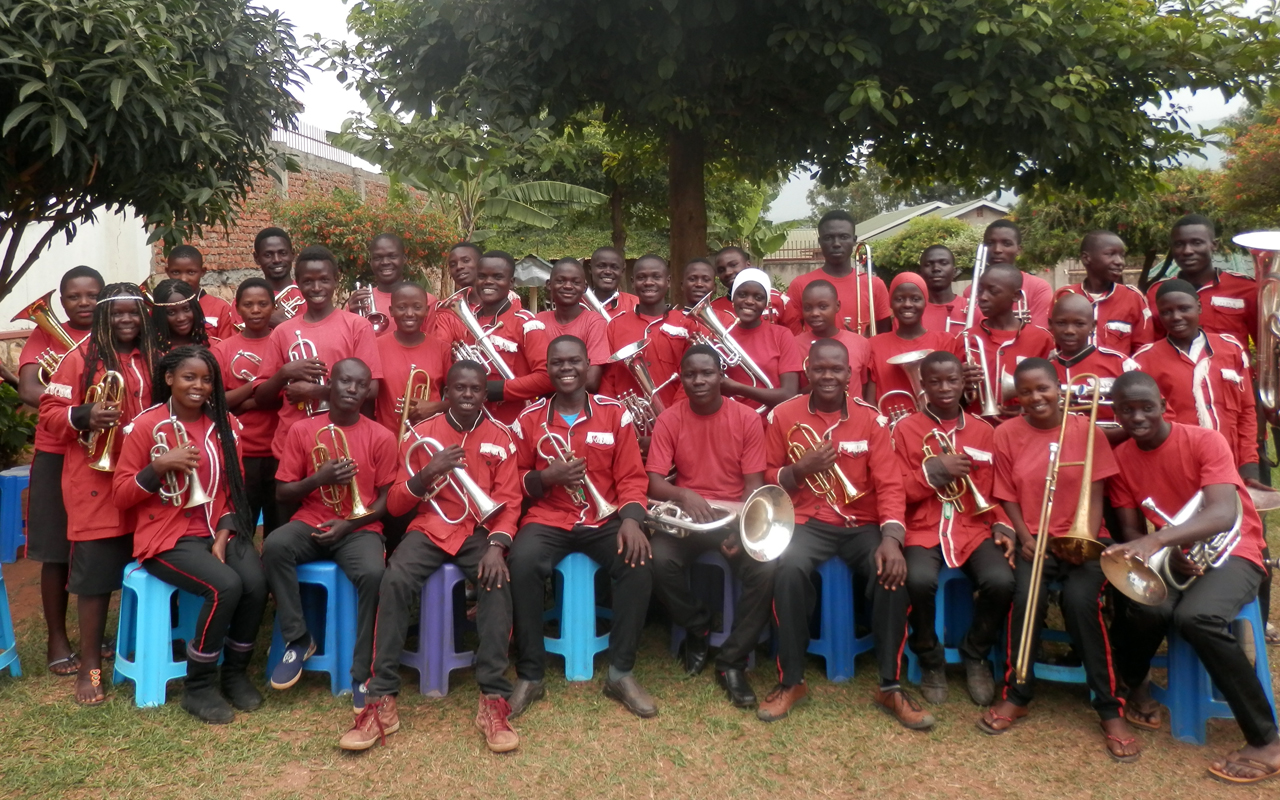 Building a brass band culture in Uganda

Philip Monk is very clear in airing his opinions and frustrations.
"It's obvious that UK style brass bands are not part of African culture," he states. "Yet our Mbale Schools Band in eastern Uganda is perhaps the most widely-seen brass band in the world."
That's a contradiction that takes some explaining - although he is also clear about his thoughts on the reason why.
"Some of that popularity arises from the fact that we are Africans and therefore don't fit the conventional image expected by the media. Indeed the challenges of hunger, sickness, and poverty have been formidable, but all this goodwill would still be useless unless we can set down long term roots where we work."
Frustration
This he adds, is where the frustration comes in.
"Because most Africans families have never seen or heard a brass band it's not surprising that they are not aware of the benefits this form of music making brings. In most sub-Saharan African countries the majority of the youth want rap and hip-hop music, and the parents want gospel, traditional or Muslim tunes. Despite the goodwill and the obvious worldwide response to our achievements, getting a brass band to survive and prosper is therefore very hard."
Philip highlights his point with reference to worldwide social media coverage: "Facebook has lots of little features on African brass bands. However, very few 'likes' are from Africans themselves and none from the parents of the players. They are all from people around the world who like the idea of African youngsters playing brass instruments."
Improvement
One of the reasons he feels is the demand for academic rather than cultural improvement, which sees many African countries striving to catch up if they are to compete industrially and commercially against the western world
"There is such an emphasis on school work and exams here in Uganda that most parents are against anything that might impact their child's studies. Teachers are not supportive because they don't understand our style of music and they want the children to concentrate on their academic learning.
Uganda is so different to Western countries that instead of rushing to start teaching children the basics of brass playing I have worked hard for many years to understand why an African child would want to see the joy and benefits of playing in a brass band."


Values and benefits
Philip adds: "It took time for me to get used to the idea that most of the values and benefits that come with playing in a band in the UK did not apply in Africa. The differences in circumstances, background and aspiration are so radical that it made all my previous pre-Uganda assumptions irrelevant.
For instance, it was no good expecting them to embrace teamwork in a survival society where there is not enough to go around. The difference between those at the top and those at bottom of society has to be seen to be believed.
It's something of an anomaly that the country recently hosted an annual Polo tournament and the fastest growing industry is sports betting, yet it's not unusual for children to die through lack of food or medicine."
Long term approach
That long term approach to understand, engage and inspire has therefore meant both success and failure, as Philip explains.
"Since I began the project in 2007, I have created 16 brass bands. Eight have since collapsed and eight are still going strong. I may hold the world record for having created the most brass bands and presided over the most failures!
In reality I was learning all the time myself - especially in the early days. Every time I failed I went home and analysed what I had done wrong and tried to assimilate the lessons learned. For instance, one lesson was that a band created in association with a school just doesn't seem to work.
The biggest mistake that I made was to assume that parents and schools would appreciate our musical efforts. By and large, they don't!"
Dividends
It has also meant that a more innovative approach has paid dividends - and hence that amazing response to his work on worldwide social media.
"Trying to put on traditional concerts to engage support and interest was never going to work, so this is where the internet came to my rescue and forced me to adapt.
Facebook and Youtube gave us the outlet that we needed for our children to demonstrate their talent, and we have therefore, in effect, become the world's first virtual brass band that will never play in front of a live audience.
Sad but true. Don't get me wrong: There is an audience for a Ugandan brass band. It's just not in Uganda!"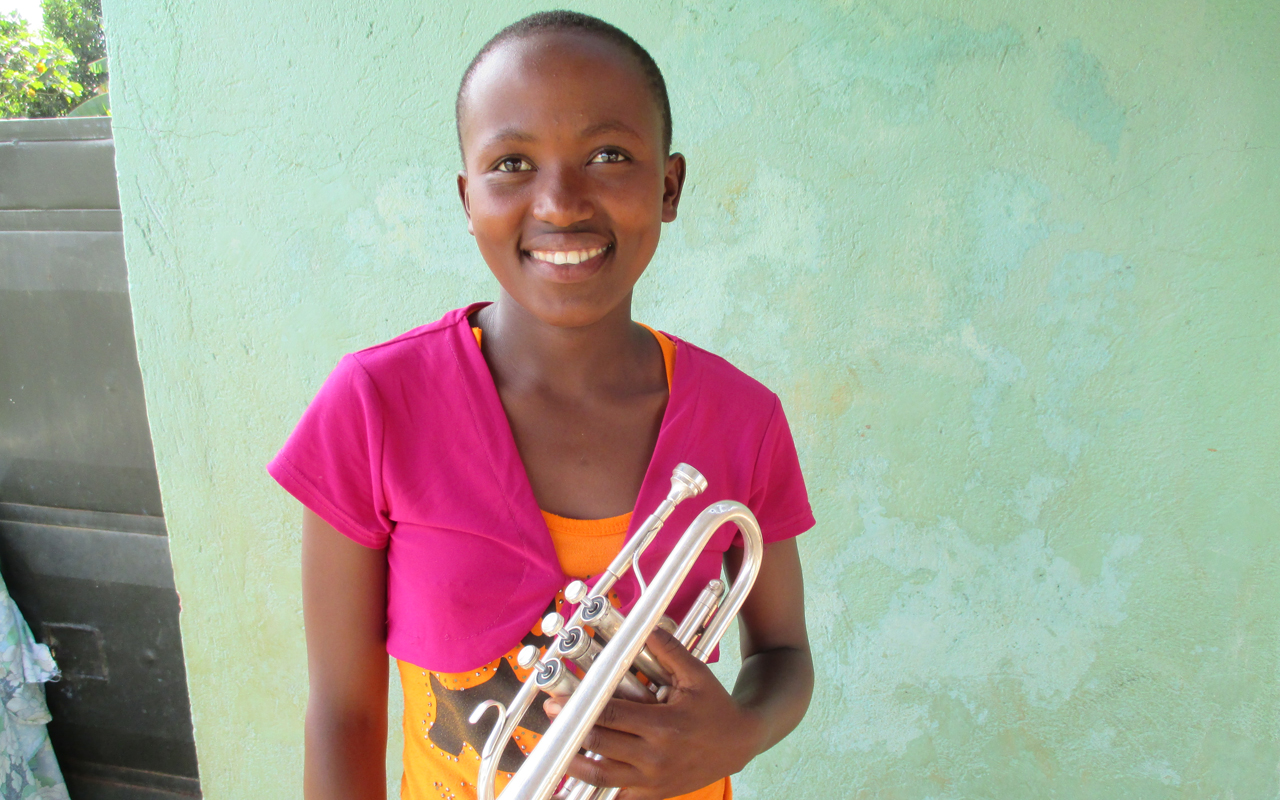 Spectacular results
The results have been spectacular, with a performance of the march 'Castell Coch' now seen by more than 3 million people, and this year's version of 'Uptown Funk' already passing the 2 million views mark.
That contradiction remains then, but as Philip added, it has given his projects new energy and focus too.
"My greatest satisfaction through trial and error is that we have worked out how to motivate the children so that they want to play as part of their education. If I now arrive unexpectedly at our Music Centre I find them practicing because they are interested in the music and want to improve - and to show the world.
Also, by adding Western music to their own local music we have been able to make a musical breakthrough that children and parents appreciate and understand."
Breakthrough year
Philip feels that 2017 will now be a breakthrough year for the organisation.
"Like any charity we rely on donations, but next year will see us financially independent for the first time and, hopefully, forever. We have constructed our own Music Centre and created income-generating projects that will pay the expenses of our Ugandan staff and music teachers.
All we will need is occasional donations of instruments to replace any that are damaged or worn-out.
Most importantly, if I'm not around in the future, our senior Ugandan boys and girls, who share our enthusiasm, will be able to continue without relying on funding from overseas."
Wonderful support
Help is still needed for now though - and as Philip adds, once again the wonderful support of the Butlins Mineworkers Championship will be crucial
"There are so many people who have helped and Butlins have been superb. All we ask is that people continue to support the musical efforts. It's through your encouragement that we will continue to flourish.
My greatest hope is that the hundreds of children that we have taught to play a brass instrument will, when they become parents, pass on the appreciation of the benefits of playing a brass instrument and encourage their own children to play."

Iwan Fox
To find out more about the scheme go to: http://www.facebook.com/mbaleschoolsband