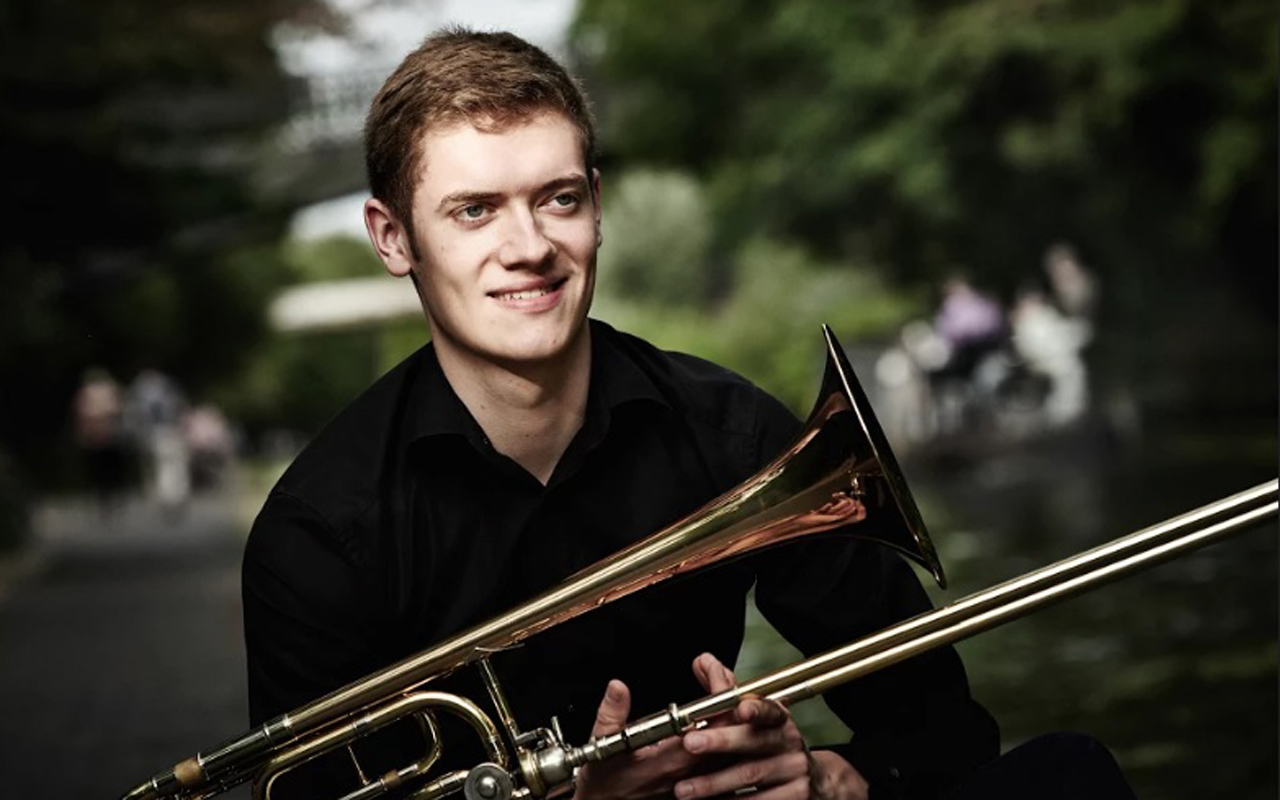 1. Congratulations on your 21st birthday and for all the accolades you have received for your performances of late.
Do you ever look back and pinch yourself about what you have achieved so far in your career?
Not really! Without wishing to sound too cliché, there is still so much I want to do. However, looking back, I do feel privileged and humbled for the opportunities that have been sent my way.
My style in the past has always been to take things in my stride and not stop to think about anything for too long, but when I look back, yes, I've been fortunate to have been part of so many wonderful music experiences.
---
2. You were propelled into the spotlight winning the BBC Young Musician title and the various appearances it brought with it.

Did you feel any pressure performing then and even now?
Firstly, I think pressure is all in the head, because nobody (bar a few undesirables!) wants anything other than to hear your best playing and see you love what you're doing.
I didn't feel any pressure following the BBC Competition because I just continued to purely enjoy everything I was doing, and things are far simpler at that sort of age.
Thoughts of pressure and nerves barely enter the mind when you're a kid and essentially making it up as you go along! You just do what you do.
Nowadays it's more of a challenge because I feel like more is expected of me!
---


3. Tell us something about your professional musical life as co-Principal of the London Symphony Orchestra.

What does this entail and is there such a thing as a typical day or week for you?
I would estimate that playing with the LSO amounts to about two thirds of my overall work, at most.
It's the ideal job for me at this moment in time, because I have all the benefits and experiences of having a job in one of the greatest orchestras on the planet but I'm not tied down to it all of the time. This gives me plenty of opportunity to pursue my solo career, which I'm passionate about.

There is no typical day or week in the LSO. It's an incredibly versatile orchestra, excelling in more facets than any other I can think off.
For example, we might have a Mahler symphony coming up the next day, or after a morning rehearsal the orchestra could head to Abbey Road Studios to record six hours of film music! There are also some fantastic tours all over the world. I think the LSO does something like sixty concerts abroad every year!
The diary can be incredibly full-on and when you start to add in freelancing, solo engagements, chamber music etc…

It can get quite hectic and many musicians work themselves too hard, especially in London. I make myself take days off to do other things away from the trombone such as attempting to improve my golf, but I'm still hopeless - so maybe I need to take more time off!!!
---
4. The past year or so has seen you recognised as a BBC New Generation Performer.

What has this entailed and what opportunities has it opened for you?
I've spent a great deal of time in the studio over the last year or so, recording lots of trombone recital repertoire with piano that is then broadcast on BBC Radio 3. Quite often I will also do a recital which goes out live as I'm doing it.
In the last year, I've also performed concertos with the BBC National Orchestra of Wales, BBC Symphony Orchestra and the Ulster Orchestra - all three of which were recorded. The most challenging thing is that because everything goes out on the radio, there can't be any repetition of repertoire.
So every time I have a BBC recital or concerto I can't play anything I've played before! This is particularly tough for a trombonist… sadly we're not blessed with endless good repertoire!
---
5. You recorded the Gregson Concerto for Trombone and Orchestra a few years ago on the Chandos label.

Do you have any recording projects in the pipeline?
Watch this space! I'm hoping to have a solo recording out in the next year or so, but it's still in the early planning stages.
There's a lot that has to be thought of - like how to appeal to as wide an audience as possible and also work out what shows you off the most as an artist. I'd love to do a CD with brass band accompaniment one day too.
---


6. What does the immediate future hold for you as a performer?
I have a Wigmore Hall recital at the end of January, and am also joining Alison Balsom to play the Brahms Horn trio together in one of her concerts.
There is a solo trip to Barcelona, and I've just had the green light for a ten solo concert tour of China in the summer alongside commitments in the UK and with the orchestra. I'm also looking forward to appearing as a guest soloist with Philip Cobb and the National Youth Band of Great Britain in April.

Even though I've sat in a brass section with him for the last three years and he's become a very close mate, I'm still in absolute awe of his playing: He's a huge inspiration to me.
---


7. The BBC Young Musician competition and the BBC Radio 2 Young Brass Award have seen talented individuals become leading professional musicians.

What advice would you have for anyone thinking of entering these competitions?
See them as opportunities to push yourself and show others what you can do - not merely as competitions against other players.
It's also a good chance to hear other instrumentalists and listen to their playing with open ears and find out what you like and maybe don't like so much.
We can never stop listening to other musicians. I listen regularly to singers, cellists, jazz musicians etc… This is how we broaden our own musicality and grow the imagination.
---
8. Brass players are always faced with trying to conquer nerves.

How do you overcome them and what advice would you have for any player on how to deal with it if it becomes a problem?
I think as we become older, life certainly gets more complicated, so perhaps it's easier for nerves to appear, almost like there's more at stake.
When I perform in solo concerts now, I try to focus on playing as naturally as possible - like we all did when we were kids!
I always try to simplify things on stage and just play freely. The practice has been done and there's nothing more technically you can do so just go and express yourself.

The little details that we have practised are not as important as the overall big picture. Always perform, don't play.
Often we forget that we are artists and are there for our own enjoyment as well as others, so I would say try to always return to the feeling of loving what you do.
---


9. What three tips would you give to young players taking up the trombone?
Join a brass band! The skills you learn playing in a brass band are second to none. I can't think of anything better for sight-reading, stamina, facility and also enjoying yourself with your mates!

Secondly: Stay open-minded and remember that you can learn something from any musical situation.
Finally: I'd say listen to lots of different players and form opinions about what you like in particular about their playing.
---
10. If you were not a trombonist, what do you think you would be doing with your life?
I'd love to be a pianist because of all the great music that's been written for the instrument!
In fact, around the time I was 15-16, I thought a number of times of trying to pursue this over the trombone, but quickly came to my senses! I could never put in all the hours of practice required!

Music aside, something in sport maybe… I love watching and playing many sports.

Sadly, I think if Manchester City were going to come calling they would already have done so by now!!!
---
To find out more about Peter Moore go to
Twitter: @pete_moore_
Facebook page: @pete.moore.9
Artist site: http://ycat.co.uk/artist/peter-moore/
Yamaha: http://uk.yamaha.com/en/artists/brass_woodwinds/peter_moore/
All images used with direct permission of the artist