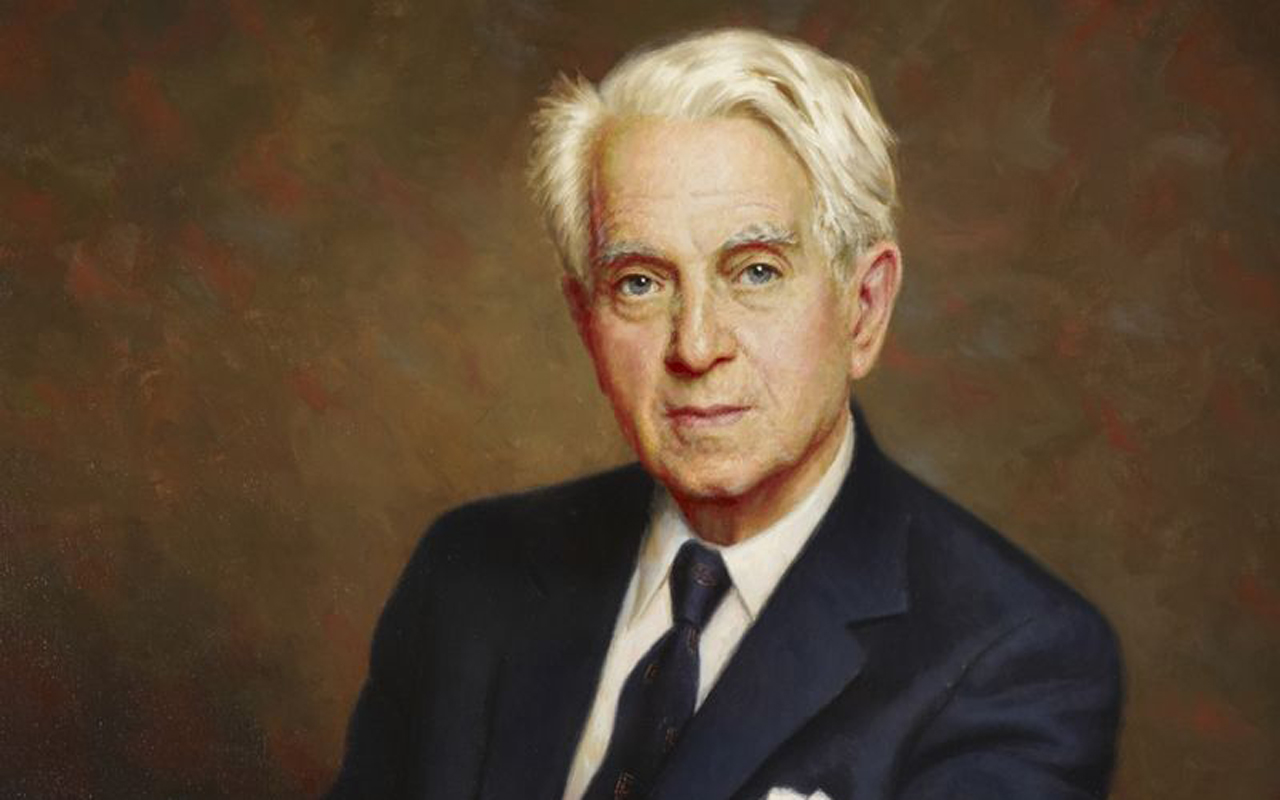 For the traditionalists, the top flight contests in Blackpool and Huddersfield joyfully showed that despite its age 'Pageantry' remains an imposing test of musical character.
And interestingly, but with welcome consistency, the two sets of judges (David Lancaster and Roger Webster and Stephen Roberts and Sandy Smith) highlighted the same aspects of performance characteristics that for them clearly separated the best from the rest.
Efforts sunk
Over heightened levels of dynamic and tempi, harsh ensemble timbres, and unnecessary effect and artifice all sunk the efforts of the crass and inconsiderate, although more disbelieving for the quartet of highly experienced brass band musicians, so did the desire of many conductors to perform the work without taking the corrosive dangers of these elements into account.
'Pageantry' is a series of narrative tableaux: It neither tells a tale nor describes one: It simply presents one for the listener to consider as read4BR.
To say they were baffled by the amount of aggression, misplaced speed, harsh tonality and bizarre interpretations was under-stating things at times. It was as if, as one told 4BR, 'Pageantry' had been written yesterday.
It could well have been, but then again given the current 'Blockbuster' mentality, you rather suspect not.
Amalgam imagery
'Pageantry' is a series of narrative tableaux: A superbly crafted work of the amalgam imagery of medieval court life; heraldry, procession and 'milites nobiles' and the display of chivalry. It neither tells a tale nor describes one: It simply presents one for the listener to consider as read.
It is almost perfect. It needs not to be re-interpreted, but to be revered.
Much then for the bands and their MDs to ponder as they take to the stage.
---

2016 Champion: Co-operative Funeralcare
Scotland:
Prof Nicholas Childs could well take out a patent on 'Pageantry' if he makes it a hat-trick of victories on Howells' masterpiece in Scotland on Sunday - although you suspect it won't stop a touch of musical plagiarism from rivals around the country who have already taken note of his approach.
The Black Dyke MD has been inspired by his father's old score, which he used to steer Tredegar to victory at the Welsh Area in 1977, and it has already paid richly deserved dividends in the clear-cut victories of Foden's at Blackpool and his own band at Huddersfield.
If he leads Whitburn to victory in Perth, he will also become the most successful Area Championship Section winning conductor of all time - extending the record of 30 victories he currently holds with Major Peter Parkes, whilst also drawing level with him on eight Scottish Championship wins. The odds have shortened considerably in the last two weeks.
Defending champion Co-operative Funeralcare will be determined to stop him doing just that of course, as will the likes of former champion Kirkintilloch, a rejuvenated Dalmellington and the solid contenders of Kingdom Brass, Bon Accord and dark horse Bo'ness & Carriden.
The Scottish title has ping-ponged between Whitburn and Co-op since 2010, and somehow you sense it could well be between the two of them again.
4BR Prediction:
1. Whitburn
2. Co-operative Funeralcare
3. Kirkintilloch
4. Dalmellington
5. Kingdom Brass
6. Bon Accord
Dark Horse: Bo'ness & Carriden
---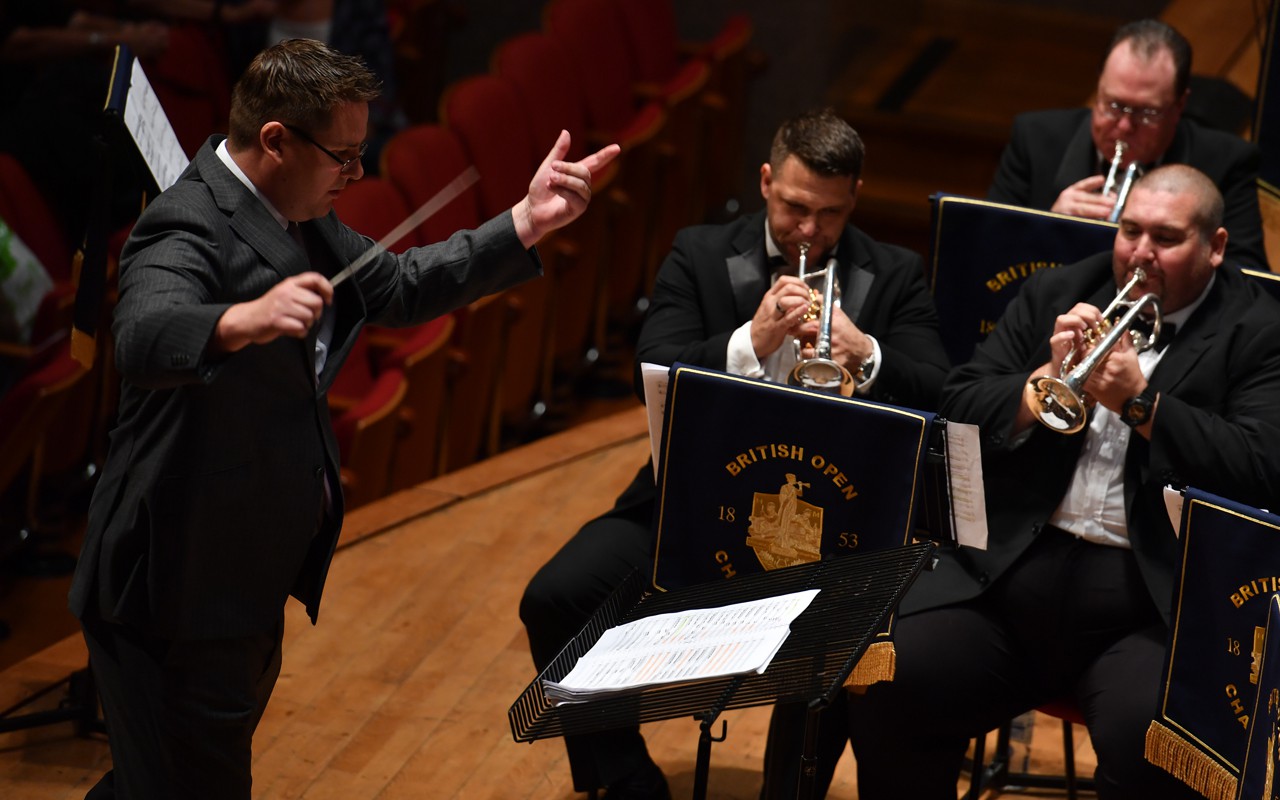 Can Paul Holland lead his band to yet another title?
West of England:
It hasn't even been a two horse race at Torquay since 2012, as a mightily impressive Flowers Band has romped away with the title under Paul Holland - at times by a Shergar-like distance.
It's hard to see anyone loosening their grip off the trophy this year either. Despite not coming to the event as Butlins champion, and having had a few personnel changes of late, they have continued to produce fine performances against top class opposition.
Of their challengers, Woodfalls has shown the ability to be inspired on their day - and they certainly bounced back in form at Skegness after finishing 2016 on a competitive default at Brass in Concert. With Dr Robert Childs at the helm, what would be the odds of a Childs Brother 'Double' at different ends of the country come Sunday night?
It would seem that the honours may be fought between Flowers and Woodfalls , although the dash for a podium place could result in a photo-finish with Aldbourne, who are edging ever closer to their rivals just ahead of the likes of Filton Concert Brass, Camborne and St Dennis, with our dark horse of St Austell.
4BR Prediction:
1. Flowers
2. Woodfalls
3. Aldbourne
4. Filton Concert Brass
5. Camborne
6. St Dennis
Dark Horse: St Austell
---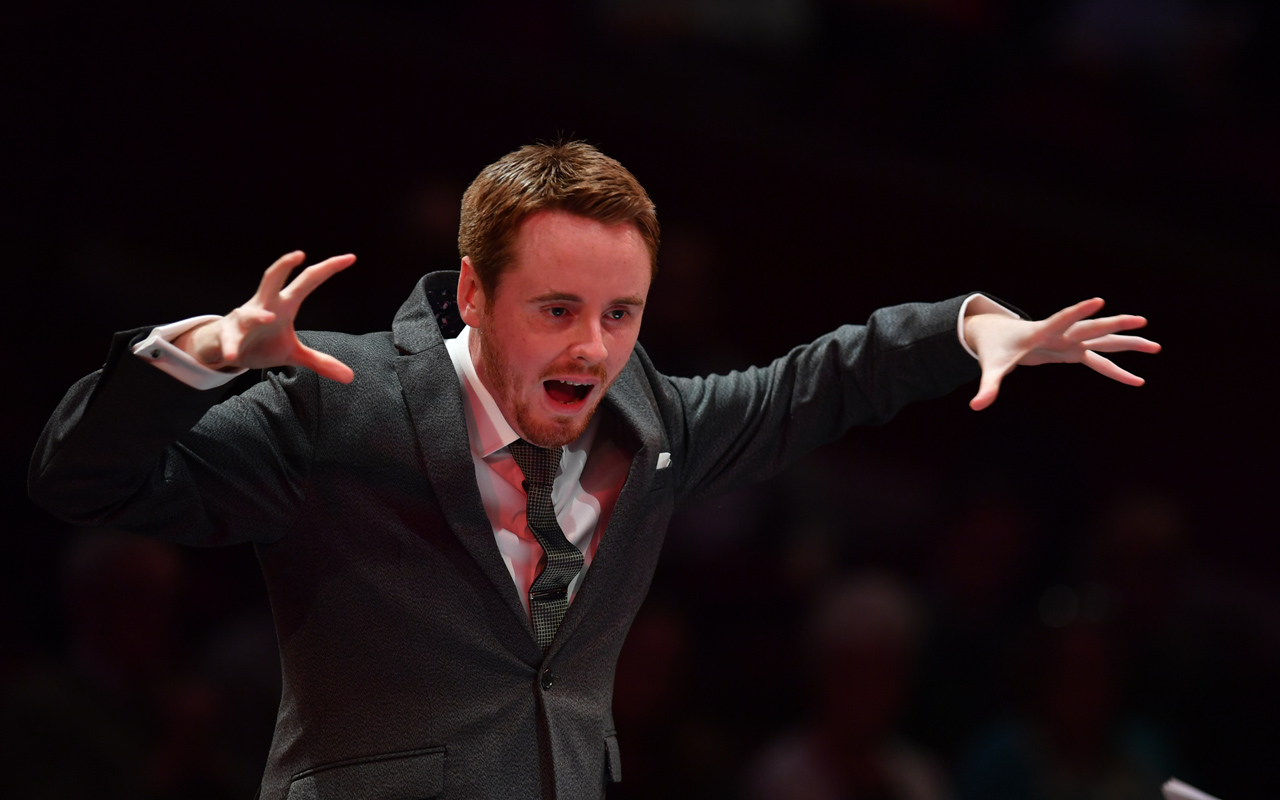 Ready to grab another title: Adam Cook leads the definding hampion Virtuosi GUS
Midlands:
Virtuosi GUS will surely be the odds on favourite to claim a fourth consecutive title at Bedworth Civic Hall on Sunday evening - especially if they repeat the type of form shown in claiming the Butlins title in fine fashion.
Adam Cooke had blossomed into a highly impressive MD, and with it so has his band, displaying a maturity of sound and stage confidence that should see them head to London once again with something to spare. That said, old rivals such as Desford can of course beat just about anyone on their day, whilst this could well be a piece that tickles the fancy of Dave Lea and Jaguar Land Rover.
Thoresby Colliery, Derwent Brass and Ratby Co-operative are solid competitors, whilst the promoted Jackfield Elcock Reisen could be a good each-way bet to sneak into the frame.
All that that though and it still appears to be Virtuosi GUS that look like the thoroughbred rivals will be seeing the back end of come the results.
4BR Prediction:
1. Virtuosi GUS
2. Jaguar Land Rover
3. Desford
4. Thoresby Colliery
5. Derwent Brass
6. Ratby Co-operative
Dark Horse: Jackfield Elcock Reisen
---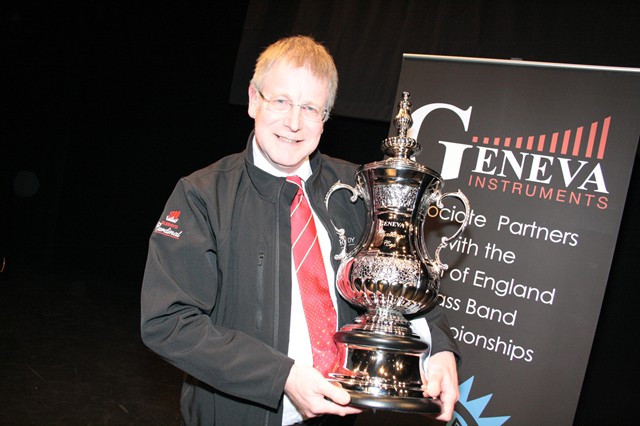 Knockout winners again? Can Reg Vardy make it four cup wins in a row?
North of England:
Reg Vardy will also be looking to lift the FA Cup lookalike Area trophy for a fourth consecutive year under Russell Gray - and given the form book, it's hard to see anyone stopping them doing it.
That said, there have been a few giant killing acts in this season's football knockout contest, so perhaps there is more than a flicker of hope that a new name may appear on it for 2017.
Whether that will be the likes of 2013 winner NASUWT Riverside, 2009 champion East Yorkshire Motor Services or even 2001 victor Fishburn remains to be seen, whilst with the greatest respect, you may get better odds on backing Lincoln City to beat Arsenal this weekend than an Easington Colliery, Lockwood or York Railway Institute win.
That may sound more than a little unfair, but given Reg Vardy's solid major championship form and the lack of others making a mark on their national travels you feel that unless something drastic happens, that trophy could well be back in their grasp for a record 37th time.
4BR Prediction:
1. Reg Vardy
2. NASUWT Riverside
3. EYMS
4. Fishburn
5. Lockwood
6. Easington Colliery
Dark Horse: York Railway Institute